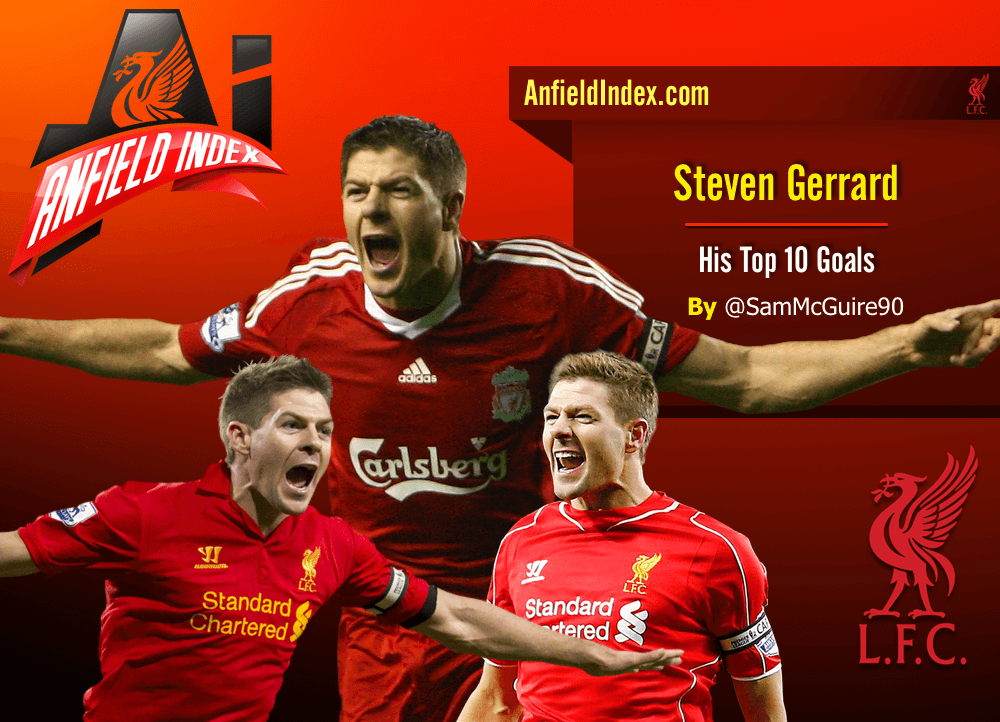 Steven Gerrard's Top 10 Goals

The end is nigh. For Liverpool fans that is.
Steven Gerrard has a mere two games left with his boyhood club and the realisation is hitting many. Local boy who came good. I'm not sure how it compares for the rest of you but for me it's like when my first pet died. You kind of take them for granted and before you know it you're scrambling to make the most of what's left in-between remembering the good times. That's exactly what I've been doing ever since I saw our captain run towards the Kop after his goal vs QPR.  (I've watched countless Steven Gerrard YouTube videos over the past week).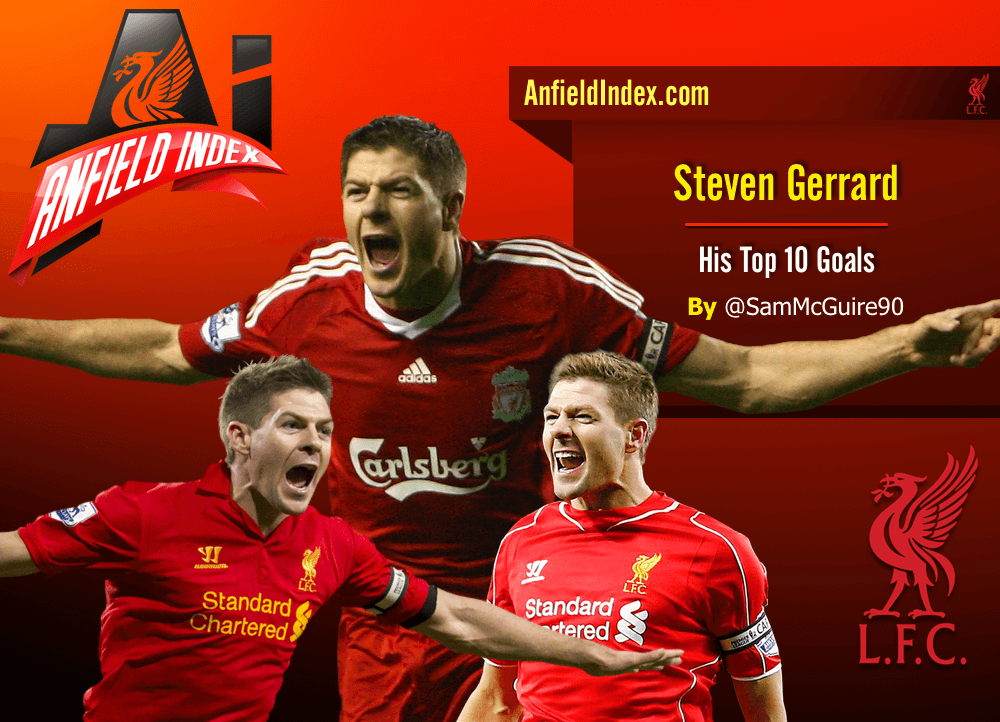 That was the inspiration behind this piece. My favourite Steven Gerrard goals. They're in no particular order:
Vs TNS
He is going nowhere. The joy for me to see he'd signed a new deal. The summer he almost went to Chelsea following on from the Champions League win. It's an important game for me, the first competitive one since he revoked his transfer request and within 7 minutes he'd put us 1-0 up and it was like nothing had ever changed. Had the skipper gone a few games/months without a goal then who knows how the fans would've reacted following on from the near miss of him leaving the previous summer. He rounded the game off with a hattrick. Started as he intended to carry on.
Vs Everton (the one with the celebration)
He's scored many vs Everton and everyone of them I've enjoyed but this one is my favourite for a few reasons. The first being it was my first derby I'd watched away from Anfield. Not only was the strike superb but the celebration matched it with ease. The local Whiston lad cupped his ear as he ran away celebrating. Could tell in his face it was one he enjoyed and he just loved winding the bluenoses up.
Vs Milan
You may say it was easy to choose this one. The importance of it and how it kick started the comeback. If you take away the emotion (difficult I know) and look at the actual technique of the header it puts many world class headers to shame. We've seen lately how good he's been with his heading and he's had it in his locker all along. Go on, give it another watch.
Vs United (Ta-ra Barthez)
Again, this Liverpudlian loves scoring against our rivals (unlike Wayne Rooney) and has many memorable goals against United. The strike and the celebration was on par with Gerrard swinging his balls in Barthez's face. He certainly asserted his authority onto that game with this strike.
https://www.youtube.com/watch?v=xmcCpcxMOjY
Vs Madrid
Rampant in Europe once again, Liverpool fans were getting used to these big nights and Real Madrid coming to town was the pinnacle. An explosive start had the Redmen up 2-0 before half time and the onslaught carried on into the second half. A supremely difficult finish he executed with perfection for his second goal. His celebration was that of a confident/arrogant player. Running away , arms out as if he was pea-cocking. 'All these talented players yet I'm the best here'.
Vs West Ham (The Gerrard Final)
Just like the Milan goal you could say this is a lazy goal to pick. Added time and we're 3-2 down to a side managed by Alan Pardew. One swing of his magical right foot and we're back in the game (how many times have we said that in the past?). Well for this particular game we had family round for the final and a BBQ. Many of my relatives were there and they all heard me shout "F*ckin' hell" as that shot arrowed in. Before my Mum could even bemoan my use of bad language my Dad told her to watch the replay of the goal and her reaction was on par with mine.
Vs Olympiakos (What a hit son)
Kind of scuffs it doesn't he?… This strike certainly put to bed the ol' "he hit it too well" quote pundits like to use when a player hits the ball straight at a keeper. I bet many who play football had tried hitting this type of volley and it's ended up being sliced out of play for a throw in.
Vs Marseille
This was the kind of goal that you don't realise how good it was till you see it again. It's played behind him and he gets a filthy amount of curve on the ball to take it past Mandanda. Liverpool were ruling Europe and their King was Gerrard. He pretty much silenced a hostile Stade Velodrome with a swing of his trusty right foot.
vs Villa (Fernando who?)
Torres arrived in the summer and was the talk of the club. Liverpool once again had a number 9 to be proud. The opening game to the season wasn't going as planned and Gerrard once again won the game. This time with a freekick to shadow many he's taken in the past and present right into the top corner that no keeper in the world would've saved. The celebration wasn't Gerrard going 'supernova', no. This was him showing he was top dog still.
Vs Southampton
The goal was typical Steven Gerrard. Picked the ball up deep and drove forward before unleashing a shot from 30 yards in off the bar. We all know any goal that hits the bar first looks infinitely better. He celebrated in a manner that was like 'oh the shot? No big deal'. Just like when you try to act cool after doing something extraordinary.
https://www.youtube.com/watch?v=4thbC1sF8Vc
I'm not saying you should watch this video (a highlights of all of his goals) but I will advise viewer discretion as some goals will make you cry (embedding blocked on final two so feel free to click through to YouTube!).
https://www.youtube.com/watch?v=UH6xY01jp5A