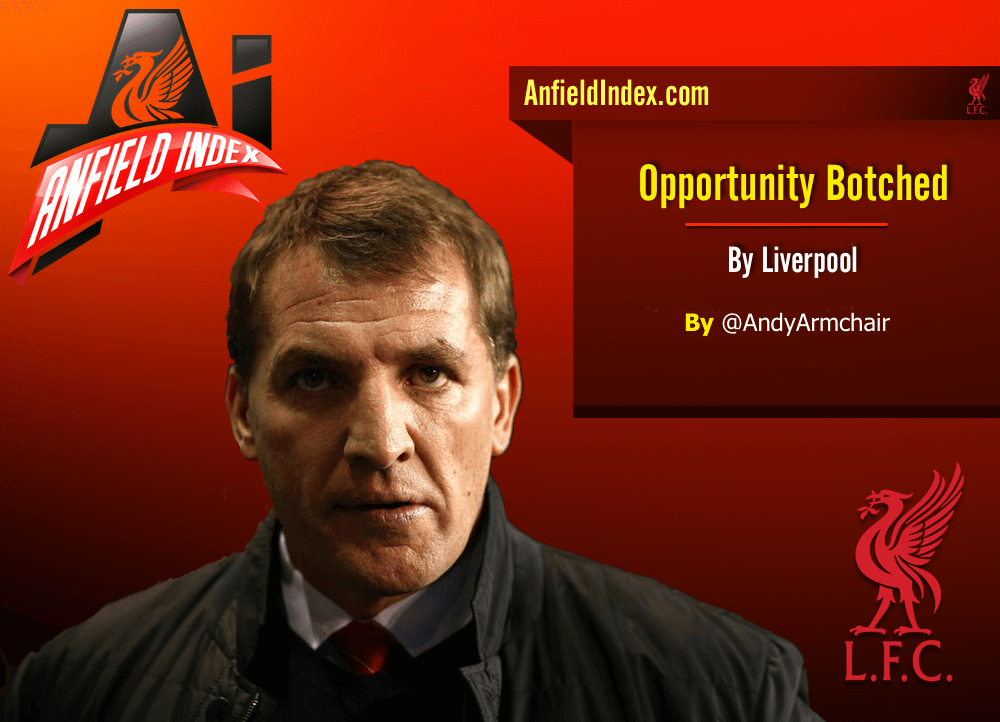 Opportunity Botched By Liverpool
This season has not been "par" for Liverpool Football Club; far from it. The justification for calling 5th place par is just an excuse for failure and an acceptance of mediocrity.
I'm not delusional, I didn't expect us to win the title or even challenge for it like last season. But to be told, by Brendan, that going as far backwards as we've gone this season is about right, well I'm sorry but I refuse to surrender ambition and I refuse to have my intelligence insulted by the manager of Liverpool Football Club. This season was all about consolidation – maintaining a top 4 place. We've failed to do that and also failed to win a trophy; so in my eyes, this season has been a failure.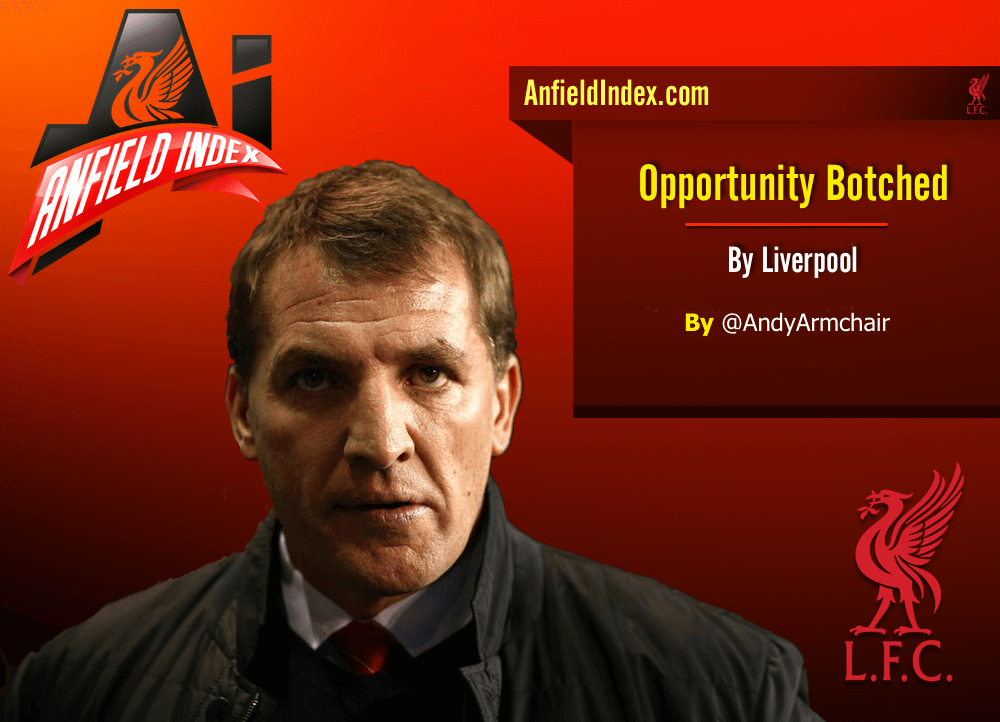 In the opening weeks of the campaign, away to Spurs and the first half against Southampton, it was a lot like last year: poetry in attack, but a Greek tragedy in defence. Unfortunately, after the International break at the beginning of September and without a now injured Daniel Sturridge, our attack took on the role of Greek tragedy, whilst our defence moved onto slapstick comedy.
Meanwhile, in the much heralded return to the Champions League, we were effectively drawn into a mini-league with Basel and Ludogorets where it should not have been unreasonable to expect a minimum of 2 home wins and 2 away draws. Obviously, nobody expected to get anything from the ties against the all-conquering reigning champions Real Madrid other than perhaps a draw at home. The gulf in class between Real Madrid and the rest of the group was clearly evident, but 8 points from the remaining 4 games would've been comfortably enough to progress to the knockout stages of the competition. Instead, just 1 solitary win and 2 draws resulted in elimination at the first hurdle from Champions League football and lead to a disappointing exit from the Europa League at the hands of the mighty Besiktas.
During that illustrious, yet short lived, Champions League campaign, our Premier League form was just as scintillating. In there were some truly abject performances in defeats at home to Villa, away to West Ham, Newcastle and Palace. The goalless draws at home to Hull and Sunderland were little better and victory away at QPR involved huge slices of luck. Statistically, that run garnered just 15 points from a possible 39, culminating in defeat away at Man Utd; a game that saw the debut of the back three. Defensively, it had teething problems, but our attacking play looked better and we should have scored four or five.
What followed was a 13 game unbeaten run, including 10 wins. It would be churlish not to give Brendan Rodgers credit for changing the system and, for a spell, it working well. Sakho and Can became key players in defence, Skrtel looked more solid and Coutinho became the fulcrum of our attacking play. There were some good performances in the wins at home to Swansea, West Ham and, in particular, Man City. To grind out a win away at an in form Southampton was promising, but the system got found out in a fortunate win away to Swansea. The warning signs weren't heeded and we played into the hands of Man Utd and Arsenal, bringing back-to-back defeats and with it, an end to any realistic hopes of finishing in the top 4.
Shortly after Champions League qualification went from our grasp, so did our remaining hope of winning a trophy in one of the most pathetic and dismal FA Cup semi-final performances ever witnessed. The FA Cup final is on Steven Gerrard's Birthday and would've been his last ever game for the club, had we got there. It was meant to be written in the stars, a fitting end to a magnificent career, but sadly everything was wrong on the day. Poor selections, poor tactics, poor performance, simply put, it was an embarrassment and a missed opportunity.
As the season stutters to a finish and a 5th place finish looks likely, the enquiries into how you can spend over £100m and regress so badly will surely happen within the club. Losing Luis Suarez would hurt any side, but to score 50 fewer goals in the league, despite having Daniel Sturridge injured for much of the season, suggests something is wrong. It cannot be ignored that despite spending over £150m, Man Utd have been dysfunctional and poor for large chunks of the season; their stand out player has been goalkeeper David De Gea. They have an experienced and successful manager in Louis Van Gaal, but for months they struggled to find any rhythm. Somehow, we've failed to punish them for it and they will undoubtedly spend big again this summer, just to further increase the pressure on us. Let's not forget this is a United side that have had Antonio Valencia at right-back for most of the season, have often resorted to playing Fellaini in behind the striker and used Ashley Young ahead of a struggling Angel Di Maria. It's also a United side in which Van Persie looked his age and Falcao was a shadow of the player he was for Atletico Madrid. Had they gelled and amassed over 75 points, then our current league position could be considered more acceptable, but they haven't and that dreadful run earlier in the season left us with too much work to do. Whilst the 13 match unbeaten run put us back in contention, our big game management issues and tendency to capitulate once under the pressure of expectation really finished us off.
If we over achieved last season, we've certainly under achieved this season. 73-75 points should've been achievable, even without Suarez. We'll fall well short of that total. Forget excuses, the fact is that opportunity knocked, but we failed to answer the door. Where we're at is not where we should be, it's just what we've become.