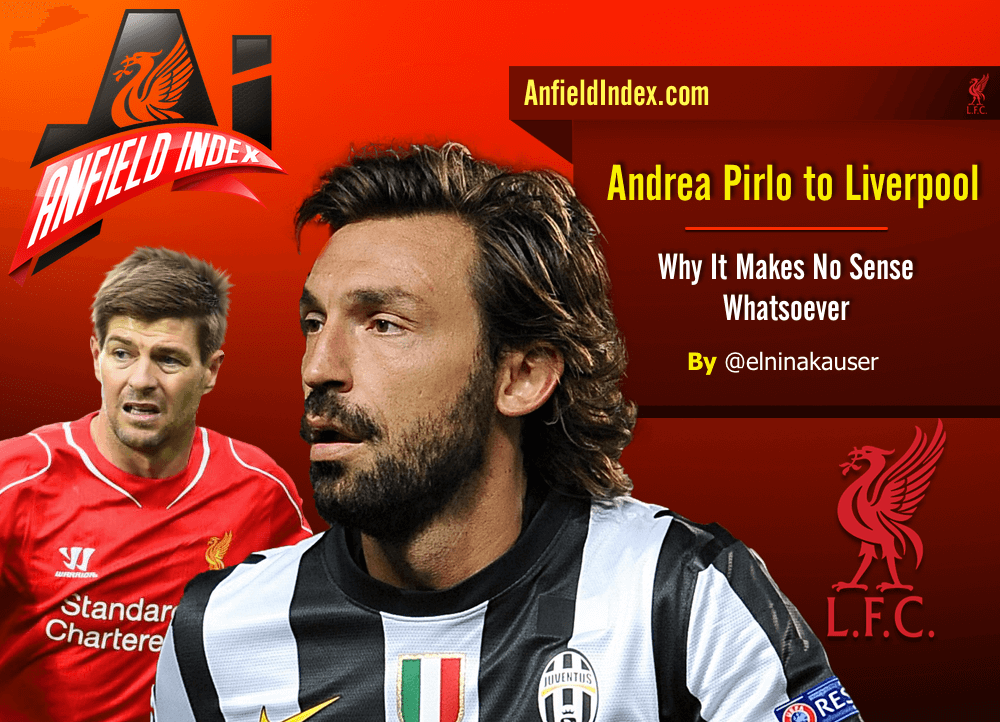 Why Andrea Pirlo To Liverpool Makes No Sense Whatsoever
The season approaches it's finale and it couldn't come any sooner for Liverpool fans as their season has been a disappointment. They've witnessed a regression in their beloved Liverpool side from the previous season which raised many hopes. However, it's that time of year again where Liverpool Football Club will be linked to the world and their wife but ultimately we'll end up with Danny Ings – a Premier League proven striker and all that jazz. Oh let's not forget the delightful prospect of us potentially signing Benteke and Milner, although I don't mind Milner but he'll probably be on big wage, which I do have an issue with.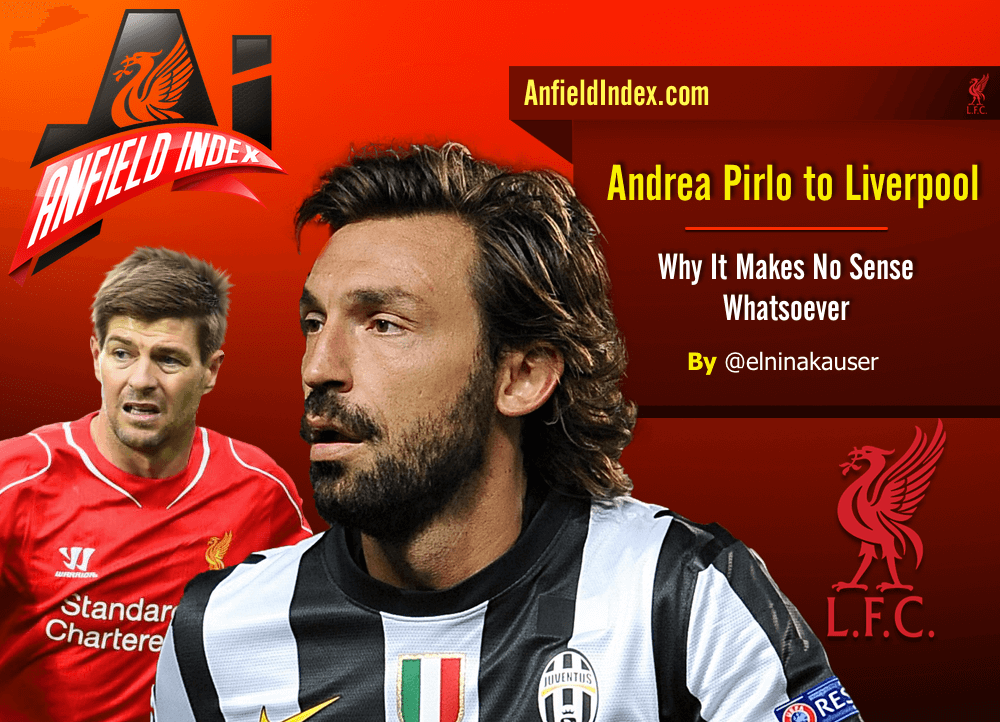 The rumours continue and recently it has been reported that Liverpool are being linked with Andrea Pirlo! Somebody pinch me, this cannot be true! I've always been a huge fan of the midfield maestro. My admiration for Pirlo is a longstanding one; 12 years I believe. The good old days when he looked like a pre–pubescent boy and you'd never think he'd be the proud owner of the most envied beard in world football. Whilst it's clear a signing like Pirlo would sell shirts and Liverpool's home game tickets but seriously, does this transfer seem realistic? Will a World Cup winner, two time Champions League winner (could potentially win another next month) really come to Liverpool? That's not including his league titles (5) and other domestic triumphs.
We're a million miles away from last season, let alone a decade ago when we beat Pirlo's Milan in Istanbul. True they were the better side but we showed determination and grit and it even left the man in question speechless in his biography:
"There are always lessons to be found in the darkest moments. It's a moral obligation to dig deep and find that little glimmer of hope or pearl of wisdom. You might hit upon an elegant phrase that stays with you and makes the journey that little bit less bitter. I've tried with Istanbul and haven't managed to get beyond these words: for fuck's sake."
Assuming there is some truth in this story and Liverpool are keen in signing Andrea Pirlo , whilst in theory it might be great for Liverpool to sign an experienced player who has an impressive CV in practice, I couldn't see it working. Here are my reasons as to why; Andrea Pirlo is 35 years old, hardly the ideal candidate for Liverpool, their youth philosophy and realistically could he cope with the pace of the English game? Now I know what you're thinking, Pirlo's game is all about pinpoint precise passing, he doesn't need to make runs. But don't forget he plays in Italy a slower tempo league where he is given time and space to work his magic. Would he realistically be given that much space and time in the Premier League? Granted his set pieces would be an asset now that Gerrard is leaving but if Liverpool FC are bringing in Pirlo for his experience, winning mentality, and free-kicks then surly it makes no sense to let Gerrard go. I accept that both players influence the game in a different manner but the majority of fans believe that Gerrard fits the criteria and he is Liverpool Football Club through and through. Also let's not forget Italians don't tend to do well for us, however, that's not a slight on the world class midfielder but he's 7 years too old and a league like Serie A suits his game.
The stats above, via Squawka's excellent Comparison Matrix, indicate that the Italian maestro can more than match our captain performance wise. I know what you're thinking, "Wow, get him in!". Stop! Stats without context can be misleading and you must have heard the saying: "Lies, damned lies and statistics". The context, however, was mentioned earlier, is that Serie A is a much slower league. Whilst Pirlo may look impressive I have my doubts as to whether he would be able to have a similar impact in England.
Our captain's short-comings were magnified at Anfield and at Upton Park this season against Aston Villa and West Ham earlier this season. You'd expect the exact same treatment on Pirlo and would he be able to handle that? The pace of the game is much more frantic and whilst the numbers may paint a different picture I feel that both of my childhood heroes may just be passed the level of playing every week in the Premier League.
The rumour makes no sense from Pirlo's perspective either. I've already mentioned his impressive honours list and that in itself is clear indication that this deal won't come into fruition. That being said Pirlo is very much like Steven Gerrard in the sense that he believes he can play every game despite his age. Let's not forget he left Milan to join bitter rivals Juventus just so he could play regular football because he believed he still had a lot to offer despite what they thought in Milan. If you follow Serie A football you'll be aware that his appearances are managed and players like Vidal and Pogba are now the main men for the Italian champions. Inevitable considering his age and even a legend like Pirlo is a mere mortal and his manager believes he doesn't have the endurance to last a full 90 minutes.
What's more alarming is that these stories have circulated the season that Pirlo was played as and when required, if the player isn't happy with being part of a winning side and believes he still has the ability to play a full 90 minutes then ask yourself, would he be able to last a full game week in week out in the Premier League? Would Brendan play Pirlo for 90 minutes? Highly unlikely, and if he didn't why would he leave Juventus? In his current team he is almost guaranteed the league title every season, a fitting end to his fantastic career. That surely beats slugging it out on a wet Tuesday night in Stoke? However, if like Gerrard, Pirlo believes he can play every game then I suspect he'll be off to the USA's Major League Soccer and all these ridiculous rumours linking us to one of the true greats of the game is nothing more than a cheap ploy to sell newspapers.