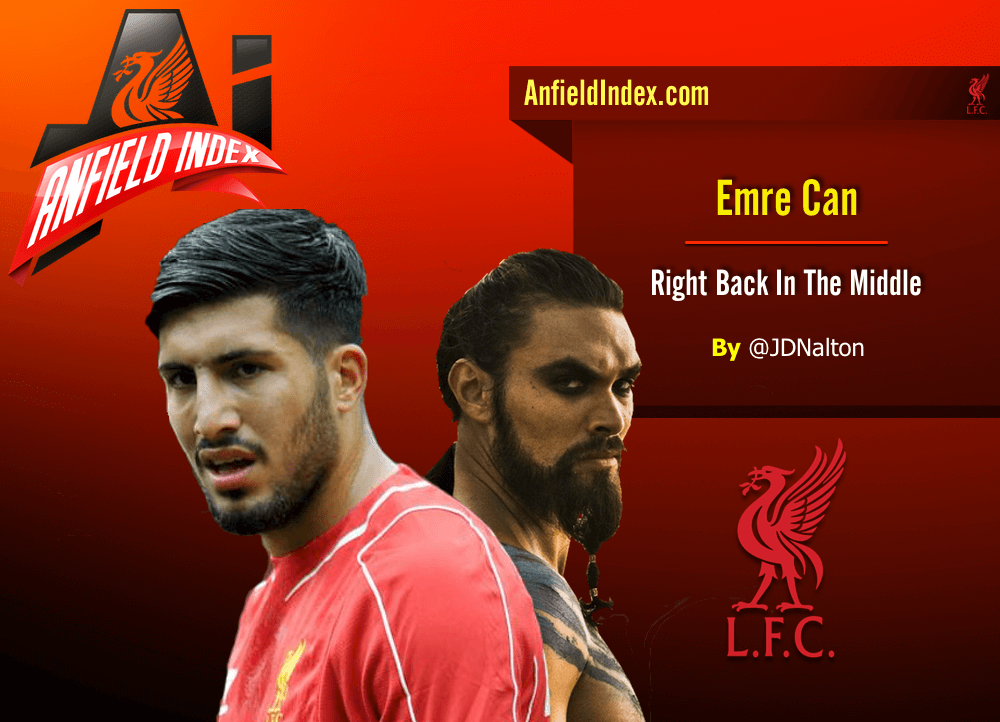 Emre Can - Right Back In The Middle

Emre Can arrived at Liverpool in the summer of 2014, and the then 20-year-old German was seen an exciting young prospect with the potential to become one of the top midfielders in Europe.
Can's impressive performances at Bayer Leverkusen had alerted his old club Bayern Munich, where he'd spent four years as a youth player. The Bundesliga Champions wanted to trigger a buy-back clause which would come into play this summer (2015), but rather than spending another year at Leverkusen before returning to Bayern, Can opted to sign for Liverpool.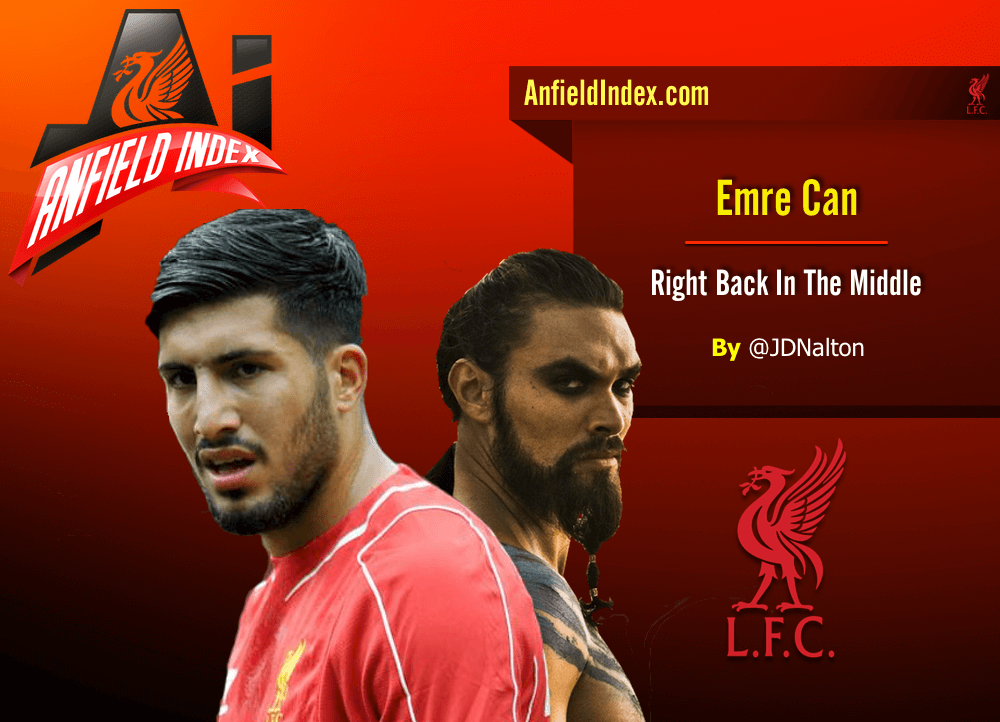 He commented in an exclusive interview with The Liverpool Echo that:
"There were some discussions with Bayern this summer but I decided the best thing for me would be to accept the opportunity to come to Liverpool.
"Before I came here I had discussions with Brendan Rodgers and that made my mind up. From those talks I was very positive about this move.
"This whole club is very ambitious and positive about how it wants to play football. That's the way I want to play football too. Liverpool believe in the same things and that's why I came here. I want to stay here for a long time."
If marquee credentials were judged on transfer fee, then Can was behind Adam Lallana, Alberto Moreno, Lazar Markovic, Dejan Lovren, and Mario Balotelli, who all cost more. However, as the season has unfolded, the young midfielder has proven he's worth more than any of these signings.
The way he carries himself on the pitch belies his years, and whilst his seriousness is sometimes unsettling, he shows the mental strength of a captain, which is something Liverpool desperately need going forward.
Despite being signed as a midfielder, Can has gone on to demonstrate the versatility which was hinted at when he signed for the club, as the WhoScored graphic below demonstrates.
Emre Can, Liverpool – 2014/15 season
Having played the odd game at left-back for Leverkusen, at centre-back for Germany U21s, as well as more orthodox midfield positions for both, he arrived at the club as a player who could do a job in numerous positions if needed. And has he been needed!
Looking more like he should be lining up in Khal Drogo's army, rather than alongside some of the characters in Liverpool's defence, Can steadily established himself in the side and became an indispensable part of Liverpool's back three during their good run of games in the 2014/15 season.
His ability to carry the ball out from defence into midfield was vital to a system which sacrificed a striker for an extra defender, as the manager looked to patch-up Liverpool's mistake ridden back four.
His role was somewhere between a right sided libero, defensive midfielder, and right-back, and his position wasn't far off that which a right-back would take up in a narrow back four, but he was asked to do more when his side had the ball.
As the season progressed (which seems like the wrong word given Liverpool's late season slump), he's ended up playing as an actual right-back, but again his position isn't straight forward.
In defence he plays as the furthest right of the back four, but with the ball he's been drifting inside to support Steven Gerrard as well as bombing on down the right as an attacking full-back might. Here's an illustration of his position in Liverpool's recent line-up v Chelsea:
Liverpool Tactics v Chelsea – 10/05/2015
Whilst not being a carbon copy, it's similar to a tactic used by Pep Guardiola at Bayern Munich, where on the odd occasion he's used his full-backs to crowd the midfield area. A prime, high profile example of this would be in the second leg of their 2013/14 Champions League quarter-final against Manchester United, where nominal right-back Philipp Lahm was asked to drift into midfield when Bayern had the ball.
The deployment of Can in these more complex roles shows a tactical maturity at an early age, but going forward into a post-Gerrard era, you'd like to see the German doing just that – going forward.
He could play as a defensive midfielder, but to get the most out of Can's ability it might be better if the shackles were off. It's here that a clash with Henderson emerges, but having two quality players fighting for one place in a team isn't a bad thing.
A position which would avoid a clash with Henderson could be a central libero which, as the translation of the word suggests, would leave him free to roam. However, some of his attributes are similar to those of the great Yaya Touré, and it would be good to see him given a chance in a Touré-like midfield role alongside a more disciplined holding player.
His ability to casually leave opposition defenders in his wake are reminiscent of the Ivorian, and during the past season we've also seen signs of intelligent passing and a bullet shot in Can's game.
Nailing down a settled position on the side could be key if he's to go on to become the player many think he can be. There will be some big shoes to fill as Liverpool go into the 2015/16 season, and due to the nature of Liverpool's transfer policy, it's likely that the onus will be put on one of the young players currently at the club to step into them…
…If anyone can, Emre Can can.