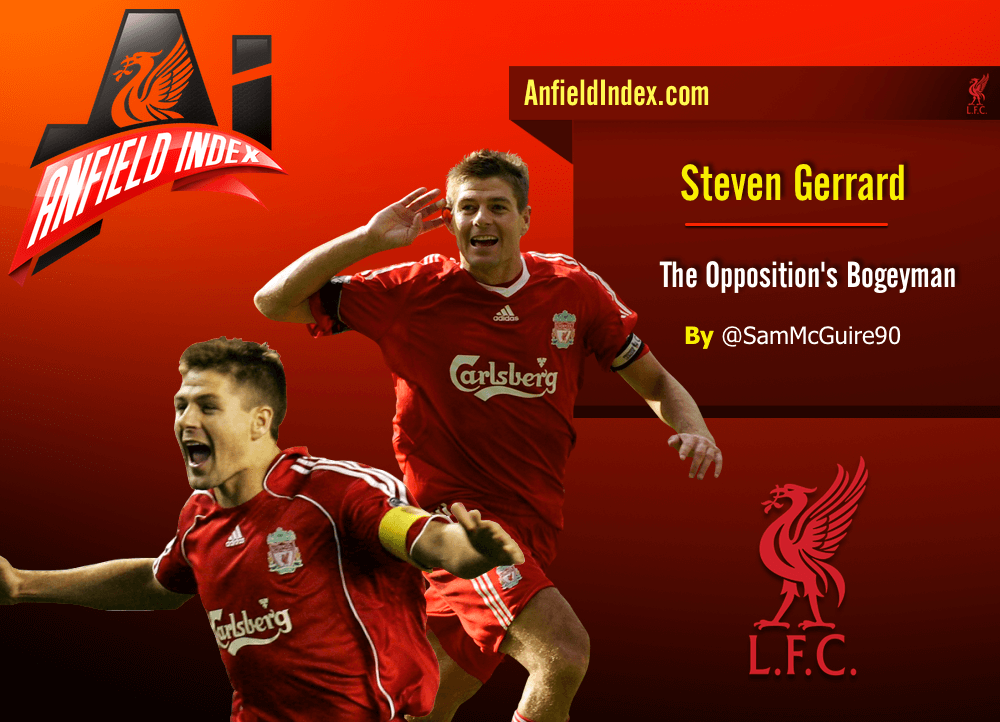 Steven Gerrard: the Opposition's Bogeyman

Bogeyman
Noun
An imaginary evil spirit used to frighten children
– A person or thing widely regarded as an object of fear
There was once a story that was told all across world. This wasn't just any old story but one that struck genuine fear into people of all ages. People would be filled with dread the night before they were due to face him. A modern day Freddy Kruger who toyed with your hopes and dreams. It was about a man who preyed on your weaknesses. If you were unfortunate enough to see the wry smile he was famed for, then you knew you'd just been on the end of a Steven Gerrard inspired Liverpool victory.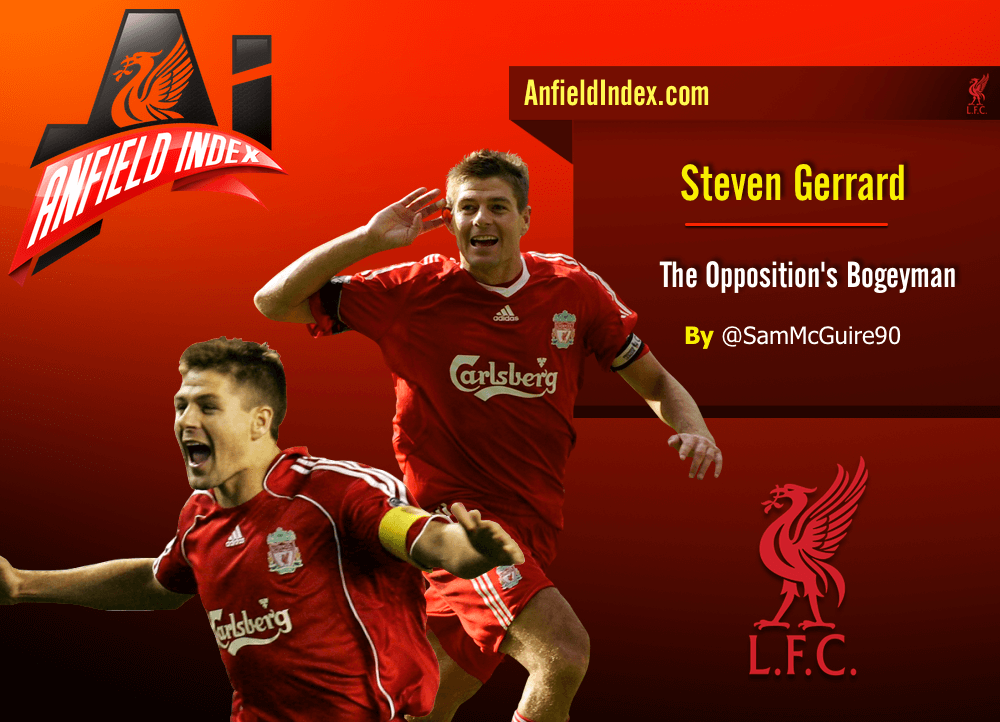 For a spell of around 5 years, Steven Gerrard was this mythical figure that kept fans awake. It must have got tiresome for some fans having to witness their team concede goals from 30 yards on a regular basis from strikes that he made look so easy. He didn't just rely on these kinds of strikes, no. He upped his game.
If opponents closed him  down he'd just power past them.
If opponents showed him onto his left foot he'd just lash it home.
There was a time when Steven Gerrard was a hurricane, a tornado and an earthquake rolled into one. He was the eye of the storm. If you were caught up in the middle of one of these performances, well, there was only one outcome. Liverpool win.
Being a Liverpool fan in the 00's wasn't the most enjoyable. Yes, we had Istanbul and the FA Cup but very little else. Except we had Steven Gerrard. Countless times I was having arguments in high school with people who supported opposing teams and even back then they used the 'no league titles' argument. However, Steven Gerrard was always the trump card. He was like a red flag to a bull. Mention his name and it got United fans into a right state.
Personally I've never loathed a player like opposing fans loathe Gerrard. It's more than hatred. It's fear.
For every goal he scored against United and Everton it wasn't just a goal for the club it was a goal for the fans who put up with the constant jibes (usually off United fans, Everton aren't exactly relevant). The iconic image of Gerrard at Old Trafford having kissed the camera, grabbing the corner flag that had the United badge on with his left hand and saluting the away fans with his right. His team mates gathered around him. It's symbolic and it will stay with me forever. It's the den of the enemy and Gerrard removed their fear factor, for Liverpool fans, by having his own specialist celebration for when he played them at Old Trafford.
We didn't fear them. They feared him, and rightly so.
Another iconic image I hold of Gerrard is of him running down the touchline at Goodison, ear cupped and tongue stuck out as if he's goading the Everton fans. This is very much a big brother asserting his authority over little brother type move. Putting them back in their place. 'Abuse me all you like but I'll always shut you up. Always'. He did.
The Bogeyman persona is a stark contrast to how we as fans view him. He has very much been our safety blanket over the years. When times are tough you look for familiarity and Gerrard was this and much more. His inclusion in the team was a way to soothe our worries and concerns.
His influence has been waning over the years as he's aged and injuries have taken their toll, yet we as fans still look to him to 'save us'. I did so against Basel in the Champions League this season. With him on the pitch you had hope and they couldn't take that away from us. Istanbul and the FA Cup final helped inspire my belief in the 2008/2009 and 2013/2014 season. We all knew the title was a long shot but with Gerrard playing you couldn't shake that hope we could pull something special off. Opposing sides probably felt that fear again. Liverpool may have been losing but Gerrard and Liverpool have this bond that just puts doubt in their mind.
We're not just losing a legend, we're losing the fear factor he gave us. Hope isn't entirely lost but the 2015/2016 will be odd to say the least.  The club can't replace him but they need to replace the fear factor of the club.