As grief compounds the world of most Liverpool supporters; the melancholic sense of a worthless season hangs in the rear-view mirror; only heightened by the departure of the one dependable thing Liverpool had left in Steven Gerrard. Gerrard symbolised everything Liverpool stood for; even in the toughest of adversity, even when everything looked bleak, he was the spark. He was the one to depend on. Without him, Liverpool look a shell, a discombobulated mess incapable of putting on a show like they did last season.
Liverpool Football Club is stuck in limbo.
The memories of last season; so fresh in those eager, smiling faces littered throughout the Kop when Brendan's men walked out against Southampton on the first match-day of the season are now torn with the same anguish and bleakness that was felt when the side were left in tatters are the behest of Roy Hodgson; the same side that included Christian Poulsen, Paul Konchesky and Joe Cole.

Readers may say exaggeration is rife in this scenario. It isn't.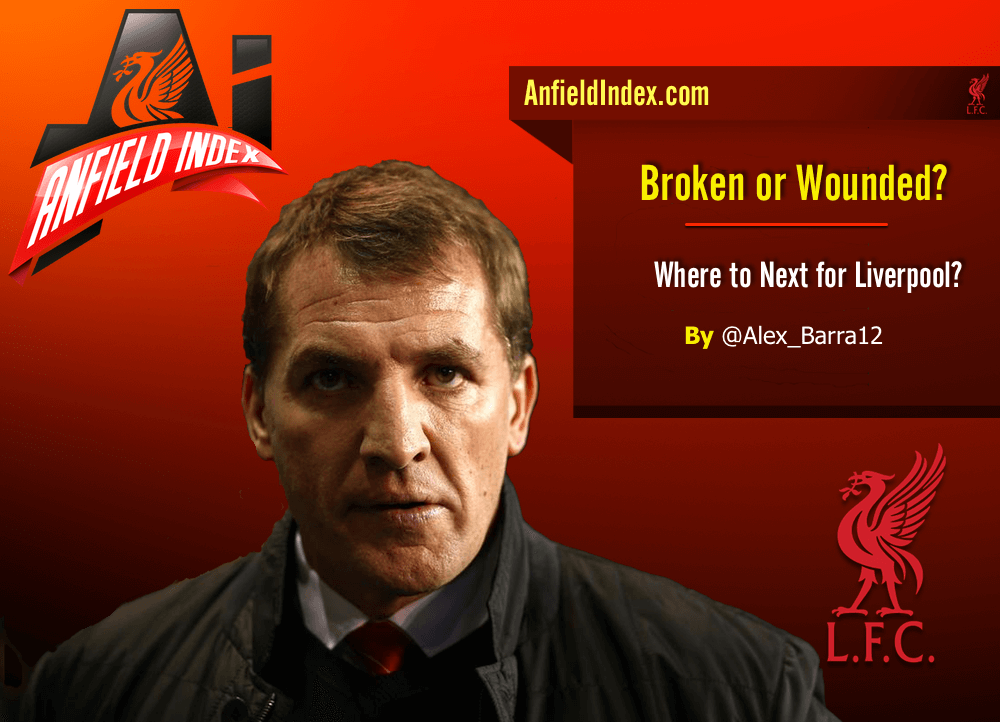 In 2011, despite Kenny Dalglish's slight resurgence towards the latter stages of the season, Liverpool finished 6th with 58 points. They were 22 points adrift of title winners Manchester United, and 10 points away from the final Champions League place; occupied at the time by Arsenal.
In 2015, despite numerous individual chances to narrow the gap between Liverpool and the four richer clubs above them, Liverpool sit 5th with one game to go. If results go as expected, Manchester United will sit 9 points above their closest Champions League rivals in fourth spot. Chelsea will sit 25 points adrift at the top of the table.
What's worse is the points tally. Brendan Rodgers's side; one which had £120 million pounds injected into it in the summer, currently sit only four points better off than the Liverpool side which lost Javier Mascherano and Fernando Torres, and was classed as "not being too big for relegation" from its own mediocre manager. Four points. One really has to wonder what progress is.
So without attempting to draw readers into a pit of despair; to which the only light is vanishing as it drifts towards Los Angeles, where exactly do Liverpool go next? How can the side that finished 2nd last season reinvigorate themselves?
To many, the most realistically necessary option is to sack Brendan Rodgers. Put plain and simple; there are much, much better options out there. No matter your opinion, the fact is that Brendan's weaknesses have been exemplified and exploited this season. Despite the positives on show for all to see last season; brought about by the mercurial magician that was Luis Suarez, certain trends are telling of Rodgers' tenure as manager.
Though the manager holds the key to unlocking success from a side, there are multiple factors which offset a season. Circumstances, injuries, and more importantly; individual moments that occur throughout the season. Football is not played on paper; it is played throughout a series of ninety minute intervals, all of which require acute preparation and in-game manoeuvring. Affecting these ninety-minute intervals is what matters; changing the variables, stacking the odds, increasing your chances, that's how football works.
So with that in mind, the real question to be asked, as the reflection of this tattered season hovers in the background and the prospect of accepting a "par" Liverpool team lingers in the foreground, is what's next? How can Liverpool change? More importantly, how can they fix a broken machine?
The Options
Statistical anomalies are hard to predict, and even harder to create. Yet last season was the perfect example of a statistical anomaly; "The perfect storm", if you will. One season later, it's as if the events of 2013/14 didn't happen; as the same flawed back line continually leaks goals; only without the firepower to carry them along. Gone is the need to rely on Suarez and Sturridge; not because of the lack of need, but rather the opposite. The need has only gotten greater, but the solutions have vanished amidst a flurry of injuries and a dream move to Barcelona, and Liverpool have been left relying on a twenty-year old asking for more money than he knows what to do with and a Brazilian puppeteer without any strings.
Where Liverpool has been left too reliant upon an ageing Steven Gerrard to create the spark – that same spark he's been creating for his entire career – they should be planning for a time when they no longer have to rely on statistical anomalies or legends of the game carrying the team. They should be attempting to implement a squad capable of challenging the big guns; and more importantly, capitalising on their failings. This season was the perfect time to take advantage of a sub-par Manchester United team in transition, yet the inability to show up on the big games has cost Brendan Rodgers, and cost him dearly. Considering how poor the form has been on the side of Liverpool; Manchester United's was easily worth capitalising on. The fact that there was an opportunity for Liverpool; who were the team in form at that point in time, to take the edge in the race for Top Four is emblematic of the state of the Premier League at this point in time. Yet it was the inability to take advantage of the shocking state of the league which has lead Liverpool to this point.
Dig deeper; and the pre-requisites of a squad worthy of challenging the "Big Four" are there. All it takes is the right business, the right philosophy, and the right manager to make it all click together.
The likes of Phil Coutinho and Raheem Sterling (well if he's still around) simply need a front-man capable enough to feed off of their service and combine with them as Luis did. Mauro Icardi, Alexandre Lacazette and Luciano Vietto all come to mind when considering a realistic talisman to target.
Lazar Markovic and Jordan Ibe are two immense talents that simply need nurturing and grooming to flourish. Being played out of position on a consistent basis is stifling the development of what could be an explosive young attack; complemented by one more attacker to fill the ranks should Raheem Sterling seek pastures anew. Pierre-Emerick Aubameyang. Felipe Anderson. Roberto Firmino. These names aren't being pulled out of a fantasy hat; they're ripe for the taking, and have been linked to Liverpool in the last month or two.
Finding a replacement for Steven Gerrard is impossible, but ensuring that Liverpool have a mobile midfield capable of overrunning the Premier League is not as arduous as one might think; after all, the ingredients are already there. Jordan Henderson and Emre Can have been the life of this Liverpool side for most of the season; and complemented with the immense talent of Mateo Kovacic, Granit Xhaka or Geoffrey Kondogbia, they can be tasked with being the engine of a Liverpool side filled with the quick movement and blistering pace.
Meanwhile, most people seem to be forgetting the balance Liverpool possessed earlier in the season on the flanks. The Spanish duo of Javier Manquillo and Alberto Moreno fit each other perfectly; balancing out defensive solidity on the right with marauding flair on the left. Add the stable presence of Mamadou Sakho and experience of Martin Skrtel, and suddenly the prospect of defending: especially with a defensive midfielder to provide solidity (see Victor Wanyama, Maxime Gonalons or the aforementioned Geoffrey Kondogbia as potential candidates for the role) is fraught with much less danger.
All of this, however, is postulating and pondering over hypotheticals. What is real is the 62 points we've amassed so far this season. What's real are the three points dropped at home, supposedly in form, to a Manchester United team that was ready for the taking. What's real are the 8 points dropped against West Bromwich Albion, Hull City and Crystal Palace in the last month.
This season will undoubtedly be remembered as a defining moment of Liverpool Football Club's recent history; not necessarily regarding their choice of manager come the summer-time, but regarding how they fix a broken machine. The parts – as I hope to have illustrated in this article – are there, they just need putting together, coupled with a few new additions.
It is obviously more complicated than has been made out in this article; questions of financial status, a competitive market and whether or not Liverpool currently possesses the correct system are all important factors.
But take a step back, and maybe it is as simple as putting the parts together and seeing what happens. Football's not won on paper, after all.