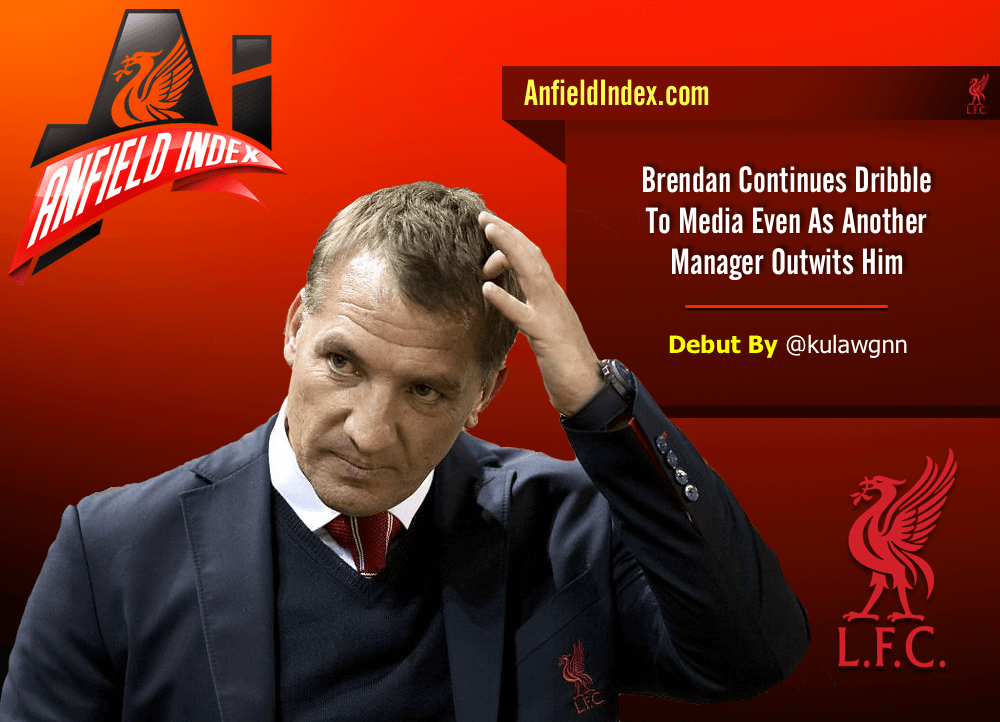 Brendan Continues Dribble To Media Even As Another Manager Outwits Him
'But the players have fought and given everything that they possibly can. Hopefully in the summer we can add that quality that the group clearly needs and look to take the opportunity next year."
These were Brendan Rodgers' words after the loss to Crystal Palace on the occasion of Gerrard's last Anfield match. For the umpteenth time he was not questioned on how his team was outrun and outfought by a lower table team. Nothing about how he and his team failed to respond to the improved performances of Crystal Palace in the second half. I waited for the now fashionable "Five things Learnt" columns on the various football sites. Poor recruitment, goal scoring problems, irreplaceable Steven Gerrard featured prominently. There was nothing about Rodgers losing yet another tactical battle against a manager of a lower table team.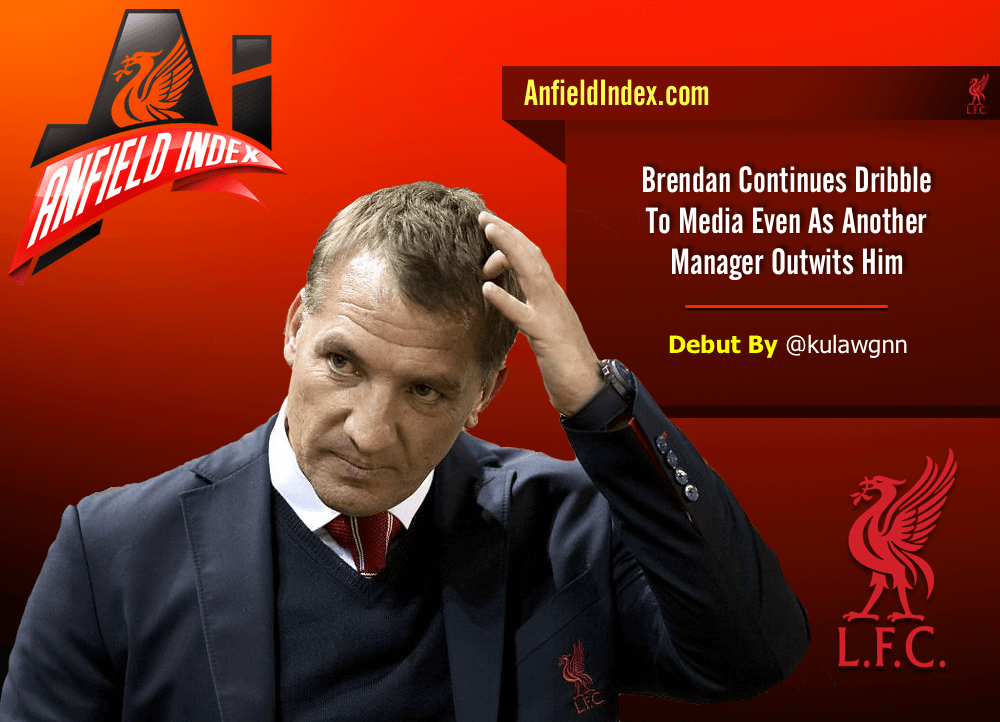 Often this season, Rodgers's ability and talent has been impugned and mostly with good justification. But one "skill" that cannot be questioned is his ability to get the media to focus on transfer committee, Mario Balotelli, Sturridge's injury without mention about his own failings tactically.
Steve Bruce, Tony Pulis, Alan Pardew, Nigel Pearson, Tim Sherwood, Neil Warnock are not exactly the cream of premier league managers. But these are the ones who have specialized in battering and outwitting Rodgers. During the season, Rodgers has gained points out of 33 points against the bottom ten teams in the league. To put perspective on it, City has 45/60, Spurs-43/60, Southampton- 42/60, United has 41/57 (yet to play Hull), Arsenal-50/54(yet to play Sunderland and West Bromwich), Chelsea 47/54 (yet to play West Bromwich and Sunderland) and Swansea-36/57(yet to play Crystal Palace). The conclusion is troubling; a Liverpool manager is being beaten tactically too often by managers of lower table teams. Even more worrying is that the manager hardly thinks that is a problem as he continues to blame everything apart from tactical failure for this situation.
Rodgers' post match statement suggested that the transfer window holds the solution for the problems of Liverpool. He had also said previously that what the team is lacking is goals. On the evidence of the display against Palace nothing can be further away from the truth than that. On Saturday, Palace pressed better, looked sharper, threatened all day were simply deserved winners. Yet all Rodgers could talk about was getting into the transfer window to get back the goals lost from last season. The performance against Palace was not going to be consummate even if Liverpool had a prolific striker. There were problems in defence through to attack. Rodgers had no antidote to Bolasie, Puncheon and Zaha doing a Messi-Suarez-Neymar impression at Anfield. Rodgers' front three lacked bite to threaten Dann and Kelly who on the day were made to look like Sirgio Ramos and Raphael Varane. Yet a Liverpool manager superintending over such a woeful display thinks the solution is the transfer window. Really? And he was made to get away with why his team was outplayed by a lower table opposition and why he did not or could not find solutions to his team's capitulation.
No disrespect to Palace's players who were brilliant on the day. But it feels upsetting to hear a Liverpool manager talk about quality signings in the summer after failing to beat a lower table team. The reason LFC needs quality signings is to get close to challenging for top four and the title. Liverpool has enough quality now to overcome teams like Palace and Hull. So if that is not happening questions should also be asked of the manager's selections and tactics.
Rodgers' post match comments were very typical. He deflecting attention from tactical failings is nothing new this season. His ability to get media focused on the ills of the transfer committee, the poor signing Mario Balottelli is, dearth of luck at breaking down lower table teams is however most surprising. In the aftermath of the FA Cup defeat to Aston Villa, he attributed his team's loss to the inability to cope with the occasion. This was a game Sherwood had tactically overpowered him to the point of panic. The Northern Irishman kept changing tactics all in a bid to find a way to overcome the dynamism and effort of Sherwood's team. Yet his reason for the defeat was that players some of whom had won Champions League, Europa League, League Cup, Portuguese League etc could not overcome the occasion to beat "seasoned" relegation battlers for a place in an FA Cup final. Again the manager did not admit to getting it wrong tactically.
Liverpool's season is strewn with many instances of poor tactical decisions by the manager. Basel at home, Arsenal at Emirate, Aston Villa at Wembley, West Bromwich(away) are notable examples. However if you read stories about LFC's season in the mainstream football media, everybody else apart from the manager have let down the club. It was obviously not the fault of the transfer committee that Rodgers kept his creative players on the bench whiles having a midfield of Allen, Lucas, Gerrard and Henderson in a must win Champion's League match against Basel. Poor recruitment cannot be blamed for the decision to play consistently play Lovren over Sakho even though the former was horrific. Poor recruitment cannot be blamed for failure to fashion correct roles for Markovic and Can for instance even though Rodgers claimed at their unveiling that they fit the profile of what he was doing at the club.
Unlike what is being made out in the media, poor recruitment and failings of the transfer window has not caused LFC a place in next season's Champions' League. Given that Manchester United have been poor this season, better tactical decisions in some matches especially against lower table teams would have qualified LFC for Champions' League. Rodgers has let down Liverpool as much as the many other factors he always gives for defeats. And it's time he gets as much scrutiny as the transfer committee and Mario Balotelli for instance.