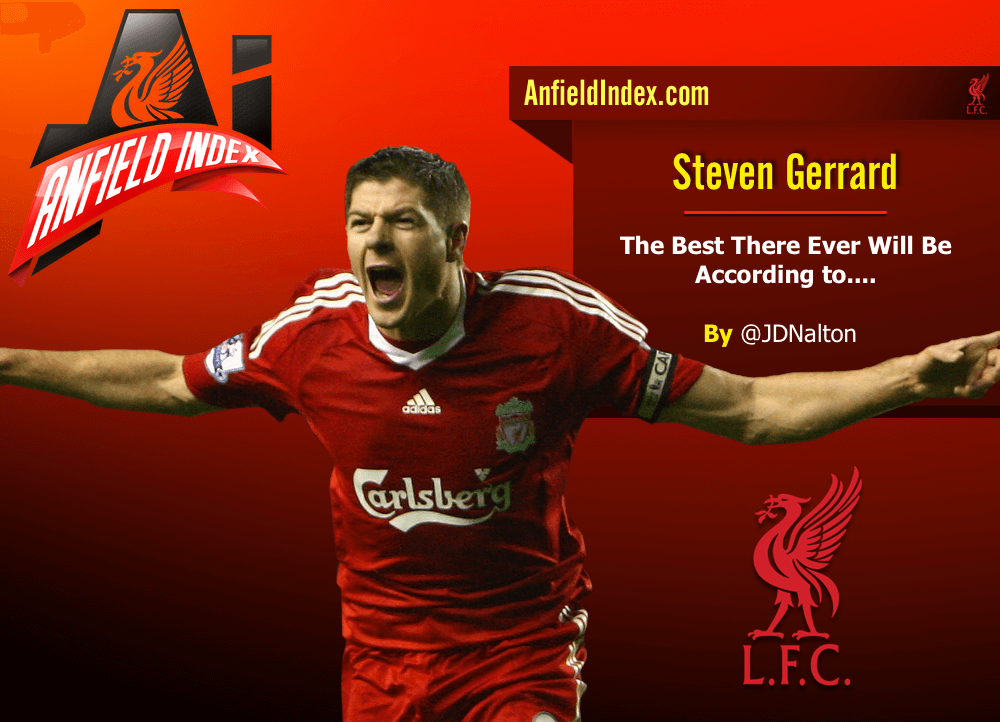 Steven Gerrard - The Best There Ever Will Be, According To...
There are some lies floating around lately, suggesting that Steven Gerrard is over-rated.
Whilst some of the coverage given to his last game at Anfield might have been over the top, and were perhaps something Gerrard himself might have toned down given the choice, the respect he's been given from his peers and football fans in general has been fitting.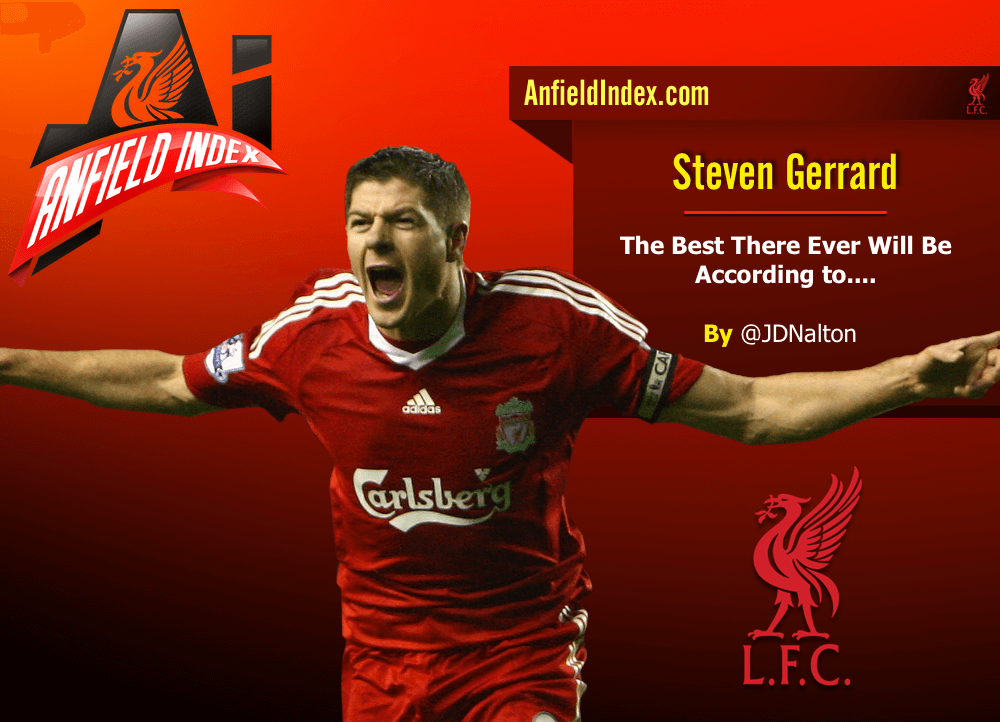 This was epitomised by the actions of the opposition players and fans during his Anfield swansong.
Both teams lined up to give Gerrard a guard of honour as he entered the Anfield pitch as a player for the last time. Rather than wallow in the awkward glory, Gerrard thanked every one of the Crystal Palace players as he made his way onto the pitch with his daughters, putting everyone at ease.
The Palace fans sang his name along with The Kop during the game, and they were duly acknowledged by the player as he made his way around the pitch after the final whistle.
Despite dragging Liverpool to numerous unlikely successes, some still point the finger at him for the club's league failures.
However, to be up there with someone like Kenny Dalglish even without winning the league is a sign of his true greatness. Dalglish won eight league titles and three European Cups with the club, which helped him achieve the status he rightly holds to this day.
The departing captain has no such league titles to help propel him to the top of the list of all-time greats, but still finds himself up there with the great Scot.
Gerrard made the PFA Team of the Season a total of eight times, but it's been said that Gerrard only made these lists due to "tactical voting"…
Rather than ramble on further, here are some tactical quotes from some of football's greatest luminaries:
"Is he the best in the world? He might not get the attention of Messi and Ronaldo but, yes, I think he just might be. If you don't have a player like Steven Gerrard, who is the engine room, it can affect the whole team.

"He has great passing ability, can tackle and scores goals, but most importantly he gives the players around him confidence and belief. You can't learn that – players like him are just born with that presence."
Zinedine Zidane (2009)
---
"We did everything to try (to sign him) and it was almost there. I was dreaming of Makelele, Gerrard and Lampard in midfield. His people were open to him joining a top side like Chelsea. But to me personally he never said he would come. Never. He was always a red and I think the decision was right."
José Mourinho
---
"Sometimes you have a player like Gerrard. For me, for the last five years Gerrard has been the best player in the world.
Pelé (2006)
---
'For me, in the position he plays, he is one of the very best in the world. For the job he performs, for me he is one of the greatest.'
Ronaldinho (2007)
---
"He's a midfielder and if you look at all the important goals he's scored, well, I can't even think of a striker in the world who has scored as many important goals, never mind a midfielder. How many times has he done it in the dying seconds of a game? I am trying to think of a striker now who does it – there aren't any. Think about it.

"For me, and I have always said this, he will be regarded as one of the greatest midfielders ever when he finishes his career. No doubt."
Thierry Henry
---
"If I had to choose three [players], I would pick Cristiano Ronaldo, because of his skill and speed, Messi, because of his flair and skills, and Steven Gerrard, who for me is the complete modern player."
Kaká. (2009)
---
"He has become the most influential player in England, bar none. More than Vieira. Not that Vieira lacks anything, but I think that Gerrard does more for his team than Vieira does, and has way more to his game. I've watched him quite a lot."

To me, Gerrard is Keane. Everywhere the ball is, he seems to be there. He's got that unbelievable engine, desire, determination. Anyone would love to have Gerrard in their team."
Alex Ferguson (2004)

---
"I couldn't vote for Thierry Henry as the Player of the Year because you can't vote for your own team-mates. So I voted for Gerrard. In my opinion he's in the top three midfielders in the world, maybe the best right now.

I heard what Alex Ferguson said about him being better than me. He's probably right. Gerrard is England's best player and he single-handedly got Liverpool into the Champions League. He is the complete player. He can score, he has a great final ball, he can tackle and he drives his team forward. He is a winner on the pitch, which is why I really admire him."
Patrick Vieira (2004)
---
"Gerrard has been my idol for 10 years and is one of the best players in the world. He is the example of what all midfield players aspire to. He is always there in the heat of the battle, leading by example. He is everywhere you look – in defence, in the middle of the pitch and in attack.

"I would love to be close to that level."
Daniele De Rossi (2012)
---
"Liverpool's Steven Gerrard, Lionel Messi or Xavi from Barcelona deserved the award more," he told the Mirror. "Ronaldo is only focused on finishing in front of goal.

"I love Gerrard's qualities as a player and a leader. Technically and tactically he is the best. His passion is enormous, he means as much for a great team as George Best.

"He is a player who fans can identify themselves with and a man who carries the love for his club on his club badge. There is not another player in the world who combines all those qualities.

"I like him so much more than [Cristiano] Ronaldo."
Guus Hiddink (2009)

---
If all of this isn't enough, there's even a radar proving beyond doubt that Gerrard is one of the greatest footballers of all time.
I feel like we should point out that stats rather liked Liverpool legend Steven Gerrard for a very long time. pic.twitter.com/FPeNbvm7ts

— Stats Bomb (@StatsBomb) May 18, 2015
And if, after this graphic, there was still any doubt. Paulo Maldini said this:
"Steven Gerrard reminded me of Franco Baresi," says AC Milan legend, Paolo Maldini http://t.co/uud2xX1Cu5 #LFC pic.twitter.com/ZBmKS5BkVu — Liverpool FC (@LFC) May 22, 2015
The best there is, the best there was, and the best there ever will be.