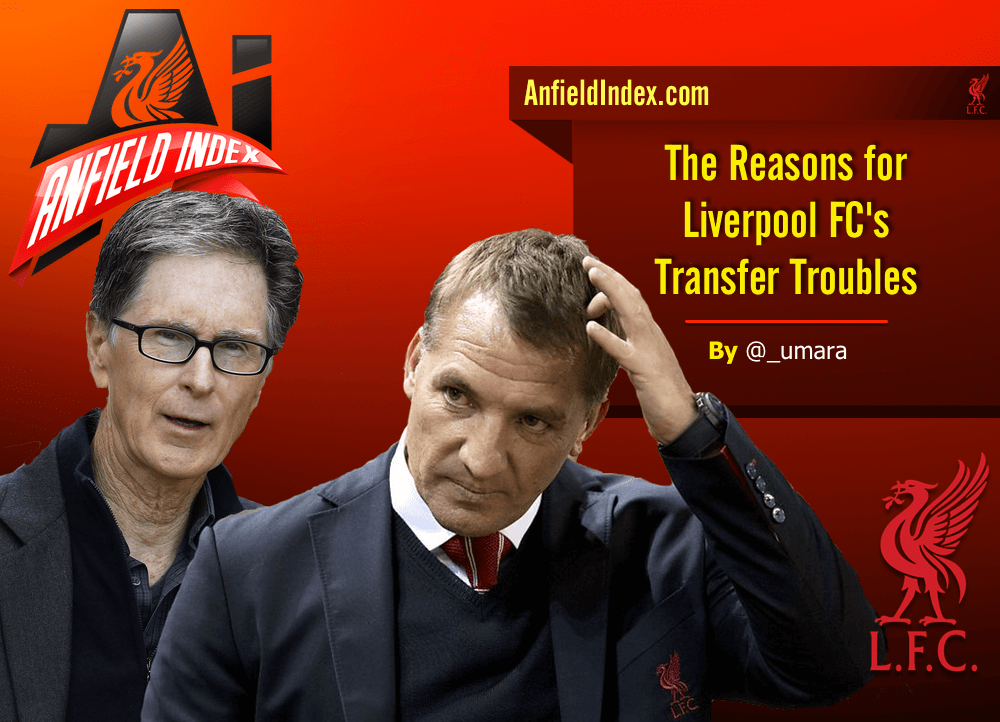 The Reasons for Liverpool FC's Transfer Troubles
It's transfer window time again! The time of year when all football fans get more excited than pre-pubescent girls at a One Direction concert, preempting the latest moves in and around Europe. The buzz is palpable and tensions are high. Obscene amounts of money are exchanged; amounts that would put small countries' economies to shame. Repulsive wages are agreed whilst club doctors awkwardly perform medicals on footballers from London to Moscow. Cheesy photos are beamed across the globe of players leaning against various walls and signs, thrusting club scarves in the air and signing 'contracts' that upon closer study are, scandalously, just blank pieces of paper. Yes, they really are. Fans furiously rush to have their favourite new signing's name emblazoned on their brand new shirts. Everything is wonderful; life is grand; we're going to win the league!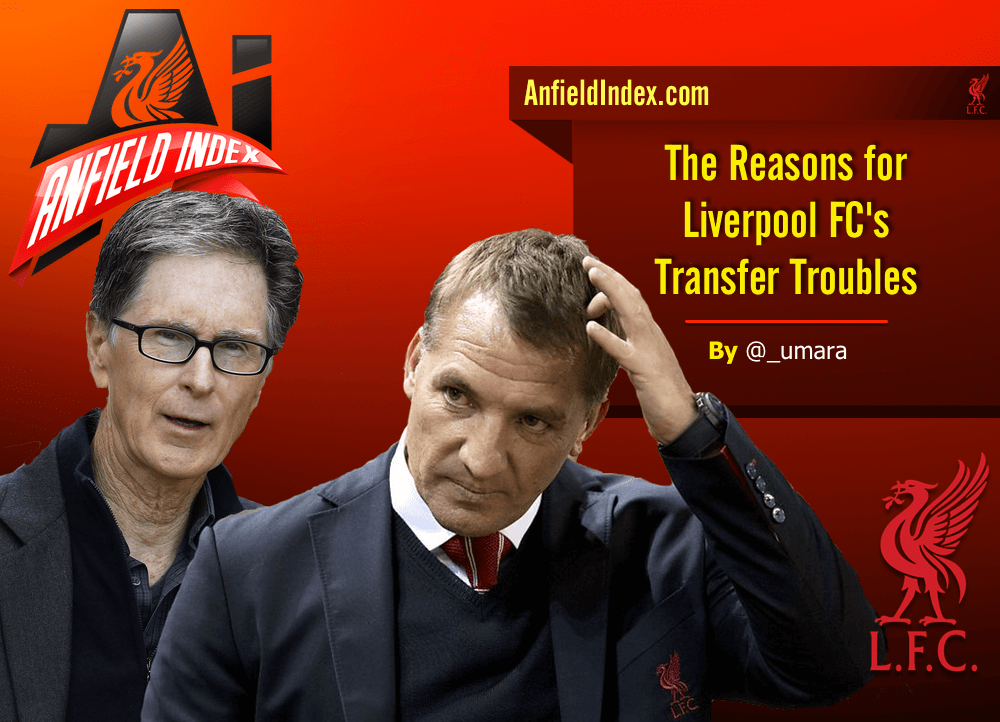 Except if you're a Liverpool fan. For us it's just a constant roller coaster of slow, laborious ups and sudden, sharp downs. Mostly downs. One time too many our dreams have been crushed in the cruellest of fashions, with the list of players that Liverpool almost signed growing ever longer as each transfer window passes. For the fans, hope turns to frustration quicker than Harry Redknapp can wind down his car window on transfer deadline day. In all honesty, however, this trend that Liverpool find themselves in year in year out is a worrying one. Top quality signings are imperative if the club want to find themselves back in the footballing elite. But why have Liverpool under Brendan Rodgers consistently missed out on their top transfer targets?
Money
It's no secret that Liverpool do not pay the fees and wages of their rivals, Manchester City, Chelsea and Manchester United. It's even less of a secret that world class talent doesn't come cheap. FSG broke the bank last year when they agreed to pay Luis Suarez £200,000 a week to keep him at Anfield; a wage that not even club legend Steven Gerrard was deemed worthy of. With the likes of Radamel Falcao and Angel Di Maria joining United on rather ridiculous wage packets, things just got a hell of a lot harder for Liverpool. Transfer fees have also been a stumbling block when in pursuit of the perfect footballing acquisition. Back street style haggling has more often than not been Liverpool's style in the transfer market; trying to knock off a few million here or there whilst another club casually snatches the player from under our noses. A very recent example of this is Mohammed Salah who ended up at Chelsea (albeit their bench) after the Reds were adamant not to meet the fee demands.
Lack of Champions League Football
When a team has spent five years in the wilderness of European football, the problems keep piling up. If money is an issue, then the lack of Champions League revenue only exacerbates that. Liverpool currently find themselves an unattractive proposition for potential suitors who want to play at the top level, and the Europa League just doesn't have quite the same ring to it. Players want the big time and for clubs it doesn't come much bigger than the Champions League. A brief return to the competition last year didn't attract as much talent as expected, and the Reds' swift exit did their cause absolutely no favours whatsoever. Time and again, the big three (City, Chelsea and United) have been able to poach talent away from us with the lure of big games. Names such as Diego Costa have slipped through Liverpool's fingers due to more lucrative footballing offers from other competitors.  All in all, Liverpool have lost their pulling power and find themselves in a vicious circle; no money, no world class players, no Champions League and so it continues. The club needs to sustain top flight European football for several years continuously to be taken seriously in the transfer market.
Brendan Rodgers
Here's a scenario for you. You're one of Europe's best (or up and coming) footballers and you have the chance to join a top Premier League club under the tutelage of either Jose Mourinho, Manuel Pellegrini, Arsene Wenger, Louis van Gaal or Brendan Rodgers. Which manager would you pick to learn or perfect your trade under? Or more importantly, win trophies with? No disrespect to Rodgers at all, but the aforementioned  four have earned the right to be above him in that pecking order due to their success. They're all proven winners, having managed at the highest level whereas  Rodgers still has some way to go before he can claim to sit alongside them. Liverpool's pursuit of Willian failed two years ago when the Brazilian openly admitted that his decision to choose Chelsea was because of Mourinho. He was quoted as saying, "The opportunity to play for Mourinho, the best manager in the world, also made a lot of difference."
Henrikh Mkhitariyan was claimed to have said that he chose Borussia Dortmund over Liverpool because he preferred their style of play. Because Rodgers has not yet proved himself as a success, regardless of his playing style, players will look elsewhere to a tried and trusted method which gets results. With the lack of a familiar face at Liverpool's helm, they find themselves at the back of the queue when it comes to prospective employees.
Liverpool Vs London
From a faraway, foreign land, the city of London holds a certain charm. One of the world's most famous and popular cities in the world, the English capital has always been an attractive destination for any person to settle in. With Chelsea and Arsenal residing in London, why would that be any different for a footballer? This certainly appeared to be the case in Alexis Sanchez's choice to choose Arsenal over us, when both fees and wage demands were met. Liverpool is undoubtedly one of best cities in England with its unique heritage, culture and boasts some of the friendliest locals in the world, but with a rival like London lurking, it's that much harder. Don't misunderstand me here. If Liverpool Football Club were in their pomp, attracting players wouldn't be an issue. The problem is that we're not and whereas the city wouldn't even have been a point to consider before, it now is. So when weighing up all options, the locality of the club suddenly becomes a major factor, especially with the London teams success. The remaining two clubs of Manchester's United and City deal with that potential problem by throwing vast amounts of money at it, which puts them in pole position for many big signings too.
The Whole Picture
In isolation, the above points may not make much sense but when looked at holistically they make all the difference to a prospective employee. As with any job seeker, a footballer needs to consider every aspect of what offers are laid on the table for him. Money, residence, job satisfaction, potential success and ambition. Add a trustworthy face to that mix and your desirability increases tenfold. As with Liverpool Football Club, if even a few of the above options aren't up to standard the ability to acquire world class talent diminishes fast. And this is where Brendan Rodgers and Liverpool FC find themselves right now. In that vicious circle. Until and unless the younger signings start paying off, it seems like we're on a downward trend for the near future. Marquee signings will remain a tall order for Ian Ayre, and until then the next few transfer windows may continue to be uncomfortable and exasperating times for Reds everywhere.