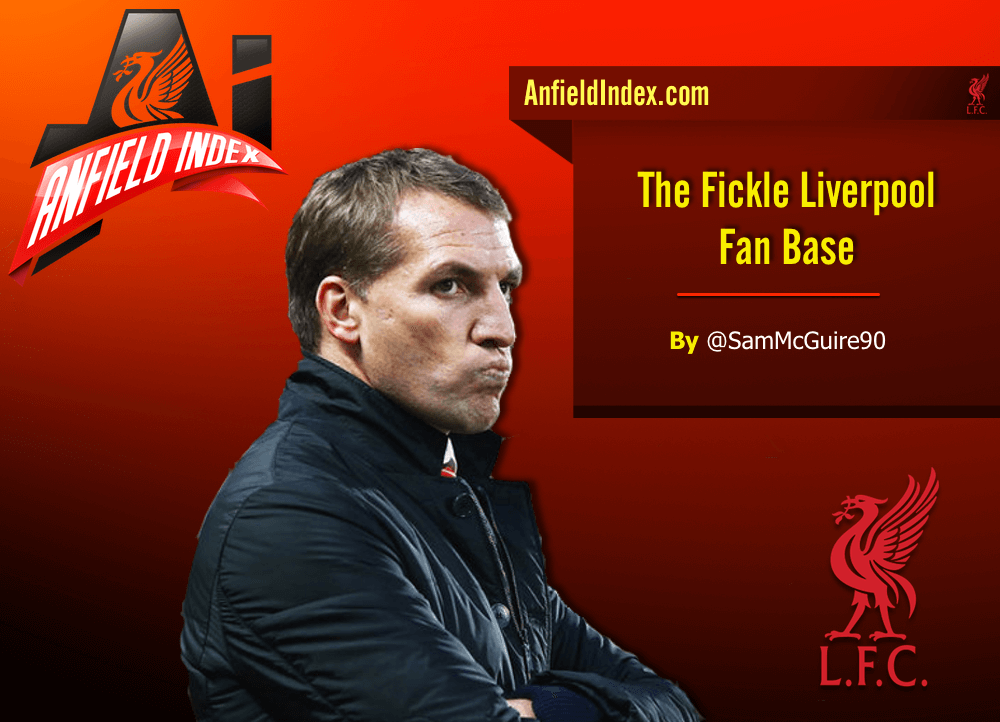 The Fickle Liverpool Fan Base
"The defeat to Stoke was too far. The straw that broke the camel's back. Rodgers out."
"He's lost the dressing room. That's humiliation and a team that doesn't back the manager."
That was the message that kept appearing on twitter after the loss at Stoke. The two statements show how exaggerated one  persons opinion could be from the next.
"Elements of today's performance didn't surprise me" said the Northern Irishman post game. This statement seemed to further antagonise the fan base.
I found this slightly odd given a few weeks ago I was told I read too much into his post match conferences and "they're just words he says to the media, nothing else." Evidently it's something else if you yourself take offence to these words.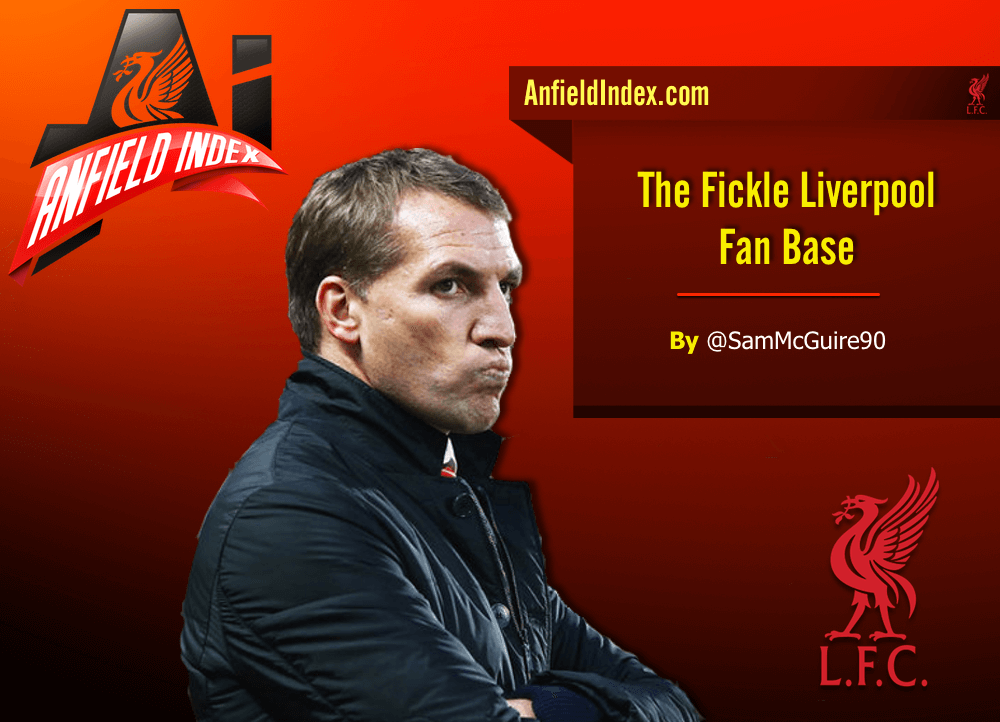 However, these same fans, who only a week prior post the Palace loss pointed out that Rodgers was the man to take us forward. He was young and learning on the job. He'd had an awful amount of bad luck this season and next season he'd learn from the mistakes and lead us into the top 4. Next season he wouldn't be lumped with players he didn't want. Players the committee signed against his wishes.
The same fans who forgave Rodgers, and the team, for the no show against Villa in an FA Cup semi-final? The ones who wanted to excuse the manager and lay the blame at the feet of the players.
"He set them up and the players didn't perform. How can you pin that on Rodgers"
Yeah. Definitely down to the players, the manager himself said so after the game, right?
 "We looked as if the occasion and their energy got to us a wee bit."
Both sets of players were inexperienced apart from the odd player on either side. However, Liverpool had the Champions League experience that people like to mention whenever signing a foreign player. Did that help at all in a big occasion? It's not like the same players froze on the big occasion previously this season, is it?
Ah, yes. Against our fiercest rivals at home when a win would've taken us into the top 4. When United came to Anfield and played as though they were the older brother in the family and it was their ball. You want it back? Take it. Did we? Nope. We showed them respect as they turned the famous Anfield into Carrington training ground for them. Once again these fans wouldn't blame the manager.
"Gerrard went on like a rabid dog and got himself sent off. Not Rodgers' fault."
That's absolutely true. If the match started in the 45th minute. It didn't though. The Gerrard sending off helped mask the poor performance for many.
Then the same fans were prepared to overlook the Champions League AND Europa League failures this season because at the time top 4 was still a possibility, as was the FA Cup final. Finishing third in a Champions League group that contained Madrid, Basel and Ludogarets isn't exactly a group of death. By excusing the forgettable performances in the Champions League and belittling the Europa League you're kind of giving the impression that Europe is a step too far for us. Not only that but it kind of allows how wasteful we were in the home leg vs Besiktas to be swept under the rug. How in the second leg in Istanbul it wasn't 'if' they'd score but when.
These are the same fans who laughed along with Rodgers in the post Southampton conference when he made the quip about the new defensive coach.
"Ha, look at Brendan laughing at all the people wanting a defensive midfielder. It's clear we're switched on defensively now. We just need goals".
Yeah, 6 away consecutive clean sheets is impressive. No doubting that. Can't even belittle the achievement of the defence to keep 13 clean sheets this season but don't be fooled by the clean sheets. We've conceded only 3 fewer than last season. As I've mentioned in a previous article, when Liverpool concede it averages out that it's 2 conceded per game so you NEED three goals to even get a win. That's irrelevant though, right? Rodgers has it sorted and if you question him you have an agenda. Personally I got bored of hearing about how I had an agenda whenever I questioned something that the majority seemed to agree with.
I'm of the thought many would've forgiven a defeat yesterday had it not been so emphatic. People would've said we only finished 8 points behind United despite such a poor season but they'd fail to mention how we also only accumulated 8 points more than Stoke, who finished 9th.
I find it perplexing that so many pro-Rodgers fans are now backtracking – quicker than Martin Skrtel did when Steven N'Zonzi was running at him before Stoke's fifth goal yesterday – due to a freak result. That's all the Stoke match was. A freak result.
I just don't understand how you can ignore and forgive all that went before it, everything I've mentioned above and the fact we've twice gone on runs of 8 points in 9 games this season, but the biggest issue for some was here losing to Stoke 6-1. Yes it's embarrassing but these kinds of freak results occur. I'm of the thought a manager should be judged on performances not results as like I've said, these results *can* happen from time to time. Barcelona smashed Madrid 5-0. Wolfsburg beat Bayern 4-1. Leicester beat Man United 5-3. Just freak results that wouldn't happen again.
It's almost as though it's now popular to want Rodgers gone so many have switched alliances with no other reason than a 6-1 humbling at the hands of Stoke. The real issues started months before that so changing your opinion due to a one off result is fickle. It's probably why debates are becoming rare these days. People change their opinion more often than their underwear. Yesterday may have been the icing on the cake of a shit season, but it shouldn't be what broke the Camel's back. You can't ignore so much as a supporter before turning around and using this result as the reason you're Rodgers out.