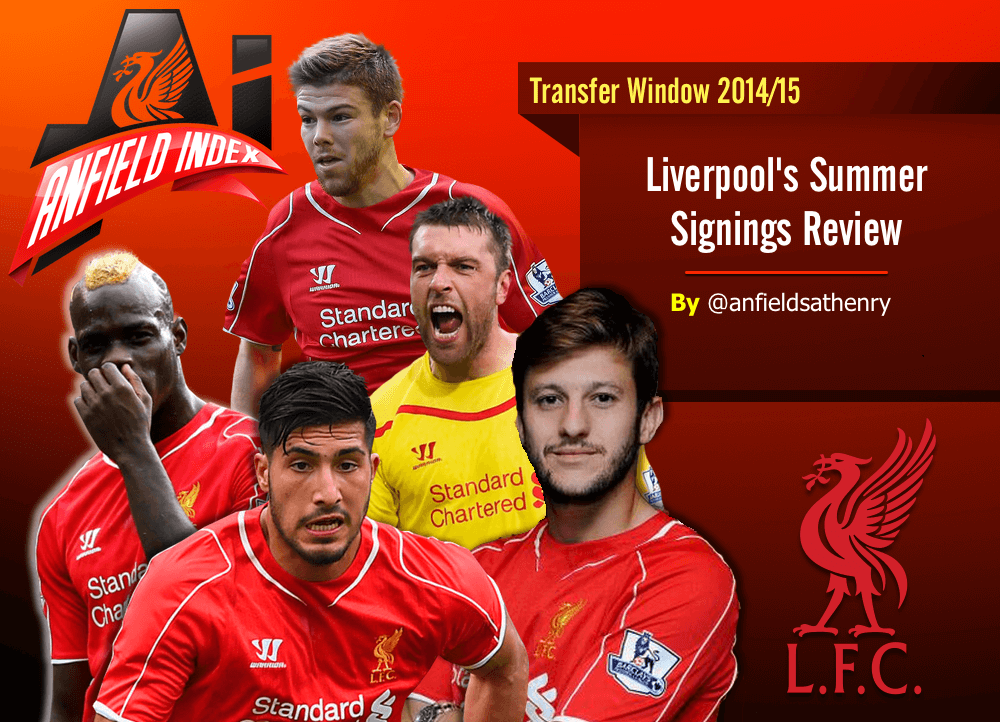 Liverpool's Summer Signings Review

Brendan Rodgers and the mysterious Transfer Committee spent over 100 million during the summer of 2014.
After selling star-man, Luis Suarez, for a hefty fee no Liverpool fan was too worried. Money had been spent and hopes were high that another title tilt could be launched. Now a season on and expectations have been well and truly stomped on. A sixth place finish and horrific final few weeks have left many wondering what is next for Rodgers and Liverpool.
A key factor of the drastically underwhelming season has been the performance of the newbies, or lack thereof. Signings Adam Lallana and Dejan Lovren were supposed to be essential to the coming season and late incomer Mario Balotelli was hopefully, okay the hopes were never that high, to solve the striker problem.
Those pesky full-back positions were filled by newcomers Alberto Moreno and loan boy Javier Manquillo. Expensive youngster Lazar Markovic was thought to add some depth to a thin squad, Emre Can was bought with an eye to future midfield steel and Rickie Lambert was acquired for sentimental reasons (four million is some expensive sentiments).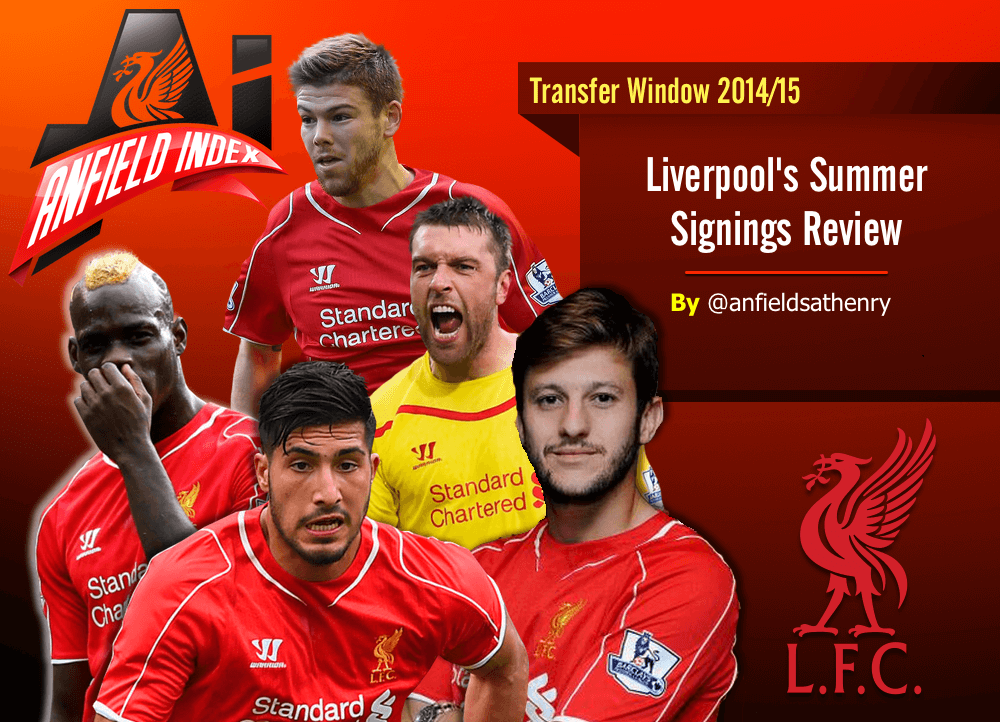 Below is a review of each of the above players' impact on this sad season.
Dejan Lovren
Lovren has not been the defensive saviour that was hoped. Hell, he has barely even been defensive, let alone a saviour. After a brittle back four, Lovren was brought in to provide the quality and calmness our defence desperately needed. He has not done that.
He has made 26 appearances in the league, 21 of those starts. According to Squawka.com he has made six defensive errors, two leading to a goal. Watching Lovren during this season, that seems kind. The nervous wreck seemed to be constantly out of position, out of his depth and sometimes out of his mind. A pass back to Lovren was like an electric shock through every watching Liverpool fan.
The defender had been sent out to the cold since the start of the year and only played in recent weeks because of Martin Skrtel's and Emre Can's suspension and Mamadou Sakho's injuries. He hasn't redeemed himself, Liverpool winning just two of the six games he played in and conceding six goals.
Maybe there is more to come from Lovren, maybe it was first season syndrome. Perhaps it was too much pressure on the Croatian, but at £20 million Liverpool needed instant defensive quality. 3/10.
Adam Lallana
The winger was Liverpool's most exciting signing of the summer. A long saga with Southampton and heavy competition eventually led to Lallana's signature on a Liverpool contract. The Saints' captain was excellent during a record breaking season at Southampton and was being mooted as a potential star at the World Cup.
Much to the frustration of all Liverpool fans, he arrived injured. His problem kept him out for the first three league games and he returned to help Liverpool to embarrassing back to back defeats against Aston Villa and West Ham.
Since then it never really took off for Lallana. An excellent display against Swansea at the turn of the year was not followed up and although scoring some excellent goals, his contribution has been small. Despite this, there have been glimpses of a player there. When Liverpool has played well, it has been with him contributing upfront. He has an eye for goal and when on form is quite unstoppable. He has three assists and will surely step it up again next season as he looks to cement his place in the Liverpool starting eleven. 6/10.
Mario Balotelli
It is strange to think that Balotelli is a Liverpool player. Mostly because he doesn't play, let alone score and isn't really here. It's an internet illusion. 1/10.
Alberto Moreno
The full-back cost a few bob from Sevilla and was thought to be the answer to Liverpool's left-back woes. Unfortunately his price-tag probably hindered the still growing player. He clearly looks a little out of his depth at the moment and has been caught out several times by England's pace and strength.
He does however look like a player upfront. Moreno never stops running and has even scored a few. As he matures and learns to handle the league, he could still justify his hype. 6/10.
Javier Manquillo
The loanee has been a woeful answer to Liverpool's right-back issue. Not because he is a bad player, but because he is a skinny Spanish player completely new to the Premier League. To expect anything of the 21 year-old was foolish of Rodgers and one he quickly realised. Manquillo hasn't played any part in Liverpool's last 19 games. For that, it is hardly fair to mark him out of ten.
Lazar Markovic
Let's face it, Markovic has had his moments, some not exactly helpful. He has two goals and an assist, but one costly red card in the Champions League. His decision making has been suspect, mostly due to his tender age, and he is far from the finished article.
Just like Lallana, he has shown us peeks into his ability and will surely improve. Evidence of that is his 19 chances created in 19 appearances in the league. 5/10.
Emre Can
It is hard to judge this German midfielder, largely because he hasn't been used as such. Can has found himself thrown into an experimental back three and he often did himself justice. He was mostly composed and was frequently seen surging forward and creating problems.
He has had his hiccups though and the back three has since been abandoned, but Can continued to play. He has missed just 11 games in his first season in the league and has picked up a few man of the match performances. His form dropped off late in the season, but most people at Liverpool are eager to see what Can is capable of in his natural position. 7/10.
Rickie Lambert
Why this hometown boy was bought is beyond reason. When he has played, it has been because of necessity with injuries to Daniel Sturridge and inexplicable absence of Balotelli.
It has not been the fairy-tale return Lambert would have hoped for and opting to stay and fight for his position in January now seems a mistake. With two goals in the league and just 802 minutes on the pitch, it is hard to imagine the striker will remain for another season. 4/10.
So what is the common theme during this assessment? Rodgers did not buy the finished article. A majority of the cash was spent on players untested in the Premier League and still young. His two league regulars flopped and he ignored the blatant red flags upfront.
Fenway's policy has been to buy young, but that has quite clearly back-fired. There are serious holes in the squad and now with Steven Gerrard gone, there will be a severe lack of experienced quality at Liverpool.
This summer may be yet another one of expensive spending, but no-one is hopeful this time.
Biggest disappoint: Dejan Lovren
Least interested: Mario Balotelli
Most promise: Emre Can
Biggest mistake: Mario Balotelli
Most out of depth: Javier Manquillo
Season best: Emre Can
Best goal: Alberto Moreno goal at Spurs
Overall Summer Signings Score: 4/10