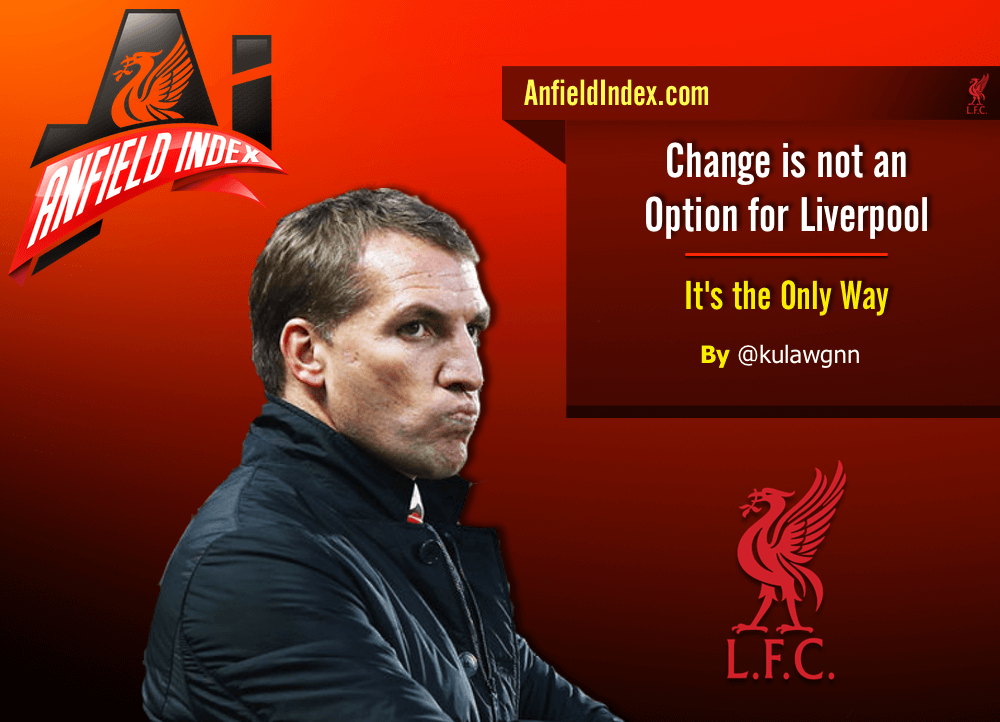 Change is not an Option for Liverpool, it is the Only Way
In Greek mythology, Sisyphus was the King of Ephyra (now known as Corinth) who was punished for hubris. According to author John Stoessinger (The Might of Nations 1993) Sisyphus was "condemned by the gods forever to exact his entire being towards accomplishing nothing. He was to roll a rock to the top of the mountain only to see it fall each time into the depths".
Several reports in the media suggest FSG, Liverpool's owners, are determined to stick with their transfer policy-buying potential instead of experienced players. It is yet to be seen whether the heavy defeat at Stoke makes a marked intervention, but it seems the much maligned transfer committee and the embattled manager will stay. Like the Sisyphean task, we know how that will end!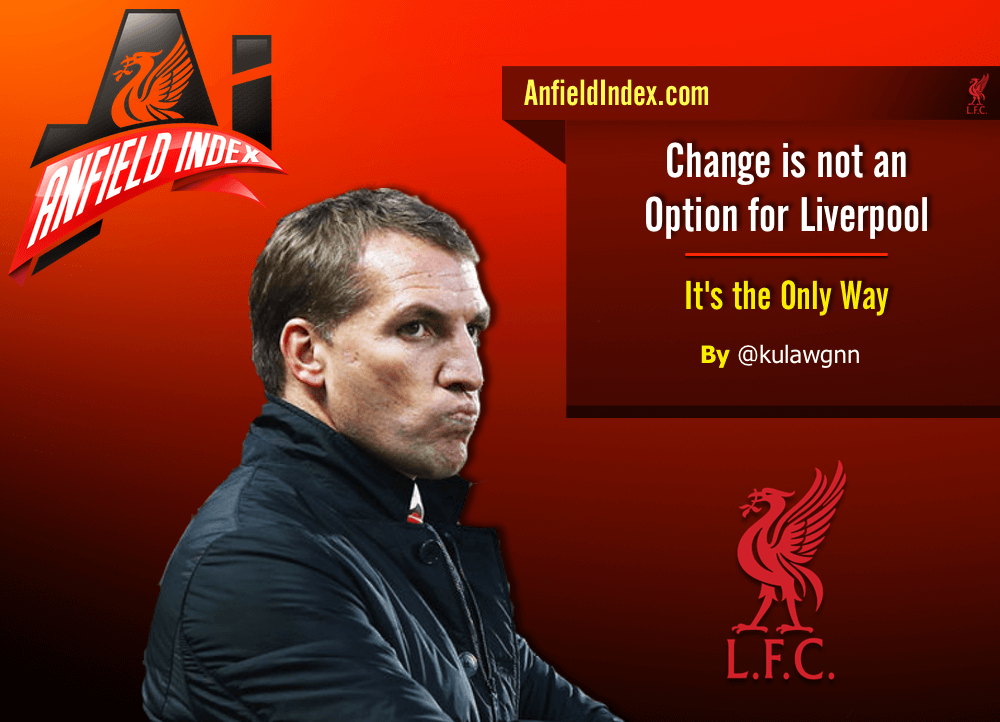 Long before Sterling's agent started name-calling, there had been enough reasons coalescing into an urgent to-do list for the club in the summer. Like several other summers, LFC need to fix things and get things right. The club has just emerged from a season that had seen it fail to achieve any of its set targets despite those targets being watered down over the course of the season. The season that had begun with the manager proclaiming they were going to challenge for the title, progressing to knock out stages of Champions' League, taking Europa Cup seriously, top 4 challenge and winning a trophy failed miserably. Yet the modus operandi of the club won't change. The club is reportedly intent on sticking with a plan that by inference means LFC are the shrewdest operators in the transfer market. That hubris, like Sisyphus, has seen the club on a routine that has failed to yield any success. The transfer policy is based on the identifying potential before they become stars, buy them cheap (ideally), see them reach stardom to help the team or sell them at premium profits. Targets are assessed on a welter of statistical indicators and price tags. The model requires LFC and its operators to be the smartest scouts, negotiators, talent developers and the luckiest, as well as those of other clubs being the dumbest and unluckiest. It is very clear that is not the situation on the ground. As the elite teams have shown, buying proven quality facilitates success. They have trophies and better squads to show for their approach. LFC has the  annual "summer of getting it right" as output.
So Sterling and his agent will use the situation rightly or wrongly to agitate for a transfer and in the process remind everyone how low the club has fallen. If a 20-year old with who has won nothing in the game feels Liverpool cannot match his ambitions perhaps it says much more about Liverpool than the player. Of course I am operating on the notion that Sterling's "it's not about money" theory is 100% true. What is more frightening for Liverpool fans is that the Sterling and Suarez sagas seem inadequate to engender a change in how the club is run. While a summer of change and restructuring is imperative, noises coming out in the media talks of continuity with some twitches; not enough! A season that has been such a massive failure demands accountability and significant changes.
Every summer for the last few years has been billed important. This summer is critical. It is too critical to stick with dogmatic transfer models and not making any changes to the transfer committee or manager or the way football issues are run at the club. Something has to change. The season has been at best mediocre; effecting no changes may institutionalize mediocrity in the club. The club returned to the Champions' League this season to find a different football landscape from the one that existed in 2011, the last time they were in the competition. That Basel was a second seed for the group stages in the Champions' League while LFC was third was a small symbolism of how far the club had fallen behind. At the end of the 2009/10 season LFC were ranked fifth on the continent with Basel occupying the 38th position. When LFC returned to the competition in 2014/15, the Swiss side were placed 19th with Liverpool languishing in 42nd. The longer it takes for LFC to get back into the competition again, the bigger the wedge between Liverpool and the elites of Europe. That is why conforming to models should not be theme of this summer.
Last year was a perfect opportunity but it was blown. Armed with Champions League football and lots of cash the club acquired Lambert and Lovren. Without Champions League next season it is going to be even more difficult for the club to attract and be attractive to the top proven players. But LFC is still a force, though far from the "super power" Rodgers claims. Liverpool is a better proposition now than 5 years time when they may have been out of the Champions League for another 5 years, had no league title and trophies. That is why things have to change. Or it is the thinking in Boston and the corridors of Melwood that we need the current crop of talented "kids" would have matured into top talents to propel the club to where it belongs once again. But on the evidence of what is happening it will be naïve and foolhardy to expect that Coutinho, Can, Markovic, Ibe, Ojo, Origi, will stay together like classmates and graduate into a successful team. Like Suarez showed and Sterling is showing, these young stars will stick around not because they have good buddies around them. Only a tangible reason for realistic continuous success can keep them here. They will go if they become stars of the team and there is not enough quality around them to win things. This is what LFC should be addressing not sticking with models.
When LFC's hierarchy talk about progress, you are certain to hear expansion of stadium, trimming of wage bill, financial sustainability. All well and good. Very scant mentions are made of trophies. But for a football club trophies and winning matches matter more, arguably. That is something Liverpool isn't doing well. Bigger stadiums and financial sustainability should provide platforms for trophies. They should not be objects of celebrations for a football club. The stadium is being expanded but will that necessarily translate into higher attendance if despondency exists among the fans? Unless the extra seats are meant for corporate guests and even they feed off sporting success. I don't think the corporate seats of Man City were in huge demand 10 years ago. Fans no matter how passionate and devoted are worn out by long periods of frustration and no sporting success. Fans thrive on the expectancy, hope and accomplishments. If at any point they are cut off from those, attendance to games may suffer. At the height of the frustrating reign of Roy Hodgson, attendance at Anfield for the New Year's Day fixture with Bolton Wanderers was 35,400, significantly short of the season's average of 42,820. That is why sporting success now cannot be overemphasised.
The owners of the club cannot be accused of parsimony. In their time at LFC they have paid as much transfer fees as Manchester City and Manchester United. They have outspent Arsenal in transfer fees during the period they have owned the club. Estimates put the transfer fees Liverpool has paid under FSG at £330 million. In that period City has spent £347 million, United, £329 million and Arsenal, £244million. But it is the manner of the spending that is worrying. LFC's amount has brought in 32 players, City's 27, United's 22 and Arsenal's 27. Rivals are buying few ready-made and proven talents but Liverpool is spreading its cash on as many potentials as possible. Is buying many an admission of that the "buy potential" is a flawed strategy; almost a trial and error method that needs five eggs to be assured of one golden chicken? Wages of the players are critical factors in recruitment. But if LFC is to focus on buying ready-made talents, the £40,000 weekly wage per head spent on three potentials can fund the wages of the ready-made star. There are very few clubs that can boast of success with a model similar to Liverpool's. Even the likes of Sevilla and Porto who nominally have a similar model like LFC have been noted more for picking "out of favour" or under-the-radar experienced players at cheap fees than throwing millions on potentials. Brahimi, Kevin Gameiro, Carlos Bacca were not top U-20 players in the world when Sevilla and Porto went in for them. But they were experienced in top leagues in Europe or bossing some South American league on a consistent basis. Now they are worth more in dollar terms while having already made significant contributions to their teams already. The present and future both addressed. Liverpool's "acquire potential with good resale value" sounds more of a business model. The club also needs a sporting model; a recruitment strategy that cares as much about the now as about the future.
Having read the damming article on LFC by ex-United man Neville in the Telegraph, I'm worried that I found myself agreeing with most of the points. Our club is not a super power. But like Neville said, the club risk being just a provincial club, with vestiges of a glorious past if the owners don't act now. This summer assumes more importance; the club has to act differently for the sake of its future. It can't afford sticking with models that may only serve its future interests while present needs are not addressed. Otherwise like Sisyphus, the club will continue rolling up the rock, seeing it drop and doing it over and over again; accomplishing nothing.