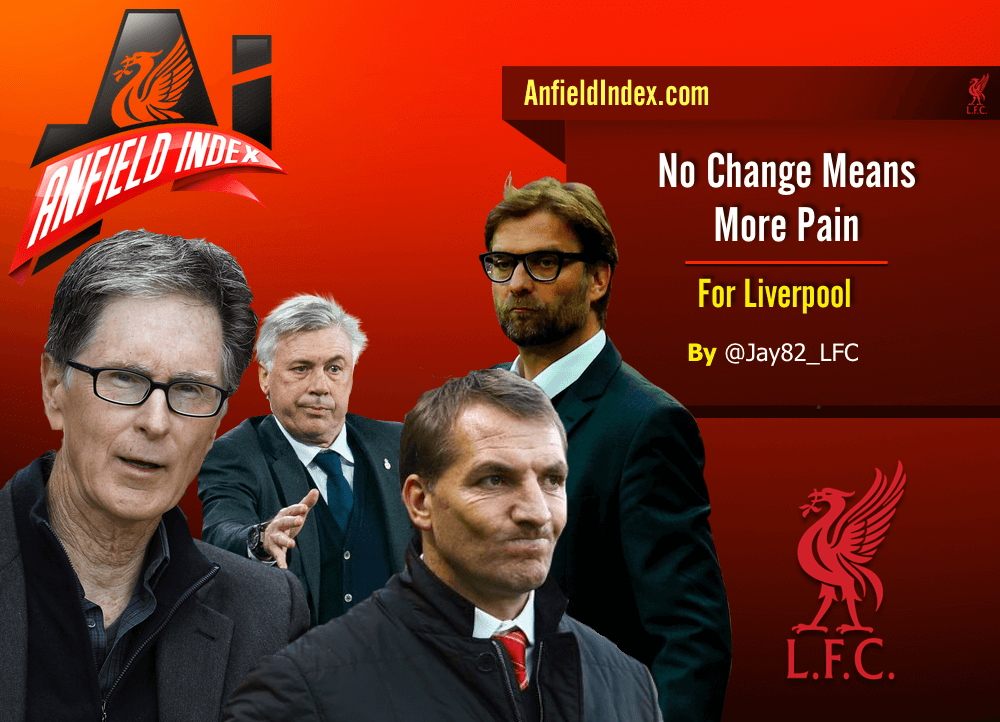 No Change Means More Pain for Liverpool!
It has been a while since I have penned my thoughts. I have read so many articles and blogs from my fellow reds on our poor season and Brendan Rodgers' failings this season. I have tried not to jump to any firm conclusions without taking the time to form my own opinions and thoughts. Journalists change their opinion every night – Rodgers is safe one day and not so safe the next day. A major shake up is required one day, no significant changes will be taking place the following day. The current view seems to be that Rodgers will be staying, no Director of Football will be appointed and only minor changes will be made to the current structure.
Taking everything into account, I have come to one conclusion……make no significant change this summer will result in more pain for the club next season and beyond.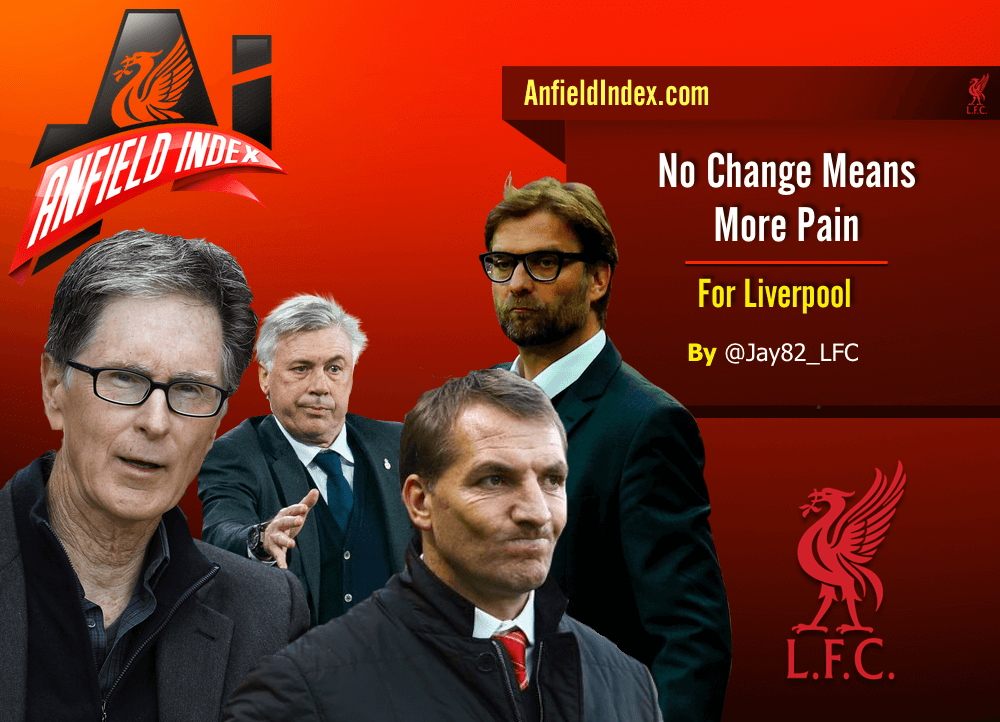 Brendan Rodgers
One of the key issues in my mind for our problems is Brendan Rodgers. Rodgers' first two years were a success in my opinion. In his first season, he changed the way we played and by the end of the season we were playing some brilliant football led by Suarez ,Sturridge and Coutinho. The following season saw his stock rise even further by shaping a deadly attacking team, albeit disastrous at the back, which resulted in Liverpool finishing second in the league and gaining the coveted Champions League place. So what has Rodgers done so wrong that has led to strong calls for his sacking? My key reasons are set out below:
1) Rodgers has spent over £200m in his 3 years. However, we have not one world class player (Coutinho comes close but isn't there just yet). We also have no spine within our team unlike our rivals. Chelsea have Courtois, Terry, Matic and Costa. Rodgers in his three years has not brought in a top class centre-back, defensive midfielder or striker. Our spineless showing in recent weeks has also demonstrated that we have no leaders. Rodgers has always admitted he has the final say in transfers, even with a committee in place, so he needs to take the blame for not identifying the positions he should have addressed.
2) Three years have passed and we have no set style of playing nor settled formation. We've gone from the successful diamond of last season to a horribly ineffective 4-2-3-1 at the start of this season. Rodgers then changed it to a mildly successful 3-4-2-1 and then back to the horrible 4-2-3-1. Tactical flexibility is one thing but the players don't know what position they or others are playing in. Can, Markovic, Sterling and Manquillo have all been affected by these constant changes – the last thing that young players want. Finally, we have also lost our high pressing football and quick transitions.
3) Our defence has been atrocious in every season that Rodgers has been in charge. He was smug about not needing a defensive coach but that backfired since he made the comment and we have leaked goals consistently. Rodgers hasn't worked on our defence shape in his tenure and he also not brought in a defensive midfielder. He has often lauded his coaching abilities but he has not been able to successfully coach our defence in order to plug our leaky frailties.
4) Rodgers' eye for talent is highly questionable. His decision to bring in a left sided centre-back when we already had Sakho was questionable enough. To then bring in Dejan Lovren for £20m to replace him was beyond ridiculous. His determination to land the likes of Borini, Allen, Lallana and Lambert have also had limited to no success. Rodgers has openly admitted he wants to be in control but with a poor eye for talent it has often led us into trouble.
5) His ventures in Europe have been disastrous. In his first season at the club he had the right idea to blood the kids in the Europa League and he also had a limited squad available to him. However, this season's experience in the Champions League was a disaster from start to finish. We didn't impose ourselves at all in a weak group and waved the white flag at the Bernabeu with Rodgers' team selection. Rodgers has limited experience in Europe but can we afford to let him learn on the job and waste the opportunities we have when we play in Europe?
Whilst I firmly stand behind my comments above, I do not think Rodgers is a bad manager. Nor do I think he has done a bad job in his tenure to date. He has reduced the wage bill, improved youngsters and instilled a good way of playing (most of the time!). However, I do not think he is the man to take us forward at this moment in time given the points above.
Structure
FSG always had the intention to employ a Director of Football. Someone to oversee footballing operations at the club and work closely with the manager and scouts to get transfers completed. When Rodgers was appointed that idea was scrapped and a transfer committee was put in place with Rodgers being a part of it.
Clearly the current structure has not worked with questionable purchases and no accountability. With such an inexperienced manager at the helm, a Director of Football was always going to be needed to provide support – particularly in the area of transfers.
FSG may not decide to sack Rodgers but they need to address the existing structure and bring in an experienced Director of Football with a good track record. You only need to see the success of Monchi at Sevilla to see how well it can work. Sevilla have consistently lost their top players in recent years but Monchi has replaced them each year with a clear strategy leading them to great success in Europe. He is the exact type of person FSG should be bringing into Anfield.
Special people out there
Jurgen Klopp,, Carlo Ancelotti, Frank DeBoer. All three are available this summer. All three have won trophies. All three have a great track record. Our fan based are united for the need for change. With that calibre of talent available, FSG would be unwise to ignore making a change.
This summer will see our rivals strengthen further and improve their squads. Currently we are shopping around premier league players including Benteke, Ings and Milner – none in my mind are exciting signings to get the fans believing that things can turn around after such a horrible season.
A new manager with a fresh approach and importantly a big name to bring top players to the club.
What now?
The fans are unified in their displeasure at the moment. Fingers are pointed at Rodgers, FSG, Ian Ayre and of course Dejan Lovren! Taking no action by leaving Rodgers in charge with no significant changes in our structure would be a disaster in my opinion. Fans would quickly jump on the back of FSG, the players and certainly Rodgers next season if things didn't vastly improve.
Making no change will result in more pain. Fans are currently restless and wanting to know what is going to happen in the summer. We need change……….we want change…….we deserve change! Over to you FSG…….it's a crucial summer!