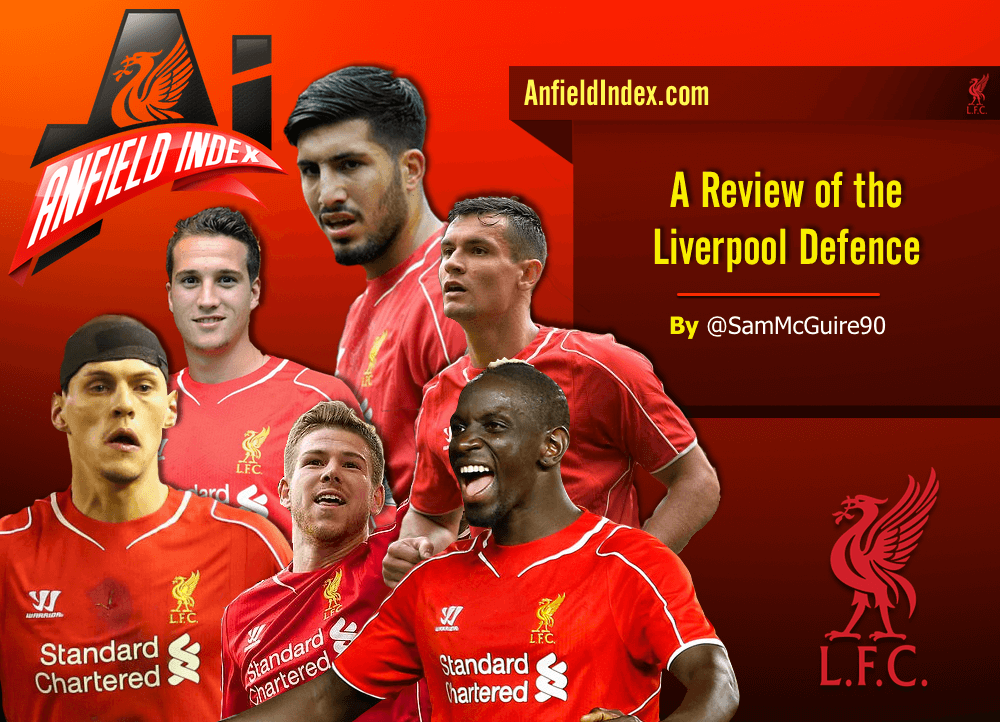 A Review of the Liverpool Defence
A statistical review of goals conceded
A disappointing season came to an abrupt end against Stoke with a defensive performance that made my Sunday league side look as solid as Chelsea.
Yet in the aftermath of the defeat it seems the popular consensus is the attack is the main reason we didn't finish top 4 this season. The idea seems to be if Daniel Sturridge was fit we'd have finished top 4 with ease. We'll never know this for sure but it's a nice thought in terms of easing our concerns about the state of this season. It's easy, and lazy, just to associate the lack of success to the lack of Sturridge-wriggly-arms time.
Last season was an anomaly in terms of having two strikers playing to the best of their ability. It's very rare these days you get a strike partnership that's so prolific, so in sync and willing to play for a team out of the Champions League. We were also lucky in terms of having no European football so the Premier League had our full attention. This season we've been '*unlucky' in terms of having injuries and having European football.

*Playing in Europe should NEVER been seen as unlucky.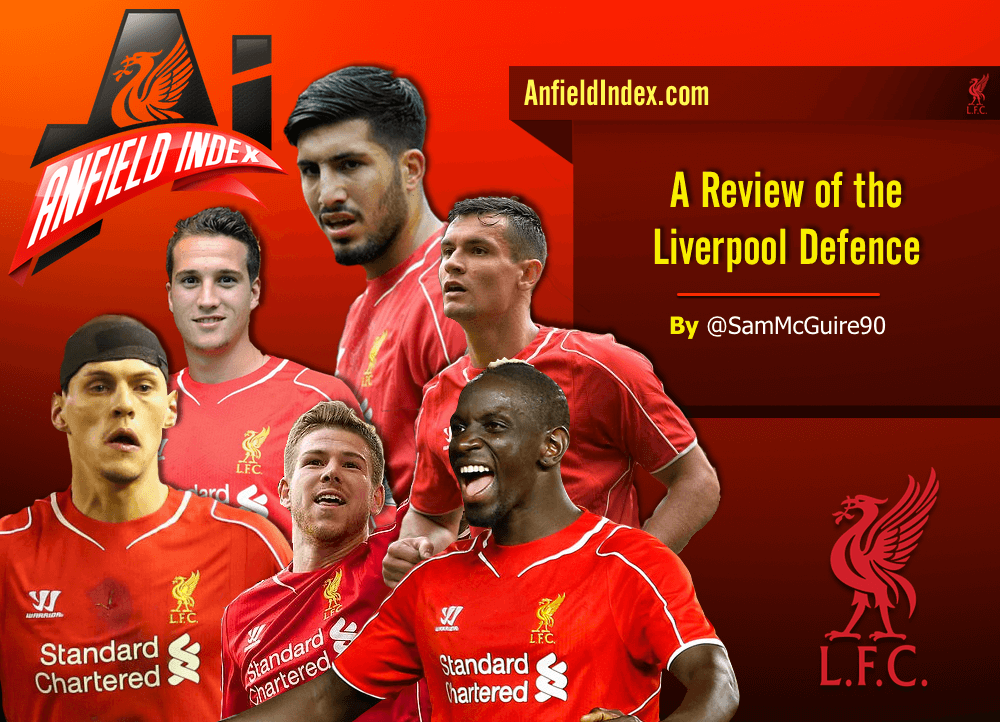 Now don't get me wrong, I do openly admit we need to improve in the final third in terms of output. However, you're forever swimming against the tide whilst you can't actually defend. I don't buy into the belief we should spend all our money on goals. To add some context to my claim that Liverpool can't defend I've put together a few tables.
2 or more goals
| | | | | |
| --- | --- | --- | --- | --- |
| Team | 2 or more scored | 2 or more conceded | Points won when 2 or more conceded | % of the time 2 or more conceded but didn't lose |
| Chelsea | 23 | 6 | 9 | 50 |
| Man City | 24 | 12 | 15 | 41 |
| Arsenal | 23 | 9 | 4 | 22 |
| Man Utd | 21 | 5 | 4 | 40 |
| Spurs | 21 | 13 | 11 | 38 |
| Liverpool | 16 | 13 | 8 | 30 |
| Southampton | 14 | 8 | 1 | 12 |
I put together this table to actually see if the claims of "Liverpool haven't been prolific or scored enough goals" are actually true. Now as you can see, Liverpool scored 2 or more goals on 16 occasions, which amongst the top 7 sides is the 6th best. So the claims of Liverpool haven't scored enough have some credence. However, Liverpool failed to score in 8 games so that means in 14 games this season Liverpool scored 1 goal.
Next up, games in which the top 7 sides have conceded two or more and what it meant in terms of undefeated percentages.  So let me explain by using Chelsea as an example. They conceded 2 or more in 6 games of which they didn't lose in 3 of these games. So their undefeated % in games they conceded 2 or more in would be 50%.
As you can see from the table Liverpool fall short in comparison to City, Chelsea, United and Spurs but are ahead of Arsenal. However, you have to note the fact Arsenal conceded 2 or more in 4 fewer games than Liverpool. So Arsenal, from 27 available points took 4 which is a -23 points loss, which is far better than Liverpool, who had 39 points up for grabs and took 8 points, a -31 points loss. This -31 points lost when conceding 2 or more is the worst out of the top 7.
Interestingly, United only conceded 2 or more on 5 occasions and all season we've heard about them having a poor defence and a poor squad and it's all down to De Gea but that can't be the only factor. They kept 11 clean sheets so in 22 games United managed to concede only 1 goal. That's pretty much their base for finishing top 4 right there; a good defensive set up even with academy players.
3 or more goals
| | | | |
| --- | --- | --- | --- |
| Team | 3 or more scored | 3 or more conceded | Points won when 3+C |
| Chelsea | 9 | 3 | 3 |
| Man City | 14 | 1 | 0 |
| Arsenal | 9 | 1 | 0 |
| Man Utd | 9 | 2 | 0 |
| Spurs | 6 | 5 | 6 |
| Liverpool | 5 | 7 | 0 |
| Southampton | 6 | 1 | 0 |
The table above shows how many times the top 7 sides scored and conceded 3 or more. Once again the goals scored column indicates we do fall short in that department when compared to the rest. Both Southampton and Spurs scored 3 or more in one more game than we did whereas 3 of the other 4 nearly doubled our tally and Manchester City nearly tripled it.
The more worrying part in my opinion is the 3 or more conceded stats. 53% of the time when Liverpool concede 2 they go on to concede 3. This wouldn't be *as* bad if you were only conceding 2 in 6 games, like Chelsea. We aren't though. We're conceding 3 or more on more occasions than Chelsea concede 2. This season we've conceded 3 or more in 18% of the games.
This isn't a one off. There is a problem here that when Liverpool concede we more or less crumble. Of course you could say you're open to conceding more when you're chasing a game which we have tended to be doing an awful lot this season BUT, and this is a big but, Spurs conceded more goals than Liverpool but conceded 3 or more less times. The 6-1 thrashing at Stoke could've happened against Arsenal, or even Palace at Anfield. These aren't just one off games you can sweep under the rug and ignore, there is something seriously wrong with the set up of the Liverpool defence.
Two of the 7 times Liverpool conceded 3 or more were at the hands of Crystal Palace, who have scored 3 or more on 7 occasions this season. Their other victims; Newcastle, Burnley, Everton, West Ham and QPR.
Another fun fact – Arsenal scored 4 or more past 4 teams this season; West Brom, Villa, Newcastle and Liverpool.
Liverpool and Newcastle are teams who appear both times. Newcastle, a relegation threatened side that conceded 63 goals all season, and Liverpool. That gauges how poor the defence can be at times when it's alongside the likes of relegation fodder.
*Have a little break now, maybe a brew and give your eyes a rest*
Clean sheet factor
Not so long ago I wrote an article about clean sheets not kidding anyone into thinking the defence is fixed, even despite what Brendan Rodgers would have you believe.
The response to that article was kind of like "Yeah, but what does it all mean. You can't disregard clean sheets.". It got me thinking and I decided to totally disregard every clean sheet of every club this season and then look at goals scored and conceded.  Why? Well any team can keep a clean sheets, I'm more intrigued to see how teams perform when they do concede. To see their character. Afterall, it's no good keeping 15 clean sheets if on average you concede 2 or more in every other game now is it?
I'll explain how I arrived at the table above. I went through every clean sheet game the clubs kept and removed the goals they scored in that game from their overall total. For example, Arsenal scored 23 goals in the games they kept a clean sheet in so I removed 23 from their final goals total for the season. I then divided the amount of goals by the amount of games (38- however many games with a clean sheet) to get the average number of goals scored and conceded per game.
Obviously this differs for every club as not all of them will keep the same amount of clean sheets. However, this table alludes to the amount of games they don't keep a clean sheet. As you'll see clean sheets aren't indicative of a good defence – West Brom kept 15 clean sheets but conceded 2.21 goals per game when they didn't, which is 23 games. So despite keeping 15 clean sheets they still conceded over 50 goals.
In terms of Liverpool's goals. They rank 6th in this table for goals scored behind Arsenal, City, Chelsea, United and Spurs. The 1.45 goals per game isn't a bad figure. United, Chelsea and Spurs only average 0.13/0.14 higher than we do. However, you then compare it to goals conceded and you see the trouble.
Goals Conceded
There are only 6 teams in the table above that concede 2 or more goals and they are as follows;
QPR 2.28 – 20th
West Brom 2.21 – 13th
Sunderland 2.12 – 16th
Newcastle 2.1 – 15th
Aston Villa 2.03 – 17th
Liverpool 2 – 6th
Five of the six teams were are midtable or relegation threatened teams, then you have Liverpool. They're once again in a list with teams who have no right to be spoken of in the same breath as them, yet there they are.
There is a 0.55 negative difference in goals scored and conceded. The only team to average over 2 goals scored without the clean sheet games is Man CIty so it shows how hitting over 2 isn't really feasible. So this falls back to the buying goals argument. You'd need to be hitting the levels of 2013/2014 to make up for the broken defence.  Based on these figures you're looking at 3 goals per game in the 24 games (38 – 14 clean sheets) to win. That's 72 goals in 24 games. Chelsea won the league scoring 73 goals. Obviously you don't need to win every game but I'd hazard as guess at Liverpool needing near 80 goals to challenge for top 4 when scoring 80 goals should be title challenging numbers. I'd be kicking myself if we scored 80 and got 4th and a league winner scored 73. All that extra effort because a defence isn't functional.
This isn't a one off either. Rodgers' reign at Liverpool has seen him mastermind 40 clean sheets spread over 3 seasons whilst conceding 141 goals. Removing clean sheets from the equation as I did above it works out that Liverpool under Rodgers concede 1.90 goals per game. The average amount of goals he concedes over a season is 47. The average amount of goals they score per season is grossly inflated with last season's amount, however it works out at 74 goals scored per season.
*I hope you're all still with me here. Next section has colours to brighten the mood a little*
Trends
I looked at the results this season to see if Liverpool had any 'bogey' styles. A style of play which teams use and it seems to beat Liverpool.
This was tricky, nailing down a style of play each Premier League side uses as it's so open to interpretation. Not only that but with the nature of football and teams making in game changes their style changes frequently during games. I've done my best with a little help from friends in giving them a general style as to work off. If you don't agree then that's fine, don't take my description as gospel.
The teams in red are those we've taken 0 points off this season – United, Arsenal and Palace. They all have similar styles in terms of being really direct – whether that be long ball or quick counters. Both Arsenal and United couple possession football with these direct transitions. Similarly, Palace are very quick in transition. Their team is full of pace and the majority of their players are direct. In the 6 games against these teams Liverpool have been turned over on the counter. With the exception of Stoke, these three sides are the only teams to really damage our defence and goal difference.  In the 6 games against them we scored 7 and conceded 17.
Green
The teams in green are those we've done the double over this season. Swansea, Southampton and Spurs have all had decent seasons yet we've managed to beat them both home and away. Interestingly, all three of these teams play a possession based game with slow transitions. Yes we were very lucky in some of these wins but ignoring that it seem teams who play a similar style to Rodgers' ideology (possession based, slow transitions) don't tend to beat us unless they have pace in their team (Arsenal and United). The other two teams here are QPR and Burnley, neither of which were comfortable wins as you'd expect but we got the job done.
Light Blue
The teams in light blue are those we've taken 4 points off.  Leicester, Sunderland and WBA. In my opinion these are teams we should be taking 6 points off. Leicester switched to a direct style towards the end of the season with a more attacking variation of a 343 that we played and had great success. Had they played that against us we may have struggled. They played a slower pace when we faced them with a more defensive tactic. Both Sunderland and WBA play a sit deep and counter tactic. They aren't so good at the latter but they defend doggedly and make it difficult for teams to get in behind. These are the types of teams Liverpool struggle against as seen in goal scored against these sides. 3 in 4 games.
Yellow
Yellow are teams we've beaten once this season. It includes Villa, West Ham, Man City, Newcastle and Stoke. In the games we lost there was a theme in three of them. Man City, West Ham and Stoke were all very direct and counter attacking almost. The pace, power and direct nature blew us away and in the 3 games we lost against them we conceded 12 goals. Now again this touches upon the games we lost to Palace, Arsenal and United. A bit of power and pace and Liverpool struggle.
The other losses here are against Newcastle and Villa. Both were scrappy games decided by the single goal. Villa pretty much sat deep and we just couldn't break them down and Newcastle were solid defensively (only time that's been said all season).
Purple
These are sides we only took a point off. Chelsea and Hull. Opposite ends of the spectrum. League champions and a team that was relegated. Yet there are similarities in how they play. Both sit deep and try to absorb pressure. Both use their wings as an attacking outlet, both are a threat from set pieces and both try to counter. Obviously Chelsea are better at it but Liverpool struggled against both sides. Liverpool fell into the trap of dominating possession, losing the ball, getting countered and then losing a goal to a set piece that arrived from the counter attack. It's a very much 'break us down but watch us counter you' ideology that we just couldn't get to grips with. Hull got relegated and in our two games we scored 0 goals.
Everton is the outlier. We defended well, they defended well. Only 1 goal scored by both clubs and both were worldies in their own right. However, Liverpool went into the Goodison game in a rich vein of form against an Everton side that'd only won 1 in 9. They sat deep and Liverpool really didn't create anything other than a speculative Ibe strike. 
Conclusion
This probably doesn't shock many people. We always seem to struggle against sides that sit deep. We always seem to struggle against sides with pace but what surprised me is the fact we seemingly have a handle of teams that play in a similar style to us.
There are times bad luck and misfortune play a part in these games and you can't really factor in that but there must be a way that Liverpool can stop the bleeding against these direct, pacey sides. As these seem to be our Achilles heel. The sides that really put our midfield and defence to the sword on a regular basis. Aggressively press our midfield and defence and it's like the parting of the red sea.  I'll say that word again. Defensive midfielder.
You can buy as many strikers with goals in them as you like but whilst the defence is still porous you're fighting a losing battle. It's also worth noting had we had attackers we probably wouldn't have gone into safe mode (defensive 343) and we'd have been a little more open. We may have scored more goals but we may have conceded more goals.  There isn't a simple fix but if Liverpool are serious about top 4 then another defensive shake up is necessary. It's not necessarily just buying a player but it's also coaching the players we already have to be able to face these sorts of players. It's not like we don't have these kinds of players at our disposal. It's almost as though teams are 'Liverpooling' us. (Doing what Liverpool did to teams last season). They blitz our midfield and defence and watch the chaos whilst the Liverpool players suffer from PTS (Post Traumatic stress) of what's gone on earlier.