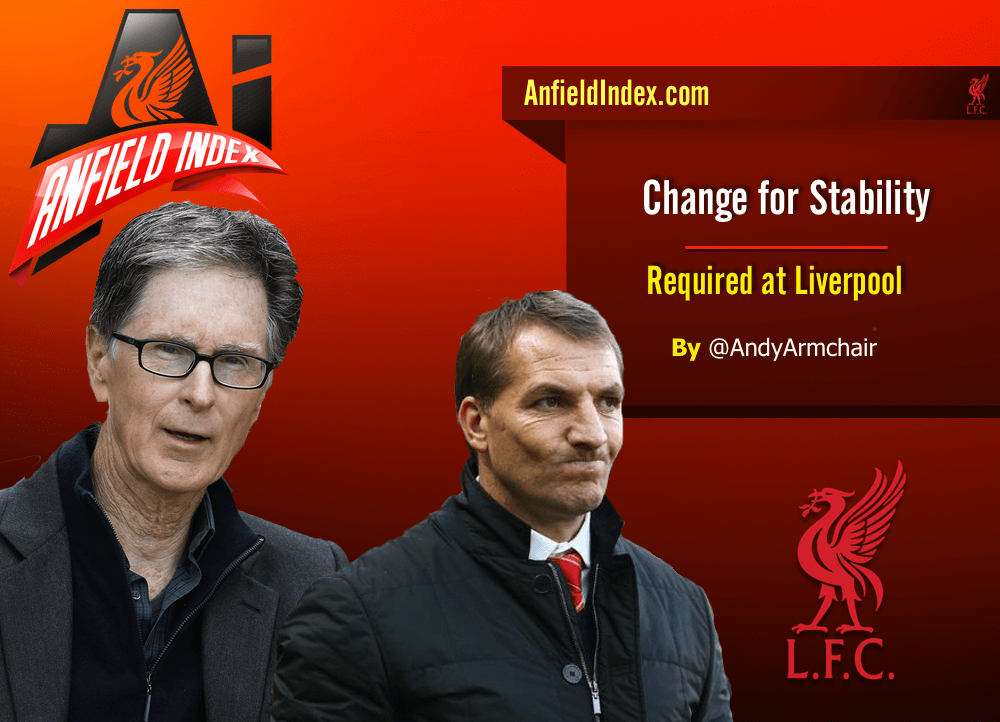 Change - for Stability - is Required at Liverpool
I've had the distinct honour and privilege to be invited onto the panel of Anfield Index's own Nina Kauser Show this season. Being part of such a popular call in show immediately after a defeat can be tough, with emotions very raw. Sometimes that can exact reactions that, with the benefit of hindsight and reflection, are considered an exaggeration.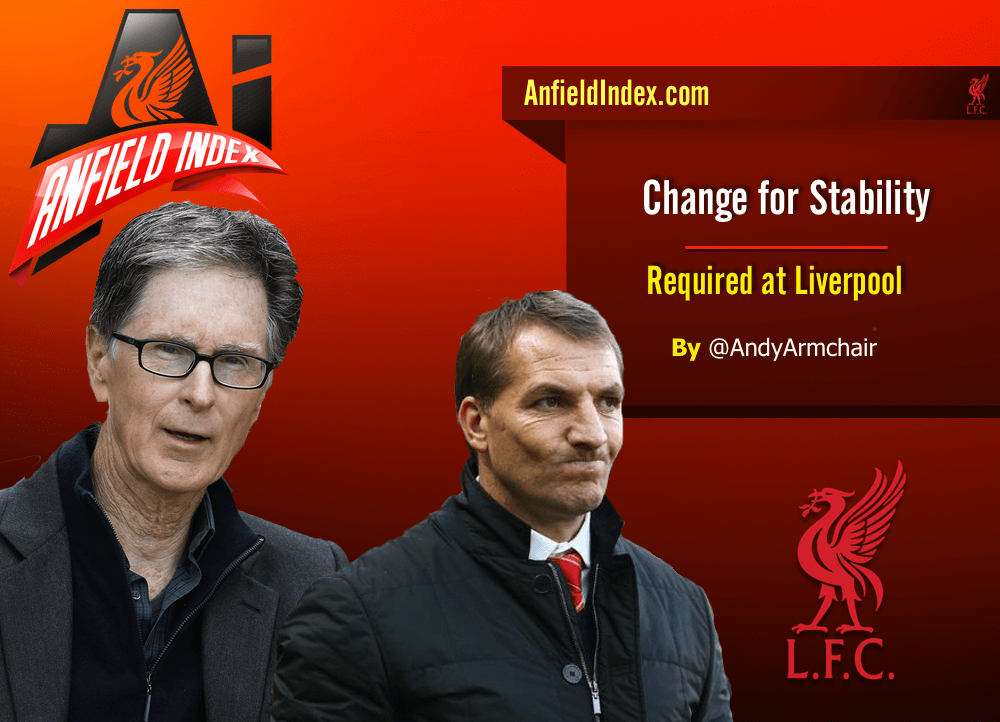 Following a performance as atrocious as the 6-1 defeat to Stoke, if you can even call it a performance, feelings were always going to run high. My standpoint was absolute and even with time to reflect and digest, it hasn't changed a bit: Brendan Rodgers' tenure as Liverpool manager has become untenable.

Saying a manager has "lost the dressing room" has become something of a cliché too often used in football. Whether or not Rodgers has actually "lost the dressing room" is likely to be information we'll only find out in years to come, but there's clearly something not right behind the scenes.
Although it wasn't by any means the first time this season that we've seen an insipid performance that lacked spirit, direction, passion, togetherness and any semblance of an effective game plan, it was by far the worst. To look so disinterested, disorganised and dysfunctional was anything but normal.
I was asked on Nina's post-match show, how does Rodgers stay in his job? My answer now is the same as it was then: he cannot. That judgement is not just based on the most woeful Liverpool performance in living memory. It's Villa at home, West Ham away, Hull at home, Newcastle away, Palace away, Sunderland at home, Leicester at home, United at home, Arsenal away, Villa at Wembley, Hull away and Palace at home. It truly is an accumulation of this season and where we are after 3 years of Brendan Rodgers in charge.
Although I'm not a particularly big stats guy, here are some pretty damning statistics from the 2014/15 season: 33 of Liverpool's 62 points (53%) came from that 13 game mid-season unbeaten run, which included scoring 24 goals and conceding 8. That means we took just 29 points from the remaining 25 games, scoring only 28 goals and conceding an alarming 40. That is, at best, lower mid table form from 66% of our Premier League season.
Those are frightening statistics for a club that aspires to be playing Champions League football and competing for trophies.
As I've said before, you'd expect a manager to have a clear and distinct style, plan, identity and direction after 3 years. We have none of those. The lack of effective pre-game planning and the substantial amount of in-game chopping and changing has been, quite frankly, embarrassing. As too, has been the number of calamitous, toothless and insipid displays.
So, in terms of an argument for Brendan Rodgers to keep his job; I've heard last season being used as a reason to give him another chance. I'm sorry, but what he achieved last season is what kept him in a job back in December. That was credit he'd earned, but those credits have been used up now. Stability, on the face of it, is the only other viable one. Normally, not changing a manager equals stability. However, in this case, I believe not making the change this summer would be a bigger threat to stability than keeping him. That may sound like a idiosyncrasy, but if Rodgers stays, he will inevitably be given more money to spend. Judging by our reported targets and his record in the transfer market, that's not an inspiring thought. In all likelihood, given the direction we're heading and the mounting pressure – he wouldn't last the season and could even be gone by Christmas, which means another season gone and the club falling further behind in the process.
So, for the short and long term interest of the club and in the cold light of day with a uniquely high number of excellent candidates available, change is imperative for Liverpool Football Club.