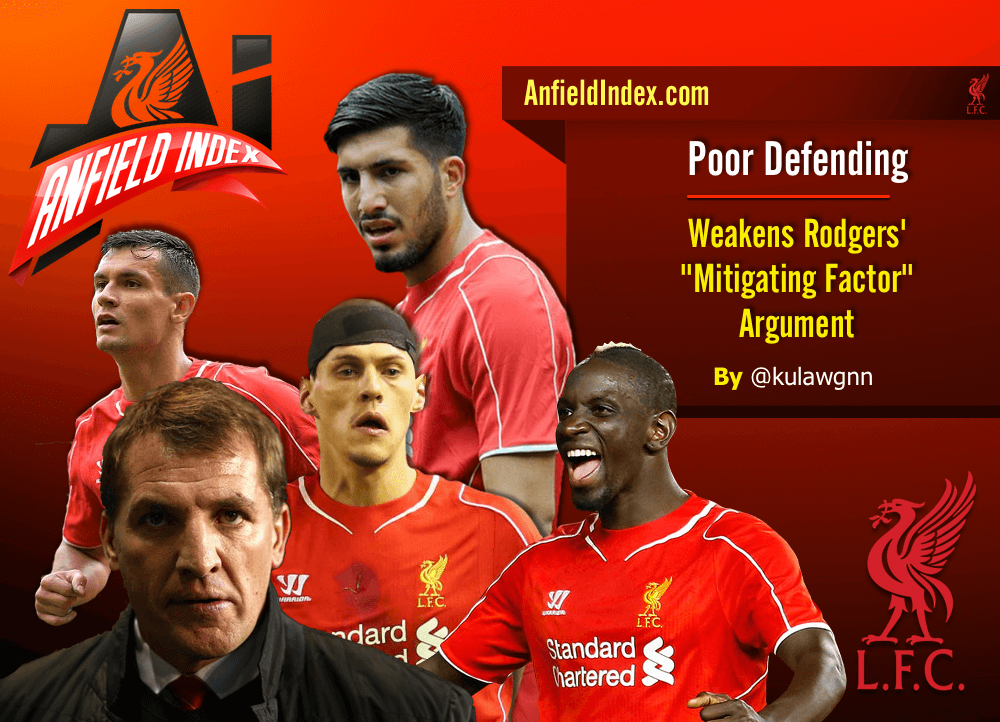 Poor Defending Weakens Rodgers' "Mitigating Factor" Argument

A year ago Liverpool fans were dreaming of a promising young manager – Brendan Rodgers – who was going to get better with time and bring success to the club. He evoked comparison with Bill Shankly, the legendary Liverpool coach. A year on, fans are not so sure he's anywhere near a reincarnation of Shankly. His hubris this season betrays the humility he says Liverpool exudes. His failure this season makes it almost blasphemous to mention him in the same sentence as Shankly. Perhaps he may have taken his song on the Kop to heart believing he was already the new Shankly. To quote that song "Brendan Rodgers…Brendan Rodgers' Liverpool we are on way to glory, built a team like Shankly did and the kids will have a story…" More than anything else the song is aspirational; a hope in a promising young manager coming good to become a great LFC manager. The fans saw humility, tactical astuteness and progressiveness. This season these descriptions do not fit him.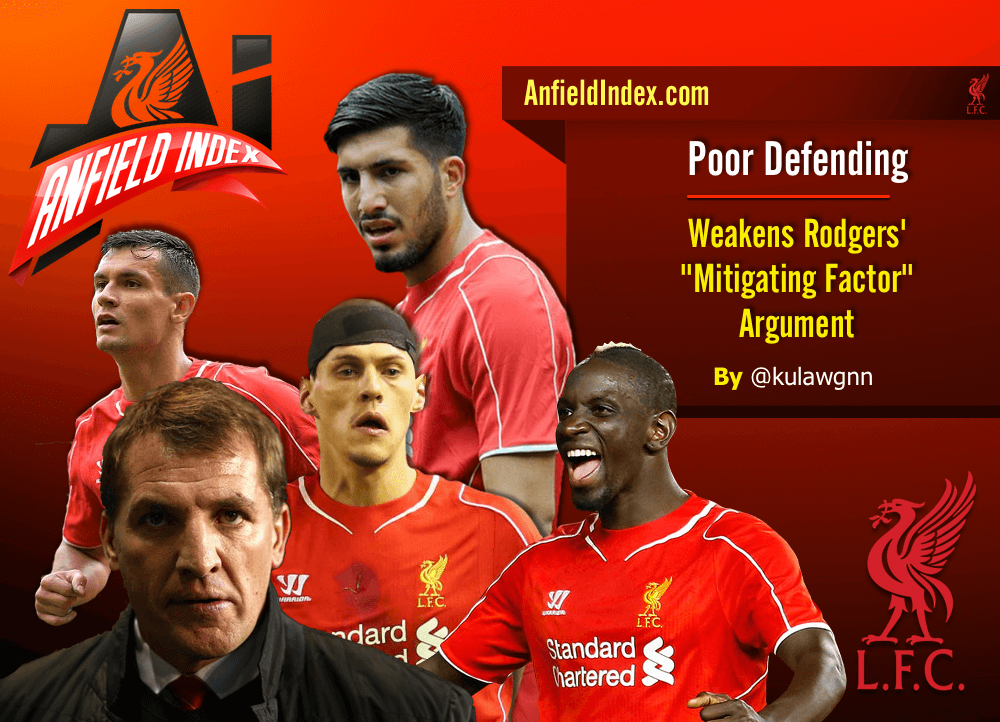 If you listen to Rodgers his fall from grace is down to a number of factors that some football journalists term "mitigating factors". Counted in this are poor signings, Suarez's departure and Sturridge's injury. Arguably, LFC's season would have been better if Sturridge was fit throughout the season, Suarez was still an LFC player and a better defender was signed instead of Lovren. There will have been a lot more goals scored and won more matches. But how much of that success would have been because of Rodgers's ability?
The "mitigating factor" argument though it seems valid is problematic. It ignores the important role a manager plays in obtaining results in the game. It portrays the manager as an element of no or little influence. Those mitigating factors were present but what were the manager's efforts in overcoming it? If a manager only excels when there are no "mitigating factors" then his role in that success cannot be considered decisive. "Mitigating factors" may exist in different shapes and forms in many clubs yet managers work to achieve results. A classic case is Southampton who lost key players at the start of the season and were widely tipped for relegation but ended as one of the most impressive teams in the league. The reason? Ronald Koeman, the manager served as a compensating factor. Did Rodgers and his abilities sufficiently compensate for the mitigating factors? In the case of Liverpool, the "mitigating factors" are presented as impediments that even tactical astuteness of a manager cannot surmount.
A key stat in LFC's season betrays the notion that "mitigating factor" argument was the key factor behind Liverpool's mediocre season. LFC conceded 48 goals in the past season. This was just two goals short of the goals conceded the previous season. Basically Rodgers failed to or was unable to improve the team in defending even though "mitigating factors" were shackling his team. One would have thought the manager would have improved the team on other aspects of their play such as being adept in defending to compensate for the team's reduced attacking prowess. Before anyone points to the record away clean sheets as evidence of good defending, there are grounds to suggest Liverpool regressed in defending in the 2014/15 season. In an article (http://anfieldindex.wpengine.com/14013/clean-sheets-dont-hide-dirt-defence-liverpool.html) on this site in April, 2015, Sam McGuire pointed out how despite the increased number of clean sheets recorded by LFC this season, defending under Rodgers has not improved. The piece highlighted how clean sheets masked poor defending by Rodgers's team. According to Sam McGuire, goals per game conceded by Liverpool from their match with United in December to the end of April was 2.1 if you take out the games a clean sheet was recorded. This was a run of 18 matches in which 17 goals were conceded. Even though 10 clean sheets were recorded, the club was conceding 2.1 goals per game in matches it failed to keep clean sheets. I found that analysis interesting and useful as it gave an idea how many goals on average Liverpool is conceding when it is not recording clean sheets. LFC's clean sheet per game over the course of the season is 0.37, meaning there is just a 37% chance of The Reds achieving a clean sheet in a game. This makes it more useful to consider what happens in the 63% of the games the team concedes. Over the course of the season LFC conceded 48 goals in 24 matches after recording 14 clean sheets. This translates into 2 goals per game conceded over the 24 games. The stat for the 2013/14 season was 1.7 goals conceded over 28 matches. So LFC was scoring fewer goals in 2014/15 than the previous season because of no SAS but was conceding more goals per game in 2014/15 than 2013/14. So it is easy to see why Liverpool failed. As there was no super strike force to fire the team to glory, a plan to defend better also seemed non-existent. That cannot be the fault of "mitigating factors".
If Rodgers is to stay, next season is going to be defined by goals of strikers and incapacity of defenders or the manager getting right the balance between attack and defence?. In a season where poor signings, misfiring strikers and injured strikers took goals out of the team, he could not save himself and his team by making them defensively solid. The three at the back helped to some extent but when it lost it efficacy, the team's woeful defending returned. The club intends resolving the striker situation and hopefully after his surgery Sturridge stays more on the pitch. These would hopefully bring in more goals. But if Rodgers' past three seasons are anything to go by, the improved goal scoring will only paper over woeful defending. He has arrogantly scoffed the idea of the club getting a defensive coach. But the facts remain Liverpool's defending under him is poor and in a season where a solid defence could have bailed him out, he still exhibited a limited capacity in setting up his team defensively. Even the "mitigating factors" cannot hide this.