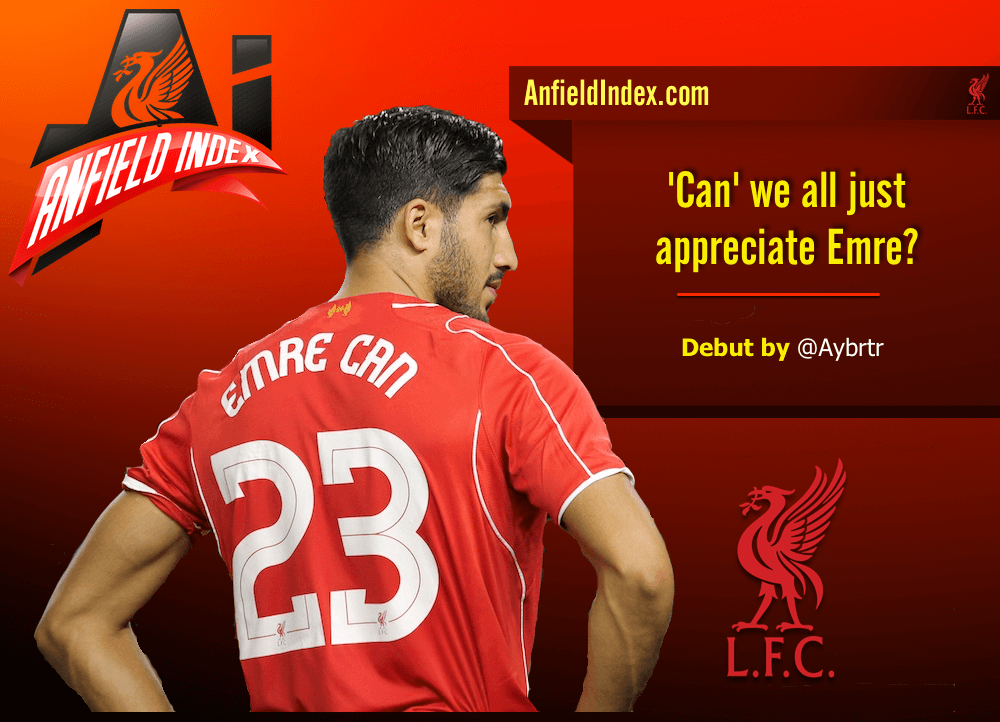 'Can' we all just appreciate Emre?

Regarded by most as Liverpool's best signing from the 2014 summer transfer window, Emre Can has made a promising start to his Anfield career. The midfielder has played the majority of his games at right-sided centre-back of a three, instead of a more familiar role further up the field, because of Rodgers' attempt to fix Liverpool's defensive issues with 3 at the back.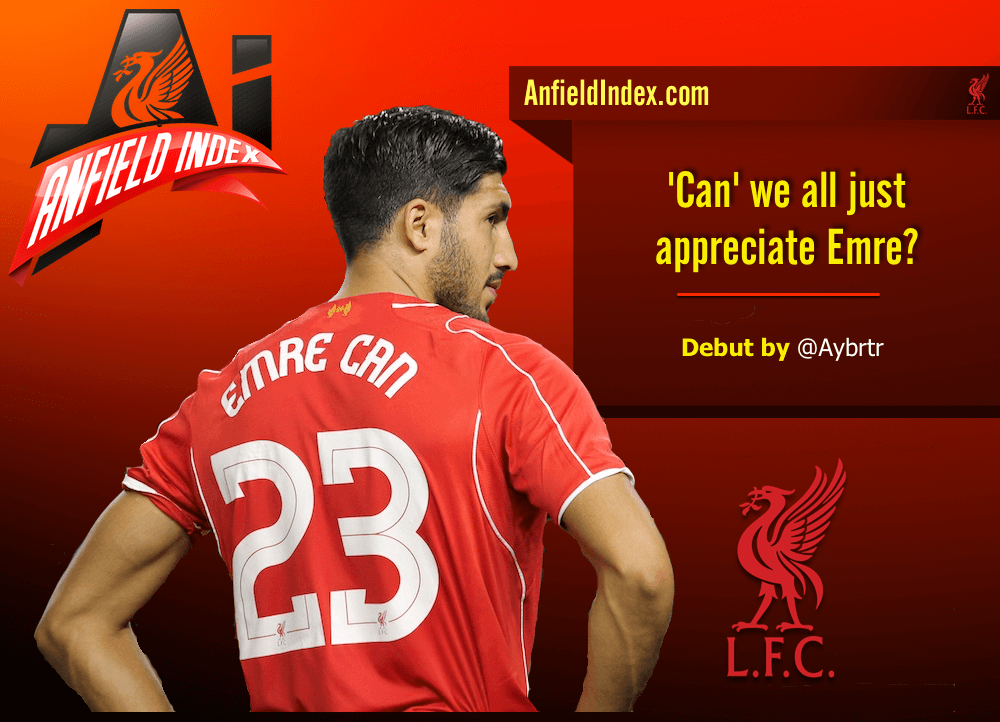 In 2011, Steffen Freund described Can as, "The most complete player I have seen in my career", which was extremely high praise for the then 17 year old. A potential future Germany captain, Can has, however, received plenty of criticism this season, mainly because of his occasional loss of concentration. What is important to say is the positive aspects of his season far outweigh the extremely few negatives. It seems that Can is a classic example of someone who is loved by people when he's doing well, but ridiculed by the same capricious fans, who criticise him constantly after one poor game.
A versatile player by nature, Emre Can has played in multiples positions this year; some he was very good at, some that he's never been able to play.
Emre Can at centre-back has been overwhelmingly better than actual defender [citation needed] Dejan Lovren, the £20 million signing from Southampton (yep. £20,000,000. Twenty million for a footballer who defends so spasmodically). The first game of what could probably be described as Liverpool's best (or, least worrying) defensive set-up, a back three of Can-Skrtel-Sakho, was in late December, an effulgent performance at home to Swansea (4-1), in what really only had the effect of fooling the fans into thinking there was some hope for the second half of the season.
The 3-4-3 formation benefited not only the defence, but the attack too. Having two centre-backs who could cover for the third if he moved out of position allowed Sakho to become more expressive and move forward, creating more attacks, and permitted the front three to themselves roam around, looking for the space which the French centre-back is so good at finding. Likewise, Emre Can's forward bursts were facilitated for by Skrtel and Sakho's covering, along with the RWB (usually Markovic or Henderson) staying deeper to avoid too much damage on potential counter attacks.
The biggest advantage of 3 at the back for Liverpool, when limited to the defence only, was that it made Skrtel appear a decent player. It wasn't the fact that there were 3 centre-backs that did this, but rather who was on either side of him. Skrtel's last-ditch-defending means that one unsuccessful tackle could give the attacking team an easy opportunity to move through on goal, but this risk was reduced when he was surrounded by Sakho and Can, because even if one of them was still high up the pitch, the other would still be back to cover Skrtel.
While utilising Can as the RCB of the 3 has its benefits, he would be best suited playing as a Libero, in the middle of the 3. In March, I wrote:
In the FA Cup game against Bolton Wanderers, and on a couple of other occasions this season, Liverpool experimented with Emre Can in the middle of the three centre-backs, having been played more regularly on the right before that (and ever since). It was notable that Can was running more than any other player on the pitch – a box-to-box centre-back, in effect. If not set up properly, Can being dispossessed could've resulted in a counter-attack against a temporarily diminished Liverpool defence, especially as the wing-backs are often very high up the pitch.
In this case, there was no such problem for Liverpool. Brendan Rodgers got it spot on and Emre Can was allowed to run impetuously through Bolton's midfield, helped somewhat by the movement away from the box by both Raheem Sterling and Coutinho. Whenever Can roamed from his defensive position the wing-backs, Javier Manquillo and Lazar Marković, helped form a transitory back four with the two remaining centre-backs, which meant that any threat of a counter-attack from Bolton was nullified.
Can's ability to effortlessly run from his own box and through the opposition midfield to set up key chances is something that must be taken advantage of by Liverpool. It's a fairly unique situation in modern football for someone to play in the style that he does, which is good for the club in two senses; tactically and financially. Tactically, because it's hard for a team to set up against a position that they or their manager are not used to facing – perfectly utilising Can as Libero could be one of the most strategically auspicious things the Liverpool manager does. Financially, because it makes him somewhat exclusive and versatile at the same time – higher resale value.
The most likely situation for Emre Can at Liverpool is that he will end up as a midfielder. It should be said that this is not a bad thing – while it does seem that his attributes are best suited to the 'box-to-box' centre-back role mentioned before, it relies on a formation with 3 at the back for the position's potential to be maximised. Playing a formation with 3 at the back is not sustainable at what should be a top club in a competitive league. As a traditional 4 at the back seems more likely, it's simply easier to argue that Can should be a central midfielder for the foreseeable future, the position he's been most familiar with in his short career.
Given that he's strong, has an aerial presence and can pass the ball with great accuracy, it's clear why that the club signed him as Gerrard's 'replacement'. Those forward runs, which accompanied him whilst playing as the middle centre-back, are something that seemed to have left Liverpool's previously dynamic approach, seen before Gerrard started playing deeper. If Can livens up the midfield again, and moves it away from the bleak, rigid, boring nature that it's been for the recent past, then it hopefully helps fix a problem that should have been sorted a while ago.
Fixing Liverpool's midfield is a challenge that Can looks forward too, especially filling in the hole left by Steven Gerrard. In an interview with The Anfield Wrap, he said, "[Brendan] wants to play football and that's what I want. That's why I came to Liverpool. I want to play in midfield and I can take the responsibility [of replacing Gerrard]." Someone clearly so happy to be playing for Liverpool and facing the pressure of taking Gerrard's place in midfield, who's already shown how talented and versatile he is, is someone we should feel very lucky to have. In 2, 3, 4 years time it will be seen as an unbelievable bargain to get a player as good as him for £10 million – especially when he's sold to Real Madrid for £40 million.
When playing as a central midfielder, the formation that suits him best is one with a 3-man midfield. While he could play as a holding midfielder in the diamond formation, he would be limited in that he can't make his forward runs as often as he'd like, because the lone nature of the position means there is a lack of cover. If Liverpool were to sign a defensive midfielder, Can and Jordan Henderson (or even Phil Coutinho, but unlikely as Henderson appears to be a guaranteed starter) in front of the new DM would allow him to get forward into positions that suit him best, but also have a starting position that means he is able to ease defensive pressure on both himself and the team.
Certain football writers have said that Emre Can is not good enough to play in midfield in the Premier League, due to the fast nature of the game, but this is completely without basis. He isn't the fastest off the ball, but he accelerates very quickly during his usual forward bursts and speed isn't an issue when you can get forward with the ball at your feet. Alonso, Busquets, Modric, Matic; these are world-class players who are technically brilliant on the ball, but slow off it. It's not a problem for them, so who's to say it will be for Emre Can?
His mistakes for Liverpool have been because of loss of concentration rather than lack of ability. Take the penalty he conceded against Chelsea in January; he allowed Fabregas the time to play the ball to Hazard, who was in turn fouled after Can swiftly stuck his leg out. This was a raw player who'd only recently started playing at RCB in a back three– to treat him simply as feckless is ignorant. As mentioned before, him playing in defence had its benefits, most notably protecting Skrtel, but a young player will also have lapses of concentration where something silly happens – his mistakes are not something to worry about
A clear positive for Liverpool's future is how Emre Can has shown brilliant leadership in previous games. With Gerrard's retirement, it was a worry amongst fans that there will not be enough captain-minded players left in the squad and hints of this have already been seen since Agger, Reina, and Carragher all left under Rodgers' tenure.
At 21, a player who's just finished the first season of his Premier League career shouldn't be relied on to lead a team seemingly short of inspiration, hope and desire. That said, the nature of big games seems to faze him as little as matches against relegation opposition, which is a level of consistency desperately needed when playing for Liverpool.
He shouldn't be made captain let's make that clear. The role of captain is arguably a lot less significant now than 20 years ago. Of course, there are exceptions; Gerrard was an idolised captain seen as Liverpool's greatest ever player, but was he captain because he was a leader? He wasn't vocal; in fact, he let Carragher do all the shouting at teammates. Gerrard was captain because players took inspiration from what he could do on the ball and off the ball, for club and country.
If it's such a case that leadership is less of an issue in terms of captaining a side, why add the pressure to a young player of leading a team like Liverpool, when it'd be so hard for him to reach the same levels as Gerrard, despite the leadership qualities he has shown? The best-case scenario would see Mamadou Sakho being made captain, with Emre Can vice-captain. Sakho has captained PSG and is the current vice-captain of France, so there would be little added pressure for him. Making Can vice-captain gives him a level of authority and leadership that he would appreciate, without asking for too much from the young player.
The most undeserved criticisms of Emre Can have come more recently, when he's been playing right-back. This tactical ignorance from Rodgers was arguably a factor in the declining defensive performances, after things started to pick up after the Swansea game. Continually playing Can at right-back since the 25th April against West Brom until the end of the season (bar the Crystal Palace game), despite conceding an average of 2 goals per game in those 6 matches, was what epitomised Liverpool's problems in the 2014/15 season; Rodgers refusal to change, be it formations (4-2-3-1), certain players (Lovren, Johnson, Gerrard), or players in incorrect positions, until too late resulted in plenty of poor results and bilious performances.
While it's obvious that Can possesses a certain level of versatility, it doesn't mean he can play everywhere. Having never previously played at right-back before, he was always going to be made a scapegoat, which happened, based on the idea that he should be able to do a job wherever he is played.
We've seen the same lazy, platitudinous criticisms all season; Sterling, Markovic and Balotelli have all been analysed negatively after finding themselves being played in unfamiliar territory. If you want a player to play his best and improve the team, it's going to be a problem when you use an attacker at RWB. Emre Can's errors this season can be blamed primarily on two things: Can's immaturity, and more recently, Rodgers' inept tactics.
The future looks bright for Emre Can; it's vital that the fans support him and not unfairly blame him for Liverpool's problems. He joined Liverpool having come from a team that played a rigid, disciplined and slow build-up style under Hyppia at Bayer Leverkusen, a system that suited him as he didn't have to worry about fast paced off-the-ball movements. It's important to remember this when analysing his first season at Liverpool – a 21 year old playing in a new country, for a new team with a new style.
Expectations weren't amazingly high when he joined, so when he hit top form, and then lost it (while out of position), a new sense of unwarranted disappointment surrounded him.  This guy is a special talent and will fit comfortably into that midfield slot – a young leader with tonnes of ability and an extremely high ceiling? Appreciate him while he's here. *
(*And regret moaning about him when he's gone).