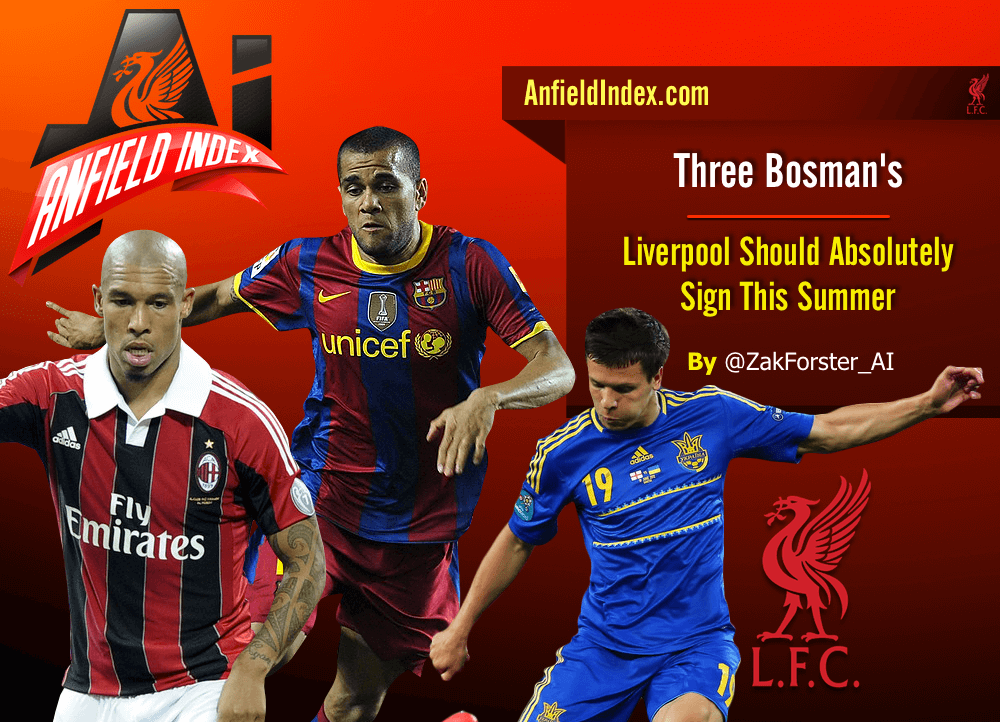 Three Bosman's Liverpool Should Absolutely Sign This Summer
It's no secret that Liverpool aren't a financial superpower on the same level as Manchester City and Manchester United. The Mancunian club is an Arab Kingdom of an organisation with a country bankrolling them to major honour after major honour. Meanwhile, the Salford club are a legitimate self-created powerhouse with sponsorship deals and worldwide appeal which outstrip just about every other club in the world.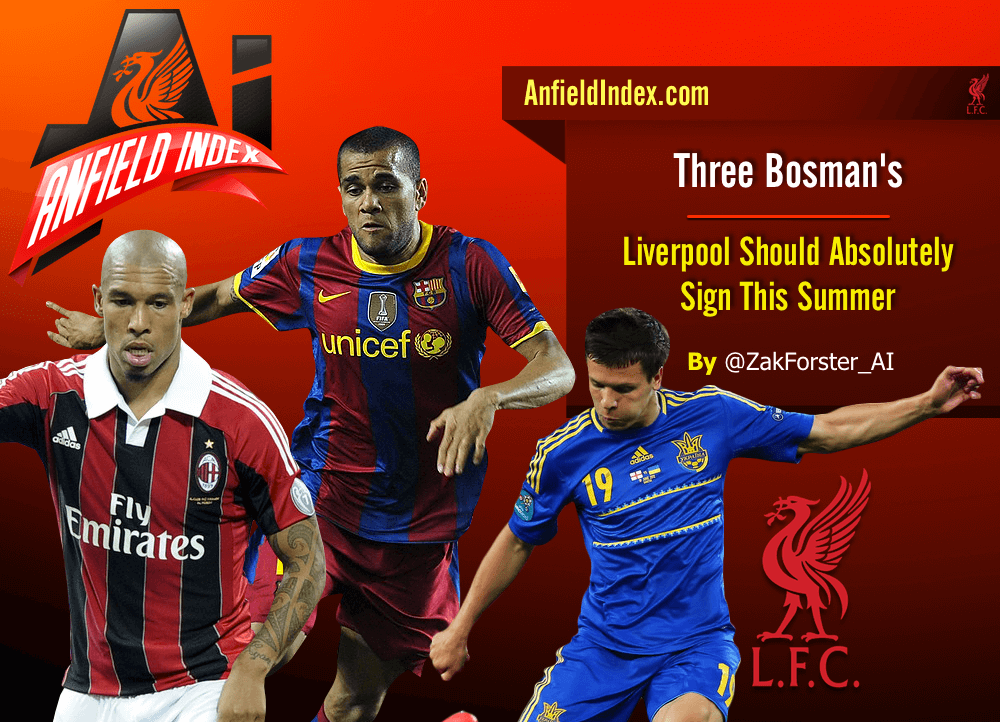 On the other hand, Liverpool are a well placed in eighth on the table which ranks the world's richest football clubs – according to Forbes, no less – but the divide between the top five and the rest is startling with Manchester United able to spend £60m on Angel Di Maria whilst their old rivals shop around the bargain basement for future stars who have perhaps stagnated a little – Philippe Coutinho and Daniel Sturridge are the prime examples of this transfer strategy. This "money ball" transfer strategy has been much debated and I'm not here to add my pennies worth because there are far smarter experts out there who can illuminate it's intricacies better than I. What I am here to do is show you who Liverpool could sign on Bosman free transfers which would mean the best part of the transfer kitty can be spent on other targets. These targets could add squad depth and improve the starting XI – and they all have room to improve with resale value a solid prospect.

Yevhen Konoplyanka
Yevhen Konoplyanka is a name many Liverpool fans will know well. The Ukrainian winger was strongly chased by the Reds in the January transfer window of 2014 with Liverpool delegates holding long and prolonged talks with the winger's club, FC Dnipro, until the window closed. Liverpool were left without a January signing with the Dnipro owner, Ihor Kolomoyskyi, holding out to force the winger into fully honouring his contract – which, to the player's credit, he has.
Konoplyanka is also well known to England supporters after featuring regularly for Ukraine against the Three Lions in recent years – at this level Konoplyanka has eight goals to his name. He should also be well known to regular viewers of the Europa League stage where he's excelled in the last couple of seasons – especially this season with Dnipro reaching the Europa League final (ultimately losing out to an impressive Sevilla).
Konoplyanka's best skills include his dribbling and set piece taking abilities. His ability to drift past players whilst playing on the left hand side would be very useful to Liverpool, especially if Raheem Sterling is to depart this summer (although I'm not arguing that Konoplyanka could ever reach Sterling's maximum potential level).
Since maturing, Konoplyanka has been around the one goal in three appearances mark which is useful enough for a winger. In 2013/14, the season Liverpool were interested in the 25 year old, the attacker bagged 13 goals in 36 appearances whilst so far this season he has scored 8 in 39 – obviously a slightly poorer return but with his contract dwindling down can he be blamed for being slightly off colour? Another factor could also be Dnipro's extremely impressive run to the Europa League final – a tough competition for its length and opposition.
My personal opinion on Konoplyanka is that he's a very tricky player who would have suited Liverpool's team of last season but he'd also be useful now for squad depth and potentially as a starter. His trickery and decent pace would allow him to create chances, something he's done this season with six assists registered – with three in Europe, somewhere Liverpool have struggled in recent times. Konoplyanka is certainly ready to take that next step into a limelight rich club and with no transfer fee involved this should be a no-brainer as it allows Liverpool to sign other targets in more important positions such as defensive midfield and upfront.
Nigel De Jong
Nigel De Jong is the exact kind of player that Liverpool have been missing since Javier Mascherano departed for Barcelona. He's tough in the tackle, obsessed with defending and he's a really nasty piece of work when he needs to be. During Brendan Rodgers' three seasons in charge of Liverpool it has often been noted that Liverpool are too soft. Players such as Joe Allen and Jordan Henderson are good at their respective roles but Liverpool's soft centre has been a serious weak spot, especially this season with teams happy to attack Liverpool knowing the Reds are lower in confidence than normal. You only have to look at the stats from the FA Cup semi-final loss to see that Liverpool are too soft and deserve their humorous nickname, "Brendan's Choir Boys". The stat I refer to is the amount of fouls Liverpool conceded. Against Aston Villa, Liverpool fouled just five times, against Stoke City in the 6-1 drubbing is was just four and against arch rivals Manchester United, at Anfield, it was just eight. Fouling is obviously a last resort when it comes to winning football matches but sometimes play must be broken up for the sake of denying the other team momentum during attacking plays and Liverpool don't do it enough which allows opponents to play at will.
For me, Liverpool need a defensive midfielder of class more than any other position on the pitch. This season, I've monitored the Twitter debate surrounding goals vs clean sheets with interest – but also with annoyance. Some people seem to believe that teams should have one or the other, either a stout defence or a raging attack. This isn't correct because good teams should be balanced and be able to do both at different times during each game. It's also a fundamentally flawed argument to suggest that defensive midfielders would worsen Liverpool's goals problem because having a dedicated sitter in-front of the defence would mean that leading attacking talents like Philippe Coutinho and Raheem Sterling could attack without the burden of tracking back every time an attack broke down. 
Now, why De Jong specifically? De jong isn't exactly a spring chicken after all and there are other talents out there, but, if Liverpool can't acquire the correct target during this transfer window then this player would be a great stop gap so that the right personnel can be signed up at the next best opportunity. Liverpool have wasted big money on buying for the sake of buying too many times and big money spent on the wrong defensive midfield target could set the club back years – similar to how purchasing Dejan Lovren from Southampton has cost the club. De Jong wouldn't be on astronomical wages either and there shouldn't be too much competition for his signature if Liverpool deemed him good enough.
Dani Alves
This choice is deliberately flamboyant and out there so I know the realism, or lack of it, that surrounds this option. Dani Alves has enjoyed a very good renaissance this season with a string of impressive displays as Barcelona fought to the title and reached the final of the Champions League and at 32 he still embodies the modern full-back. His link up play with messrs Lionel Messi and Luis Suarez has been magnificent to watch and those rampaging right-wing runs have yet to cease. With Liverpool losing the services (yes, I know) of Glen Johnson, Emre Can unsuited to the right-back slot and Jon Flanagan out until next season at least, a right-back should be of the highest priority – especially with Javier Manquillo frozen out by the current manager. With full-backs fairly light in terms of global talent, another elder stop gap could be ideal.
Alves would command a decent wage packet but with Steven Gerrard, Johnson and a host of others set to leave, surely one of the world's best full-backs is worthy of a decent expenditure. This signing would also excite the fans with Alves acquiring cult hero status in European football to go alongside his obvious talent.
There are other free agents milling around this summer with other options such as James Milner, Andre Ayew and Luiz Adriano all without new deals. There has never been a better time to sign free agents with a list as strong as that and Liverpool would be foolish to pass up on some of these names especially with their transfer kitty so much lower than their rivals.