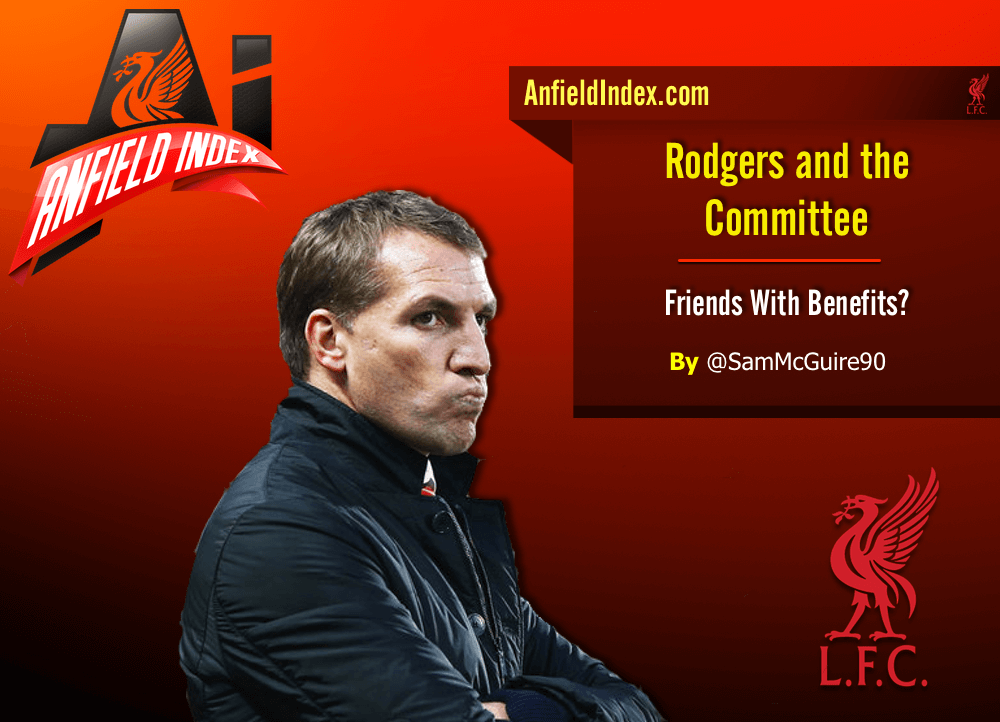 Rodgers and the Committee; Friends with Benefits?

The much maligned 'duo' of Brendan Rodgers and the Liverpool transfer committee have taken much criticism over the past 12 months. To summarise it, the Liverpool fan base is pretty much divided by which side of the fence you take refuge on.
Are you someone who sympathises with Brendan Rodgers having to find room in his squad for the committee signings?
Alternatively, are you someone who finds it bewildering that Rodgers doesn't fully utilise all of the tools afforded to him by the committee?
From Twitter I will say it's rare to find people who embraces both of the above questions. You're usually one or the other.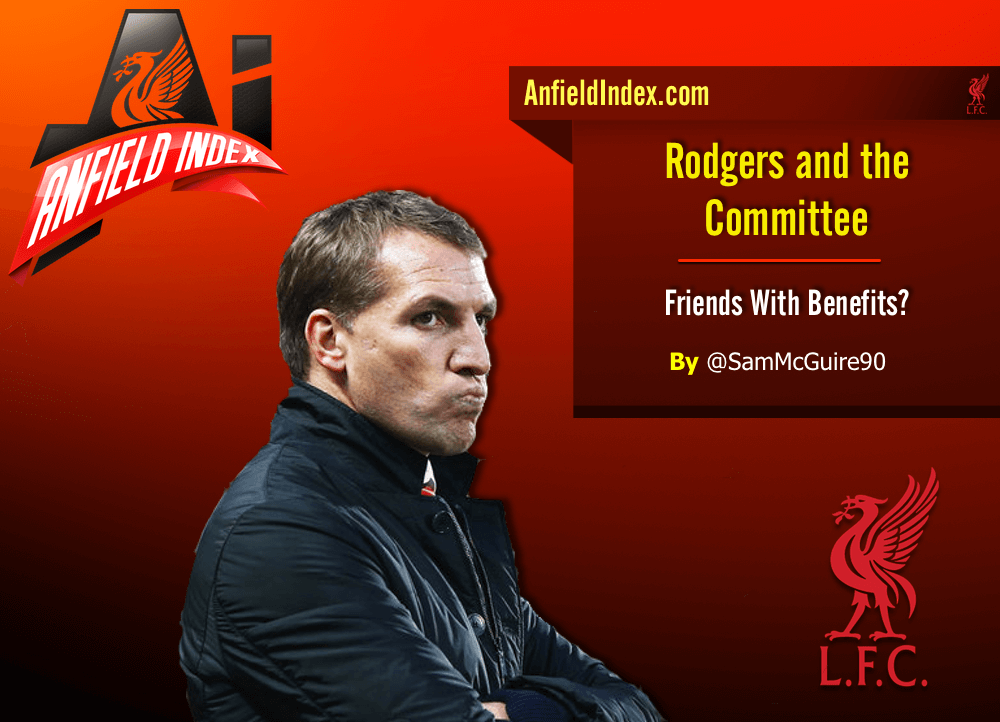 Let me first off say I don't know who is and who isn't a Brendan Rodgers signing. This is all just my opinion and I'm sure many of you will have differing opinions.
'Dressing room politics' started to be questioned in public. It was bubbling for a while and reached boiling point towards the end of the season. What started off at the beginning of the season as "Why isn't Emre Can playing?" finished up with "Why is Emre Can playing right back when we have Javi Manquillo avilable and no physicality in midfield. Wait, what actually happened to Manquillo?!"
These kinds of moves had fans questioning Brendan Rodgers; why was he continuously 'misusing' players, and why were they seemingly committee buys?
Mario Balotelli – He's not set the world alight but can anyone say he's been used properly? Have we played to his strengths? He drops to link up play, does it well but get's criticised for not being lazy? Then when he actively tries to stay nearer to the area and doesn't get involved he's supposedly lazy? Our manager has even come out and made Mario his own stuntman. He's thrown him under a bus, infront of a train and out of a window in some conferences.
Lazar Markovic – Signed for £20million, he's a potentially brilliant left sided forward. He wasn't just pacey but he had the tricks and creativity to unlock defences. He showed glimpses of it on his debut when deployed as a left sided forward. Then Liverpool switched to a 343 formation and he seemed to suit do well as an attacking wing back. Then we tweaked the formation and the wing backs became a little more defensive and it nullified Markovic.
We seen the decline in Sterling's performances when he was moved to play wingback, yet that's talked about as an excuse for his dip in form whereas very few acknowledge the fact we've misused Markovic.
We also seen how poor and limited Lallana was at right wing back, but that experiment only lasted a 1/2 games. Why sacrifice Markovic for longer?
Emre Can – The recent scapegoat. Yes he's made mistakes but the barrage of abuse he's been getting? Easy to lash out at him but, like Markovic, why did we persist with him as a false right back for so long? It was clearly a weak link within our starting XI. Emre Can as RB and Martin Skrtel as a RCB is horrendous. Emre Can is poor in the air so teams put decent headers of the ball on him. They all know Skrtel drops deep when there is a sign of danger. This means teams can almost double up on Can (player winning the header and a player running from deep into the space vacated by Skrtel when he drops) and this makes him look even worse.
Javi Manquillo – If we don't start putting up 'Missing' posters soon then I'd be amazed. He was probably our best defender in the early season and then he just vanished. We had to put up with Emre Can at RB and Glen Johnson! Why? Nobody actually knows.
"Moneyball doesn't work"
I've been hearing this lately. I don't agree with it. Moneyball does work when you buy into it as a club. Look at the likes of Sevilla, BVB, Juventus and Atletico and you'll see you can buy cheap, develop and sell for massive fees.
You need to identify players which we arguably have in the likes of Emre Can, Lazar Markovic, Alberto Moreno and Phillipe Coutinho. You then develop and play them, properly, and you'll eventually either sell them to breakeven or possibly make a big profit. For this to happen though you need a manager/coach who gets given a toolbox and he uses every single one of them for the correct jobs.
Right now we have these moneyball signings being misused and depreciating in value and depsite being young and talented we'd make a loss on them as teams can see Rodgers Isn't keen.
Currently you kind of see Rodgers using the 'committee' signings when he wants them and then kind of discards them when he's got his players back. That's not saying he doesn't value them, he may just not trust them.
I also keep hearing "One good transfer window, that's how far away from really challenging the top 4 we really are".
In the current set up we really aren't. The Committee could have a window of their life and sign players that make Liverpool rule Europe for years to come but Rodgers wouldn't use them properly?
This friends with benefits set up isn't currently mutually beneficial and may be coming to an end soon. It's not beneficial right now, what with Rodgers devaluing the players the committee have rumoured to have signed. It makes no business sense for this to continue.