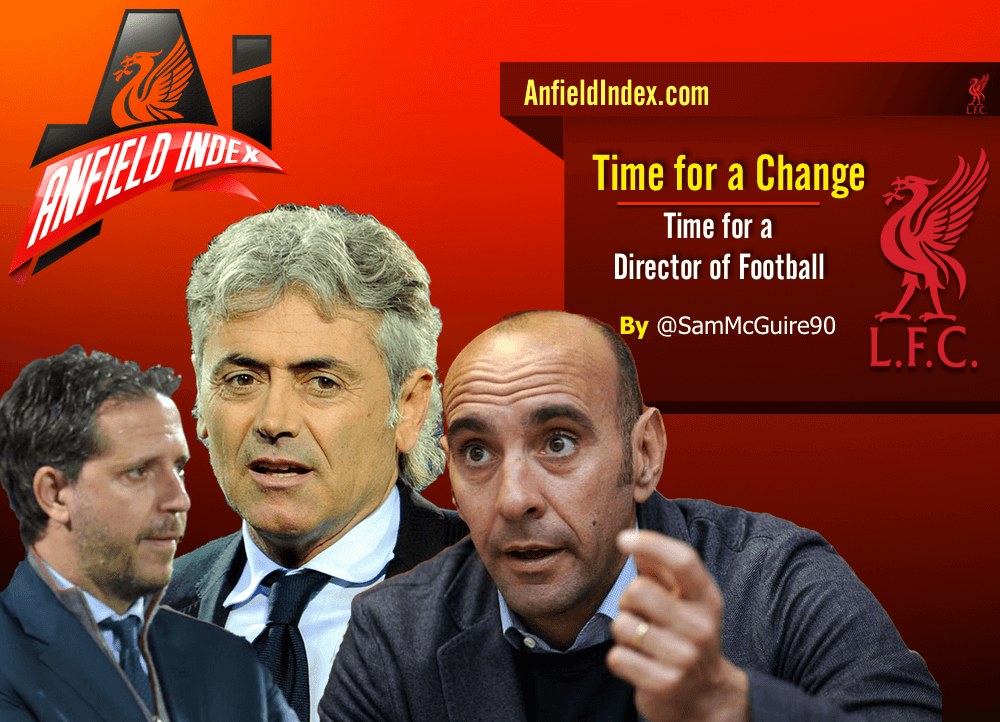 Time for a Change, time for a Director of Football
This season Rodgers remarked that he had limited time to coach the team on the training ground due to more games. This should have been an invitation for FSG to step in and implement an idea they wanted all along: a Director of Football.
This wouldn't take any credibility away from Rodgers. If anything it would show that the owners not only backed him but valued his opinion and coaching ability. So they'd be taking some responsibilities off of him in the hope of maximising his time on the training field. Win-win for both Rodgers and FSG.
Why this hasn't happened yet is beyond me.

If you get chance listen to the AnfieldIndex Global Podcast, the guys on that talk about the structure in place at Swansea and how when Rodgers was appointed he agreed to fit in with what was asked, however when approached about the Liverpool job he wouldn't agree to their suggestions. It's almost as though Rodgers saw Liverpool as a blank canvas and a way for him to really build something here, or at least build up his reputation.
I'll quickly summarise what was said on that pod with regards to Swansea. When Rodgers was appointed he was instructed what type of football they played and he wasn't allowed a mass turnaround of staff as he was to work with what was there already. So from his time at Swansea you can see Rodgers works well with structure but not only this, continuity at Swansea is key to their success.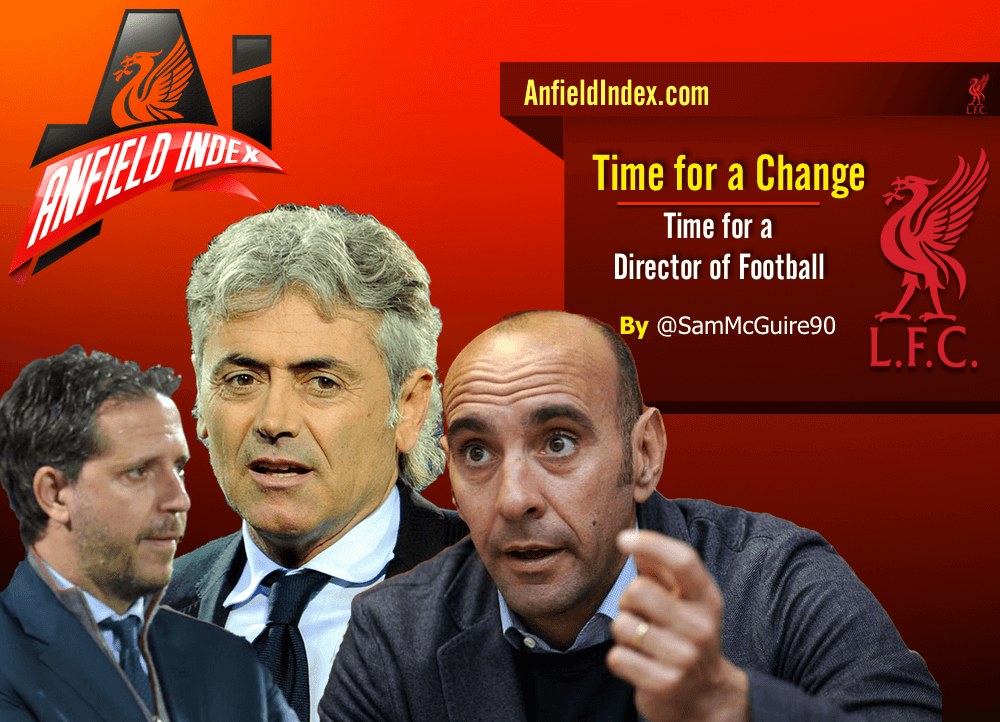 Continuity at Liverpool
This is something that's lacking at the club and a good start would be a DOF. No this isn't just a man that buys and sells players, he practically influences and implements the ideas of how the club aspires to be.
This wouldn't be a move to undermine Brendan Rodgers, but one to safeguard the future of the club.
In modern day football a manager doesn't stay to build a dynasty. That job is down to the Director of Football. For sustained success you need continuity at the top. That's what European sides have done for many years.
The Case Study
I've decided to look at clubs who can be classed in the same category as Liverpool and looked at how continuity from the top has helped them rebuild and better themselves.
Fabio Paratici –  Juventus since 2010. You may argue Juventus are a class above Liverpool, but are they? No European success for many years, they rarely spend huge amounts on players or wages but they're able to convince some of the best players to play for them? This is the club that got Vidal for £10 million, Carlos Tevez for £10 million, Paul Pogba on a free and potentially Sami Khedira on a free. He's the guy that convinced Alvaro Morata that Juventus was the team to help him progress as a player. No doubt he'll be the guy that gets a record transfer fee for Paul Pogba when he's sold. They've also got the youth market sewn up in Italy with the likes of Daniele Rugani and Domenico Berardi on their books.
Franco Baldini – Spurs since 2012. It's rumoured that Andre Villas Boas actively wanted a DOF because he knew the experience was needed. It was Baldini who assisted with looking for a replacement in summer 2014, a manager who could fit in with what was already in place. Baldini is responsible for Spurs selling Bale, Huddlestone, Livermore and Caulker for more than they were worth. He and his scouting network (yes they have their own and don't just steal our targets) helped identify Paulinho, Chadli, Chiriches, Eriksen and Lamela. Not only did he identify them he beat other clubs to their signatures, thus asserting his authority over other clubs even with lesser funds and no Champions League.
Walter Sabatini – AS Roma. Appointed in 2011, Sabatini has oversaw a rebuild at Roma. He removed the underperforming but high earning players and replaced them with young/unappreciated players. Similar to what FSG want to do at Liverpool. This transition at Roma saw him sign the likes of Erik Lamela, Marquinhos, Mehdi Benatia and sell them all for huge profits. All whilst reinvesting the money on players like Kevin Strootman, Gervinho, Radja Nainggolan, Adem Llajic and more impressively, Juan Iturbe when it looked certain Juventus had signed him.
Michael Zorc – Dortmund since 1998. The ex-BVB midfielder has been at the club his entire life. He is the one constant that's been there through the bad times and the recently good times. He's oversaw 3 league winning sides and various other final appearances. He had an idea of how he wanted BVB to play and approached Klopp despite the fact he was fairly inexperienced. With the mix of home grown youth, Sahin and Goetze, and clever buys; Kuba, Lewandowski, Gundogan and Reus, Klopp was able to coach this side to great success. Even with Klopp moving on this summer they're still in a great position with Thomas Tuchel coming in to replace him and use what Zorc has for him.
Monchi – Sevilla since 2000.  Hardly the best run club but Monchi has kept them ticking over for the past 15 years. He's won 4 Uefa Cups. Back to back on two occasions and this was when teams were signing their best players. He implemented a scouting network like no other and concentrated on the youth of Sevilla for great success. The likes of Jose Reyes, Alberto Moreno, Diego Capel, Jesus Navas and Sergio Ramos sold for big money. He also unearthed, and sold, the likes of Dani Alves, Julio Baptista, Federico Fazio, Ivan Rakitic and Geoffrey Kondogbia for massive profits. Sevilla lose players and managers regularly and never fall off a cliff. Premier League clubs lose 'one star player' and a poor season is excused.
A Director of Football helps shape the club. As Andre Villas Boas said "someone who has experience of dressing rooms, represents the club, and is able to link up with players and agents". Not only this but they set up a youth system and a scouting system which means if a manager is to leave there is no upheaval. Everything is still in place and a new manager comes in who fits into this set up. A DOF gets you value for money in terms of buying and selling. They understand an academy isn't just to supplement the first team but also player sales too. They may not be good enough for Liverpool but they may be good enough for other teams. We seemingly let players leave on a free.
A DOF would give Liverpool some much needed stability and foundations to build on. I'm sure if Rodgers wanted to build a legacy it'd be done beside a DOF, his work could be carried on by managers after him much like it was at Swansea.