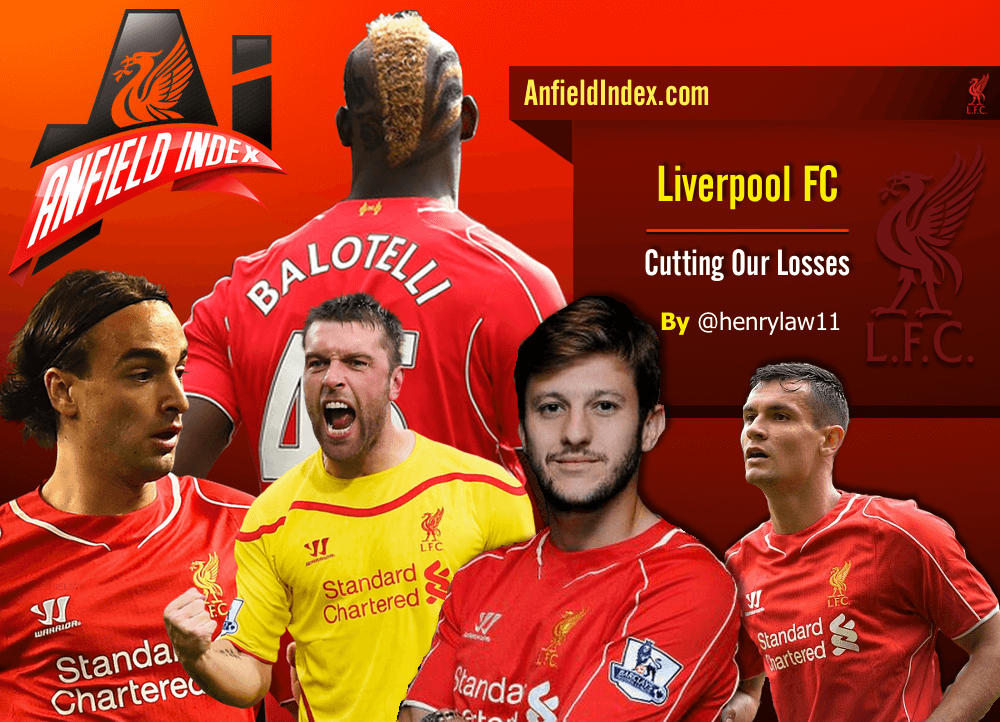 Liverpool FC: Cutting Our Losses
A financial analysis of LFC's 2014-2015 transfers
This article looks at Liverpool's transfer activity last summer and asks whether it is financially viable to cut our losses on certain players who have flattered to deceive and how selling such players could potentially impact the club's purchasing power for the upcoming transfer window.
As the curtain falls down on the dismissal 2014-2015 season, Liverpool fans around the world let out a collective sigh of relief as we are finally put out of our misery. The bon vivant and buoyant disposition of the fan base at the outset of the season has given way to pessimism and doom-mongering, with good reason – we failed to reach the target of Champions League football, a number of new players have ultimately disappointed, we waived goodbye to Steven Gerrard, the club has been undermined by a young upstart and his belligerent agent and the job of the man who steered us to second place 12 short months ago  balances on a knife edge, with many hoping to see the back of him.
In this article I will analyse the transfer dealings the club made last season and attempt to determine the wages and potential transfer budget freed up if Liverpool were to cut their losses and move these players on.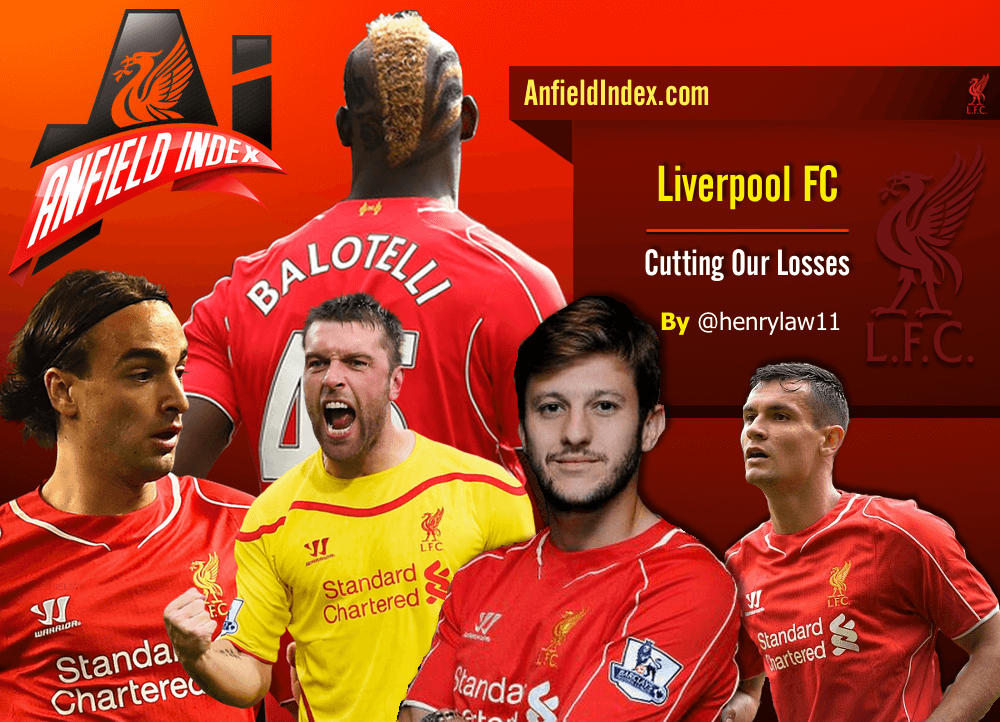 Accounting for players
I have written a number of articles detailing the accounting treatment for footballers featured on Anfieldindex. Nonetheless here is a very brief summary:
First thing to note is that profit does not equal cash. A club's ability to spend is limited by its cash reserves (which is required to pay the transfer fee) and their profit (which is required to remain FFP compliant.) A club such as Liverpool, built on a model of self-sustainability, will not spend in a manner that is likely to result in the club posting losses for the financial year so its purchasing power is also constrained by profits regardless of the effects of FFP (which is being relaxed in the coming years.)
When accounting for transfer fees we capitalise the amounts paid.  This means the transfer fee is entered in the balance sheet of the football club as an asset rather than being treated as an item of expenditure. The transfer fee is then reduced by a constant amount each year and entered as an expense in the profit and loss account in a process known as amortisation.
In order to determine the amortisation costs we divide the transfer fee by the length of the contract which the player has signed. Essentially what we do is write off the transfer fee over the time the player is with the club.
Why is this significant?
Well it means that in order to break-even on players who turn out to be 'duds' it is not necessary to sell the player for the amount the player cost the club. The club need only sell the player for their 'book value' which is the original transfer fee minus total amortisation costs to date.
It is important to note that the sale of a player is accounted for in a different manner. When selling a player the improvement to net profit is made up of the transfer fee received minus the book value of the player at the time of sale (which is the profit or loss on sale) plus the amortisation fee we no longer have to account for and the wages the club no longer has to pay.
Finally the level of impairment recorded for each underperforming player cannot be calculated without additional knowledge so we will have to ignore such calculations for the time being.
With this in mind let's look at some potential outgoings.
Stick or Twist?
First we will look at the new players brought in who have underperformed. I will exclude Moreno and Emre Can from this list as I believe the sale of these players should not even be contemplated by the club for the time being due to their decent performances during the year.
In each case I'm assuming the club will be unwilling to accept an offer which result in a loss on sale being posted that is greater than the amount of amortisation they would have posted anyway e.g. with Lovren below the maximum loss on sale the club would accept is £4 million. The reason for this assumption is that a loss on sale greater than the amortisation fee would actually limit the club's ability to bring in players this summer due to the way in which players are accounted for.
If numbers aren't your thing feel free to simply read the verdict for each player below:
Dejan Lovren:
Lovren joined the club for £20 million, on a five year deal worth a rumoured £70,000 a week. This means that Lovren's purchase cost the club £7.64 million (made up of £4 million amortisation fee and 3.64 million in wages) for the 2014-2015 season. This amount will be expensed to the profit and loss account each year until Lovren is either offered a new contract (unlikely at this juncture) or sold.
Lovren's book value is now £16million. If we receive £16 million this means that LFC would not post any loss on the sale of Lovren and would simultaneously free up £3.64 million in wages. Expenditure (and therefore net profit) for the next four years would also be £4 million better off than it otherwise would have been as the club no longer have to amortise the fee paid to acquire the player. This would theoretically allow the club to use the £16 million and spend it on a new player, regardless of how the cash payments receivable are structured.
Verdict
Sell if an offer of £16 million or above comes in, although that is highly unlikely. Otherwise hold onto Lovren for another year and hope he appreciates in value. After another year the club would only have to recoup £12 million to avoid posting a loss on sale.
If the club is willing to use Wisdom and/or Ilori as cover rather than purchasing an alternative the club should accept offers of a slightly more realistic £12 million or over. While a loss on sale of £4 million would be posted this would be offset by the £4 million which no longer has to be amortised and would allow the club put Lovren's wages towards attracting top class talent without affecting the upcoming financial year's profit/loss.
For the remaining players I will merely state figures and verdicts
Mario Balotelli
Bought for: £16 million
Length of Contract: 3 years
Yearly Amortisation Cost: £5.33 million
Present Book Value: £10.67 million
Wages: £4.68 million
Verdict:
Provided Liverpool receives offers exceeding £10.67 million they will not post a loss and they can accept as low as £5.33 million without it altering the net profit they would otherwise post. Given the fact that the club are likely to spend a significant amount of their transfer budget on a striker anyway accepting such an offer is actually viable although it would limit the clubs ability to recruit in other areas. Balotelli is the ultimate marmite footballer with the fan base very much split on whether he should be given another chance. If Brendan Rodgers remains in charge I see no point in retaining Balotelli and I similarly believe that a fee in excess of £10 million is not unrealistic despite his disastrous season. Cutting losses on Balotelli would also free up £4.86 million from the yearly wage bill as well as a yearly amortisation fee of £5.33 million.
Rickie Lambert
Bought For: £4 million
Length of contract: 2 years
Yearly amortisation cost: £2 million
Present Book Value: £2 million
Wages: £2.34 million
Verdict:
While the Lambert to Liverpool deal was a fairy-tale story it has ultimately been a failure. Lambert has failed to cope with the pressure of playing for his boyhood club. Aston Villa bid a £5 million for Lambert in January and if the club were to receive a similar offer this summer they would post a profit on sale of £3 million. This £3 million profit can go towards signing new players as will the wages the club no longer has to spend on Lambert (£2.34 million) and the amortisation fee they no longer have to account for (£2 million).
Adam Lallana
Bought For: £25 million
Length of contract: 4 years
Yearly amortisation cost: £6.25 million
Present Book Value: £18.75 million
Wages: £4.16 million
Verdict:
Adam Lallana has had an injury plagued season put has shown flashes of quality. His output, given his limited number of appearances, is actually quite impressive but the club undeniably overspent when acquiring Lallana. Liverpool would have to receive offers exceeding £18.75 million to avoid posting a loss on sale and I do not believe such an offer is forthcoming. Regardless I would hope the club retain Lallana for the upcoming season and hopefully he will have the opportunity to make a bigger impact that last year, provided he remains injury free.
Lazar Markovic
Bought For: £20 million
Length of contract: 5 years
Yearly amortisation cost: £4 million
Present Book Value: £16 million
Wages: £2.6 million
Verdict:
Markovic is a player I really like. He hasn't been given a fair chance in the first team in his favourite position and has instead been deployed as a wing-back (!) or simply benched. I believe the club should only contemplate selling the player if the receive an offer above what they originally paid and this is highly unlikely.
Summary
The failings of last season's transfers, or at least the way in which they were used by the manager, is clear from the above analysis. Given the extent to which the value of such players has dropped it is in some cases unrealistic that the club will even be able to move such players on. I believe the most likely outgoings will be Balotelli and Lambert as it probable the club will receive offers which exceed the player's current book values but unfortunately it appears we are stuck with Lovren for at least another season.
Comment below and tell us who you would sell this season and if you enjoyed the article make sure to follow me @Henrylaw11