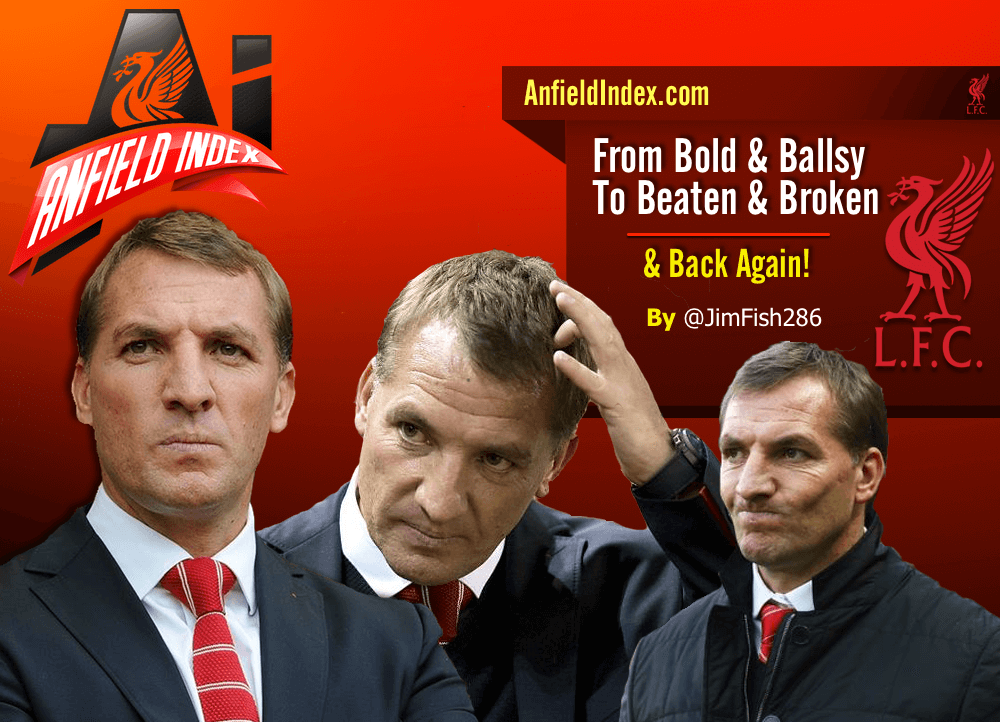 Rodgers: From Bold & Ballsy to Beaten & Broken & Back Again
Brendan Rodgers has been given another chance and it's one he has to grab with both hands.
When Brendan took over 3 years ago it wasn't so much to a chorus of fan fares and celebration from the fan base, it was more of a quiet contemplation. Not widely known outside of Swansea, Reading and Watford, Rodgers had impressed many with the stylish way he had set his Swansea side up in the 2011/12 season.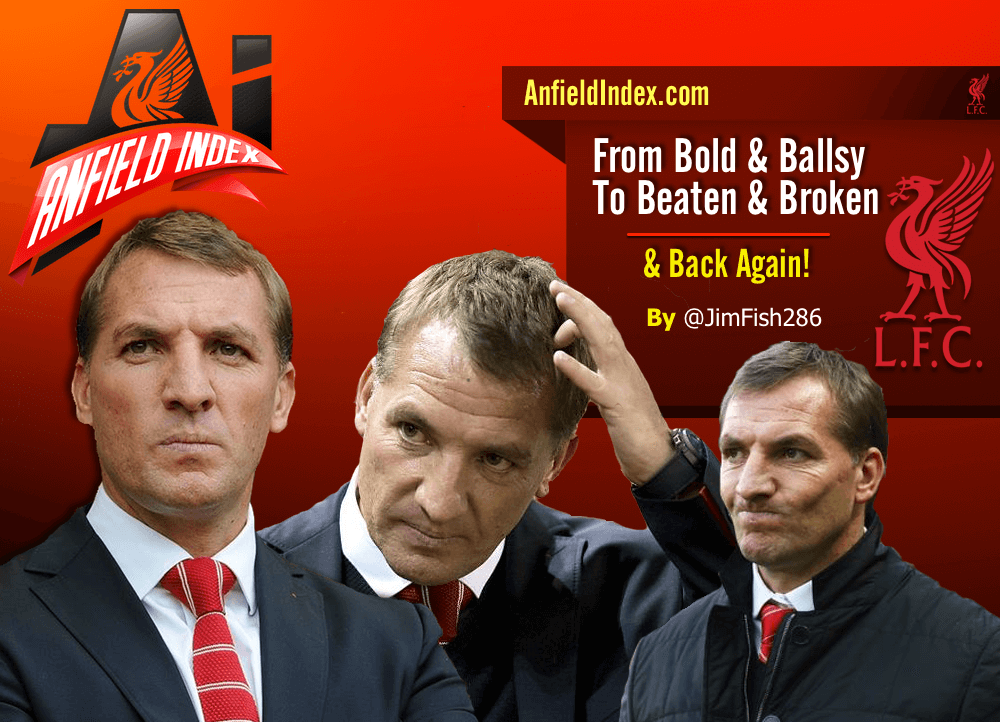 Our owners wanted a young up & coming coach, with a vision and philosophy for the future and after a protracted recruitment process, the job was his.
Our new manager was here, this bold, brash young man telling us how he was going to make us great again, how he would fight every day of his life to make our club, his club great again. He told us that he was going to make playing at Anfield the toughest 90 minutes of our opponents lives: Wow!
It got the blood pumping, it got us believing in death by football, in the famed dossier, in tiki-taka. We wanted it, we craved it. It was a brave new world, especially after the dross that Roy Hodgson had dished up and latterly in Kenny Dalglish's reign, free flowing football was in short supply.
From the get go it was crystal clear that it was Brendan's way. There would be no director of football, there would be no interference from the outside, players he didn't rate would be moved on regardless of the repercussions for the club. Brendan wanted full control of all football related matters at the club, transfers included but following a problem in the first transfer window that resulted in Liverpool starting the season a striker short an uneasy alliance was formed between FSG's newly formed transfer committee and Brendan.
Here he was, this cocky young man managing one of the biggest clubs in world football, he had the press and fans hanging off his every word. Whether you were skeptical to start, you couldn't help be dragged along with it as the season progressed.
To coin a phrase that I heard on one of the very first Anfield Index Podcasts, Brendan's side played 'balls out' football. In that respect they mirrored the manager. The side was vibrant and full of young players, they passed and pressed like their lives depended on it. It was clear to see that there was this immediate bond between the squad and their young manager.
You wanted to see where it would take us all.
And see it we did, after a slow start things really heated up after the arrivals of Daniel Sturridge and Phillipe Coutinho, Brendan's bold style of football was taking the Premier League by storm and although a 7th Place finish didn't hint at what was to come next, the way his side finished the season was a sign of real progress.
If bigger Brendan's football was something to get excited about, slimmed down Brendan's football was practically euphoric. The diet hadn't dampened his appetite for goals and attacking football, in fact he was positively ravenous as the side brushed aside practically all comers in a way that hadn't been seen at Anfield or in English football for many years.
The ferocity of the side's play stunned teams into submission and it was a question of when if not if the side would score and once they did, it became a question of how many.
Were there mitigating factors? Yes, of course there were. Luis Suarez was playing like the best footballer on the planet, Daniel Sturridge was finally showing the consistent form that plenty had talked about, Raheem Sterling found a run of form that catapulted him into the ranks of one of the best and most talked about young players in Europe and as the season reached its finale, Steven Gerrard found that old magic as we chased his dream, the league title.
However, Brendan's role in all of this cannot be disputed. He had those balls out and he kept them out all season. He set the team out, he moulded the formations and tactics to suit the players at his disposal.
He got the best out of Jordan Henderson, Joe Allen and Jon Flanagan, he spent hours on the training field working on set piece delivery, individual coaching, tailored training programmes and even introduced Dr Steve Peters to the players.
We will never forget season 2013-14.
Some will look back on it as a missed opportunity others, like myself will look back at it as the time we fell back in love with football and in particular Liverpool Football Club.
What has happened since the summer of 2014 has been well documented, missed targets, poor recruitment, muddled team selections and tactics and the once vaunted team spirit eroded by the constant finger pointing at the players.
At the end of the Stoke City game Brendan looked battered, beaten and broken hearted and so he should, we expected more, he promised us more.
He's got a chance to, and some may say surprisingly, prove to us he can make good on those promises.
I want bold Brendan back, I want balls out Brendan back and if he has any plans to stay as Liverpool Manager in the long term, then out they must come!