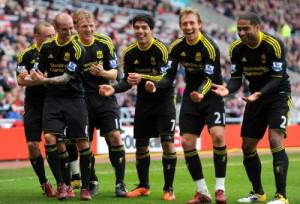 Where the Game was won - Sunderland Vs Liverpool

The first instalment of this feature was a success so we are going to make it into a regular feature every time Liverpool win in the Premier League.
The latest game was yesterday's win at the Stadium of Light – Sunderland Vs Liverpool.  Immediately after the game a lot of supporters, myself included, put the win down to a bit of lady luck that went our way after half an hour of the first half.
On second thoughts I'd like to change my mind and put it down to a mixture of lady luck, which every team requires, and some very good performances in the Liverpool team.
We're going to take a look at the spine of the team and the partnerships that were formed yesterday. The three partnerships we're going to look at are all of the central partnerships; central defence, centre midfield and the two strikers.
So let's start with the two that will probably want to read about the most; Carroll & Suarez.
Strikers
The start was very bright for Andy Carroll. Very early on he flicked on successfully for Suarez to run into space down Liverpool's left wing who then won a corner. From the resulting corner (awesome delivery from Meireles) Carroll headed down for Kuyt to slide in a shot which the keeper saved.
Carroll seemed a little slow, understandably as it will take him a few more games to get his match fitness up, and was having a tough time with Anton Ferdinand. Surprisingly Anton won quite a few headers against Carroll as the Aerial Duel percentage shows (below). Normally Carroll's aerial duel percentage is much higher than this.
Andy, however, did get a free header in the first half again off a Meireles corner but his header was way off target. Carroll's other major involvements were in the second half where he won a free kick outside the area and then went very close to opening his account for Liverpool with a header that was cleared off the line by Cattermole.
Suarez's day started really well. He was running down the channels and got involved in the play a lot. However he lost his way midway through the first half where his layoffs and passes weren't just coming right and he was looking pretty agitated. After the goal went in Suarez was played in by Spearing and hit a shot with his left foot that was heading for the top corner before the Sunderland keeper made a fine save. Suarez then had a couple of free kicks, one which went close to Sunderland's left hand post. Suarez's goal was a work of magic. Kuyt played him in behind a defender on the right wing. Suarez then shrugged off a challenge from the defender and charged towards Sunderland's goal unleashing a shot which bisected the goalkeeper and the post. A wonderful finish and the baby celebration afterwards was just magic!
Analysis
All of Carroll's attempts were from his head and Suarez favoured 75% from his right foot (two free kicks and his goal) and one attempt with his left foot. So between the two strikers they pretty much cover everything off as a partnership. Carroll's left footed so I'm sure he'll be having a few more pops with his left peg whilst Suarez seems very comfortable with either foot.
The other interesting statistic in the table above is the willingness of Suarez to work the channels or wings. A total of 40% of Suarez's open play passes were on the wing. This also shows his mobility and around the pitch and he's not one dimensional. He has already proven that he is threat from either side of the goal, as shown in the Guardian Chalkboards below. It's clear that Suarez is a threat from any part of the opposition box. With Carroll's aerial presence and ability to bring players into the game they will form a formidable strike duo.
They combined a few times but they definitely gave the Sunderland defenders and midfielders a lot to think about which also takes pressure off of our midfield. That is the reason why we've chosen them as one of the reasons for Where the Game Was Won.
Central Midfielders
The two holding midfielders, or "holding" midfielders, for Liverpool yesterday were Jay Spearing and Lucas Leiva. Let's talk about the latter first, Lucas has had a good season so far. He's got the best pas completion in the team and he's becoming a solid and reliable member of the first team. It's a different story for his partner in centre midfield for yesterday's game. There was lots of speculation before the game about how Jay would do, with a few followers on Twitter asking us to check out the stat that Jay hadn't made a successful tackle in the corresponding fixture last year. This turned out to be true and Jay didn't have a great game last season, however he more than made up for it this season (stats below).
Jay's performance was mediocre before the penalty incident, and that's not putting it harshly at all. He'd completed 6 out of 13 passes and therefore only completed 46% of his passes. This is pretty poor.  The Chalkboards below display Jay's passing performance before and after the penalty incident.
So Jay started poorly yesterday but one piece of good anticipation from Jay turned the game on its head, not only for Liverpool but for himself too. If you check the Chalkboard below displaying passes from 34-90 minutes you can see how Jay's game totally changed after he won the penalty decision. It gave him some confidence and a much needed boost that he'd contributed. Sometimes young players need this so that they feel like they're part of the team.
Jay's  passing performance after that was quite incredible. He only misplaced 4 out of 32 passes therefore his pass completion after the penalty incident was 88%. After the penalty incident he also created an excellent chance for Suarez, picking out his run from the central midfield area by lofting a ball through. So Spearing was involved in two key moments in the first half. In the 2nd half he even managed an excellent effort on goal and was showing what a little confidence can do for a player.
As you can see from the Stats Jay Spearing out performed our most reliable central midfielder this year. Only slightly out passing him with a 76% pass completion as compared to 75% (worth noting Lucas attempted the most passes in the team).  Looking at other stats, Spearing more than made up for his performance last season. He won all four tackles he attempted whilst Lucas won 71%. Don't take this the wrong way, we are not belittling Lucas' performance but instead we're trying to give Jay Spearing's performance a little context.
Jay also won more 50/50 possession duels as compared to Lucas, although Lucas did do better in the air. Creatively and as an attacking force Spearing was again superior yesterday with a shot and chance created too. Jay only lost the ball twice in comparison to Lucas who gave the ball away six times (baby blues maybe?). One area where Lucas did outperform Jay was in the pass completion in the attacking half. The final third pass completions were identical however Lucas made three times the passes Jay did here 16/24 to 5/8.
Regardless of the numbers displayed above it's clear that Jay Spearing, quite possible, possible had his best game in a Liverpool FC shirt. The little bit of luck that was required came his way and his game improved dramatically (as proved by the chalkboards).
Lucas marshalled the midfield well too so let's not take anything away from him. Catermole didn't really get to stamp his authority on the game and this was in large part to our midfield duo. Another area of the pitch Where the Game Was Won for Liverpool yesterday.
Central Defenders
It was an impressive performance from Liverpool's backline yesterday restricting Sunderland to long range efforts only.
There has been lots on Twitter over the last day about Daniel Agger and his statistics in the last twelve Liverpool games. It's been well  tweeted and re-tweeted that in the last six games that Agger has played for Liverpool, he has not finished on the losing team and Liverpool have not conceded a goal in this time either. So it stands at P6 W6 GS10 GC0. Quite an impressive statistic whereas without him Liverpool have struggled P6 W1 D3 L2 GS 5 GC 6. Quite a contrast, 18/18 pts with him and only 6/18 pts without him. Pretty self explanatory isn't it?
Well what about his partner in crime yesterday; Martin Skrtel? Does he deserve any credit?
I'd go as far as saying that as long as Martin isn't marking anyone, that's  a threat, from corners he'll have a solid game. Yesterday there wasn't much threat from corners (although Agger did lose his man at one time) and Skrtel had a very good game according to the stats. Even whilst watching the game he didn't make the mistakes he did against West Ham. He was solid yesterday and played pretty well from where I was watching. The stats for both defenders are below:
Even though Agger is getting all the plaudits for yesterday's solid performance at the back it was Skrtel that won all of his tackles (2/2) whilst Agger won two out of the three he attempted. Possession Duels and Aerial duels were also in Skrtel's favour with Skrtel winning all three headers and an impressive 80% of total duels. Agger could only manage 45% of the duels. Whilst the stats state that Skrtel was the solid of the two in yesterday's game there's no denying that Agger's influence on the team (especially the defence) is considerable. Winning six games out of six, when start, and not conceding cannot be a coincidence.
Judging the performances I feel that Agger's presence takes a lot of pressure off of Martin Skrtel. No longer does Skrtel feel he has to be the ball playing defender. He could just clear the ball or play it to Carraghar on his right or Agger on his left. Looking back at the last five times Liverpool have kept clean sheets in the Premier League:
Vs Sunderland (A) Centre backs: Agger and Skrtel
Vs Chelsea (A) Centre backs: Agger, Skrtel and Carraghar
Vs Stoke (H) Centre backs: Agger, Skrtel, Kyrgiakos
Vs Fulham (H) Centre backs: Agger and Skrtel
Vs Wolverhampton (A) Centre backs: Agger and Skrtel
Vs Everton (H) 1st Half Centre backs: Agger* and Skrtel
* No goals conceded until Agger went off at half time
Whenever Agger and Skrtel have featured as the centre back pairing or part of a back three Liverpool FC have not conceded a goal. You can attribute all of the credit to Daniel Agger if you wish but we believe that Martin Skrtel should also take a lot of the credit too. It's obvious that Skrtel's preferred partner at the back is Daniel Agger and its proved by the trends above.
So when asking Where the Game Was Won yesterday a lot of people were saying it was because of luck and the penalty decision. I think it would be safe to say that luck had a big part to play, however there's no luck involved in the six performances described statistically above. The game was won on the back of three solid partnerships.