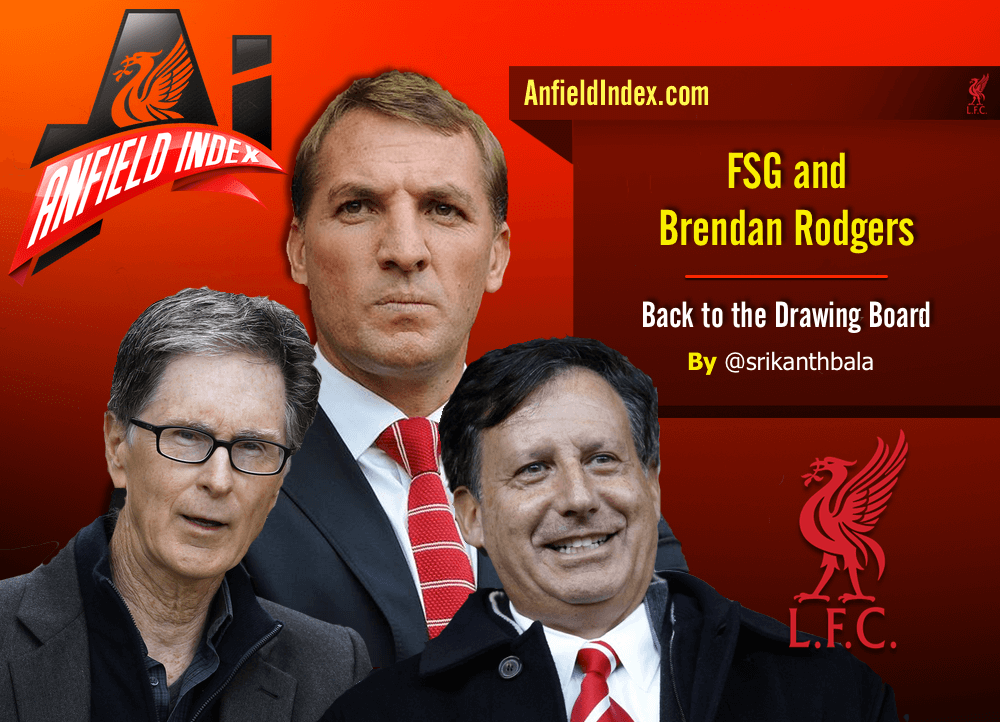 FSG and Brendan Rodgers: Back to the drawing board!
The news emerging in the last 12 hours (at the time of writing) saw Brendan Rodgers being given the vote of confidence by the people who matter, Fenway Sports Group. This ideally puts to rest the anxiety of 'will he stay/will he not' debate amongst the fan base and whether in agreement or not, it is best for the club that the decision has been made swiftly and there is clarity of thought going forward.
Or is there…?
There have been talks of a 'productive' and a 'comprehensive' plan being put in place to improve the first team, what that is though seems unclear at this point of time. But there are enough ideas floating around about what it should be.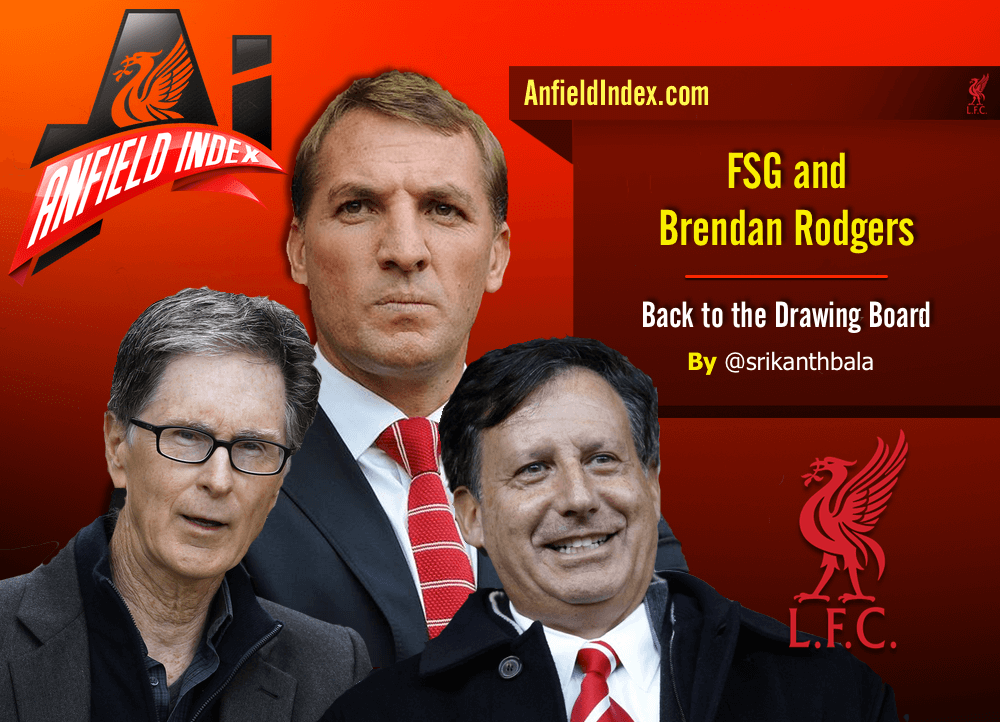 Get to the Drawing Board
It is unfortunate that we are back to the drawing board at the end of three years of the Rodgers reign. But there is an option of complaining about it, or actually go about doing it.
What is FSG's philosophy towards Liverpool Football Club ?
Below are some of the questions I would look inwards and answer if I were FSG.
Is it possible to play attractive football and ensure Liverpool play Champions League every year?
Do what it takes to win matches and trophies?
Is it to do a mix of above?
Is winning the Premier League a long term vision? Or is it in the medium term?
Is there a short term vision ? Is it in sync with the long term vision?
What is Liverpool's Identity on the pitch ?
So what exactly does Liverpool FC stand for on the pitch as the season 2015/16 is about to commence? Do FSG know? Does Rodgers know? Even if both of them are seemingly aware, are both of them in sync with regards to the identity? That is what I would like to fix first and foremost. This is what I hope was discussed most in the review meeting between FSG and Rodgers, as unless we know what we stand for, we will never know what is wrong with Liverpool and what is it that needs to be fixed?
Is Liverpool FC about fast paced, attacking football?
Is Liverpool FC about slow, possession based football focusing on build up play?
Is the chosen identity on the pitch flexible? If yes, what are the tenets that are flexible, when things go awry?
Where is Liverpool FC currently at? How close (or far) is the club from the desired identity?
It is absolutely imperative that the owners and the manager have answers to the above questions and more importantly, are in sync with each other. Any decision to be taken downstream should be based on the chosen philosophy and identity. That is the end objective. Every pound spent, every minute spent, every resource hired should be towards achieving the desired identity of Liverpool Football Club.
Strategy to Execute the Identity
Once there is a set philosophy and identity in place, the next step is to identify the building blocks required to fulfil the desired identity.
Let us just assume that the desired identity agreed upon is the 1st point mentioned above – fast paced, attacking football.
 The first step would be to identify the attributes needed to execute the chosen philosophy/identity.

The non negotiable attributes like pace, one touch passing, movement off the ball , leadership etc.
Attributes which are desirable and would be a welcome addition.
Attributes which would be good to have but can be managed without.
Perform a thorough overview of the current squad vis-a-vis the chosen style and the desired attributes. Identify the players who are:

Tailor made for the chosen approach, players whose key strengths contribute to the approach chosen.
Players who have certain skill sets which contribute to the style, and have some attributes which can be moulded by coaching.
Players who do not fit the approach.
The  sequential steps to be performed from a personal point of view, are as follows:

Identify the non negotiable attributes which are weak at squad level. This is the most critical combination to be looked at and fixed as a priority.
Identify attributes where we are well stocked at. This is a good to know information to ensure we do not keep strengthening what we are good at.
Identify the non quantifiable attributes required and look to strengthen those. These are attributes like passion, mentality, leadership etc. Often these are overlooked in the face of quantifiable attributes. In times of distress these attributes matter as much as technique, form etc.
Identify strengths and weakness of the support squad available to execute the identity. It is key that the support staff is upgraded/replaced as applicable to ensure that the group as a whole has a complementary suite of strengths to execute the vision.
Do What It Takes
There was an interesting article I came across recently, titled 'McDonald's Theory'. It is based on the premise that people are motivated to generate good ideas to ensure worse ones are not chosen. An extract to explain the theory is provided below.
I use a trick with co-workers when we're trying to decide where to eat for lunch and no one has any ideas. I recommend McDonald's.

An interesting thing happens. Everyone unanimously agrees that we can't possibly go to McDonald's, and better lunch suggestions emerge. Magic!
If the club are bereft of ideas as to how to go about fixing it, McDonald's theory is an apt explanation to get us started. This approach is also the basic pillar in the 'Design Thinking'.
Let us take the case of our supposed interest in Christian Benteke. The ideal approach from a personal point of view is as outlined below.
What do we know about the player ?
He apparently has a big release clause of 32.5 million pounds.
He has had injuries in two of the three seasons which led him to miss around 20 games over the two seasons.
He is good at finishing in general, especially headers. He seemed to shine the most when playing alongside two pacy inside forwards in the form of Weimann and Agbonlahor at Aston Villa.
He does not look to be proficient with his hold up play, his passing is not great and his movement is restricted towards vertical movements than running the channels.
If this is the kick off idea, I hope there is someone who starts coming up with alternatives just to ensure that the chosen player is not Benteke, as per McDonald's Theory.
So what can be done?
If Liverpool look inwards, they could maybe identify that they have a player in Balotelli who possesses most of what are mentioned as Benteke's key strengths. The stake holders can also see that Balotelli is a far more proven,  talented footballer than what Benteke currently is. The question is whether Balotelli can do what Benteke will offer under the desired style and approach. Would it serve us better if Balotelli is played up top with 2 inside forwards who are closely looking to link up with Mario than leaving him isolated? That is a question we would do well to answer before we try and buy Benteke.
What does the club actually need?
What Liverpool need is to identify a player who can play alongside Daniel Sturridge or Mario Balotelli.
A player who offers good off the ball movement, great off the ball transitions and availability in the box to finish off the opportunities.
A player who fits the identity playing in a front two or playing alone up top.
Does the club currently possess a player who can fulfil all the above three points? It does not look like it. Is the need non negotiable? Yes. Go and buy a player who fits the criteria rather than attempt to replace what you have. Always look to upgrade rather than replace.
In a similar way, the club should  look inwards on every possible signing and check whether the incoming player is a replacement or an upgrade. If he is an upgrade, look to upgrade as significantly as possible.
Upgrade the non negotiable aspects first. These are the difference makers towards achieving your desired identity on the pitch.
Upgrade what you are good at, only if the upgrades are significant vis-a-vis the outlay, as these are essentially what LFC 'could have' and are not necessarily 'must have'.
What Liverpool FC currently need is not quick signings. What we need is re-drawing what was on the drawing board with clarity of thought.
Onwards and upwards.