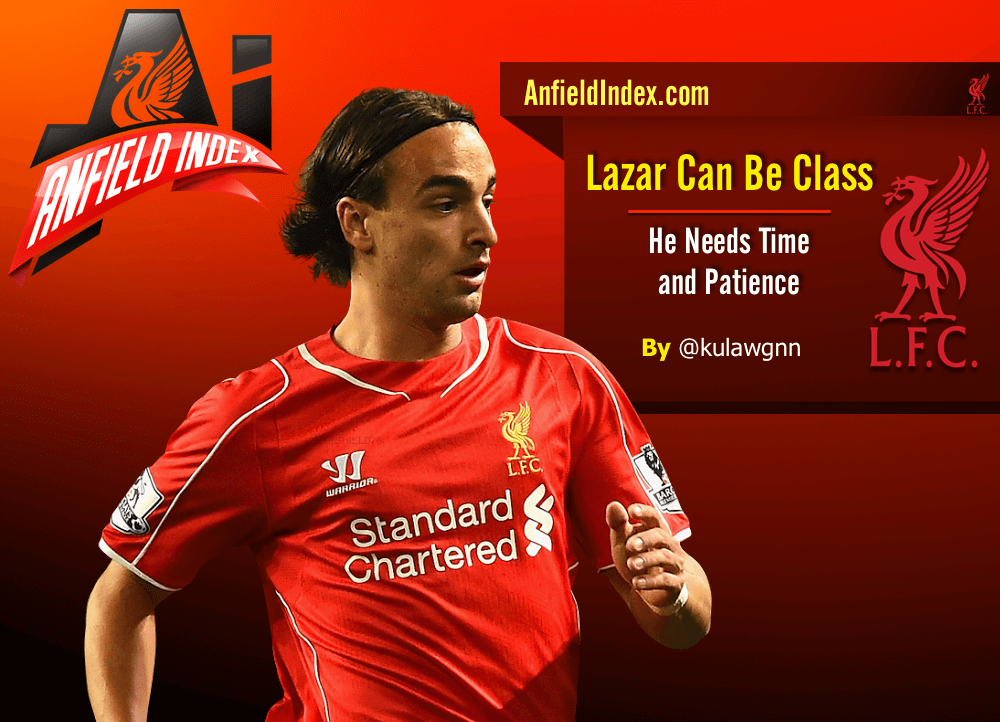 Lazar Can Be Class, He Needs Games and Patience
The players Liverpool failed to sign-a striker to replace Suarez, a better centre-back and a good defensive midfielder-among other factors led to the club's miserable season. However LFC's future may well be defined by some of the young players they signed last summer. One such player is Lazar Markovic. As the club struggled and a lot of the new signings not least the "Premier League proven" players failed to make good impact, Markovic has been lumped together with Lovren and co as products of a wasteful summer.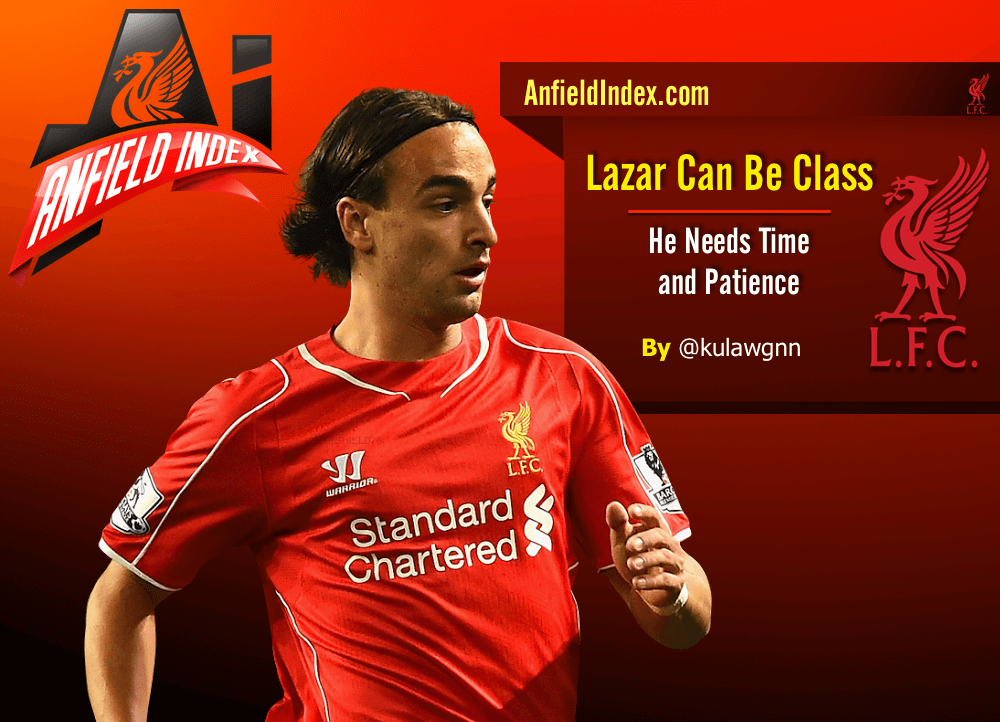 Markovic's first season at the club has not been great; but far from disastrous especially if you bench mark it against those of some of his more experienced team mates who were trusted with more game time. But it is a sign of impatience that he was reported to be among a group of players who could be moved on in the summer. Tony Barrett, the Merseyside reporter for The Times wrote these about Markovic: The biggest casualty of the cull could be Lazar Markovic, who has struggled to make an impact since joining Liverpool from Benfica in a £20 million deal last summer. Although Liverpool retain confidence in the winger's talent, there is a concern that he may not be equipped to thrive in English football.

Markovic had good reputation in Europe prior to his transfer to Liverpool. He was voted in the Europa Cup All-Star team of the 2013/14 season. UEFA's technical report on the competition made the following comment about the Serbian:….Lazar Marković, missed the final through suspension, but his eye-catching speed and technical ability on the flanks in earlier ties ensured his place ( in the All Star team). He was in eminent company with Carlos Tevez, Buffon, Ivan Rakitic and Higuan also named in the team. Aside playing a key role in Benfica's road to the final of the competition he was also instrumental in the club's triumph in the Portuguese League.
Markovic is not the first player to arrive at LFC with big reputation in continental Europe. Luis Suarez arrived with big reputation from Ajax and the 2010 World Cup. He was far advanced in terms of development than the 21 year old Markovic. But it took him over a season to show his deadly abilities. His talent was doubted and questioned so much so that rival fans and journalists scorned his goal scoring abilities. Needless to say some LFC fans also had their doubts. Lot of Liverpool fans still remember the comments of Everton fans that Jelavic was a better player than him. I am in no way suggesting Lazar is a Suarez or going to reach the levels the Uruguayan did in the Red shirt. But Suarez's 17 leagues in a season and half was hardly a good predictor of the 51 that followed the next two seasons. The running theme for his first 18 months in England was that he was not prolific and that he was not going to be a top striker. Others like Aquilani came with reputations but flopped.
So Markovic can be a Suarez or an Aquilani. But until he is afforded enough game time and in his preferred positions a proper judgment cannot be rendered about his abilities. In a season where Markovic has hardly had a chance to play in his natural position and not afforded enough game time, it is harsh even illogical to consider ending the talented winger's stay at Anfield. So many players have disappointed and a player with genuine talent to be a future star should not be a scapegoat for the failings of experienced and "Premier League proven" players like Lovren, Lambert, Lallana and Balotelli. If needing time to settle in a big team is used to plead the case of Englishman Adam Lallana, it should not be hard to see that the younger expatriate- Markovic also needs time and patience to settle.
Adam Lallana's performances have belied the fee paid for him and the "Premier League proven" tag he came to Liverpool with. He is older and more experienced in the EPL than Lazar. He has also had more game time than Markovic to get into the grove of things, yet his stats are not superior to the Serbian's. For instance key passes per game is 1.2 for Lallana against Markovic's 1.1; dribbling per game-1.1 for both, bad control per game- 1.5 for Lallana against the Serb's 1.3. Lallana makes 0.4 interceptions per game against Markovic's 0.8, tackles per game for Lallana is 1.7 as against the Serbian's 1.3, the two players record 0.1 blocks per game. Their pass success rate was identical; 82.5% for Lallana and 81.25% for Markovic. Lallana however scored 5 goals and had three assists in 27 league matches as against Markovic's 2 goals and an assist in 19 appearances. But that should be put in the context of Lallana having close to twice the game time Markovic enjoyed. Yet the Englishman's season is viewed with some success whiles Markovic is rounded up with the flops by some.
There were games Lazar Markovic put glimpses of his talent on show: Arsenal (Anfield), Bournemouth, Sunderland, Chelsea (League Cup at Anfiled) and Spurs (Anfield). There were moments that gave hints that beneath his calm and shy exterior lies a gifted footballer. His goal against Bournemouth, the simple yet perceptive pass to Balotelli at Old Trafford to set up Balotelli who was denied a goal by De Gea are good examples. His volley at Sunderland which was denied a goal by the cross bar, as well as his goal against Spurs at Anfield also come to mind. There were also moments that made some fans feel he was going to be more of an Aquilani: his poor pass to Sterling at Emirates when through on goal and the wide shot off target when he only had only West Ham's Adrian to beat. But I am convinced the Bournemouth and Old Trafford moments define Markovic more than the Emirate moment. As former AC Milan star and current football director, Rui Costa puts it, "Markovic is a huge talent and I believe his speed and skills can make a difference in the Premier League. He's not a physical player, but he has the ability and the flexibility to escape defenders easily….. The only thing he shares with Matic is the fact they are both Serbians who both played for Benfica, Matic gives balance to a team, with a great positioning, intelligence and the way he passes the ball. Markovic likes to take risks, play on one to one and attack. He is a pure talent." That is high praise from a man who was an exceptional player who played with some very great players.
If Lovren and Lallana can be afforded patience to come good, in the spirit of fairness and also because of the talent of Markovic, that is the least he deserves. Next should be consistent game time and being played in his correct position. Reading the UEFA technical report and Rui Costa's comment about Markovic, one can summarize the Serbian in the following line: a pure talent who has eye-catching speed and good technical abilities on the flanks. It should not be so difficult giving the boy patience and game time to show these.
Stats via Whoscored.com