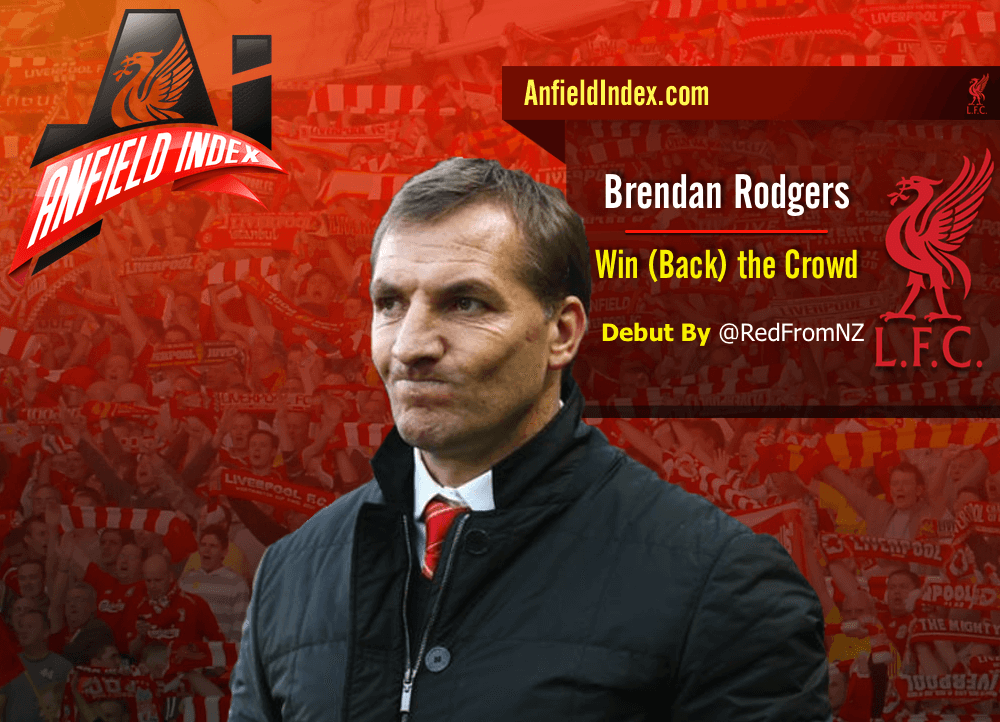 Brendan Rodgers: Win (back) the Crowd
I'm a big fan of applying movie quotes to aspects of everyday life. I have a Mean Girls reference for almost any situation. This seemed like as good a time as any to quote the 2000 classic Gladiator.
"Win the crowd and you will win your freedom".
With Brendan Rodgers set to remain Liverpool manager for the foreseeable future, following an end-of-season post-mortem with Liverpool's ownership, the Northern Irishman faces a real test to win back the crowd; to convince the fan base he is the man to lead the club forward.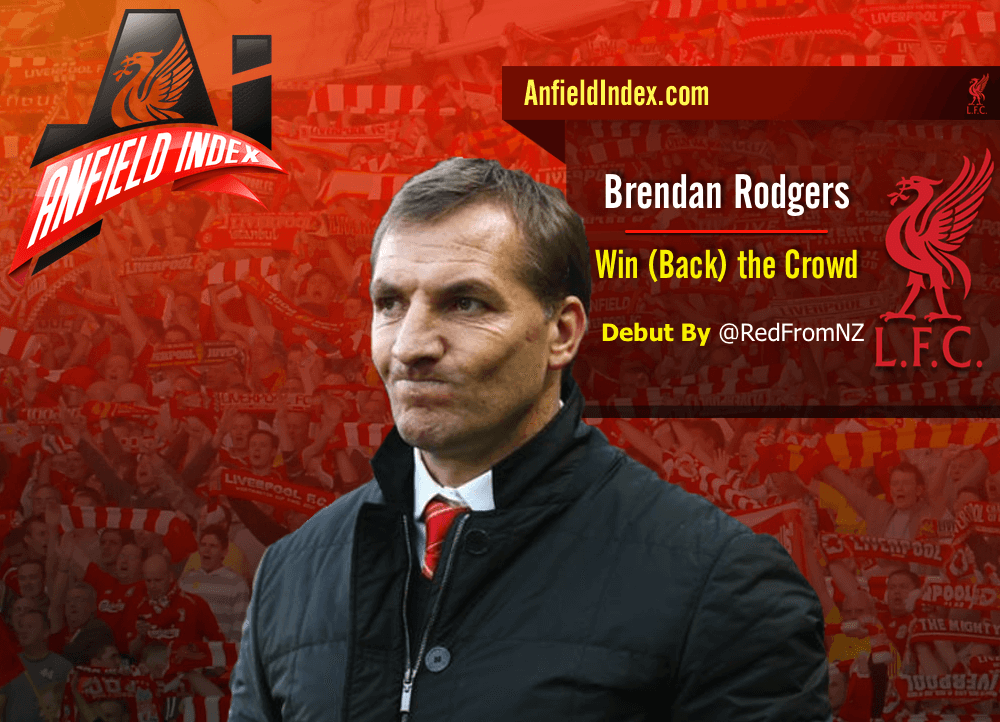 The 2014/15 season was an unmitigated disaster. A mere 12 months on from steering Liverpool to a record goals tally and 2nd place finish, Rodgers resided over a campaign that would break all the wrong kind of records.
The 6-1 final-day mauling from perennial battlers Stoke City was the club's worst defeat in over 50 years.
This was a season where Alan 'Pardiola' Pardew's Crystal Palace did the double over Liverpool, and the Reds failed to beat relegated Hull City home or away.
This was a season where the club lost its best player, but spent in excess of £100 million to alleviate the loss, only to take a 22-point backward step in the league. This was a season when Liverpool went from swashbuckling to anaemic in front of goal. From 101 goals to 52. This was a season where Liverpool put in a lifeless display at Wembley, making a mockery of the 'Anfield South' tag, and limped into the off-season, tail between legs, having failed to give its legendary captain anything resembling a happy send off.
This was a season of gross underperformance and, as things stand, nobody is losing their job. Liverpool supporters have been, and will remain, very divided over Brendan Rodgers. He has definitely lost some, probably for good. Many have called for him to be sacked. Replacement? To some, irrelevant.
Many have leaped to the defense of the man that brought them so much joy as recently as last year. And many have donned their best pair of heels, lathered on the lippy and the makeup, and blown big sloppy kisses across the English Channel towards Dortmund and its now ex-manager Jurgen Klopp. They're all right and they're all wrong.
There are reasons to sack Brendan Rodgers ­— heck — scroll to the top of this piece and re-familiarize yourself with the list, but there are reasons to keep him around too. Not least the question of who replaces him. A managerial sacking is only really vindicated by the subsequent appointment that follows.
So who then?
Carlo Ancelotti is the latest high-profile football manager to turn a gardening hobby into a full-time gig. A three-time European Cup winner as a manager and downright good bloke finds himself without a club. He experienced success in England as recently as 2010 and has always spoken well of Liverpool, perhaps even with admiration.
And it's not happening. Forget it.
This football club has traded on past glories for a long time, and the name still carries weight, but let's not kid ourselves. Ancelotti won't be patrolling the sidelines on a cold Thursday night when Liverpool visit Dinamo Minsk next season in the Europa League. Danny Ings will never be his Inzaghi. And then there's Klopp. darling of the Kop. Owner of the #KloppForTheKop hashtag. He touched the sign you know? I've seen the photo. He touched it when he came to Anfield.
All sarcasm and cynicism aside, Jurgen Klopp is a brilliant manager. He's a man of principled decisions, of charisma and charm. He has a well-documented fondness for Liverpool Football club too: for its tradition, for its history. This club would provide the enigmatic German an ideal platform on which to build his next project.
I won't hide it, up until he ruled himself out of contention, he was my man for the job. But he did rule himself out of contention. Despite Liverpool's highly publicized interest, Klopp reiterated his desire to take a break from football.
So now what?
I don't pretend to watch every league or to know the ins-and-outs of managers at lesser-known Spanish sides. Better-informed fans will tell me the list of excellent and gettable managers around Europe extends far beyond Ancelotti and Klopp.
You'll point to Manager-X, 'the next Mourinho', and you'll rattle off the merits of Manager-Y; he's going to be great.
Just a few years ago, Brendan Rodgers was Manager-Y. An up-and-coming manager, 39 years old, schooled by Jose Mourinho at Chelsea and a student of the Spanish game. So highly thought of by some within the game, he was once invited to Spain to discuss footballing philosophies with the great Vincente Del Bosque.
Fenway Sports Group hired Brendan Rodgers for these reasons. They viewed him as an ideological manager with immense potential, with an opportunity to grow with this young team.
It's fair to say that hasn't happened. After three seasons at the helm, Rodgers is still tinkering with formations and making the same mistakes. This is arguably the main source of supporter frustration.
To many fans, Liverpool's reported transfer targets for the upcoming window scream of Rodgers' apparent Premier League-based player bias. After the recent failings of domestically recruited signings Dejan Lovren and Rickie Lambert, such targets understandably invoke skepticism and a feeling that both club and manager are not learning from their mistakes.
Many view a possible £32 million acquisition of Christian Benteke as nothing short of criminal. And it really would be.
If Brendan Rodgers is to turn the owner's latest vote of confidence into anything more than a drawn-out stay of execution, he is going to need to show signs that he is learning, that he is evolving.
Equally, he will need to show more of the conviction and gumption that persuaded the club to hand him the keys to the city in the first place.
If you're going to pass teams to death, pass them to death. If it's a midfield diamond with two up top and a "we'll score one more than you" mentality, then let's do it — I'll strap in for the ride.
No more chopping and changing. It's time for some direction, it's time for improvement and it's time for results. With these three things perhaps, in time, Brendan Rodgers can win back the crowd.