The Christian Benteke link doesn't seem to want to go away and whilst right now I feel as though it's Villa pushing to sell him, I can't shake the feeling come the last week of the window we'll throw an extraordinary bid in for him and make him the 'marquee' signing.
Many, and I mean many, believe the Belgian International is Didier Drogba reincarnated and this could be true (it's not) but do Liverpool set up in a way which requires a Didier Drogba figure? The Death by Football ethos that Brendan Rodgers spoke about when he joined the club is all about movement with and without the ball. You retain possession and suffocate the opposition. You don't need a target-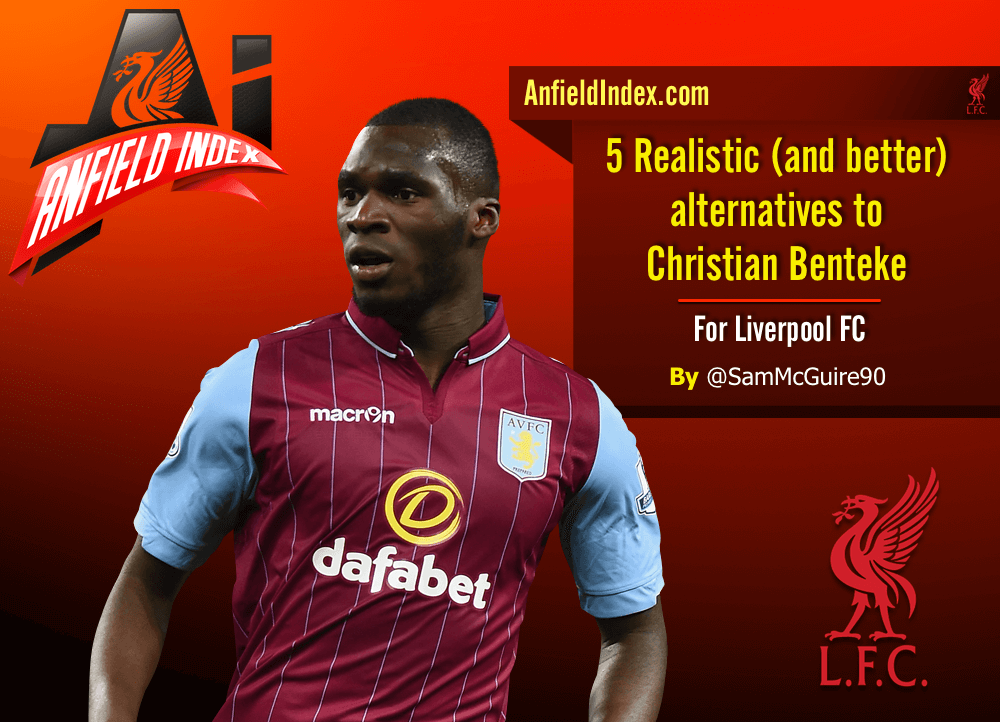 man for that, do you?
Then there are people saying Benteke is the plan B option we lacked. Granted he could be, but surely Liverpool firstly need a plan A? We witnessed firsthand the devastation that ensues when you have an attacking threat that troubles defenders on and off the ball when we had Luis Suarez, Raheem Sterling and Daniel Sturridge. You'll get more success from using attackers whom are similar to the aforementioned than you will from a target man.

With that in mind I've put together a list of 5 attackers I feel would suit Liverpool better than Christian Benteke, both in terms of style and value for money.
Domenico Berardi – He's a personal favourite of mine. Yes Liverpool don't have a good track record with Italians (Borini, Dossena, Aquilani etc) but surely one of them has to break the mould eventually?
The 20 year old is co-owned by both Sassuolo and Juventus and in his only two Serie A campaigns has scored 31 times and assisted 16 times in 61 games, and this whilst playing primarily as a right inside forward. He has scored a large number of penalties but even removing them his output is impressive for someone of his age. On average he wins 4 fouls per game, which means he is fouled more than both Sterling and Coutinho.
He can play as a right inside forward, cutting in with his left foot, or as an out and out striker. This versatility would mean he can fit numerous systems that Liverpool will inevitably deploy next season. Another reason I like this Italian is because of his work rate and tenacity. He does pick up many yellow cards but he also averages 1.35 tackles won per game which is a large number for a striker. It means he harasses and presses defenders and Liverpool would win the ball higher up.
Why would Juventus sell? They've just spent big on Paulo Dybala and still have Carlos Tevez and Alvaro Morata. They make look to sell Berardi whilst his stock his high. It wouldn't be madness to think he'd be available for under £20million.
Luciano Vietto – A South American that scores goals and wears the number 7. How we'd all love to see that again. The Argentine striker has been a revelation in his debut season with Villareal scoring 18 goals and getting 6 assists.
He isn't as versatile as Berardi but he does have another strength; In 16 sub appearances he managed to grab 5 goals. A trait that's invaluable in the modern game.
His playing style would've been perfect for Liverpool 2013/2014 with his quick tempo passing, beating opponents and his ability to score from distance. If Brendan Rodgers is to go back to this style then Vietto would be an obvious acquisition and the rumour of a release clause in his contract means he could be available for below £15million.
Pierre Emerick Aubameyang – Come the start of 2015/2016 season he will be 26 and coming into his peak. He can be deployed as a lone forward, in a 2 or on either flank and regardless of what people say, he isn't just a speed merchant.
Ideally suited to a team that plays with quick transitions he'd be a worry to many defences in the Premier League. Quick enough to beat anyone, smart enough to get in behind defences and technical enough to execute some tricky finishes. He'd be a good solid buy and a step up in quality.
In his last 4 seasons he averages 16 league goals playing a variety of positions in two different leagues and chips in with 6 assists per season.
He doesn't just bring goals, he brings a style of play suited to the Brendan Rodgers Liverpool we all fell in love with in 2013/2014. Rumoured to be available for £25million.
Vincent Aboubakar – The 23 year old Cameroon International is tipped to take up the mantle of Porto striker when Jackson Martinez leaves. However he could be available this summer if Porto are offered the right money for him. One successful season at Lorient in France saw him bag 16 goals and 5 assists before a move to Porto for £4million. Before you say "It's only France" please remember this is where Didier Drogba honed his skills.
He isn't really a striker I'd want right now but if we're in the market for a target man then Aboubakar would cost far less than Benteke and possesses the same strengths as him. You could also use him as an inside forward similarly to how Everton sometimes deploy Lukaku. He has pace combined with power which makes him difficult to stop when he gets going. I'd hazard a guess at him being available for £12million, maximum.
Bas Dost – I have a friend who calls him the Bundesliga Harry Kane because he went on a scoring run that couldn't logically be explained that helped fire Wolfsburg into 2nd place in the Bundesliga.
The 26 year old Dutch International hasn't had the best spell in Germany but last season he managed 16 goals and 4 assists in 21 games in a counter attacking system.
He was the main striker whose job was to hold the ball up, lay it off and make his way into the area to score however he could. Similar to Benteke in terms of not doing much off the ball, he is an adequate enough target man and a feasible plan B. Wolfsburg are looking to upgrade this summer so Dost could be available. I'm not saying we should sign him but if Liverpool really are looking for a plan B, target man type then Dost could be that player for half of what Benteke is rumoured to cost.
(Image from Sqwuaka)
Obviously as a fanbase we want Liverpool to be going for the world class strikers, but truth be told they're probably out of our reach. The likes of Lacazette, Higuain and Cavani won't play for us but I'm sure Vietto and Berardi would with a little persuasion. The club and those involved need to look at it properly and decide if they're really interested in Benteke for his goals or for his style, because those mentioned above score goals, would cost less and offer a style that may be more suited to the players already at the club.