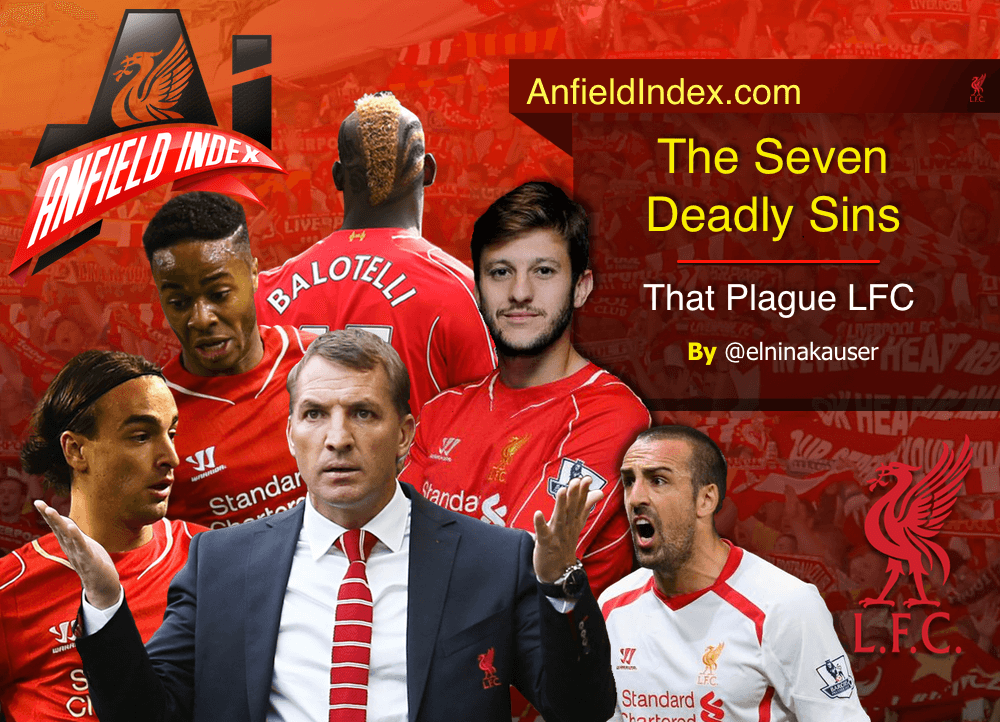 The Seven Deadly Sins That Plague Liverpool FC
It was a far from perfect season to say the least. Some could argue that it was a combination of poor signings, tactical naivety and injuries that were the downfall of Liverpool Football Club. All of which are valid arguments. However, I can't help but wonder how you can go from finishing 2nd to 6th in the space of a season! Something is fundamentally wrong at our beloved club. We've fallen from the high graces and the footballing gods have cursed us.
As I've had time to reflect on the season just gone and as I critically analyse what went well (not an awful lot) and what went wrong at Liverpool FC (a great deal) I think I've come to a verdict!
My verdict? We've committed the seven deadly sins on and off the pitch!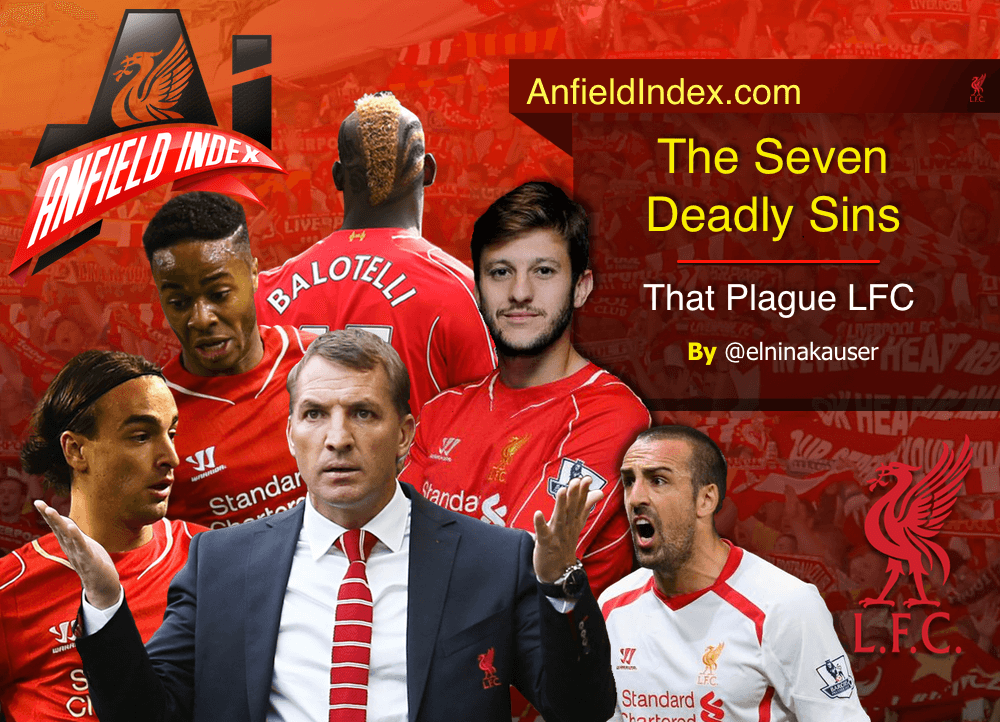 By no means do I wish to turn all religious on you nor am I forcing it down your throat but the catholic faith believe the seven sins are the downfall of humanity and alas why would football be an exception? So without further ado it's time to name and shame the protractors and their mortal sins.
Pride – Brendan Rodgers is by far the most guilty of this sin from his appearance to his personality. The Liverpool boss is by far the most proudest and arrogant manager considering his very modest CV. There is an apparent lack of humbleness in his mannerisms, whether it's suggesting Liverpool will not miss Luis Suarez or him taking pot shots at Spurs for spending over a hindered million and not contesting for the league, which of course came back to haunt him this season. You could even argue that his persistence with the same tactics and formations are also traits of his proud personality, unwilling to accept that he was wrong and Liverpool FC have suffered as a consequence and no amount of exfoliating will absorb him form this sin unless he eats a rather large helping of humble pie.
Lust – This sin is in the form of Jose Enrique! Yes he's still a footballer and not one of those insta-famous wannabe celebs that constantly posts pictures with this tongue down his girlfriends throat or wearing nothing more than budgie smugglers. Enrique, clearly is in awe of his stunning girlfriend but if only he could lust after Liverpool FC like he does after his wag! His fortunes might be altered and who knows he might actually get to play on the field., here's hoping it's at another club. In the mean time Enrique and his girlfriend need to get a room and whilst he's at it he can put the camera and selfie stick in the cupboard!
Sloth – This lazy dis-interested creature can be found at Anfield in the form of Mario Balotelli. Some might argue that he's played in the wrong formations and been managed poorly by Brendan but his lack of effort on the pitch, the alleged missing training sessions, oh and let's not forget the self diagnosis of illness which saw him miss out the crunch game against Arsenal back in April. This behaviour just reeks of laziness and as a result Mario Balotelli has failed to make the squad on several occasions for Liverpool this season. What more proof is required that he's committed this football cardinal sin when a 35-year-old Rickie Lambert is favoured ahead of you.
Greed – No prizes for guessing these sinners. Yes, it can only be Raheem Sterling and his cowboy agent for their attempts to try and hold the club to ransom. The news surrounding Raheem's contract negotiations stalling happened around Christmas. Since then the club, the player, and the gold-digging agent have failed to reach an agreement and it has been reported the player has asked for ridiculously high wages, which the club aren't prepared to pay. Sterling and his agent then come out and professed the player's desire to win trophies and how he'd have a better chance at winning major honours elsewhere. Of course since these stories broke to the media the player's form has been on the decline, clearly his eyes, head and heart are elsewhere. Raheem, you're a 21 year old full of potential – not the complete article and I agree with Jamie Carragher in regards to the fact that he needs to prove his worth! Trophies are not just gifted to you, you have perform for them and Raheem certainly had the chance in the Champions League and FA Cup and failed.
Envy – All sins and sinners come in different forms and this envious sinner is not your average green with envy kind. I'm talking about Lazer Markovic, a young exciting player from Benfica who opted for a change of scenery and came to Melwood but it's not been all rosy for the Serb. He's often been found rotting on the bench as Lallana is favoured ahead of him or if he plays he's forced to play out on the right as a wing-back, which isn't his natural position. Lazar gets on with it and does the best he can. Then the January window comes around and Jordon Ibe is brought back from Derby with Markovic again being placed on the bench. You certainly do detect subtle signs of envy, and I'm pretty certain Markovic is thinking "I'm better than Adam! How does he get a game before me and why must I be played out of position?" Right you are Lazar, but this sin is only committed from Brendan's pride and arrogance. Two wrongs don't make a right.
Gluttony – Just when you thought it couldn't get any worse for Liverpool FC we seem to have a binger amongst the players. No I'm not talking about Glen Johnson and his special diet or Kolo Toure and his need to take his wife's diet pills. The over indulger in question is Adam Lallana, his sin is overdoing the Cruyff turns, he turns once, twice, three even four times before he's messed up the passage of play. Too many turns, touches and hair flicks and whilst he selfishly keeps the ball longer than he needs to his team mates starve for the ball. My advice to Adam, look up and see your suffering kin and share the spoils of the glorious ball.
Wrath – The seven sins don't just plague Liverpool on the field but off it and the sinner that is guilty of Wrath are the fans. The angry mob, that attend the games, pubs or take to social media to get into spats with other fans or even worse abuse our players. However the frustration is completely justified considering seeing the six other sins committed on the pitch week in week out. It's no surprise that the fans have taken to the dark side and they wont be rid of their sin anytime soon, not until the Proud, Lustful, Envious, Lazy, Greedy and Gluttonous don't amend their ways!
So there you have it, the seven sins and the perpetrators. The ones that cost us the season with their evil ways. But fear not Liverpool fans, a sinner can always redeem and amend his ways. Acknowledge you're wrong doings, free yourself of the deadly sin and who knows, perhaps the footballing gods will pardon your wrong doings. The new season may be a brighter one, where the gods favour our club as they smile down on on Anfield.
*Note the tongue was firmly placed in the cheek when writing this!