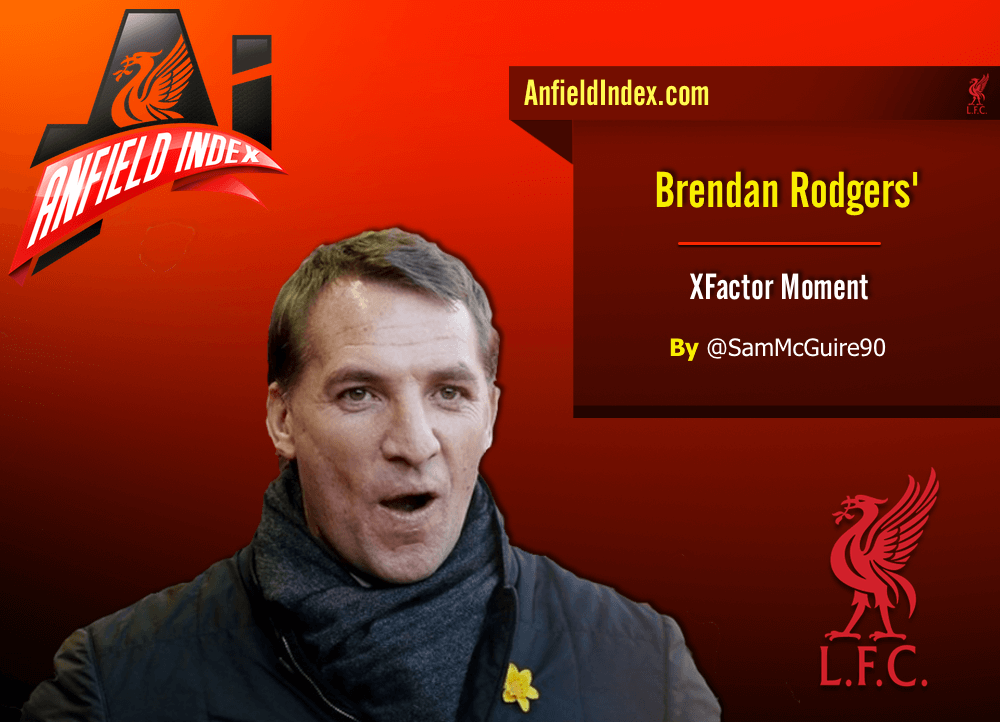 Brendan Rodgers' xFactor Moment
"You can tell he wants the job though"
Oh really? You're telling me Brendan Rodgers wants one of the biggest jobs in world football? Shit, well if he wants it I guess he should be the manager, yeah…
That was one of the reasons fans used when the news broke that Brendan Rodgers had survived the end of season review. How in-depth this review was we'll never know but that's for another day. Brendan Rodgers' Liverpool was going to be sang around grounds once again next season.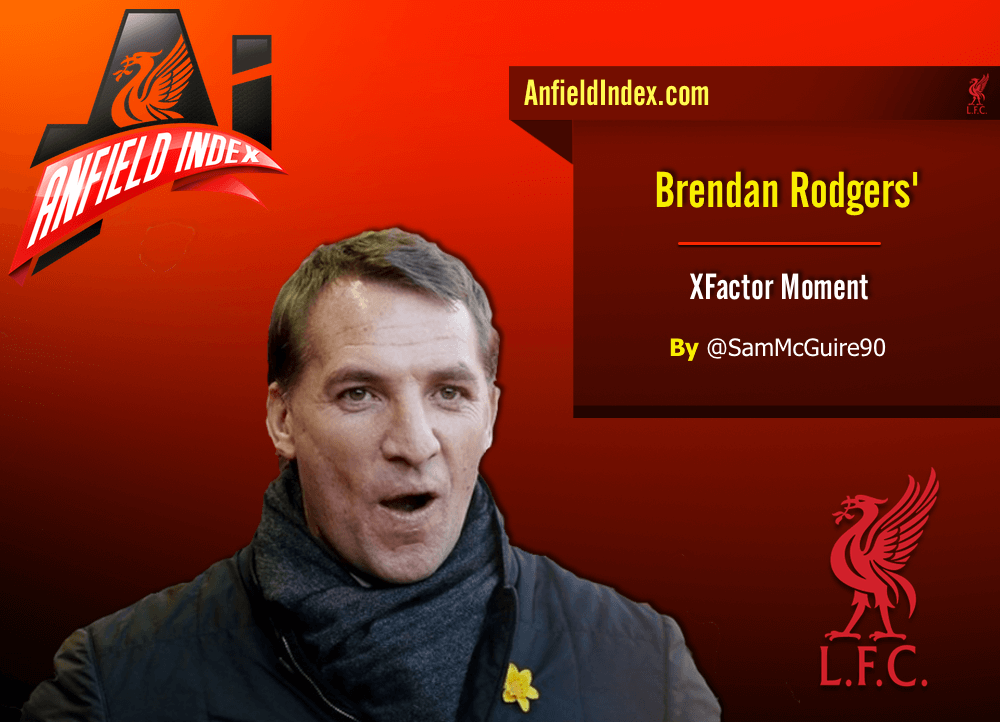 However back to my earlier point, you can tell he wants the job can't you?
Why is this an argument for him to stay? This isn't indicative of whether or not he has the quality for the job, is it? This is like when you watch a talent show and you see one of the contestants begging for a second chance after messing up their first audition.
"Aw, look at them. They really want it. They just need that one chance. Go on." is something I hear my Mum say when she's watching something like that before my Dad intervenes with some common sense. "If they're good enough they should've have to beg and talk up their need and desire. It should be an easy decision." and he has a point if I'm being honest.
Should Brendan Rodgers be talking himself up to the media that he's the right man for the job? That's what put this 'he really wants it' impression into people's minds. It looks a little desperate at times and this isn't a snipe at him however my point is if you're going to bend the knee and back a manager you at least have reasonable points for wanting him here. That's not too much to ask is it?
I want certain things in life and I've been brought up to work for them. When you reach your goal you don't stop, you keep improving. That's what was drilled into me from a young age. Brendan Rodgers may have deserved a shot at the Liverpool job. He may have deserved our support but you've got to earn the respect. Seeing a crestfallen manager doesn't exactly inspire confidence for the fans or the players.
With this in mind shouldn't he have acted a little differently towards the end of the season? Maybe shown some of the fight he has in press conferences on the sidelines? What he said in the press conference wasn't what it seemed like in the tail end of the season. "I'm the right man for the job" after Liverpool lost 6-1 to Stoke to which he proclaimed certain things in the game didn't surprise him. A man who really wants this job doesn't sit on the floor against WBA in a drab 0-0 draw that Liverpool should be winning.
"He really, really wants it"
Do you really, really want him though?
I put a tweet out last week asking realistically what people expect if Rodgers is to stay as manager and most said they expect a 5/6th place finish and an ok run in the FA Cup.
That wasn't just the odd response, that was dozens.
I know twitter isn't a barometer to judge fans opinions but still. This is a fan base that's been brutally brought back down to earth with their expectations and hopes for Liverpool football club and it's only the second time in my time supporting Liverpool I've felt an air of contempt towards the manager. The same people who said this are now saying he deserves the job? 
"He really wants it though."
Want to know what I want? Scratch that. Want to know what I really want?
A million pounds, and I'd convince you with words that I deserve it.
However real life isn't a childs Christmas list. You need to work for what you want. Brendan Rodgers is still Liverpool manager and he needs to start showing it's deserved.
Liverpool need an identity, one he promised upon his arrival.
Liverpool need to make Anfield a fortress, like we did in his second season and he often spoke about.
Liverpool need to be challenging for trophies and excuses like we 'got caught up in the occasion' aren't justified at this club.
"You can tell he wants it."
That statement is a lie by the way. You can't tell he wants it. You're secretly hoping he wants it as much as you claim he does.
This season will show if he wants it. Whether he rectifies the glaring issues in defence for starters, or if he decides to start using players in their correct positions. That'd be useful. Otherwise it's almost like he's sabotaging himself, and for what? He has a fan base here who no matter what they say all have a little bit of love for him because of the season we finished second.
Brendan Rodgers is here. He's the manager and you have to support him for the 90 minutes every week, but don't be half arsed in doing it. Like I said earlier, of course he says he wants the job. He's not going to say otherwise is he?
"Nah I'm here for the money and the fame" is not something you ever hear a manager say.
But you as a fan, you've got the opportunity to say why you want Rodgers as manager. Fan the dying flames of 2013/2014. If you don't want him then that's fine, but if you do, why? Personally, I've said all along if he gets us playing good football and utilises the players properly like he did towards the end of 2012/2013 and into the season we finished 2nd then I'd be content with this project. Ideally I'd love a title push but I'm a realist (some may say negative).
All managers aspire to manage a big club yet so few get the opportunity. Brendan Rodgers has been given the chance and he's got to take it because if this season is a failure he might not get another big job. This really is his xfactor season. The owners have decided to give him the spotlight and another song, he needs to show last season was a one off and a mistake he learnt from otherwise I don't think he'll survive a repeat of 2014/2015.
So don't be telling he deserves the job because he wants it because I guarantee my sister wanted a pony as a kid more than Rodgers wants this job and she never got one, and before you say it no I'm not bitter that at age 6 I didn't get the Teenage Mutant Ninja Turtles truck I really wanted for Christmas.