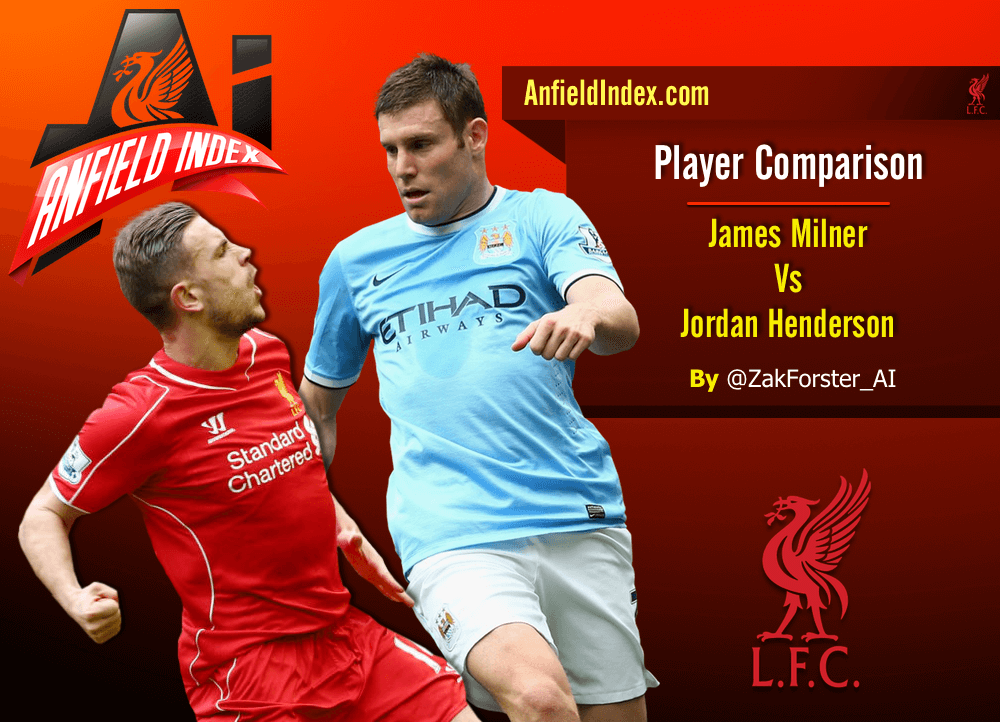 Player Comparison: James Milner vs Jordan Henderson
A lot of people on Twitter seem to believe that James Milner and Jordan Henderson offer nothing to a football team other than athleticism. Both can run forever and neither of them would ever quit before the game was up. Both are model professionals and both have their own charities to match, giving them a human quality we can relate to as well. You'd therefore be forgiven for thinking that these two players are just carbon copies of one another and that they do little but run around in the most English way possible. However, that just isn't true and both have great, but sometimes differing, skill sets that allow them to excel in the Premier League.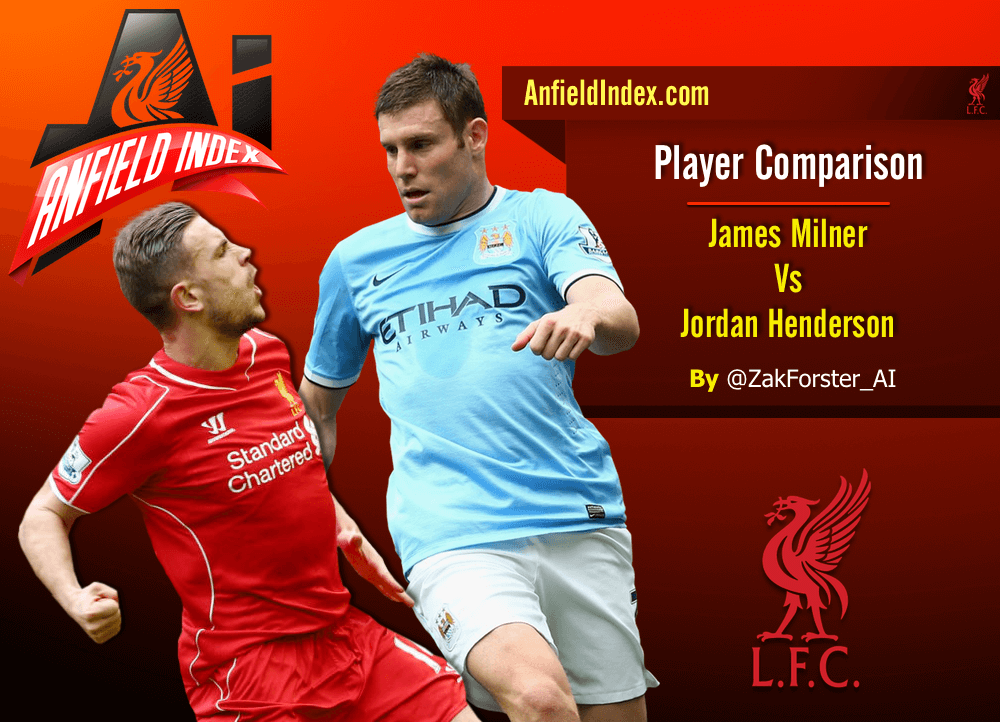 This article will look at what skills we can see by looking strictly at their statistics. In doing so, we should be able to see how they differ as players and therefore we should be able to identify how each player's services will benefit Liverpool next season.

The Passing Game
Before we begin to plunder the passing statistics of these two players we must consider a couple of things that could affect these figures. Firstly, Henderson has played almost double the Premier League minutes that Milner has made this season. Henderson has played 3256 minutes in 37 appearances whereas Milner has played 1758 minutes in 32 appearances. This means two things: one, Henderson was far more highly valued by Liverpool than Milner was by City and two, if Henderson has better figures or loses closely to Milner in any category we can assume he's almost certainly better at that skill over a whole season. This is because it's much harder to maintain quality over a whole season and the more you play the harder it is to maintain strong figures with poor performances or off days always a possibility. An example would be one striker scoring three in 90 minutes all season and finishing with a three goals p90 season. Whereas another striker could score ten goals in ten games at a rate of one goal p90 – over a whole season I know which I'd prefer.
The second thing that could affect it is positioning, Milner has always been a wideman or tucked in attacking midfielder for Manchester City. He's played most of his minutes at RM, LM or RAM (tucked in on the pitch to allow Pablo Zabaleta the most room to bomb into). Henderson in comparison is a standard CM – and one who is often shackled by defensive duties, especially when Steven Gerrard has played – so expect Milner to come out on top offensively and Henderson to excel defensively in comparison. These statements aren't written to make excuses for each player's performances, they're just there to help us better understand why a certain figure is what it is.
First of all, in the most basic way, we can look at which player is most accurate on average. Henderson wins out here with an 82% pass completion rate compared to Milner's 79%. Henderson is also the busier of the two on the ball with 48.5 successful passes per 90 (p90) on average compared to Milner's 40.6
Henderson is also the player who sprays the ball the furthest on average with an average distance of 18.4m per pass to Milner's 16.2m.
Now, this might sound like a Henderson love-in but here is the point where Milner claws back some points. So far, we've seen that Henderson is probably superior in controlling a game but offensively Milner seems much better – even when taking into account the fact that Milner has been positioned higher up the pitch than Liverpool's number 14. On average, Milner creates 2.7 chances p90 compared to Henderson's much lower 1.8. The former Aston Villa man also outstrips Henderson in the key passes department with 2.3 p90 compared to 1.6 from Henderson. The picture becomes even more positive for the 29 year old Milner with 0.36 (7 in total) assists p90 to Henderson's 0.25 (basically 1 in 3 for Milner and 1 in 4 for Henderson's total of 8).
So, in passing terms we can probably determine that Henderson is better as the slightly deeper central midfielder who controls the tempo and creates moves for his teammates. However, creativity-wise Milner seems far more useful despite playing around half the minutes compared to Liverpool's would-be-captain.
Is either good at defending?
Here, we see a more balanced encounter with Henderson and Milner coming out on top in two categories each. Defensive stats are often a bit murky but we'll try to take from them what we can to see if we can form any decent conclusions. There are number of reasons why defensive stats can be strange. Firstly, a player can have a significantly higher interceptions, blocks or tackles won p90 because he plays in a weaker team and therefore has more defensive work to deal with – more work means figures become inflated so Sunderland's main centre-backs may appear to be more useful than Arsenal's centre-backs on paper, and that is the main trap to avoid. Secondly, we must also remember that positional mistakes are not statistically collected on mainstream website such as Squawka, from whom these figures are taken, and WhoScored. 
From the graphic above, we first come across interceptions p90. Milner comes out on top here with 1.18 interceptions averaged p90 played. He's also on top for most tackles won p90 with 2.3 compared to Henderson's 1.7. However, Milner's tackles lost p90 is really poor with 3.23 tackles p90 when he doesn't win the ball for his team – that's really bad and that means he loses to vast majority of the tackles he enters into. Henderson is also far better in the air with the England international winning 46.7% of his headed duels compared to Milner's 34.6%.
The conclusions we can take from this section is that Henderson clearly uses his energy in a more effective way which means the Liverpool man is the better player in the department that most people believe these players excel in, in essence he is better athletically because he uses that skill to the betterment of the team. We can probably assume that Henderson is better in the air too despite this scribbler believing Henderson to be fairly poor in the air for most of the season – what do I know?
Threat
Neither of these players is known for supreme goalscoring ability. In the league this season, Henderson managed six whilst Milner managed five. Those are not terrible figures by any stretch of the imagination but double figures should always be the target – especially if these two players are to take set pieces with Steven Gerrard now departed for Los Angeles. As it happens, Milner was the better player for goals p90 this season with a goal every four 360 minutes compared to Henderson who scored a goal at a rate of around one in five.
Milner is also the more dangerous player to the opposition goal with an average of two shots compared to 1.4 for Henderson whilst both put down an identical shot accuracy of 41%. Milner also takes more shots from inside the area itself with 1.3 of those two shots p90 coming from within the 18 yard line.
It's clear from this graphic that Milner is the more adept attacker, although it could also be argued that Milner's more advanced positioning in Manuel Pellegrini's system meant he simply couldn't lose out in these categories.
What to expect in 2015/2016
For me, I think we'll see one of two options implemented by Brendan Rodgers. Either he'll play 433 with these two players in the middle with Coutinho on the left of the three or he'll adapt a diamond system similar to 2013/2014 with one of these players the deepest unless Joe Allen is on the pitch. This is assuming that Raheem Sterling is not taking up any of the four places inside the diamond and that Emre Can will continue to be deployed incorrectly – it also assumes that Liverpool will once again fail to purchase a certified, specialist defensive midfielder.
Liverpool will clearly have dynamism in the middle of the park but whether there's enough quality remains to be seen especially with the transfer window only just opening and only one signing completed. A top striker is a must and that'd help take the goalscoring burden off these two players who only seem capable of scoring between five and eight a season.