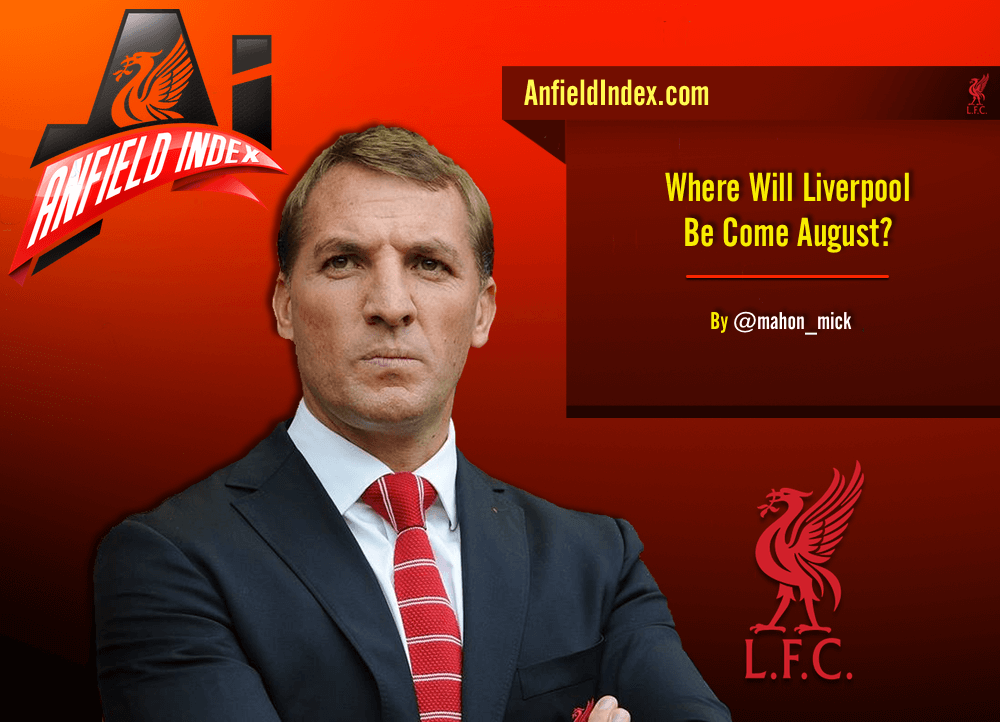 Where will Liverpool be come August?

What a difference 12 months makes.  This time last season Liverpool FC had come so close to winning the league and played the best attacking football seen at Anfield for 20 plus years.  Brendan Rodgers was considered a bold forward thinking manager with many big clubs closely 'monitoring'  his situation.  With the unexpected success, Rodgers supposedly negotiated a more powerful position at the club with the manager having a more controlling position in the say of transfers and the coaching set up.  He was in a position of power and this could be seen as well deserved.  This resulted in Rodgers landing his transfer targets such as Lovren, Lallana & Lambert.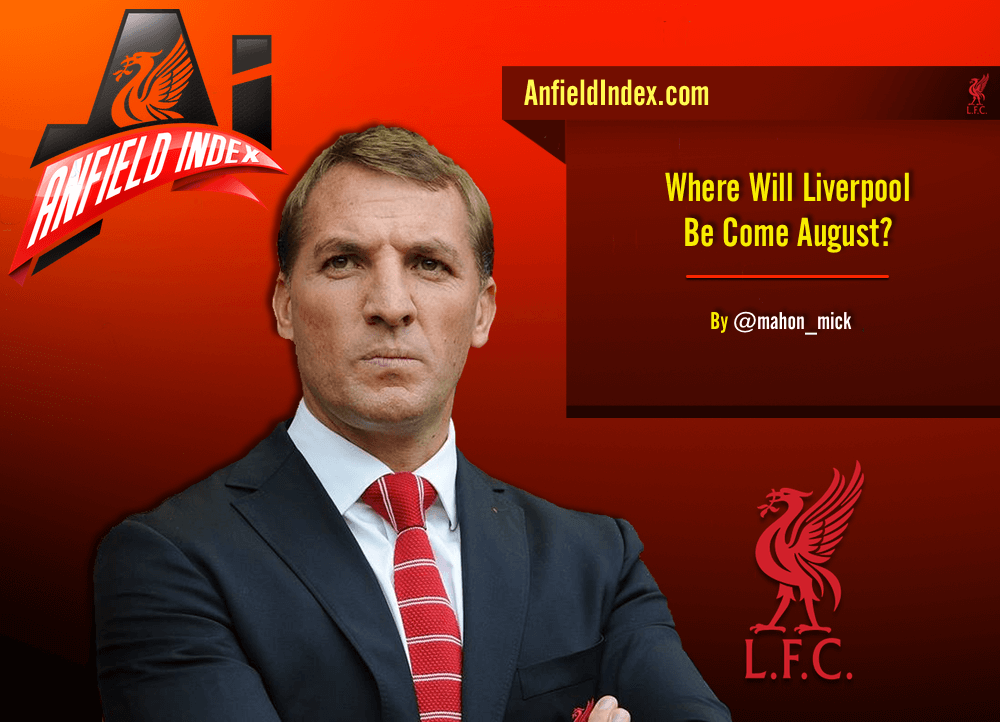 Fast forward to today and most supporters feel he is very lucky to be still in charge.  Liverpool FC have finished 6th in the league and by all accounts have been a shadow of last years team.  Rodgers fluid attacking flexibility has been dismissed as 'It was all down to Suarez'.  His signings have had a poor season and it would not be harsh to suggest some of these players as well as Borini, may have kicked their last ball for LFC.  Last week the balance of power has switched to the owners and the club.  It appears that some of Brendans backroom staff are being dismantled.  It has been suggested that Pascao & Marsh will be forced to step down and a restructuring of the back room staff  is in motion.  Rodgers will now be a cog in the machine rather than the engine that runs it.
This could potentially have huge consequences for the club moving forward.  Fenway will finally have the opportunity to enforce the structure that they always wanted. My question is this- Where will it start & where will it finish?  Will it be simply a tweak of the coaching structure?  For example replacing Pascao with a more senior Assistant Manager such as Rene Meulensteen or Pako Ayesteran?  Will Marsh be replaced by well respected coach such as Danny Blind?  I hope so.  Im sure these additions would be an upgrade.  But why stop here?
Liverpool FC are perhaps viewed like a fallen giant of European football.  So were Juventus and they just got to a Champions League Final where they were beaten by one of the greatest front lines of all time.  Several other clubs have cheated the system in the past  few years such as Dortmund & Atletico Madrid.  Financially Dortmund & Atletico are relative minnows compare to the big European Clubs.  As per diagram below Atletico generate about 23% of their city rivals annual revenue, yet they were 3 minutes away from winning the Champions League one year ago against Real Madrid.  How do we cheat the system by underpaying and overachieving?  I believe it comes down to getting the best talent in the boardroom & in the bootroom.  Everyone must also be singing off the same hymn sheet.
Source: Daily Mail- The Annual Money League Table via Deloitte 2012-2013
Lets start with the coaching staff- Its small.  In fact its tiny if we compare it too say Chelsea.  Football is evolving and we need to evolve too.  The result is that the coaching is becoming more specialised.  How do you get a a competitive advantage?   A good start would be increasing the team in each of the traditional coaching set up (Goalkeeping, Defensive, Attacking, Tactical, Fitness, Scouting).   I feel we need to take it to the next level by having a set piece specialist, a tactical specialist, a shooting specialist, ball control specialist, at least two opposition scouts etc.  Some of the roles can crossover and may not necessarily entail a full time position.  The end result in my opinion would be small net gains.  Rodgers has always wanted to keep a small intimate backroom team.  But he is not at a small club anymore and needs to think outside the box.
The Boardroom set up.  There is relative confusion over the set up and who does what?  What other top club can you say this about?  This is an area that FSG do not fully comprehend.  I am no expert on elite boardroom structures & hierarchy but I know the value of a day to day Executive Chairman and a Director of Football.  One thing is for certain- Ian Ayre is not the man and reports suggest that he is on the way out sooner or later.  Should Liverpool be targeting the likes of Nicola Cortese as Executive Chairman and Monchi as a Director of Football? These are two well respected operators in European football and known for getting deals over the line and talent spotting respectively.
Whoever is in the role moving forward one thing is required: re-establishing our reputation. Traditionally Liverpool were a team that did their talking on the pitch and transfers deals were suddenly announced like John Barnes & Peter Beardsley.  Now we are used a bargaining chip or leverage for an agent to get a bigger money move or the move that player always wanted (e.g. Costa, Mikitarian, Salah, William, Sanchez etc).  We are clearly seen as a soft touch or a team that can't get deals done.  Not all of this can be pointed at Ian Ayre's feet of course.  He seems to be a jack of all trades and clearly not a high level negotiator.  You can't bring a knife to a gun fight and expect a good outcome.
Within the club our policies and dealing of players is hardly exemplarily.  Suarez last year & Sterling this year.  Our business is like dirty linen hung out to dry for everyone to see.  The Sterling saga should be the last straw.  Every week there is press leaking, transfer targets announced, player bickering and jokes that suggest Liverpool FC are a laughing stock.  True, we live in a different world to the glory years, but can you honestly say these problems would be as public if Shankly or Paisley was in charge?  Sterling would have been in reserves since March and probably cleaning Rickie Lamberts boots.  Tradition says you were lucky to play for Liverpool.  If you had that honour- You remembered that or you were brought down to earth with a bang.  Maybe I am a little too sentimental and old school?  Let me ask you this, how would Jose deal with Sterling?  I would think he would asses the situation.  Can he be sorted out & is he worth it?  Maybe not.  'Ok we will sell him for 50m euro and get in a better player like Isco or get two players of better value like Firmino & Meyer.'
Brendan is not the same type of manager but he needs to take a long look at himself.  He needs to get the players back on side.  He does not have the same authority as Fergie or Jose, so he needs to get results on the pitch and get the players believing in him again.  He needs to identify his weaknesses and get assistance in these areas.  The obvious area is the defence.  This has never been his strong suit.  So get the guy who is the best defensive coach availible.  Remember when results go wrong, it is always the managers fault- never the players (At least publicly).  He is not an expert in the transfer market or identifying talent.  He should have input- he is the manager.  However he should not have final say.  Our current scouting department seems to have one directive: 'Is he Premiership proven and playing for a mid table team?'.  Where is the market value?  I would suggest Germany, Italy & The Netherlands are good markets.  What clubs a financially vulnerable? Inter Milan.  The next move is simple- get a European well respected Director of Football to get this talent in.
So fast forward to August:  What is the ideal situation?  For me we have Cortese, Monchi running the club off the field.  We have a new allocation of top class coaches in place like Meulensteen, Ayesteran, Blind, Baresi (Giuseppe), King, Talan, Zanetti (Sergio), Bergkamp.  We have signed 3 first team players who will improve the team and not the squad like last summer.  Possibly a starting right sided Central Defender.   A defensive midfielder like, Lars Bender, Morgan Schneiderlin or an out of favour Javi Martinez.  A centre forward with the calibre of Alexandre Lacazette or Mauro Icardi.
What would be better than getting all of this talent?  Getting them in and not hearing any transfer gossip.  Just boom- The deal is done.  No rumours, no inside knowledge.  Not even a murmur from the ever reliable Graeme or Jay from The Red Room.  Just show me the photo where they hold that red scarf above their heads on the Anfield turf.  A clear message goes out to the football world- This is how Liverpool FC do business.