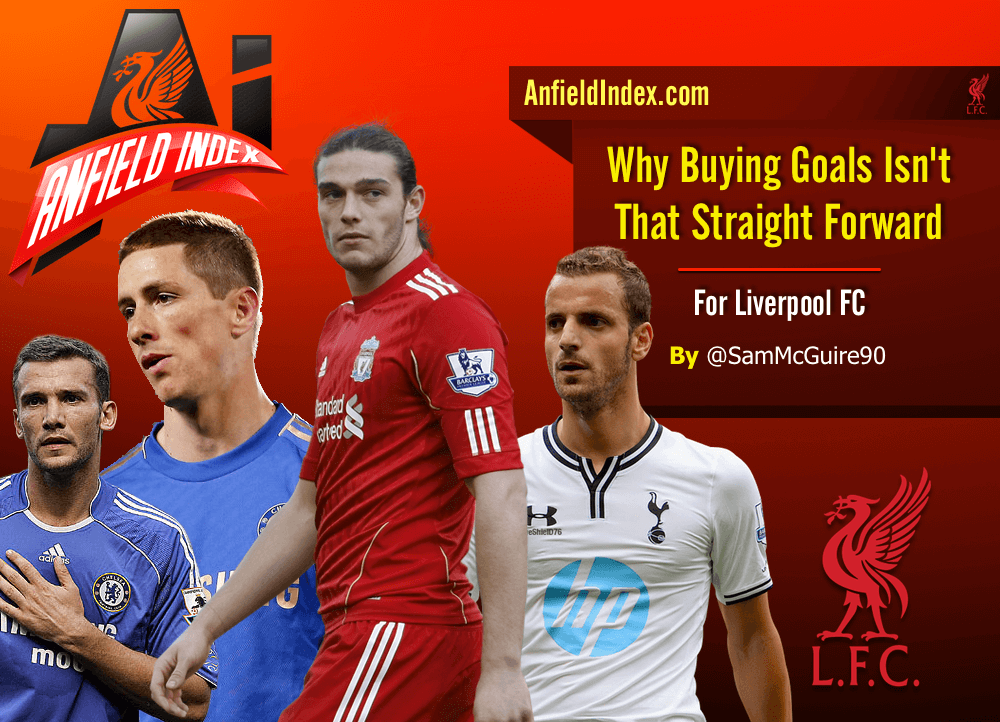 Why Buying Goals isn't that Straightforward for Liverpool

If Liverpool had goals last season they'd have finished 4th. That's the general consensus, and the main excuse, for people when they refuse to admit everything else wasn't up to standard either.
Of course goals do win games but the need for goals is lessened if you have a functioning defence but I won't get into that again due to the fact I've written about it a few times already this season. What keeps creeping up on social media is the fact "we need to spend big to attract a world class talent". Do we?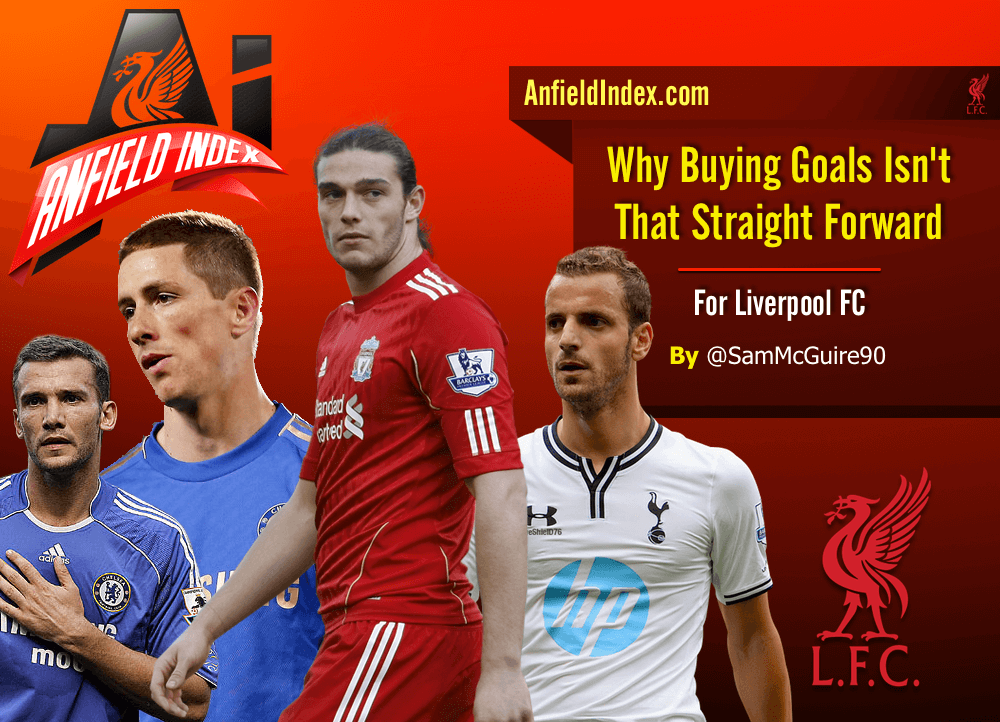 Does spending £40 million on a striker guarantee you goals anymore than spending £10 million on a lesser known striker? It's hard to put this properly, but what I mean is goals aren't transferable. You buy a player but just because they've scored 20 the season before doesn't mean they'll score that or more for you. Similarly, just because a player only scored 7 the season before doesn't mean they can't score 20 this season.
The Premier League has seen plenty of big name, prolific strikers join clubs and not live up to their billing –
Hernan Crespo – I was a massive fan of the Argentine hitman. He just oozed class and some of his finishing (his second in Istanbul) was just elite stuff. He moved to Chelsea for a fee around the £20 million mark, nowadays that's not huge money but then it was considered a big fee. His two seasons at Chelsea yielded 25 goals in 74 starts, however sandwiched in between these seasons was a spell in Italy in which he scored 18 goals 38 games. Then consider the fact in 4 of the 5 seasons before he joined Chelsea he scored 20 or more in each of these seasons and you'll agree he didn't live up to the price tag.
Andy Carroll – We all knew about him when he signed coming off scoring 11 in 19 in the first half of the season for Newcastle. The fee we paid was a record fee for the club at £35 million but that didn't matter as "It's not our money and he is one for the future" (sounds awfully familiar doesn't it). The Geordie was never going to live up to the price tag and even when Liverpool adapted to suit him he didn't deliver. I seem to remember Gerrard and Downing crossing the ball into the box at every opportunity.
Andriy Shevchenko – The Ukrainian legend had hit 25 goals or more in 7 of the 11 seasons before joining Chelsea then scored 14 and 8 in his two seasons at Chelsea. He cost them £31 million in 2006 and just didn't suit the league or the style Chelsea played at the time. Another expensive mistake. Combine the prices of Crespo and Shevchenko, two of the most prolific strikers in world football, and you'll see Chelsea paid £51million for 47 goals in 151 games. Not a bad return but again, not living up to the price tag.
Sergi Rebrov – Another Ukrainian legend. He signed for Spurs for £11 million in 2000. Before his arrival in England, in the 5 seasons prior he had scored 119 goals but whilst at Spurs he scored 15 in 2 seasons.
Afonso Alves – The Brazilian cost nearly £13 million which is a huge amount for a club like Boro but having scored 45 in 39 games in Holland it looked like a clever gamble. This wasn't to be the case and he scored 10 in 43 for them before moving on after only a season at the club.
Fernando Torres – Chelsea really do have a history with strikers. They paid £50 million for the traitorous Spainard and he repaid them in his seasons at the club with – 1 goal in 18 appearances, 11 goals in 49 appearances, 22 goals in 64 appearances, 11 goals in 41 games.
Roberto Soldado – Arrived in England for £26 million which looked like good business when you consider in the 4 seasons before joining Spurs he hit 20 or more in them all, in 3 of these seasons he scored 25 or more.  Could this be the goalscorer Spurs fans wanted? No. Since the move he has scored 16 in 76 games and has been replaced as the focal point of the Spurs side by a certain Harry Kane.
These are just a few of the strikers who have arrived at a club for big money and expected to replicate what they did at previous clubs. Fans expect it, what with their history and the money spent but in reality many few look at the factors that made these strikers score at previous clubs. For example the team may have played a certain style that your team doesn't. He may have taken penalties at his old team but at yours he won't so his goal tally will be affected. His previous team may do the pressing on his behalf but at your team he's expected to chip in.
You can't just say History of Goals + Big Fee = Goals. That's not how football works.
Take for example Eidur Gudjohnsen. That club again Chelsea signed him for £4million in 2000 after he'd scored  26 goals in 73 games for Bolton in Division 1. Not exactly setting the world alight but then he proceeded to score 99 goals in 6 seasons at Chelsea which works out at 17 goals per season, in the Premier League.
Daniel Sturridge, who actually thought he had last season in him? Last season we had a £40 million striker and we'd paid £12 million and if you remember the outrage on Twitter that we'd not signed Demba Ba and instead funded his deal to Chelsea. £12 million for a 'Chelsea reject' soon turned into £12 million for a 20 goal a season striker. Yes he's injured but you get my point. The price of a player doesn't necessarily dictate their quality.
When looking to invest in goals it's not as straight forward as finding a striker that scores and buying him. Not many in Europe managed over 20 goals and of those that did most are unattainable. The very few that suit our style play for Champions League clubs so you have to look at a level or two below.
The importance in all this is style. Identify players to suit the style. The likes of Vietto and Berardi would suit the Liverpool style of play (quick passing and pressing off the ball) both score but seemingly don't score enough to be seen as marquee signing by some fans. That's the point though, if you buy properly then a player who hadn't scored 15 in a season could fit your team and plans so well they then score 20. I'd rather this than say Benteke, who just because he's scored for Villa doesn't mean he'd so the same for us and at £33 million you'd demand instant success which isn't guaranteed. I'd rather someone who scored 10 but the rest of the team improved than sign someone who'd score 20 and the rest of the team suffer because of a system change.