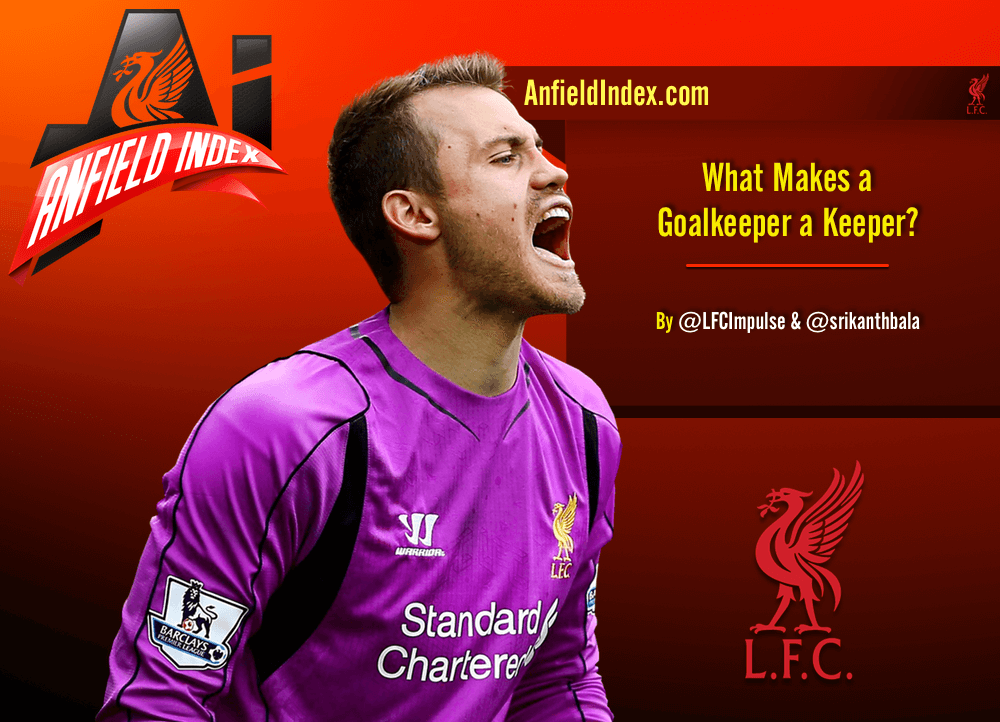 What Makes a Goalkeeper a Keeper? (Part 1)

What Makes a Goalkeeper a Keeper?
First to be blamed; last to be credited – that's the life of a goalkeeper. It's often said that a striker can laze around, shoot blanks and run like a headless chicken for the entire game, but his stoppage (Fergie) time goal makes him the hero. A goalkeeper on the other hand, can make Superman-like saves the entire game, yet his one and only blunder makes him the villain. For Liverpool however, we had to wait until Brendan Rodgers "indefinitely" dropped Simon Mignolet before we got to see a Superman in him in any shape or form. Prior to that, all we could watch were our goalkeepers being the villains of the piece.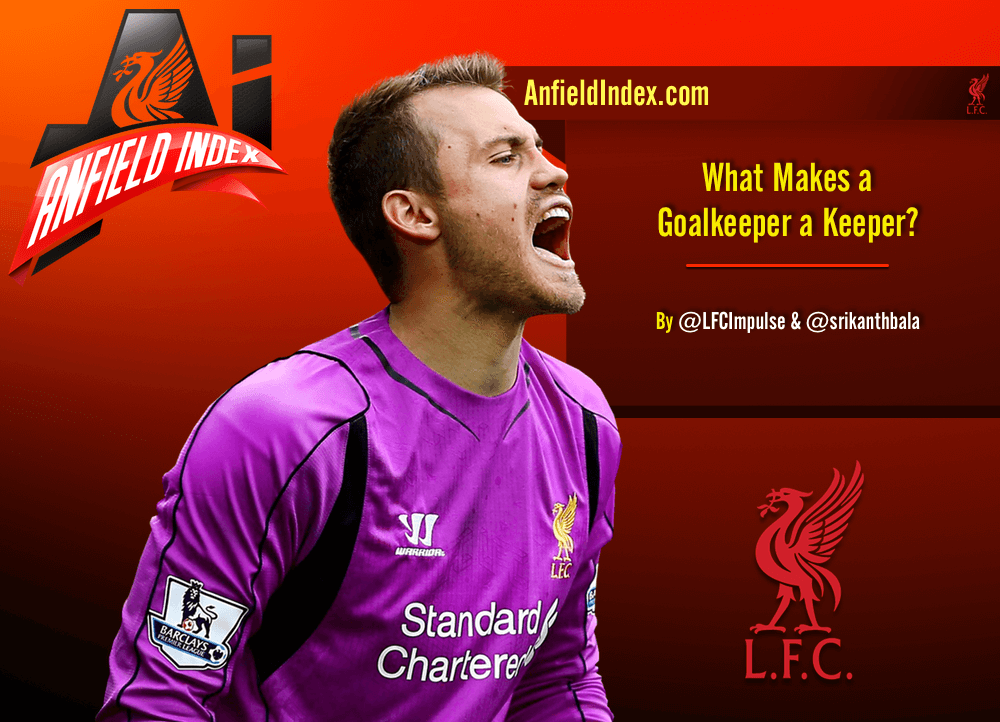 Imagine a kid holding a brand new copy of the "Liverpool Goalkeepers 2014-15" comic book in his hands – eagerly and hastily ripping off the plastic wrapping, then flipping the pages with excitement and hope seen in his eyes, only to be left disappointed by the supposed "heroes". Page after page were blunders after blunders, as well as all the errors, gaffes, howlers and slip-ups all freeze-framed within the comic strips for readers to see (in disbelief and disgust, no less).
While some may argue that defensive errors come from various avenues and not just only from the man between the sticks, others will only zero in on the terrible blunders that leave no one else but the 'keeper to be blamed. There's a reason why David 'Calamity' James was a thing. There's a reason why Charles Itandje no longer plies his trade in top-flight football. There's a reason why Simon Mignolet was heavily slated and slaughtered early in the 2014-15 season (as well as Brad Jones, though he's half-forgiven for maintaining that magnificent hair of his).
But how does one truly rate a 'keeper whose performances rely on so many factors apart from those within his control? The list starts from defensive structures and systems, fluke goals conceded and unlucky deflections, to miscommunications and errors of judgments and so on with no end in sight. It seems that the best place to start seems to be to analyse what is actually within a goalkeeper's control, these being their individual sets of skills and abilities.
To us (Leroy Mah and Srikanth Bala), the skill-sets of a goalkeeper can be broken down into two broad categories – the mental (or intangible) attributes, and the physical attributes. Every goalkeeper will certainly have both of these aspects but of varying ratios. Of course, with the nature of how football is played, especially in the modern game where tactics can change in a pinch, there is no definite ratio that will guarantee success. So keep that in mind.
The Mental Attributes; the Importance of Psychology
The first side of the goalkeeping spectrum is the mental aspect of it all. While an everyday performance of a goalkeeper involves various physical attributes like precision, agility, and power, the differentiator between success and failure is determined by what happens in between the big ears (no, not the Champions League trophy).
There are a horde of good 'keepers at every level of football, but the truly great ones are determined by their ability to control the mind. Why so? It is because of the fact that goalkeepers are a breed by themselves. They are so unlike the other ten members with whom they go onto the field.
As Gordon Strachan once said:
"Goalkeepers are a weird lot and I've never really got into their mind-set. To be fair, I never really wanted to. I can sympathize with a goalkeeper when he makes a mistake but I've never felt what it's like when you let the ball go through your legs and it trickles into the back of the net."
Every goalkeeper is a bundle of contrasts – a goalkeeper is always anxious to make a save, but yet needs to remain serene to ensure he actually makes the save. It is such juxtapositions that make the goalkeeper the toughest individual to handle on a football field. The ability of goalkeepers to deal with pressure, success, and failure ultimately determines their greatness. A single mistake can undo a day's good work. How do you even cope with the fear of failure, let alone cope with continuing the game after you have committed an error?
10th December 2011; the biggest derby in recent years – the El Clásico. 20 seconds into the game, Victor Valdés passes the ball straight to Ángel Di María who scores to put Real Madrid a goal up, almost ensuring that Real Madrid would win the league – a mistake of dastardly proportions.
After that goal, the next opportunity that Valdés receives the ball, he makes a short pass again – a simple pass like any other – but it is truly an act of indomitable bravery. Physical bravery is to one side, but what Valdés showed that evening was the ability to be brave enough to back your capabilities and most importantly, the ability to cope with failure. A brave player does not abandon his way of working at the face of adversity, and that separates the men from the boys.
The sort of pressure heaped on goalkeepers is unique considering the fact that they are mostly isolated, or 'alone' as Hope Solo once succinctly put it. A single lonely player in a huge playing area with nowhere to run, and nowhere to hide. There are no tactical tweaks for a goalkeeper – you keep doing the simple things over and over again until it becomes a memory in your brain.
The best goalkeepers are egotistical and it is important that they are such men. Goalkeepers need to believe they are the best to keep going up the ladder. It is not enough if a goalkeeper says it by his words; a goalkeeper truly needs to believe in the fact that he is the best at what he does.
One of the most common things said about a 'keeper is that the keeper needs to be a 'leader'. It is very easy to say it, but what are the aspects of leadership to be exhibited by a goalkeeper, especially when you are often the agent who decides how the result goes?
Leadership for a goalkeeper is all about gaining the trust of your defenders playing in front of you, especially for a new 'keeper at a club. The defenders need to develop a sense of trust with their goalkeeper to know that the 'keeper always has their back and vice versa. This involves lot of hard work, beginning with thousands of hours on the training ground, but the easiest way to gain the trust of your defenders is being consistent. Every training scenario, every friendly, every competitive game, the 'keeper needs to be 100% available physically and mentally. Gaining trust is about how one reacts to mistakes – do you put your head up and go about fixing it, or do you go about pinning the blame on someone?
Concentration in goalkeeping is often the difference between success and failure. Concentration affects decision-making; ability to react to situations in a desired way. For goalkeepers, concentration comes from having fun on the field and enjoying their craft. Those 90 minutes are the biggest show-time for any goalkeeper – he might be a non-entity for 89 of those 90 minutes, but even a special appearance in that 1 minute ensures that the 'keeper grabs all the headlines.
So next time someone spouts phrases like 'just the kids who weren't good enough to play any other position' or 'the kids who were bigger than everyone else', you safely consign those opinions to the bin.
"Because the demands on a goalie are mostly mental, it means that for a goalie, the biggest enemy is himself. Not a puck, not an opponent, not a quirk of size or style. Him. The stress and anxiety he feels when he plays, the fear of failing, the fear of being embarrassed, the fear of being physically hurt, all the symptoms of his position, in constant ebb and flow, but never disappearing. The successful goalie understands these neuroses, accepts them, and puts them under control. The unsuccessful goalie is distracted by them, his mind in knots, (and) his body quickly following."
– Ken Dryden, former NHL goalkeeper
The Physical Attributes; the Brawns to the Brains
Technically speaking, a goalkeeper is still a footballer, and footballers are athletes who are ultimately gauged on how much athleticism he or she possesses. The mental attributes of an athlete cannot be measured as accurately as the physical attributes, if at all, mainly because many mental attributes are relatively intangible as they are intrinsic traits. This holds true when assessing goalkeepers, for the most part. Physical attributes of a 'keeper may be broken down into three aspects – physique, speed and timing, and distribution.
Physique focuses on things about a 'keeper that may be seen at first glance, many of which are due to genes and natural growth. Some of these are not something that can be attained by spending more time on the training ground or the gym – they are things that a 'keeper are born with. Height, for example, would be categorized here as no amount of gym-time will help someone gain an extra 2-inches in height or so.
While not completely necessary, having a tall goalkeeper is often seen to be ideal, but the underlying question seems to be a matter of 'why' than anything else. Well, the perception is that a tall goalkeeper with a reasonable height (think 6-feet and above) generally has a wider wingspan, a longer stride and a higher vertical leap.
Putting all of those together contributes to a goalkeeper's reach, i.e. their ability to get to the ball. This undeniably assists goalkeepers in making saves and catching the ball in the air, hence being great shot-stoppers and are comfortable in dealing with aerial balls (from both crosses and set-pieces).
It's no surprise that some of the best goalkeepers today stand tall; taking arguably two of the best in the Premier League – David de Gea is 6'3", and Thibaut Courtois stands at a gargantuan 6'6"! Their predecessors (both of whom were also arguably the top 2 of their time)? Edwin van der Sar is 6'6", and Petr Čech, 6'5".
However, not all goalkeepers are blessed with height or incredible reach; think of 'keepers like Pepe Reina and Jasper Cillessen, both being only 3cm shorter than David de Gea in height, but never seen as 'keepers with incredible reach. Does that render them useless? Absolutely not, and this is due to the aspect of speed and timing which talks about the traits that can be conditioned on – things like agility and nimbleness, reflexes, and anticipation. Goalkeepers with a longer reach have a bit of leeway when it comes to making saves and they have more of an advantage in going for aerial balls, but it is certainly not enough to survive.
Speed is of the essence, and it is a crucial attribute for a 'keeper as reacting even only a millisecond quicker will give him the upper-hand in many cases. In terms of reaction times and reflexes, it relates to how quickly a goalkeeper can spot an action (be it a shot at goal, a pass which sets up a goal-threatening situation, or even a cross into the box), make a decision (whether to stay on the line, or to come off the line), and react accordingly. Reflexes is what assists a 'keeper in making those highlight-reel-worthy double or even triple saves.
A 'keeper must also be adequately fast in terms of footwork which covers several areas, including running up into a dive, coming off his line to close out a striker's angles, and so on. The most famous goalkeeper of today has to be Manuel Neuer, who even has a goalkeeping "move" named after him ('doing the Neuer'), and it comes from him being very aggressive and hasty to get off his line to intercept a pass or to close down a striker's options. However, timing still is crucial.
Lastly, distribution is what makes a goalkeeper more like a footballer than the aforementioned attributes. In modern day football especially, a 'keeper is no longer just the last man in defence but also doubles-up as the first man in any offence. If the ball is given away every time the goalkeeper collects the ball and attempts to get the ball over to his teammates, then it counteracts the purpose of being the first man in attack.
A goalkeeper must be able to receive the ball, be comfortable with it at his feet or in his hands, and make the 'correct' outlet pass. He must be able to read the possible presses that the opposition might initiate and attempt to avoid such presses from triggering by making the safest possible pass without compromising on the potential of an attack being started by him.
There are times where a short pass allows an outfield teammate a free lane to carry the ball for a long distance which can distort an opposition's marking structure; there are times where a quick long ball from the 'keeper can set off a counter attack which catches opponents off-guard – it is all down to a goalkeeper's ability to read the situation at hand and decide on his choice of distribution accordingly.
Conclusion
Goalkeepers are a whole different species of footballers and as such, they are often subjected to double-jeopardy situations – their performances are rarely improved by their teammates, but easily hampered by them. Thus, the way to judge and assess just how good (or bad) a goalkeeper is comes across as complicated because of the various inputs and areas that can be looked at.
The physical and mental attributes mentioned above are just some of the key traits that can be focused on, but the list doesn't stop there. What makes it even harder to judge a goalkeeper is that the ratio of physical and mental attributes varies from 'keeper to 'keeper, let alone the magnitude of how good they are in each of the individual traits.
Our goal (Srikanth and Leroy) for this piece was to be the beginning of how goalkeepers can be assessed, with additional attributes, traits, and criteria being added on top of this base that we aim to create. The follow-up piece from us will be more LFC-centric, so stay tuned!