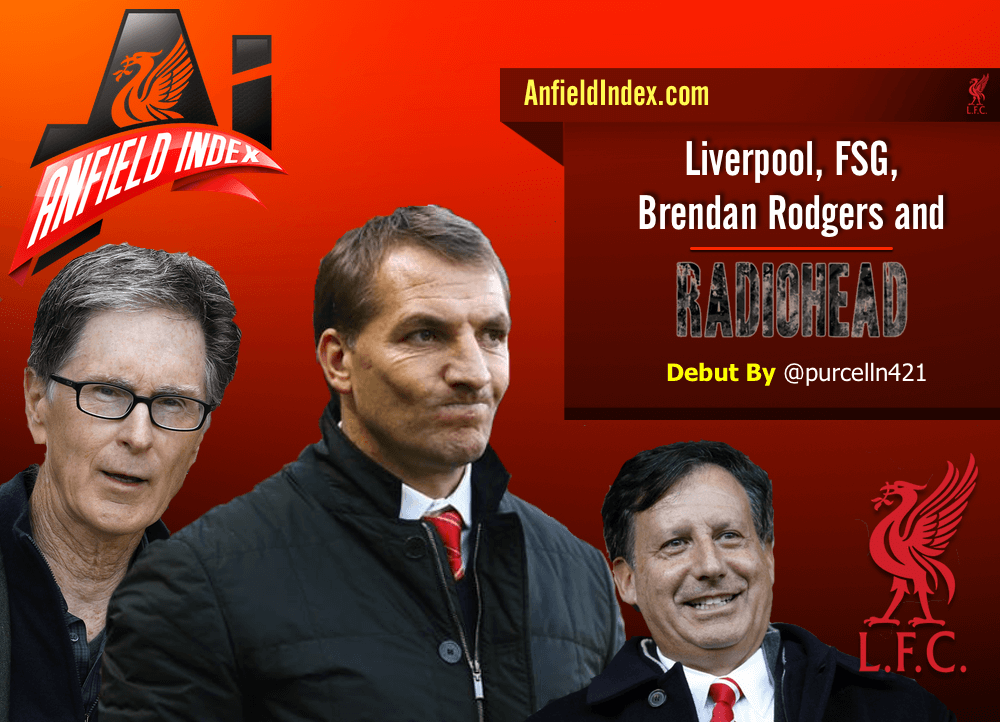 Liverpool, FSG, Brendan Rodgers and Radiohead 
In the last week when it was leaked to the media that Rodgers was staying at LFC, I was going through my old CD (yes that old!!) collection when I came across the Radiohead album "The Bends". I decided to re listen and the words in the title track seemed very apt for the current situation at LFC. For the younger viewers or non-fans it starts like this….
Where do we go from here??
The words are coming out all weird

Where are you now, when I need you
Also:
I wish it was the sixties, I wish I could be happy
I wish, I wish, I wish that something would happen….
Ok maybe not go back to the sixties but it would be great to have a leader as manager and top class players again. The club is once again at a crossroads in its illustrious history.
So… where do we go from here??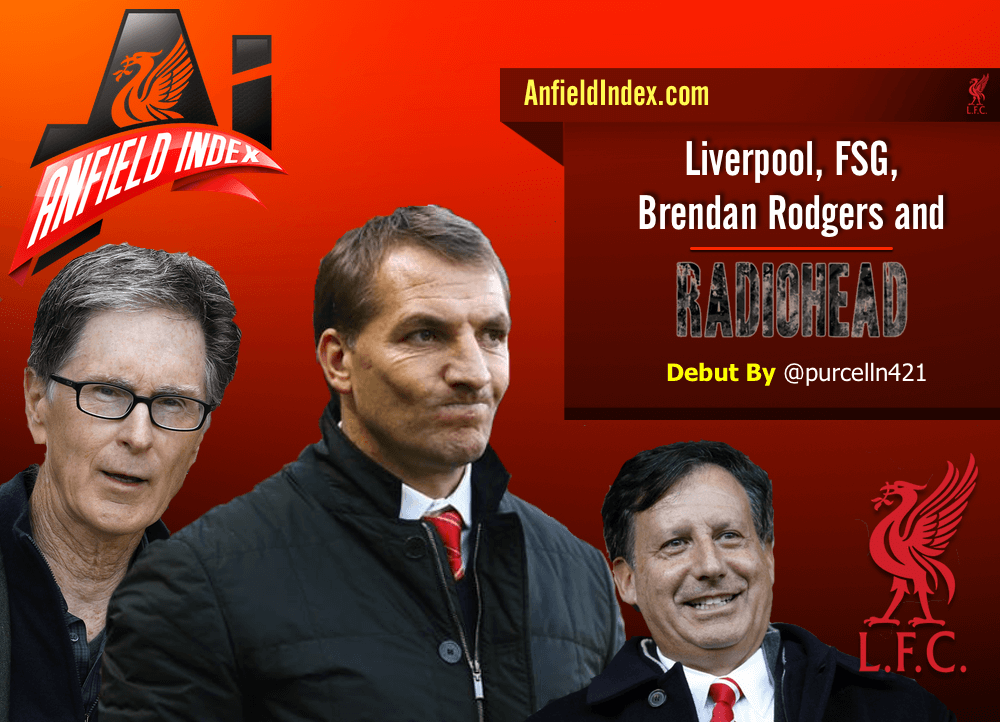 We all know last season was a failure for a number of reasons but to go from nearly winning the league to 6th in 12 months is nothing short of shocking. So where does the blame lie? A portion of it lies with every single person involved in the first team footballing side of the club but the main reason in my opinion is Brendan Rodgers. Throughout last season he consistently failed in his duties as manager of our club. Strange tactics, not learning from his mistakes, players playing out of position, huge regression in the form of our young players, failure to develop the young players, shocking coaching of the defence, awful buys in the transfer market….etc. etc. etc.… and yes I know 13/14 was great and we nearly won the league but I would argue that a huge number of circumstances contributed to that run.
Even given that Suarez left and Sturridge was injured, the total transformation in our playing style is very troubling considering Brendan's supposed tactical genius in 13/14. The style of play, players' confidence and energy levels at season end were non-existent and we simply handed Manchester United 4th place on a plate. 8 points from last 9 games when Utd got 11 points from the same run is the result of a huge failure on Brendan's part throughout the season, masked by Gerrard's lap of honour. Below average players being linked and signed shows his mid table manager attitude as does our abysmal failure in Europe. A lack of a proper replacement for Suarez didn't help and although not fully his fault, why we went from Sanchez to Remy to Mario is baffling but I would still argue the main reasons for failure lie at Brendan's door. Where did the form of 13/14 go? The aggressive pressing? The passing? The movement? The passion? Was it all down to Suarez? Partly yes but the sheer lack of any plan, poor use of players, the constant playing of players out of position and refusing to accept any blame himself left us a team and squad short of confidence. A great coach should inspire, motivate, lead and fight for everything and I just don't see it in Brendan. This is Liverpool not Tottenham, Arsenal, Chelsea, Utd, Man City. As fans we should never settle for 2nd or 6th and neither should FSG.
Not many people may be aware but Brendan has history for this type of failure. Included in this tweet is a story from a Reading fan while our great tactical genius Brendan was coach there. Does it sound familiar??
@Fydsy dunno if u seen this before but interesting Nd sadly familiar written by reading fan when BR was manager pic.twitter.com/KdJflN62ec

— Niall Purcell (@purcelln421) April 21, 2015
I wish, I wish, I wish, that something would happen….
FSG are a very confusing bunch of people at the moment in my opinion. No doubt they are a group of very successful businessmen in a number of areas and having purchased LFC, I was confident they would do some really good things for us and take us places. These guys don't spend £300M on a club for no reason. Yes the price was low and they saw an opportunity given the FFP rules that were due to come in but they made all the right noises. In fairness they got rid of Hodgson and brought King Kenny in and spent big even though most of the buys were crap you cant really blame them for that. They took immediate action when it didn't work under Kenny and what surprises me now is why they don't the same this summer. Are they going to sell the club or get serious and properly challenge under a new manager and revitalised players? Rumours of a £20M budget seem far-fetched but with all these free signings than maybe its true but for the 8th richest club in the world it seems very little especially with what the top 4 will spend this year. So why accept the failure of last season with the distinct possibility it could happen again at the start of next season? Surely it's more prudent to bring quality to the club in the management and coaching departments before we sink further behind the top 4 clubs.
The lack of clarity and a statement from Mr's Henry, Werner and Gordon since the 6-1 calamity in Stoke does not fill one with great confidence. The constant links to Christian (Andy Carroll) Benteke also make one wonder what's really going on. If Brendan has lost power than why is he still choosing the players that we target? They have seemingly dispensed with the services of Mike Marsh and Colin Pascoe (which is no great shame) but does this simply not undermine Brendan? Who's choosing and hiring the new coaches? Who are they reporting to?
Also looming large in the middle of all this is Jürgen Klopp. I cannot comprehend why FSG would not attempt to try and attract a man of such experience and proven success to the club. Various media outlets have reported his agent basically asking for the LFC job so why don't we get him? Well maybe we have tried and failed but given the lack of information and disinformation coming from the club one wonders who's in charge and managing the club. FSG wanted a European style structure at the club. Well now is the time to do it while such a quality coach is available.
As the song says "the words are coming out all weird". Well there are no words of substance at this moment. No one from the club has told the fans what's going on? What direction the club is going?
Where are you now FSG? When I need you?
Niall Purcell
Twitter @purcelln421