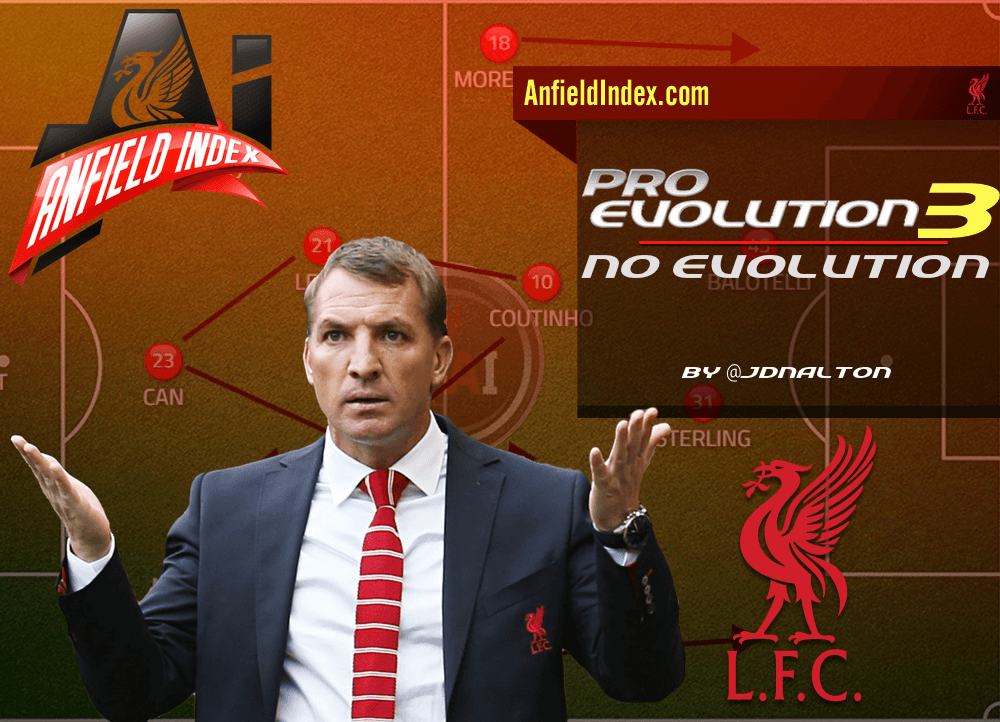 Pro Evolution III: No Evolution - Where Now for Liverpool's Tactics?
The previous episode of this accidental series on Liverpool's tactics and tribulations, ended with thought that Liverpool's season should be judged after 38 games. And what a 38th game it was…
The defeat at Stoke was one of the worst games in memory, but was only one part of an uninspiring season from Rodgers' Reds.
European frailty, the manager's strengths and weaknesses, poor recruitment, good recruitment, and tactical changes have all been discussed in the previous two installments, which can be read here:

Part I – http://anfieldindex.wpengine.com/12655/pro-evolution-next-liverpools-tactics.html
Part II – http://anfieldindex.wpengine.com/13345/pro-evolution-ii-pro-brendan-rodgers.html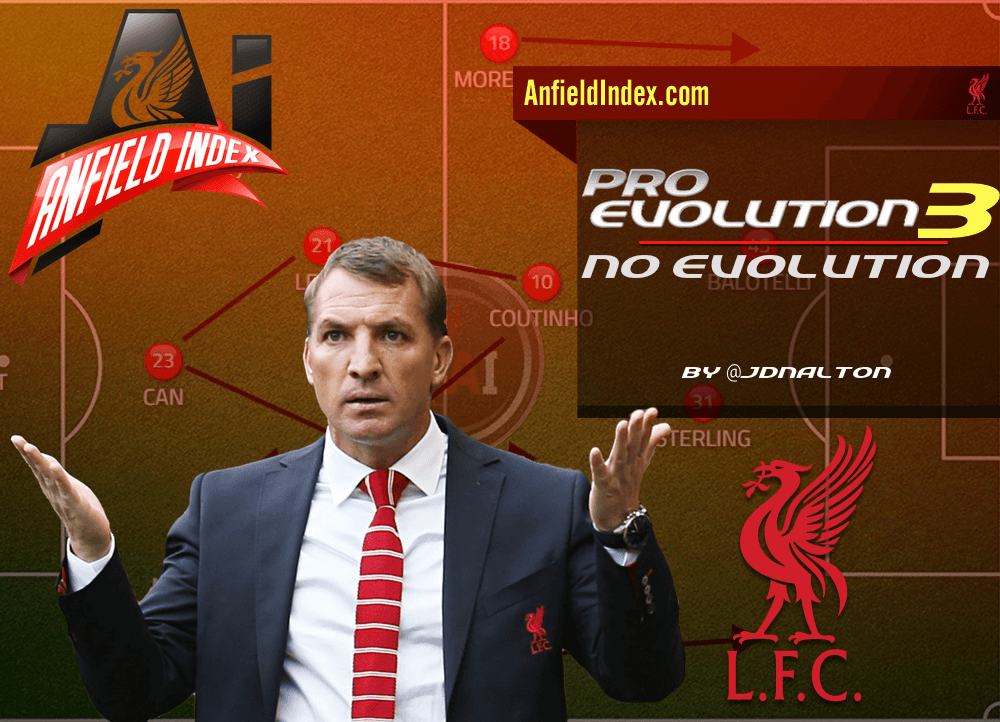 In a season which was made up of three basic parts, thirds, if you like, it seems fitting to finish the job and complete the trilogy. Something which the club failed to do.
One of the main positives in part two, which discussed the season's highs and lows to that point, was the adoption of the 3-4-2-1 formation which temporarily boosted the team in the middle of the season.
This formation stuck until one or two opposition managers worked it out. Once this happened, it was ditched altogether.
Rather than tweak certain areas of a system which had brought the only successful period of Liverpool's season, the manager reverted to one which had brought the worst results, and it's no surprise that it did so again.
However, though the 3-4-2-1 formation brought the best run of results, one of Liverpool's most impressive performances came when playing the diamond formation we saw so much of in the 2013/14 season. This game was the 3-0 win at Spurs at the end of August, and saw Daniel Sturridge encouragingly paired with Mario Balotelli up front.
Liverpool's tactics for the first hour v Spurs – 31/08/2014
Dejan Lovren aside, every player was utilised in their best position. Raheem Sterling was at the tip of the diamond, which was the position he played towards the end of the aforementioned 13/14 season, and a role which played a big part in carving the reputation he currently has.
Alberto Moreno and Javier Manquillo offered good balance from the full-back positions, with Moreno naturally more adventurous on the left, and Manquillo intercepting passes all over and defending well on the right. Manquillo was one of the side's best defenders in this early part of the season, although it's easy to forget this given the way he was outcast as the season progressed.
Joe Allen and Jordan Henderson played in the middle of the diamond, again, their best positions, and Steven Gerrard acted as the deepest midfielder.
Balotelli made his debut alongside Sturridge, and despite some teething problems and a lack of sharpness, there were encouraging signs as the pair. They created space for others, especially Sterling, even if they weren't firing themselves.
Sakho and Lovren were typical of a Liverpool defence from THAT 13/14 season, but it was better that the side tried to attack whilst looking dodgy in defence, rather than trying to defend and looking dodgy in defence.
This is just one game from the 2014/15 season, but was one of Liverpool's best. Despite this, the manager ditched this formation and played a 4-2-3-1 in the next game…
The abandonment of promising systems showed a lack of evolution in terms of the tactical set up.
The diamond was discarded due to an injury to Sturridge, and whilst this exposed a glaring error in the previous summer transfer dealings (the failure to replace Sturridge, as Sturridge was effectively replacing Suarez), it would have been better to stick to a system which was working.
Fabio Borini was perhaps the closest the club had to Suarez in terms of attitude, hard work, non-stop movement, and defending from the front. He's nowhere near Suarez's level (who is?), but he would have fit a system which was already functioning.
It's no surprise that two of Balotelli's three goals in open play came when Borini was on the pitch.
It was the same story with the 3-4-2-1. Rather than try to adapt that system to plug any gaps the opposition had found, it was abandoned.
Problems arose when opposition teams were setting up to trouble the wide players in the midfield 4, so much so that they became wing-backs, then defensive full-backs to form a 5 at the back. On these occasions the formation ended up more like a 5-4-1, and the game versus Manchester United at home saw Juan Mata play effectively from the right wing behind Moreno.
Juan Mata exploited space behind Alberto Moreno in Liverpool's 3-4-2-1 (Squawka)
The solution may have been to bring Manquillo in at right centre back. He's defender who's used to defending out wide where the player is more exposed, and was originally brought in for his ability to deal with wing-play. This simple change in personnel may have been what was needed.
Emre Can could have been moved to a more central position. Whether this be in midfield, or as a sweeper in the middle of the back three, he would have brought the good parts of his game to a pivotal position, and eliminated the flaws we occasionally saw when he was isolated in defence.
A defensive midfielder could have been introduced to help plug the space in the middle caused by defenders going across to deal with those troublesome wingers.
Then the front three could have become a more fluid unit, rather than a static 2-1. This would also have given Balotelli the strike partner he craved, and taken some of the burden from Raheem Sterling.
Coulda, woulda shoulda. Either way, there was no evolution.
A Liverpool side showing the relationship between the diamond and 3-4-3 formations.
Liverpool go into the new season with new hope, and apparently new backroom staff. The manager keeps his job for now, despite calls from some quarters for Jürgen Klopp, but Colin Pascoe and Mike Marsh have been let go, and they could be the first of many changes over the next few months.
Even though there has been this shakeup off the pitch, it needs to breed stability on it. Players need to be playing in positions which get the most from their ability, there needs to be more defensive organisation, more cohesion when it comes to recruitment, and a clearer philosophy which allows all departments to work from the same blueprint.
But above all there needs to be more continuity and progression when it comes to the systems used on the pitch. Less abrupt chopping and changing, and more considered development of the team's tactical systems. Evolution, not revolution.