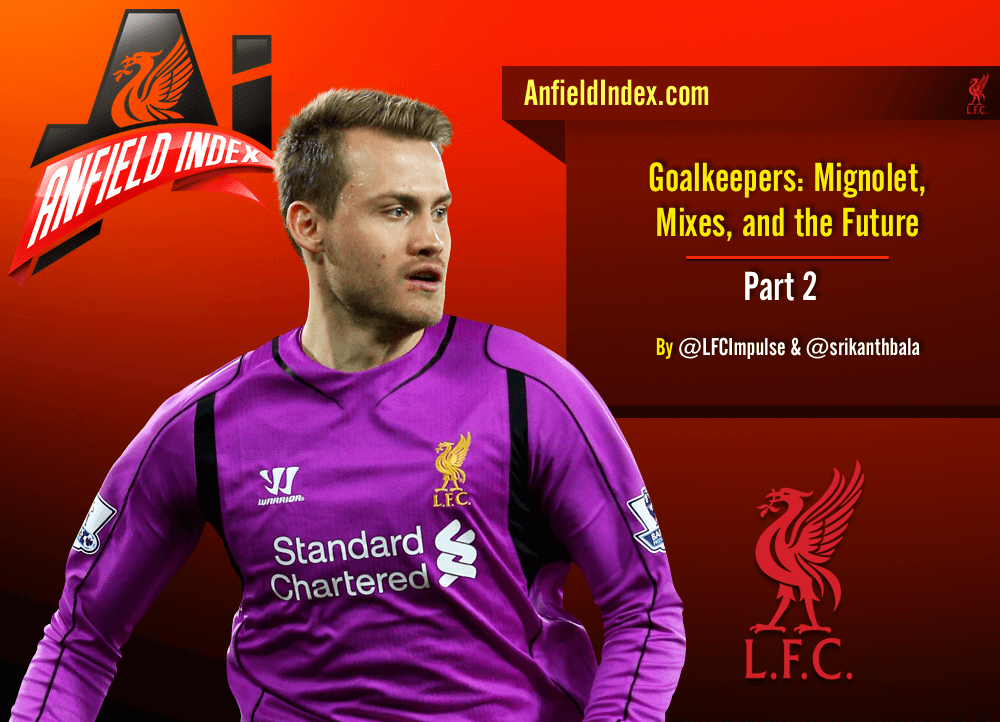 Goalkeepers: Mignolet, Mixes, and the Future (Part 2)
Read Part 1: 'What Makes a Goalkeeper a Keeper?" here.
The One Who Currently Rules with Velvet Gloves – Simon Mignolet
If there ever was a player who exhibited traits of Jekyll and Hyde so clearly over a season, it has to be Liverpool's goalkeeper Simon Mignolet. It's fair to say that Mignolet would be the first one to put his hand up and say that the first half of the last season was downright abject. He suffered a crisis of confidence and that has resulted in him committing a series of errors which he does not usually make.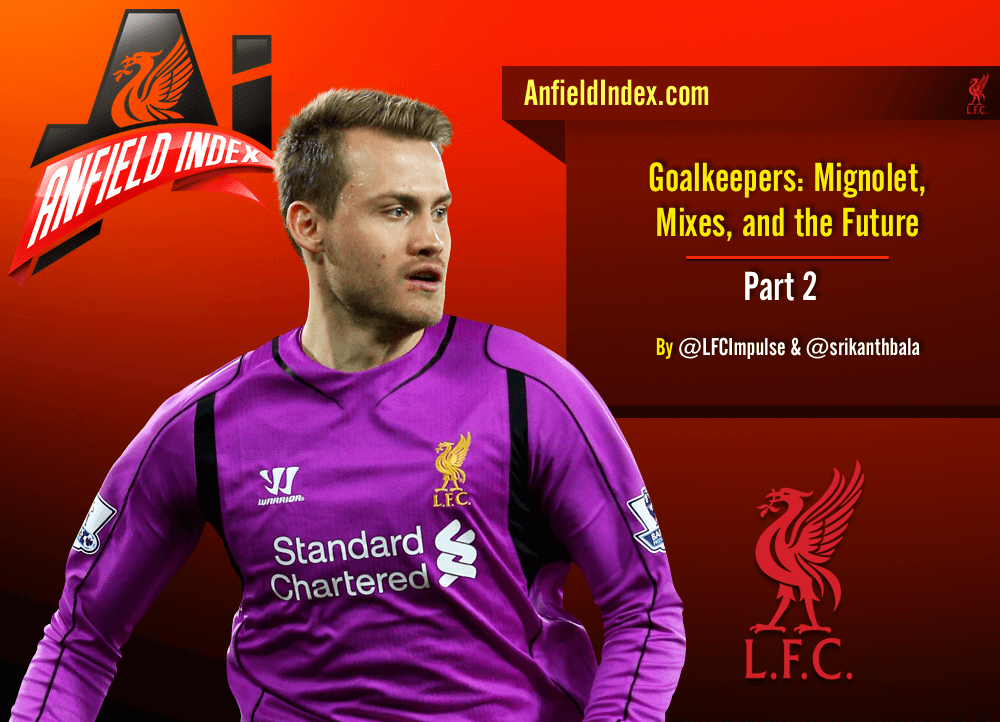 There was a string of high-profile errors made in the first half of the season, like the goal conceded away in Bulgaria against PFC Ludogorets. His shambolic keeping cost the Reds points, and with an unsettled and dysfunctional defensive line up in front of him, it was a car crash waiting to happen. What did not help him was also the fact that he was often left with the ball at his feet when he least expected it. His distributing ability is already not the greatest on his best days, let alone when under a crisis, where his distributing accuracy resembles a person jumping off a cliff.
From the poor positional awareness and unconfident saves, to the questionable decision-making, poor command of the area in set-pieces and unconvincing displays, Simon Mignolet has hit rock-bottom. There is no beating around the bush, no gimmicks, and no excuses – put aside all the physical and mental attributes we wrote about in Part 1 – he forgot how to be a goalkeeper.
Ultimately, things got to a standstill with respect to his progression which led to Brendan Rodgers dropping him (indefinitely, if one might add). Even from any viewpoint, that was a shambolic piece of man-management from Brendan Rodgers, as you never do that to a player who is already suffering from a career crisis at that point in time. Almost unarguably, his career was a no-go at Liverpool… Or so you thought.
He was handed a lifeline when Brad Jones got injured and he got the chance to be back in the starting XI once again. It did not start well at all though, as you could see that the pressure got to him and led to him actually, actually letting a ball run across the line when he meant to kick it. A brain freeze, if there ever was.
Perhaps now is a good time to also to consider his interesting background – one of a student footballer, a rarity in the Premier League. He has a degree in Political Science with papers on politics, economics, history, and so on. When his fellow team mates at Sunderland attended parties and shows, he is known to have stayed home, bent over his books.
When Mignolet was asked about his best qualities, he replied:
"I find it hard to answer that about myself. If I have to mention something, it's that I handle pressure situations on the field well and I stay calm in all circumstances. I get more worked up for a test than I do for a top match: sometimes I feel like I've only mastered half of the course, while as a keeper I know what I'm worth."
It is very common for people with such an educational background to fall into this trap of 'thinking too much'. The habit is a virus for goalkeepers as their job is to be more reactive in nature in most cases. Goalkeepers need to make an immediate decision, rather than the best decision after analysing the options. Mignolet adhered to this as much when he gave an interview few months back where he credited the influence of his fiancée in putting his career back on track.
The question was simple:
'Simon, are you sometimes over-thinking stuff?'
This simple question triggered off lots of questions in his mind, and his analytical approach paid rich dividends in this case, with his performances slowly, but surely progressing. At the end of the season, he was simply un-droppable and was in contention for the Golden Glove, both of which seemed fantasies a few months ago. His excellent physical attributes shined, his distribution seems to have been a lot more consistent, but most importantly, he does not hesitate anymore. He doesn't seem to have self-doubt and with that, his confidence has never faltered ever since the rock-bottom version of him just months back.
As the new season dawns upon the Reds, Mignolet looks to be the clear, undisputed first-choice. He just needs to carry on what he is doing without overthinking and over-analysing on the pitch; just focus on delivering consistent performances week in, week out.
The Back-up Goalkeeper Enigma
The Reds' academy has seen many potential goalkeepers come and go – Dean Bouzanis, Nikolay Mihaylov, Martin Hansen, Péter Gulácsi, and Tyrell Belford, for example – but none have shown enough promise. The most recent 'keeper who has seen a small, glimmering light at the end of the tunnel is Danny Ward, who is not spectacular at least for now. The long and short of it all is that Liverpool has not produced a quality goalkeeper who is able to step between the sticks and claim the starting goalkeeping spot at Liverpool.
Putting the academy aside (as it revolves around a whole different topic altogether), what exactly is the plan moving forward? Do we stick to Simon Mignolet and hope he doesn't dip in form to the point where he gets indefinitely dropped again, or do we hunt for a goalkeeper who is at least as good as the Belgian? What about our back-up goalkeeper – what goalkeeping profile should be target?
The type of back-up goalkeeper to target is definitely a tricky puzzle to solve. The various types, ages, quality, and caliber of a 'keeper has to all be taken into account simultaneously, and this is on top of considering the current #1 who wears the gloves for the majority of the season. There is no blanket formula that can be applied across each club and guarantee a good mix of goalkeepers in accordance to the club's needs.
In general, though, there are 3 types of goalkeeping mixes a club can have.
The first would be one good goalkeeper starting and one decent (typically older) goalkeeper as back-up. This is what is normally seen in many teams today – the good goalkeeper starts every game possible while the back-up plays whenever the starting 'keeper gets a break. This means that even if a back-up starts for the team, they do not lose out in experience as older goalkeepers tend to have slightly better judgments after playing for so many years. Swansea was an easy example of a team with this goalkeeping mix when they had Michel Vorm as the undisputed first-choice and Gerhard Tremmel as the back-up.
A less common ordeal is having one good goalkeeper starting and one young goalkeeper as back-up. An example of a team with such a mix is FC Barcelona of 2014-15, playing a more consistent Claudio Bravo in their La Liga matches with a good, but still-developing Marc-André ter Stegen playing no league matches whatsoever. However, the young German played in Barcelona's Copa del Rey and Champions League matches. This allows a team to groom a 'keeper to take over the goalkeeping helm for the long-term without compromising on the current state of the team.
The last of the three types would be to straight up have two good goalkeepers competing for the #1 spot. While it will be difficult to manage and massage egos of two good goalkeepers simultaneously, there are often most benefits to be reaped from such a set-up. The quality of goalkeeping can be almost assured regardless of who starts, and it goes without saying – the team benefits from it. Chelsea with Thibaut Courtois and Petr Čech, or Real Madrid with Iker Casillas and Diego Keylor Navas are prime examples of such a goalkeeping mix.
Predicting Liverpool's Mix for 2015-16 (and beyond)
Newly-signed Adam Bodgan will likely take Brad Jones' spot as the Reds back-up 'keeper, with the best wishes from many Bolton fans who swear on Bodgan's quality, claiming that he would do well as a back-up goalkeeper. If Simon Mignolet stays fit and confident, he will more likely than not retain the first-choice 'keeper even though he wasn't necessarily Brendan Rodgers' first choice in the summer of 2013.
This means that Liverpool will have a goalkeeping mix similar to the first one mentioned above, except that Bodgan isn't exactly old yet. However, looking even beyond the 2015-16 campaign, is this mix ultimately the best one going forward? Perhaps what the Reds could do is to plan ahead like what Chelsea did in regards to their long-term plan which has already started to come to fruition.
They had Petr Čech starting for the longest time now, with Carlo Cudicini and Henrique Hilário as back-ups. In 2009, Chelsea brought in Ross Turnbull to replace Cudicini who left earlier that year. Up until 2011, Chelsea looked to have been content with having the first goalkeeping mix.
Cue Thibaut Courtois who was signed in July 2011, marking the potential start of Chelsea's transition from the first to the second mix of goalkeepers. Eventually, Chelsea transitioned to the third mix of goalkeepers when the young Belgian returned to the club and was given the go-ahead to be their first-choice alongside Petr Čech who could very well walk into many Premier League teams today.
Taking that into consideration, perhaps having Pepe Reina and Simon Mignolet as the first-choice of their times with various back-ups who were never potential 'keepers who could be groomed into long-term replacements is not the way forward.
A quick trip to Germany or Italy would be enough to realise that the talent pool has never been bigger and better, let alone other countries in Europe and the rest of the world. Now could be an excellent time to acquire top-tier goalkeeping prospects who fit the criteria of being long-term replacements for Mignolet, and loaning them out in order to further their development as a goalkeeper with a view of bringing them back in if they prove to be good enough. In the meantime, Mignolet and Bodgan hold the responsibility of being in between the sticks for the Reds.
The main goal of Liverpool is to rediscover the glory days and achieve continuity in order to do so – maybe having continuity in quality goalkeepers can be the start of that.
Conclusion
Simon Mignolet hits the threshold for almost all of the attributes we (Leroy Mah and Srikanth Bala) laid out in Part 1 of this two-part series apart from some key attributes – a couple of mental attributes, and his distributing ability. From the perspective of looking at his raw talent, Mignolet can be a world-beater with ridiculous reflexes and good footwork, but only if he doesn't let his over-analysing side take over.
Liverpool would do well with Simon Mignolet taking the reigns as first-choice goalkeeper, but the effectiveness of the goalkeeping mix in terms of the back-up goalkeeper, and whether or not further investments in goalkeepers are needed for both the short-term and the long haul remains to be seen. All-in-all, only time will tell if the current goalkeepers and the mix of 'keepers will be the beginning of the end for Liverpool, or if they would fit like a glove.