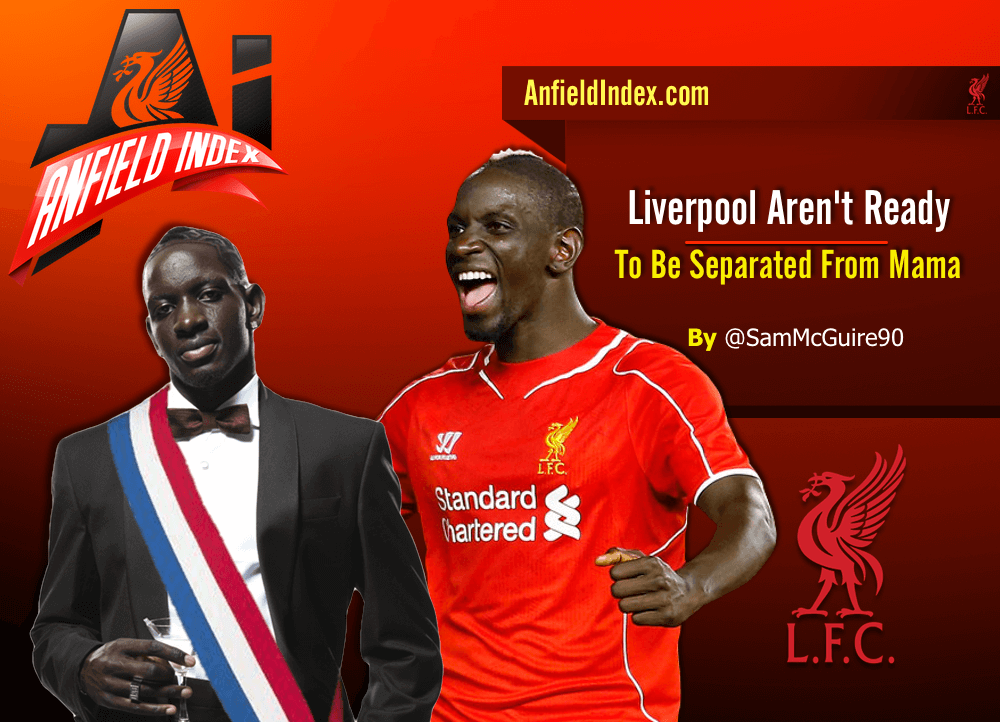 Liverpool Aren't Ready to be separated from Mama
Like it or not Mamadou Sakho is Liverpool's best centre-back. Stats may say Martin Skrtel is the highest rated defender in the league or Dejan Lovren is the best centre-back in the Premier League but these sites measure goals scored by a defender and blocks as parameters to judge a defender on. With this in mind, you've got to ask the question – why haven't Liverpool started talks on a new deal with the French vice-captain when his current one expires in 2017?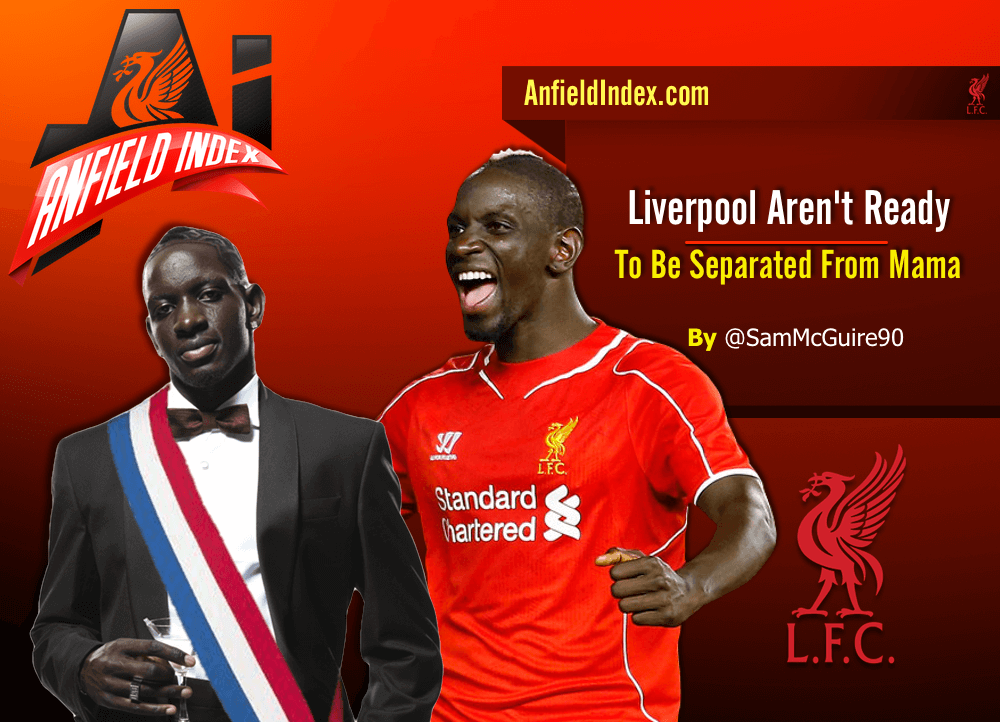 "How can he be the best when he's so nervous on the ball?" I hear you cry out. Firstly, If I was playing beside Martin Skrtel, who for some reason seems to be immortal in the Liverpool back line, I'd look nervous too. Skrtel has seen off the likes of Sami Hyypia, Jamie Carragher, Daniel Agger and the juggernaut that was Sotirios Krygiakos to be the mainstay in the back 4. All made fewer mistakes than Skrtel yet here he is, still pulling the oppositions shirts in the penalty area.

Then we come on to Dejan Lovren. Again If I had the honour of playing beside him I'd look a little nervy too. However, you horrible vain lot, why does it matter how a player looks on the ball if he gets it done? Alex Ferguson mentioned Jordan Henderson's gait and look at him, a fixture in the England team and the apparent heir to the Liverpool captaincy.  Raheem Sterling runs like a T-Rex (whilst we're on the topic of dinosaurs, if you haven't seen it already then go to watch Jurassic world. It's quality) and yet he's rumoured to be leaving the club for £50million. Every player probably has an imperfection to their game but it's what makes them individuals.
"He's shit though him lad"
No, he really isn't and I think it's best for us all if you stop watching highlight shows to form an opinion of a player. Berating Sakho for looking like the ball is a bomb before pulling off a pass a playmaker would be proud of is madness when you've the likes of Lovren who punts the ball in a stylish way as though he's playing American Football. Believe it or not the upturn in form in the 2014/2015 season was due to the inclusion of Emre Can and Mamadou Sakho in a back three. The composure of both players meant Liverpool had an extra dimension to their play when building from the back, something they haven't had on a regular basis for a while.
During this run in many people saw why Liverpool brought the Frenchman to the club. Both on and off the field he won over the Liverpool fans. His passing ability was matched by his painting ability.
Deja Vu
So you've got to be wondering how we've reached this point again. The point in which the club should be offering the player a new deal, or at least opening negotiations, but they aren't. It happened with Steven Gerrard and Jordan Henderson, it's really beyond me how a club the size of Liverpool can let their captain and vice captain run down their contracts. Before Jordan Henderson (potential new face of Fifa 16 if you vote) signed a new deal recently he had less than 18 months less on his deal. Public enemy number 1 Raheem Sterling also said had Liverpool offered him a new deal in the 2014 summer he'd have signed.
It's not in the clubs best interests to let this carry on really, is it? If the player is of a certain quality, which Sakho clearly is, then the closer the contract gets to expiring the more the player can as for in negotiations as he knows the club can lose him for a lower fee if they do sell him or even on a free.
In essence, contracts protect the club, if they're handled properly unlike the Glen Johnson, Jose Enrique and Fabio Borini deals. You could end up paying too much for a player you don't want or alternatively you could end up losing a star asset for next to nothing because you weren't proactive enough with contract talks – see Michael Owen in 2004 and almost Steven Gerrard in the summer of 2005.
Stop the transition.
Liverpool are seemingly forever in transition. Whether its new owners, new managers or new players every summer it seems difficult for the club to have continuity. Mamadou Sakho is key to this in my opinion.
Brendan Rodgers doesn't rotate players but what he does do is he tweaks and the positions these personnel play every few months. It's hard to actually understand what this does to the relationships you build with the player beside you if you're forever being moved. To build a successful defence you need continuity. Attackers evolve and adapt to games but defenders need to be able to work as a cohesive unit and carry it off even if they had their eyes shut. Currently we've a left back who keeps being used as a left wing back so is kind of in limbo. We have Martin Skrtel who is a reactive defender as opposed to both Dejan Lovren and Mamadou Sakho and we have no right back really.
Say Liverpool bring in a right back and this defence starts getting worked on in training and becomes decent. Highly unlikely I know but just pretend. So we've got a functional backline and a keeper who trusts his defence. Then you factor in Martin Skrtel's unrest about the contract offer he received so he could be leaving next summer. Then cubs know Sakho will only have one year left in 2016 so may be open to a move.
Liverpool sell those two defenders and have to start the transitional period yet again. A centre back pairing will need to form a partnership. Then each centre back has to build a relationship with their starting fullback and you've also got to factor in the importance the centre backs play with the midfielders.
An example of this is when during the 13 match unbeaten run if a midfielder pressed our midfield to stop the team passing from the back they'd open space up for Sakho to find Coutinho and they'd retain possession whilst also starting an attack at the same time. That's been worked on and there is an understanding there.
You could go into more depth when talking about relationships and continuity but I'm hopeful you get the picture. It's hard to build a team when the future of key cogs is uncertain. Many fans seem distracted by Raheem, I just hope the club isn't.