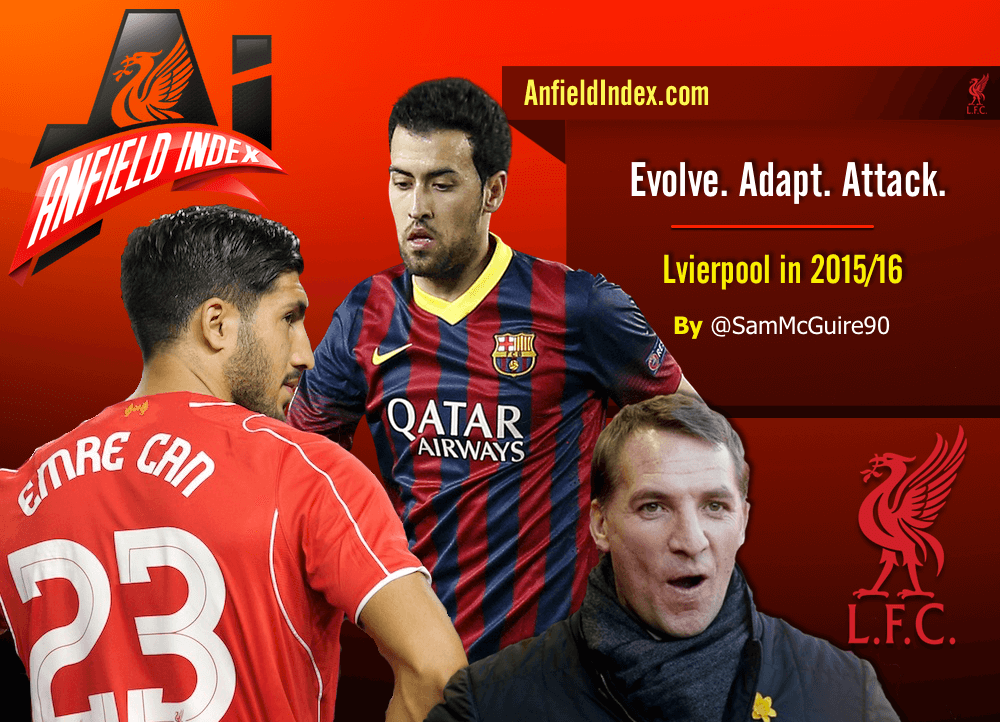 Evolve. Adapt. Attack. Liverpool in 2015/2016
The three words in the title aren't ones you'd associate with Liverpool after the disappointing 2014/2015 season, but if Liverpool, and more importantly Brendan Rodgers, learns from the mistakes then last season could help build next season into something special.
No I'm not crazy.
I think Rodgers may have a way around his no defensive midfielder policy. I never thought I'd say those words.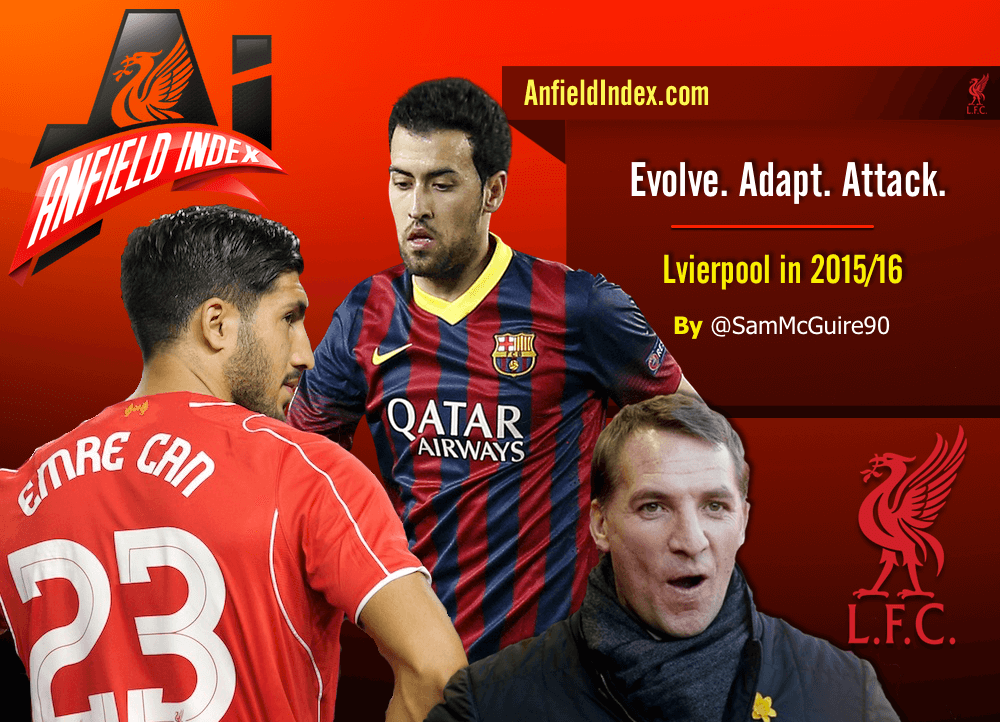 The 13 game unbeaten streak that was sandwiched between an embarrassing and a reality check showed a few telling tactical signs, one of which being if Liverpool tried to play out from the back the opposition would press us. Something obvious you may think but this tactic helps Liverpool infinitely more than when teams allow us possession and sit deep.
Again you may feel I'm stating the obvious, I probably am. However I'd like to put forward the idea of having triggers to counter the opponents pressing.
Granted it's difficult to plan this as you won't know the triggers (the movement or pass that Liverpool make which is a switch for the opposition to press with varying degrees of intensity) but one thing you is if you play out from the back you will tempt the opposition into pressing you, and this right there is where Liverpool can adapt and evolve their play.
Last season in the game the opposition pressed we seen Liverpool rush with the ball, play silly passes and often get overran in midfield. Then in the games Liverpool did have a deeper midfielder it was more often than not Steven Gerrard. His positional sense was never really the best and furthermore, his default pass was always the long ball. To counter the press you need a player that sits in the pivote role (deepest midfielder) and acts as a security blanket for the defenders in a sense of being the out ball but not only this he acts as a deep playmaker.
To emphasise my point I've used the above image. I've picked Villa as the opposition for this example as we all saw at Wembley how they pressed us.
This is just a theoretical game of how I'd picture them lining up against us and pressing. They'd look to make our half of the pitch compact but squeezing and pressing play. In theory they're looking for us to kick the ball long which their centre backs want, or they'd press us into a mistake.
The key position is the one highlighted. The Busquets role. This role involves carrying out a number of tasks. In the defensive phase, Busquets crucially moves into space to cut off passing lanes for the opponent, forcing him to play the least dangerous pass. He uses his sharp anticipation skills to win the ball back by intercepting it in midfield and immediately transfer it to a well positioned teammate. His primary function is to 'receive and release' and he performs this task and his mant other tasks flawlessly due to his astute reading of the game and tactical intelligence. His game isn't limited to just simple passes but he's  the sort of player to make a difficult pass look simple. Obviously Busquets is the pinnacle of the game in this role so our player wouldn't be as polished. Yet.
However what we're after here isn't his defensive ability, no, it's his use of the ball. Busquet's has the ball, on average, for less than two seconds. This is a position of great responsibility so to be that quick and accurate it's a weapon for any team. Personifying efficiency, Busquets is technically compact, finding solutions in jet speed to pick out a free team mate. He uses the 'fake' to a great deal of impact to open up space in a passing lane and also ensures that he hits the ball with minimal rotation, so his team mate can play another one touch pass.
One Scenario
In the above image sat Skrtel has the ball and Grealish engages him, so Skrtel passes to the right back but his route back to Skrtel wouldn't be on now. This, you'd imagine, would be a trigger for Richardson to engage the right back. The right back could lay it off to Henderson even though he has Delph in his proximity who'd then lay the ball back to 'Gerrard'. Delph would follow the ball as 'Gerrard' is the last man and if he loses it they're in on goal. However the quickness (under 2 seconds) of the pass that he returns to Henderson would take Delph out of the game and just like that Liverpool have manouvred room to attack and potentially have 4 (Henderson, Coutinho, Sterling and Sturridge) vs 3 (Cleverley, Okore and Vlaar). Again it may sound fairly obvious but it only works with such an effective passer of the ball in that pivote role who resists the urge to go long with passes.
Of course this is just on paper, but the counter trigger here would be Henderson laying the ball off and carrying on his run.
There are plenty of variables to this and of course you'd need a person to play the pivote role who is confident and accurate on the ball (Kovacic/Can). There is a high risk to begin with when you're adapting to such a change but it's really the best way to attack a team that's pressing you. You use the pivote.
You're controlling the game and dictating the space by tempting the opposition into pressing you and they don't realise it's not them in control of this. You're manipulating a position to exploit to its full effectiveness. You're sending out a message – "Press us and we'll take you apart on the counter" and teams will know this yet they'll be tempted to press still because managers are naive. Look at how Juventus tried to press Barcelona in the Champions League final and ended up chasing shadows. Vidal and Pogba, great midfielders, nullified due to having to press and not get much luck from it.  It allows your attackers to have more room to work in which is what they all want. It allows Coutinho to pick the ball up and have space ahead of him and runners to pick out much like Rakitic did in the final so well. All of this could happen if Liverpool were to buy someone of that ilk to play that position. I wrote the other day about how the Kovacic link made no sense. Well it kind of does now.
Liverpool have the players to hit teams on the counter, they've also got players useful on the ball in quick attacking transitions as shown in 2013/2014. A slower tempo doesn't suit them.  We can evolve into a more counter attacking team whilst keeping our ethos on passing. We can adapt this passing style to make it much more fluid and devastating in attack and with this we can become more stable as a defensive unit.