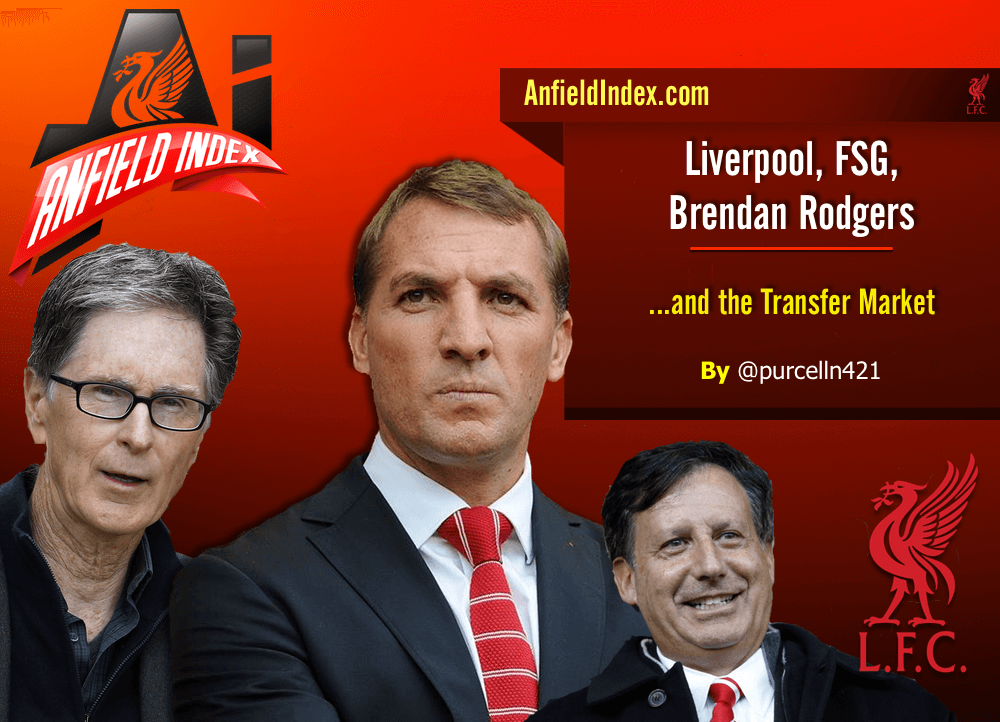 Rodgers, FSG and the Transfer Market
Hey ho, here we go it's that time of year again, Twitter rumours, spurious links, interviews, reports, speculation, newspaper nonsense, agents, players, cash, loans, if buts and maybes, swaps, click bait and hope…. Yes hope… Hope that the players linked to your club arrive or don't arrive depending on fans' opinions whether their good enough for your team or just a player the manager might like or an agent has linked to get a better deal elsewhere. Hope that they settle in, perform, ignite the team and turn out to be a bargain. Media outlets and agents love it but maybe it's just me but I wish it would be all over in a week.
It's madness……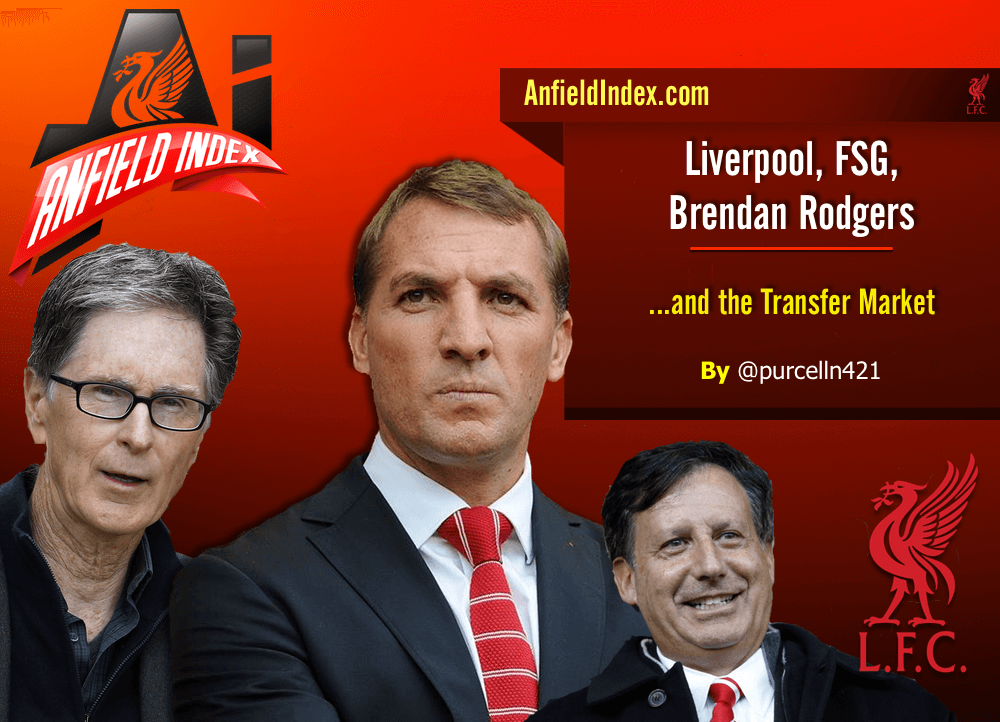 A huge media drive, countdown clocks, breaking news, yellow banners and the constant feeding frenzy of rumours and leaks all contribute to the hype (and lets be honest) mostly bulls**t that goes on for nearly three months in the summer. With no international football tournament involving European teams this summer then I'm sure the media outlets will be searching for every little scrap of information to fill their pages and Twitter feeds at 10.30 every night.
Transfer deadline day is celebrated like a national holiday or any other occasion one can celebrate. Isn't it absolutely mind boggling though that clubs who turnover hundreds of millions of pounds every year leave major deals to the last few hours and days. It signifies the inept and almost amateur approach to the whole window. And none more so than Liverpool FC.
Ok we all know last season was fairly miserable for a number of reasons and I'm not going to go through all that misery again but our performance in the transfer market since FSG saved us from administration has been shocking to say the least. In fairness to John and Tom there has been ample support to (Brendan mainly) with all sales reinvested. Since they arrived though we've spent £50m at Southampton, £42m at Newcastle, £26m at Sunderland and £20m at Aston Villa, and with all due respect they are mid/lower table clubs. Yes net spend isn't huge, the club was in a huge mess but we have still spent massively. No more so than last summer.
It's not even necessarily about the amount of money that you spend. More importantly…MORE IMPORTANTLY… it's how you spend it..
There are numerous examples of value but when you compare Andy Carroll for £35m vs. Sergio Aguero for £37m it's easy to see where the money was better spent. Of course wages and the lure of Champions League football come into the equation and we are by no means the highest salary payers in the league, but there should be no issue with us paying a high salary to a proven top class player. If you pay the wages they will come. We now have huge commercial and TV revenue to be able to compete at a higher level.
So who chooses the players? Scouts them? Negotiates with their clubs? Discusses salary? And just as important, player sales and contracts
In Liverpool FC's case there seems to be a myriad of people from the committee to Brendan to Ian Ayre and Mike Gordon. It's very complicated and not very successful in a great number of cases. All clubs make errors in the market (50% strike rate normally) but ours seem to be of a greater degree. Of course there have been successes in Coutinho, Sturridge, Sahko and Can to name a few but in general our signings have not influenced the first team in a positive way. Mainly I would argue due to poor coaching and a restriction to signing young potential.
When FSG arrived they wanted to put in a more European style structure of a Director of Football/Sporting Director to simplify and oversee all purchases and sales. Brendan immediately objected, FSG gave in and the rest is history. It probably cost us the league in 13/14 by having no squad depth but what it does show is that we are very poor in getting the players we need to sign. Its reported that we have had near misses with the likes of Diego Costa and Willian but now, without Champions League football or a big name coach to attract players, we are just a name that a player/agent can barter with to try and get a better offer elsewhere. We seem unable to get a deal done quickly, monitor, constantly low ball offers and dither about to try and get "value", but in the modern transfer market this does not work. We need hard tough negotiators to go in, yes get value if possible, but get the deal done! How we went from Sanchez to Remy to Balotelli last summer is crazy when we knew that Suarez was leaving for a year. A tough negotiator and bigger name coach could have attracted and secured Sanchez before Arsenal even knew he was leaving Barcelona. It seems there was little or no proper planning/scouting and left us stuck near the end of the window with a situation that cost us top 4 last season and handed a even bigger financial pot back to our rivals.
So this summer what's going to happen?
It has been widely reported in the last couple of weeks that Brendan's power, choice of coaching staff and influence has been diminished after the summer review. But where does that leave his influence on player targets? Given the players we seem to be constantly linked with/have signed it seems that Brendan is unfortunately choosing the targets. My question is WHY? Why (as it seems) are we giving this guy the authority to choose players? His track record is atrocious. He splurged £50m on Lambert, Lallana and Lovren last summer, along with choosing Borini and Allen when he arrived and the fact he wanted/wants the likes of Ashley Williams and Christian Benteke also is enough proof that he should be kept as far away from transfers as is possible. He is a terrible judge of players in the market in my opinion. One of the most idiotic failures, besides not buying a striker to replace Suarez, was to spend £20m on a left sided centre-back in Lovren when we already had Sakho.
The committee have made errors too (made seem larger due to Brendan's non-playing/playing out of position of big money players last season) but in general they have recommended/signed very good/potentially great players. There have of course been constraints of buying youth put on the club by FSG but why are we being linked with/buy Premier League proven players constantly? Is this just Brendan? There is evidence to suggest the committee were controlling things and doing a decent job mostly up to last summer before our Southampton splurge but the links this summer are underwhelming to say the least and could leave us further adrift of the top 4 in the short to medium term. There is far more value in the European market this summer given the advantageous exchange rate that sterling has vs. the Euro so why are we not scouring Europe for proper value? I'm not claiming to be an expert on European players but surely there has to be a better way of scouting/buying players than just watching Match of the Day Brendan…. I put this down to his ultimate failing which is, he is a mid table manager. He signs/wants mid table players and until his removal from the transfer process it's hard to see things improving in the short term.
Put simply, if we want to be a consistent top 4 club and challenge for the Premier league, than we have to sign top 4 quality players. There needs to be a root and branch study of our entire system because if not than it will be another wasted summer, wasted money on players not being replaced (ala Suarez) and the first team not improved. An experienced DOF and Chief Executive need to be employed by the club immediately to put the proper system in place and negotiate the deals we want. We seem to be unable to sell at the right time also and our process for re-negotiating contracts seems abysmal to say the least. FSG need to also loosen the purse strings and authorise higher salaries for top class quality and not just restrain us to potential. Maybe they want to sell the club once the new stand is built but now is the time to show they mean real business.
So roll up roll up people. The transfer market is here!!
Its not about how much we spend just how we spend it. Let's hope we do a far better job this time gents. Please!