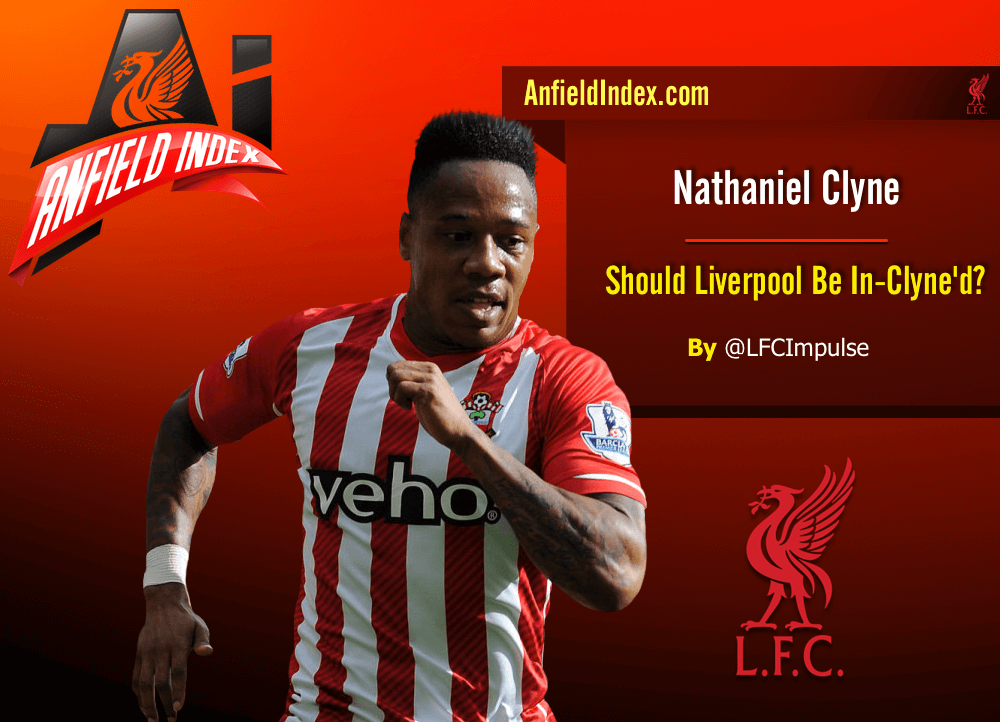 Nathaniel Clyne - Should Liverpool Be In-Clyne'd?
The typical joke of "shopping in Southampton" is pretty understandable. Instead of spending the gargantuan amount from Luis Suarez's sale on his potential replacement(s), Liverpool used a majority of the sales proceeds to acquire three of their players, namely Adam Lallana, Dejan Lovren, and Rickie Lambert. While so, Southampton actually have a great pool of players; we just bought the wrong ones.
Beyond the players who moved from Southampton to Liverpool, Manchester United, and Arsenal, there are other players who arguably had better seasons than them and are more talented too. Think of the defensive solidity Morgan Schneiderlin and Victor Wanyama brings, think of Jay Rodriguez who had a solid display in 2013/14, think of James Ward-Prowse who is now tipped to be one of England's best prospects.
Now think of Nathaniel Clyne. The former Crystal Palace Player of the Year played 122 league games for the Eagles over the span of 4 years after being in the academy for about 10 years prior to that. Following their promotion into the Premier League, the Saints opted to upgrade on former starting right-back Frazer Richardson with up-and-coming Nathaniel Clyne, who has excelled ever-since.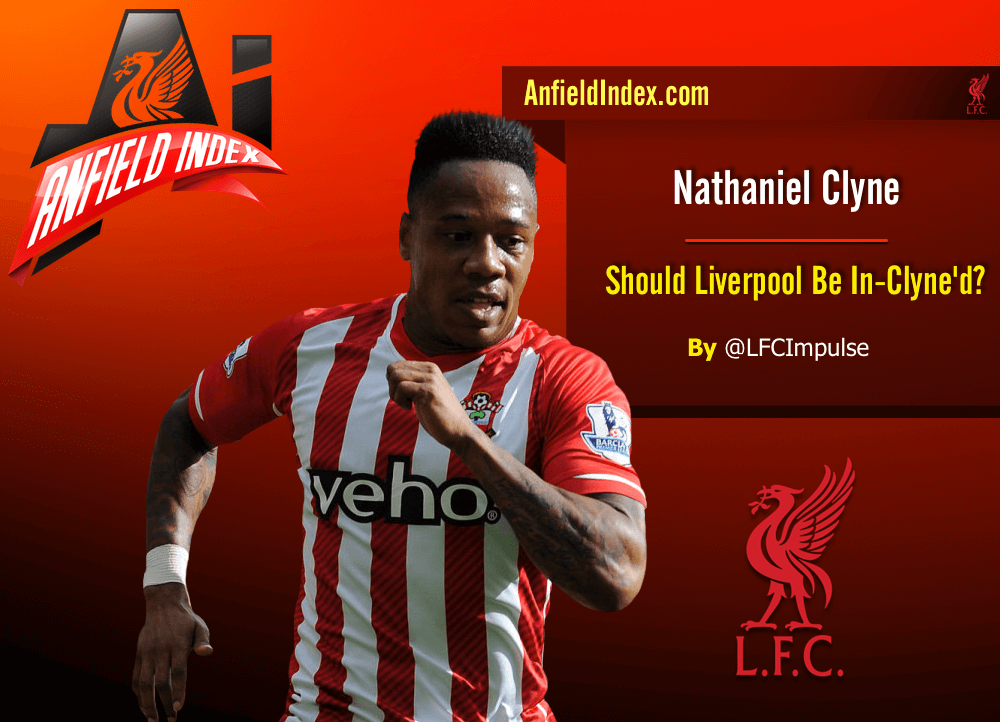 What Makes Him Good?
Nathaniel Clyne was never seen as an extremely good full-back and defender; he's not of the same ilk as someone like Cesar Azpilicueta who could be the upper echelon of such players. He is still, however, a competent defender.
Clyne is a very persistent defender as seen by his mind set of hustling to achieve certain defensive objectives (be it to block crosses, or to intercept passes) and literally runs at full-speed in doing so. This is where he does anything possible to defend against his corresponding attacker by utilising his pace, his speed on the turn, his ability to anticipate the attacker's movements, et al.
What attracts people to Nathaniel Clyne though, is his contribution in the final third of things. He is your modern-day full-back in the context of attacking. This is due to various contributing traits.
Couple his eccentric pace with his level of comfort whilst having the ball at your feet and you have a player who keeps his defenders guessing. It's almost unknown as to whether Clyne will take the chance to cut in towards the center of the pitch, push it wide and run towards the by-line, or whether he will take another touch straight at the defender which makes said defender guessing again.
However, there is little purpose in beating a defender if the final ball is not up to scratch, but this is seldom the case for Nathaniel Clyne. If he beats the defender and runs to the byline, his crosses are typically executed, leading to a greatly-weighted cross – even a low one. Alternatively, if he cuts inward rather than getting chalk on his boots, he is able to make the pass into the box for a runner to get to.
This mix of abilities make Clyne a rather well-rounded full-back even though his strengths lie in his attacking prowess, and what better way to suit an attacking-minded player than to play him in a team like Liverpool who strives to rediscover their attacking flair which now seems like a distant memory.
Possible Positions for Nathaniel Clyne in Liverpool
At Full-Back
Naturally, with the departure of Glen Johnson, the Reds could do with a first-team-worthy right-back. Here's where Nathaniel Clyne smoothly slots in. With his aggressive play-style, one should not expect anything less than for him to bombard the right-flank and provide width and support in offensive transitions.
(In a 4-4-2 with a diamond midfield, Clyne's attacking-oriented play style can come into good use by being almost the main outlet of attack coming from the right flank, as seen with the red box.)
(In almost any other formation in a back-four, Clyne need not be the only player occupying the flanks – a 4-3-3 has a right-winger (#7), a 4-2-3-1 has a right-sided attacking player (#11), and so on – so the onus to contribute up-top will not fall solely on Nathaniel Clyne. The red arrows represents the extent in which Clyne can push up to; it need not be all the way to the by-line.)
Assuming that Alberto Moreno plays on the opposite side of full-back, it would mean that two attacking-minded full-backs play simultaneously. The upsides of having additional players in final-third areas contributing to attacks are balanced out by the possible gaps in defence in which oppositions can exploit. Thus, there may be an increased need for a proper defensive-midfielder who is able to plug said gaps and cover for the full-backs (according to which side the opposition attacks from).
(The diagram shows the areas that Clyne and Moreno will potentially venture to whilst attacking, thus leaving the gaps as indicated by the white circles. A defensive-midfielder (#6) can be tasked to drift out wide to cover either side if need be.)
3ATB Formations: As Part of a Back-Three or As a Wing-Back
"Why play Clyne as part of a back-three, huh?! You know nothing (Jon Snow)!"
Hear me out. I've written in the past about the 3-4-3 Diamond, where the centre-backs at the side of the back-three are typically full-backs. The benefits of having such a set-up is detailed here, so check that out! His ability to defend competently makes it pretty safe to say that playing as a right-sided centre-back in a back-three might work to Liverpool's advantage.
(As per the article I've linked above, the side centre-backs can be instructed to take the ball into midfield from the defensive third to achieve multiple objectives. Clyne being able to carry the ball up-field allows for these objectives to be potentially achieved. Running into midfield – as represented by the yellow box – should not be the end all, be all; Clyne can push up even further and look to play the final ball from areas indicated by the yellow circles, for example.)
Alternatively, Nathaniel Clyne can also be utilized as a wing-back due to his ability to carry out both offensive and defensive duties. His desire to hustle for almost every ball also implies that he could operate and rule the whole right side of the pitch alone, if need be.
(The red arrows and boxes indicates the movements and areas of Clyne whilst attacking, respectively, and likewise for the white arrows and boxes whilst defending.)
Yay, or Nay?
Nathaniel Clyne is far from being the best right-back in the world, let alone the best full-back. However, he's seen as the best right-back in England and to some, the Premier League. Being relatively young and blessed with the skill-set that would suit a full-back, Clyne definitely has plenty of ceiling left to grow and develop into.
From a footballing point-of-view, the signing of Clyne makes an abundance of sense for multiple reasons. Whether or not he succeeds in fulfilling his potential and living up to expectations if he does sign for Liverpool will heavily depend on how he's being utilized and how consistent he plays/performs. Ultimately, for a reasonable price, there isn't much going against the signing of Clyne.
Besides, he'd almost certainly be an upgrade on Glen Johnson, right?