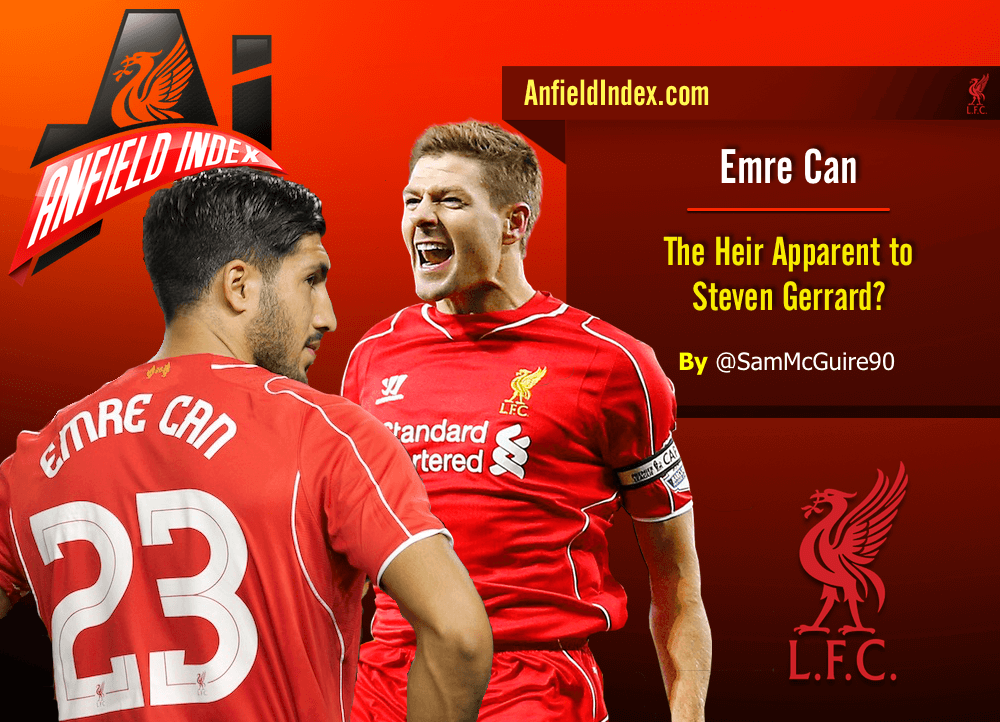 Emre Can - The Apparent Heir to Steven Gerrard?
The Germany U21's manager Horst Hrubesch told us all yesterday that Emre Can's future at Liverpool was in midfield. This despite being Mr Versatile in his debut season at the club, this to the detriment of his form.
"I was in Liverpool and they confirmed to us that Emre Can would be taking up (Steven) Gerrard's midfield role."

– Horst Hrubesch
What a bombshell. A midfielder being used in midfield. Who'd have thought it?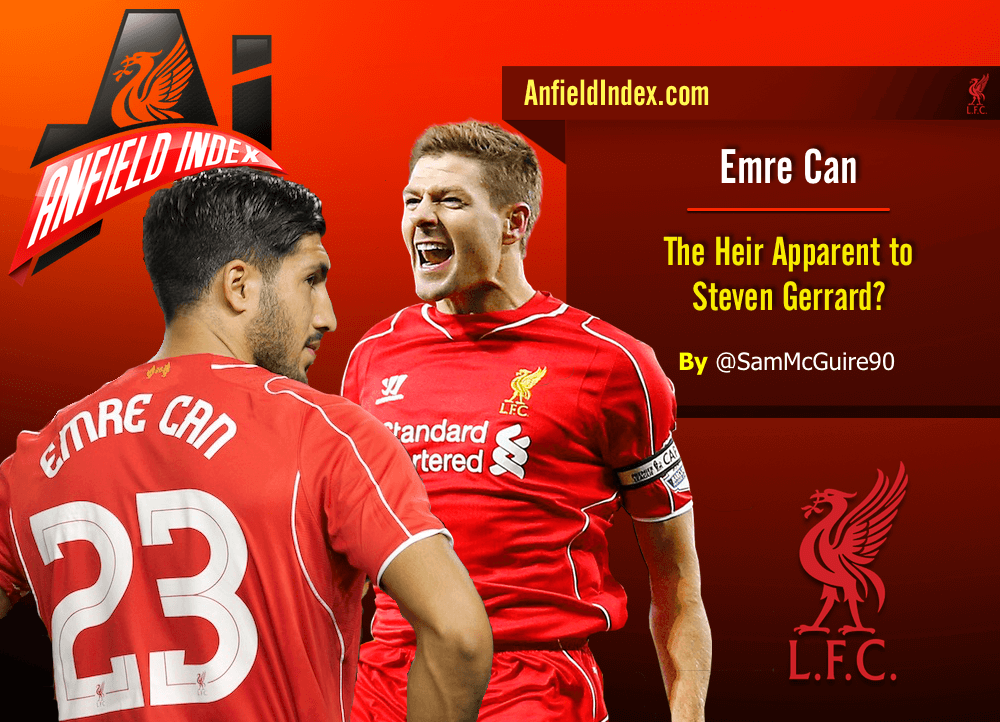 Emre Can started in midfield for Germany in their game against Serbia and responded emphatically with a goal that showed his true class. Personally I have no concerns about Emre Can being a fixture in the Liverpool midfield for the next decade, granted we can keep hold of him. My biggest concern though is the fact he'll be being used as the deepest midfielder (if Horst is to be believed) and this is a position many immediately assume is the defensive midfield position. It's not that simple.
Just because you play in a part of the pitch usually taken up by this kind of player doesn't mean that's how you'll be deployed. Steven Gerrard took a battering for not being a 'good defensive midfielder' but when was he supposed to be?
The Gerrard Role
Steven Gerrard throughout his Liverpool career has probably played every position bar goalkeeper. I assume when they say Emre Can is taking his role on the pitch it's as the deepest midfielder and not as a right winger like the Rafa days.
Now in this role Gerrard was the teams metronome. He was the instigator of the attacks and kept the team ticking over from this withdraw position. The team intended to use his passing range to stretch opponents due to the fact he could see the bigger picture. Now at this point in his career it made sense, after all, Gerrard's legs were going and injuries had a negative impact on his sheer power when running with the ball, so it was a move that suited the player and kept him in the team. He wasn't meant to be doing much defensive work that'd you'd associate with a defensive midfielder. We've all seen players run from deep and score against Liverpool that you'd assume a stereotypical DM would have stopped.
Gerrard offered no protection to the defence but that wasn't his primary concern. This is just due to the fact we've all been brainwashed by the media and pundits into thinking the deepest midfielder is there to help the defence. They can't grasp that it can be used as an attacking move.
I've heard many people say that Emre Can can't perform a full 90 minutes in midfield so this mention of a deeper role with 'less running' to do will only fuel this idea. Similarly to when Sakho misplaces a single pass the whole 'Sakho can't pass' brigade comes out.
One game in particular I remember the 'Can isn't a midfielder' gang piping up in was the Besiktas away game. In that game our midfield was poor but it wasn't so much down to the personnel but more so to do with the fact Besiktas had superior numbers in midfield so our was getting run ragged and pushed deeper and deeper with very little support from the strikers that day. It was very much our two central midfielders vs three of theirs. To judge him on that game would be naive. This happened in many games this season when we switched to the 343 due to the fact many opponents outnumbered our central pairing. So like I said, it's not a personnel problem it's more of a system problem.
Emre Can has more energy and running in his legs than Steven Gerrard so immediately it means Henderson won't be tethered to him to be his legs. This then frees Henderson up to attack a little more. So it's an improvement already.
Libero Role
During his spell in a back 3 for Liverpool there were a few times Emre Can moved into the middle of a back three and adopted the Libero style of play. He'd bring the ball out from defence in the knowledge Liverpool still had two centre backs behind him and it'd make numbers up in midfield.
This role and idea isn't too dissimilar to playing as the deepest midfielder in a three. As we seen in 2013/2014 the centre backs often split and Gerrard was the man inbetween them. This would be in line with the fact Liverpool want to build from the back once again. Something that's a positive in my opinion.
The 2013/2014 general look at how the team looked in an attacking phase. Ignore the players and just look at the positions of the players. The deepest midfielder dropped to make an auxiliary centre back which then allowed the fullbacks to push higher.
The above image shows the 3421 system we used in the 2014/2015 season when Can was moved into the centre of the back three. Again you see it's eerily similar on paper to how we lined up in the 2013/2014 season. The only difference being Emre Can drove into the space in midfield and carried the ball forward as opposed to just looking to pass the ball from deep.
So, this could potentially be the line up in the opening game of the season of 2015/2016. Set aside the fume and just look at positions of the players. It's of my opinion we will look to be compact in general with the fullbacks offering the width. More importantly though It looks (with the signings so far) Liverpool are finally looking to dominate midfield. Both Coutinho and Lallana can drop deep to make up the numbers in midfield and obviously Emre Can can push into midfield.
I always pictured Can as a box to box player as I'm not overly convinced he has the discipline to play as the deepest midfielder just yet and I'm not sure the discipline of Milner and Henderson will balance it out. I do like the idea of him getting on the ball more and dictating play as he does have the passing range to do some damage from deep. I do think Emre Can will go on his marauding runs at times and one of Henderson or Milner will cover just like they do in the England team, you've got to question though, is that good enough?
The point is you shouldn't be judging Emre Can if he's the deepest midfielder and comparing him to the likes of Javier Mascherano because right now he's currently nowhere near that type of midfielder. The deployment of Can in this role doesn't negate the fact there is still a giant pink elephant in the room that we constantly ignore. We need a proper, stereotypical defensive midfielder.