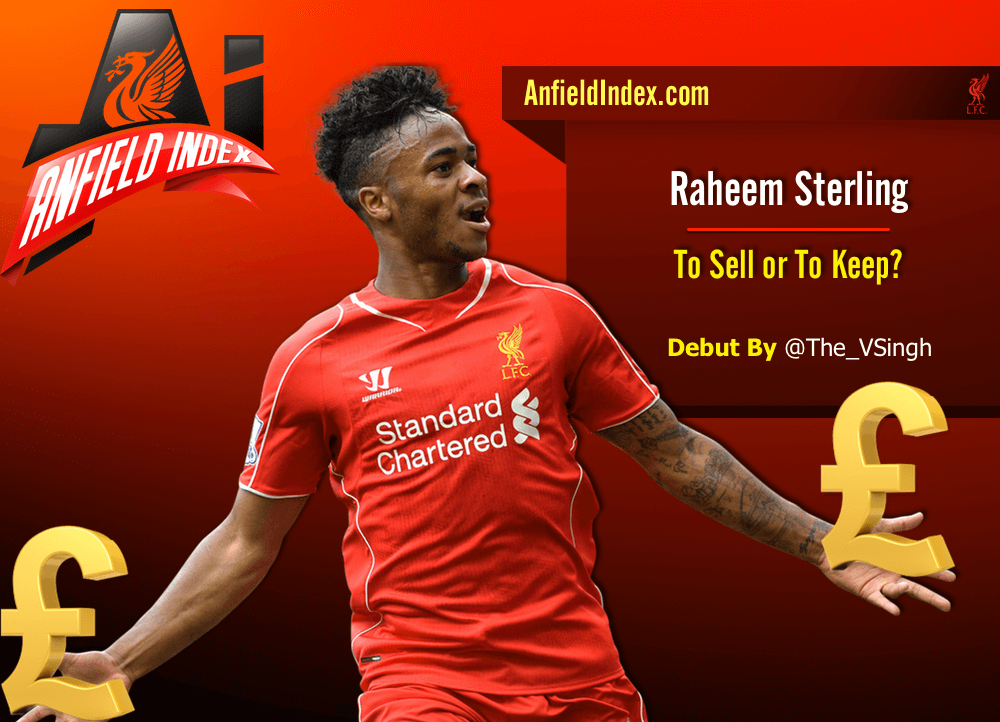 Raheem Sterling – To Sell or To Keep
Making sense of the Buy/Sell situation from a financial point of view
With the recent advent of the Sterling saga, it seems that most Liverpool fans have accepted that it would be ok if Sterling moved on. Some people are happy to sell today others are willing to let him go but seem withdrawn by the fact that what happens if he turns it around and becomes a top player and is worth a lot more? Liverpool would miss out on some serious cash.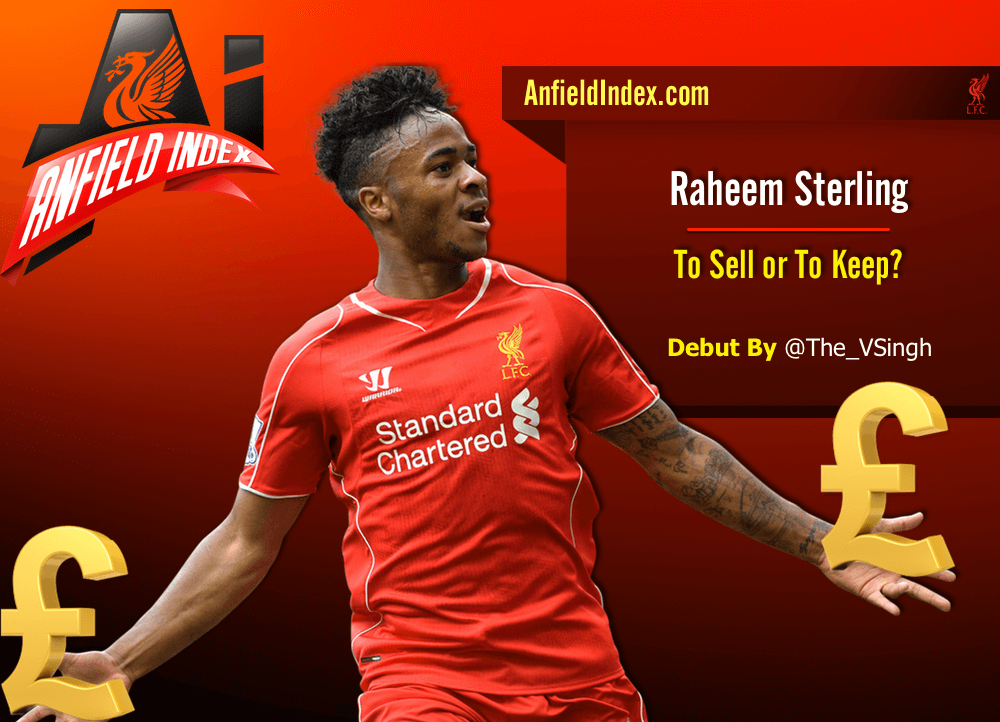 But is that true? I asked myself the same question. I figured, as a major in accounting and finance along with a little more than a years experience in the field, the answer is not too hard to arrive at; provided we are allowed to make a few assumptions. If anyone disagrees with any of the assumptions I make below please let me know and I can modify the calculations to make the argument. I believe the answer would more or less remain the same. The overall assumption in all the calculations would be that, eventually, Sterling would leave the club for greener pastures. If he decides to stay, however, the benefit is intangible and the calculations below go out the window. The calculations below are simply an argument to pacify those who believe Liverpool FC should hold on to Sterling for now, wait for him to realise his potential, and then sell him on for a higher value.

First – I am going to present my argument: I argue that from a financial perspective, Liverpool FC should sell Sterling today.
Second – I am going to list out the 3 possible outcomes of the Sterling situation:
1) Sell Sterling today for the best offer
2) See out the remainder of his contract (2 years) and then go to Tribunal
3) Sign a new contract at his asking rate, and sell in 5 years
Next I am going to list out the assumptions:
1) Best possible offer will be in the range of £50M (netting Liverpool £40M)
2) Sterling will sign a new contract at nothing less than 150k/wk
3) If it goes to Tribunal, LFC should get 15M (netting Liverpool 12M)
4) All transfer fees will be received as a 1 lump sum (no payments)
5) Liverpool replaces Sterling with another player on the exact same wages as Sterling right now (30k/wk)
6) In 5 years' time – If Sterling becomes a top striker he sells for £80M. If not, he sells for £20M
7) There is a 70% chance that Sterling will realise his full potential and sell for £80M. He has a 30% chance of ending up not realising his full potential and sells for £20M. In each case, Liverpool nets £64M and £16M respectively.
8) Conservative rate of return on potential proceeds from sale – 6%.
If you notice, I have been more than conservative with all the above assumptions. I am assuming we would receive more than we probably ever will for Sterling. If any of the selling amounts are lower, the argument only becomes stronger.
The calculations:
I am going to use a very basic valuation strategy to come to our conclusion so it is easier to follow. If anyone would like a more detailed valuation model, let me know and I will be happy to construct that as well.
1st Outcome – Sell today:- Proceeds from sale: £50M (net £40)
Opportunity Cost (this is the cost of keeping Sterling). Basically, if we sell him on, we save what we would have to pay him in wages for 5 years at 150k/wk, which translates to a total of £39M over 5 years (remember – a penny saved is a penny earned!). Since the £39M would be spread over 5 years, we need to calculate the present value of the amount – £38.5M
Total Price: £78.5M. This is basically the money that we will essentially have if we sold Sterling for £50M today.
2nd Outcome – See out his contract:-
Proceeds from Tribunal (We receive 15M in 2 years, netting Liverpool FC £12M. We need to calculate the Present Value) : £10.7M
Opportunity Cost (The opportunity cost here is the £30k/wk salary we are currently paying him for 2 years. Remember – Present Value!): £0.72M
Total Price (The total price here would be the proceeds from sale MINUS the cost of his wages): ~£10M
3rd Outcome – Keep for 5 years and see if he realizes potential:-
Proceeds from sale: This will be a little more complicated than the others. Since he has a 70% chance of realizing his potential and 30% chance of not – We will value him as follows:
(0.7X£80M) + (0.3X£20M) = £62M in 5 years.
Liverpool FC net – £49.6M
Present Value of £49.6M = £37.06M
Salaries (This is the cost of his new contract at which he will sign – £150k/wk. Present Value): £38.5M
Total Price: -£1.44M
As is seen above, keeping Sterling and selling him in 5 years results in major costs to Liverpool. And we haven't even considered the opportunity costs of turning down the offer today. This is because; the price of option 1 is also the opportunity cost of 3 and vice-versa. Since these are the two probabilities we are considering, they would cancel out. That is why we eliminate that cost. But when FSG is making a financial decision they will surely consider that as well. Now, keeping Sterling for the next 5 years would cost us almost £51M, including the money that we lose in turning down today's offer, his salaries and the £80M we would receive for him later on. Selling him today would actually make us £41M including proceeds from sale, money saved on salaries etc. The £41M is a particularly important figure, as that is the number that we will have to spend on a replacement for Sterling over the next 5 years. Do you think we can find such a player? Do you think Sterling can be as good as to justify the outlay? The £41M to replace him, becomes higher, if Sterling gets worse (i.e. moving away from the £80M valuation towards a £20M valuation). Regardless, if we know he is going to move on, selling today makes most sense.