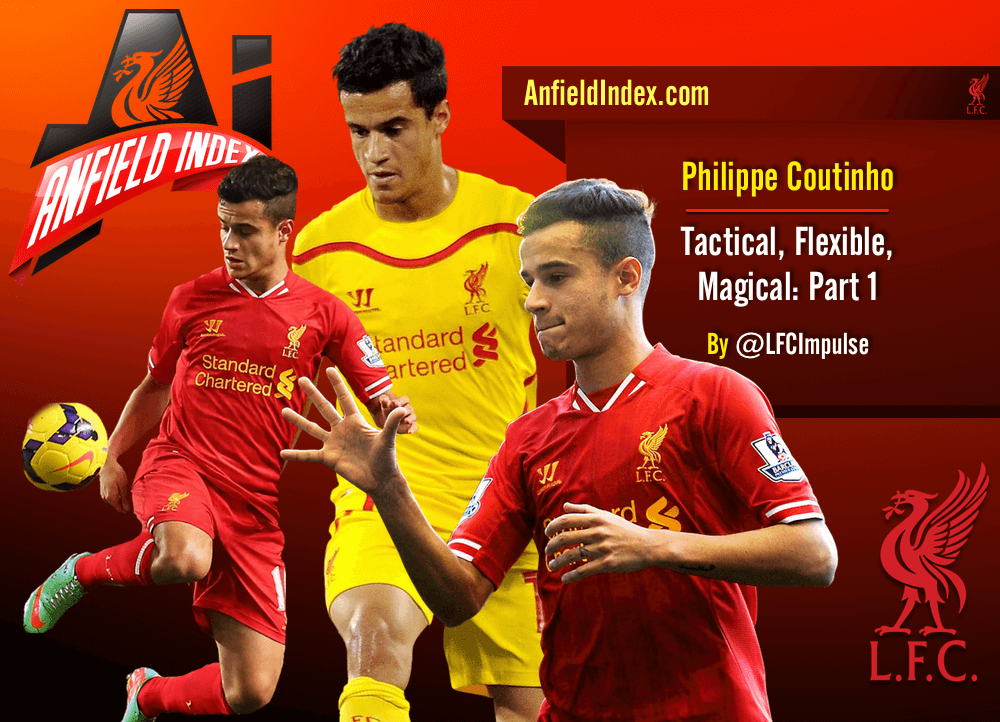 Philippe Coutinho: Tactical, Flexible, Magical (Part 1)
PFA Player of the Month for February 2015, LFC Players' and Fans' Player of the Season, and PFA Team of the Year. Four individual awards in a year is a remarkable feat, to say the least. With the cherry on top that is to finally cement a place in the Seleção – it's been a year to remember for Philippe Coutinho indeed.
It's not hard to appreciate what Philippe Coutinho can do. Your attention gets caught by his fancy, but simple, yet effective dribbling and ball-carrying abilities, but you stay for the needle-threading through-passes and more recently, his wonder goals. It's not hard at all to be amazed by what he can do as an individual player, but it becomes even more of a treat when his role and impact on the Liverpool squad gets analysed in a tactical point-of-view.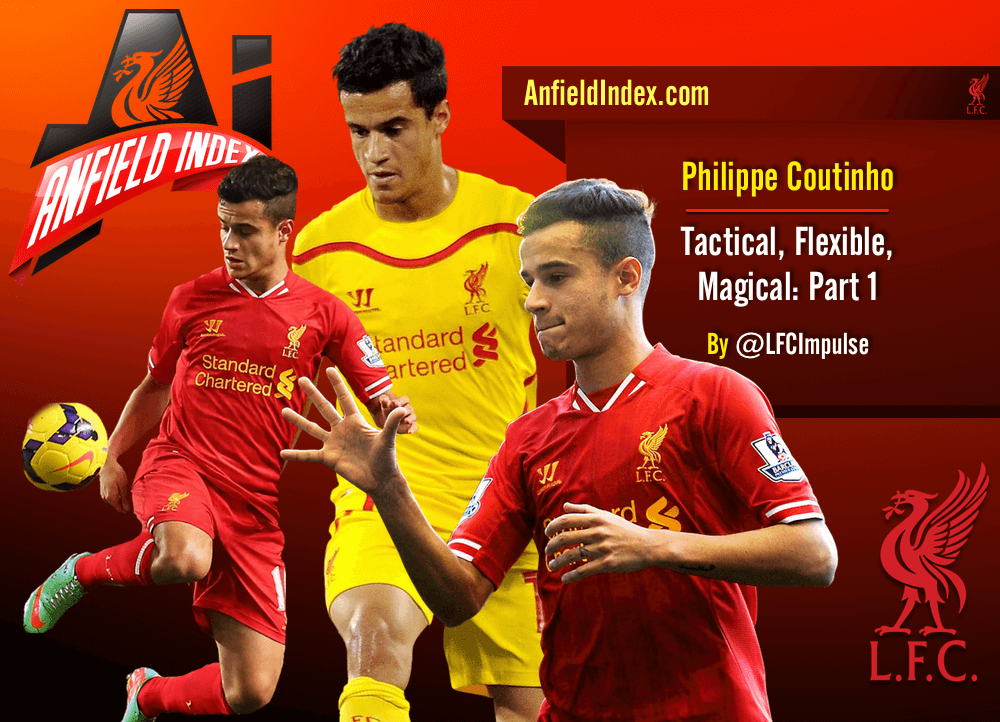 While it's always been important to set up a team and a structure that suits a playe   r, it appears that Philippe Coutinho has, for the most part, excelled in almost any system he's been thrown into. With Brendan Rodgers switching things up almost constantly throughout a season, let alone across multiple seasons, 'The Magician' has had his role switched up nearly as much as well, yet he seems unfazed by it.
This series of articles which aims to portray the contributions of Philippe Coutinho in various formations he has played in and the factors which helped him excel in such formations, as well as how he can be reintroduced into such formations for the coming season(s). The first part of this series looks at the favourite formation of many Liverpool fans – the 4-4-2 with a diamond midfield which helped the Reds in their title-challenging 2013-14 Premier League season.
Brendan Rodgers' 4-4-2 Diamond
With a back-four and two strikers in this formation, the diamond midfield is the nucleus of the formation; if the diamond midfield fails, the system fails, and the squad falls apart.
(The 4-4-2 diamond used by Brendan Rodgers in the 2013-14 season, with Philippe Coutinho in a left-sided midfield position.)
However, the diamond midfield Brendan Rodgers structured was slightly unorthodox. It was often seen that Steven Gerrard would launch the attacks by linking the defence with the midfield by being the deepest player in that midfield diamond. Raheem Sterling served as a dual-purpose attacking midfielder on the other end of the diamond who contributes up-top using his pace and timing, while also doubling up as the trigger for pressing sequences to take place, utilising his defensive work rate and pressing intensity.
Jordan Henderson fills in any gaps and gives a sense a balance into the side with his work rate, coupled with good positional sense and awareness. Thus, Philippe Coutinho becomes the only natural playmaker besides a certain Uruguayan forward who was able to comfortably bring the ball up from deeper areas into areas in the final third. This is the diamond midfield which lacked a ball-playing defensive midfielder and a second box-to-box midfielder which is typically recommended, but still showed success due to various reasons.
Philippe Coutinho as the Left-Sided Midfielder
Pulling an attacking midfielder away from his usual position may be seen in a negative light, but in the case of Philippe Coutinho, it has actually accentuated some of his attacking attributes. Playing deeper in midfield as a centre midfielder naturally means that there will be more space in front of Coutinho in comparison to being at the tip of the diamond where he is expected to be played at.
This means that he has more space to carry the ball to, more room for him to manoeuvre, better angles to play through-balls into, better passing options (having Raheem Sterling – an additional forward – to pass to), and so on, so forth. At the same time, the fluidity of the front-3 of Sterling, Suarez, and Sturridge created a lot of space for each other as well as Philippe Coutinho, thus disrupting a lot of marking systems.
(The black arrows represent the various, multiple directions in which Luis Suarez, Daniel Sturridge, and Raheem Sterling will run to while being off the ball, all happening at the same time between the three of them. This means that Philippe Coutinho – represented by the yellow arrows – can exploit the space being created by the aforementioned trio.)
The diagram above also shows that being deeper in midfield and a little bit to the side rather than being dead-centre and higher up actually presents him with more room and more directions he can run into. By having an additional forward (Sterling), Coutinho can do more whilst carrying the ball rather than to execute off-ball runs to create space for others; he does better with space already created for him.
Fans of Liverpool and/or Coutinho should already know what the Brazilian magician can do offensively – we've seen it first-hand. However, how he achieved success within the diamond midfield lies with the personnel around him, and it is equally, if not more important to assess such factors.
It is normal for the side midfielders in the diamond (in this case, Coutinho and Henderson) to fall back and cover for their respective full-backs who are tasked with providing width in attacks. While Henderson, who is tactically flexible and defensively-sound is able to carry out this role, Coutinho was never deemed to be defensively adequate to do so. He definitely contributed in defending for the squad, but he was seldom seen as someone who pulled wide to help the left-back out.
However, this defensive duty was often excused for Coutinho as Jon Flanagan was played at left-back – a typically passive and reserved defender who does not bombard the flanks. Looking at the other side of the squad, Glen Johnson often pushed up high – even to as far as being a right-winger – thus requiring for Henderson to drop back and cover his spot while Johnson runs (or jogs) back into position.
Jon Flanagan seldom pushes up all the way to the by-line, and thus, was usually able to drop back to his defensive position rather quickly; Coutinho stayed in central areas in midfield.
(The red arrows for Glen Johnson and Jon Flanagan show their attacking movements on a typical basis – the former pushing very high up and the latter, a little less. The white, dotted arrow shows the defensive movement of Jordan Henderson – having to cover Glen Johnson's defensive position as indicated by the white circles. The white arrow on the other end indicates the much shorter defensive movement required by Jon Flanagan, thus allowing Coutinho to remain in central-midfield areas.)
Another side that deployed a midfield with a regista instead of an archetypal defensive midfield is Juventus, who had the Panenka specialist, Andrea Pirlo, playing a very similar role to Gerrard. The difference was that Pirlo had Paul Pogba and Arturo Vidal (for the most part) supporting him in defensive duties. The Frenchman and Chilean were very active and aggressive engines who could run for days and their defensive capabilities helped Andrea Pirlo to focus on what he does best as a midfielder.
Comparing Philippe Coutinho as an engine compared to the two mentioned above would be futile – Coutinho is, and never will be an engine of a midfielder; why sacrifice his playmaking abilities anyway? This is where Raheem Sterling's tenacity and eagerness to be a ball winner even as a forward who plays as the attacking midfielder for the formation plays a huge role in allowing Coutinho to once again, stay in midfield more often.
Initiating presses (with the help of Henderson and to an even larger extent, Luis Suarez) in higher areas of the pitch means that less defensive work is done in the lower third of the pitch. This gives Coutinho less defensive responsibilities – even being able to merely track a runner or two rather than having to intensively press an opposing player. This is also magnified whenever Raheem Sterling tracks his runner back from the attacking-midfield spot, instead of passing the onus over to Coutinho to do so.
In Short
The 4-4-2 diamond was structured by Rodgers to facilitate having two strikers up top without forfeiting midfield control, which seems to be his priority. Unintentionally, however, it was a structure that actually benefitted Philippe Coutinho a whole lot. Dragging him lower and deeper down the midfield gives him a lot more room to put his playmaking abilities on display with almost little to no downfalls to his offensive game.
Simultaneously, the personnel playing around him – Raheem Sterling and Jon Flanagan, especially – paves the way for Philippe Coutinho to narrow down his defensive responsibilities, thus giving him the chance to play as a playmaker in a semi-free role. This means he can do what he does best – receive the inbound pass after the team wins the ball back, and follow it up with a long dribble from end to end, or make the appropriate pass best-suited to the situation.
This formation was successful down to the goal-scoring prowess of Luis Suarez and Daniel Sturridge, but let's not discount the contributions of others too – Coutinho, in particular. When observed a little more tactically, there are factors which eases up his role within the system. However, there is still a lot that Coutinho has to do on his own, and he executed it well.
For the future, Philippe Coutinho can definitely play in his "expected" position at the tip of the diamond or even back to the 'Number 8' role as we've discussed above, thus being able to be interchanged between the two positions and roles.
In the next instalment, there won't be any throwbacks or flashbacks, because we'll be observing Philippe Coutinho's role in a very familiar formation that we have seen a lot over the course of the 2014-15 season. Stay tuned!