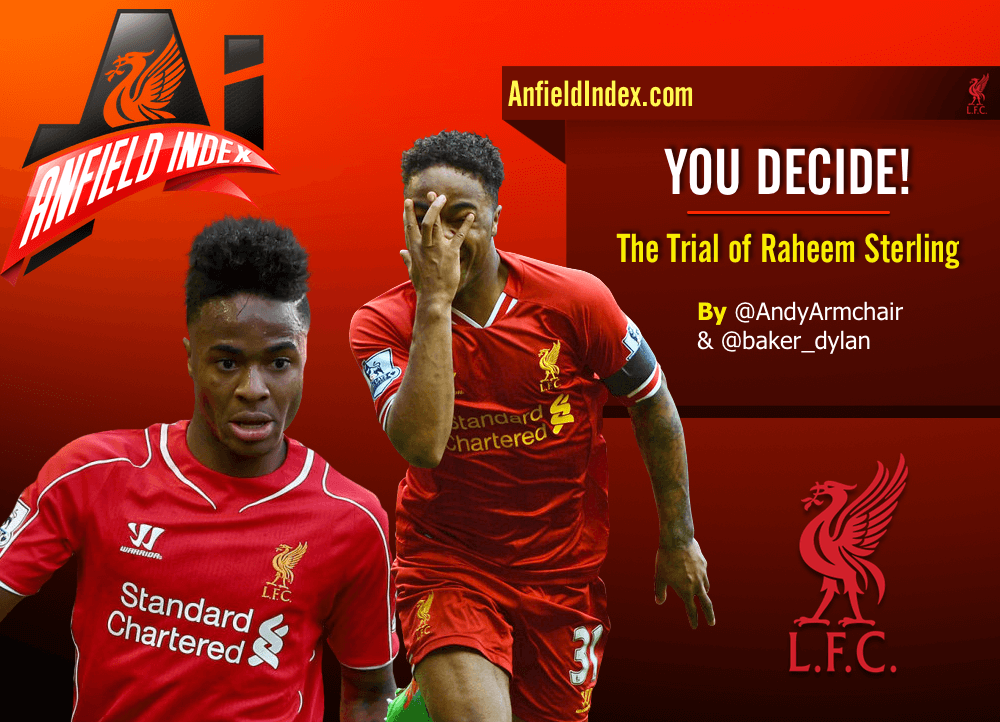 You Decide: The Trial of Raheem Sterling
Raheem Sterling, just the mere mentioning of his name evokes a wide range of emotions from football fans all over the world, especially Liverpool fans. He's a player who now divides opinions on his talent, but seemingly unites opinion on how he's handled himself over the past six months. It's a shame just how polarising he has become amongst Liverpool fans and with some much speculation about his future, we would like to put forward the case for keeping him and the case for selling him.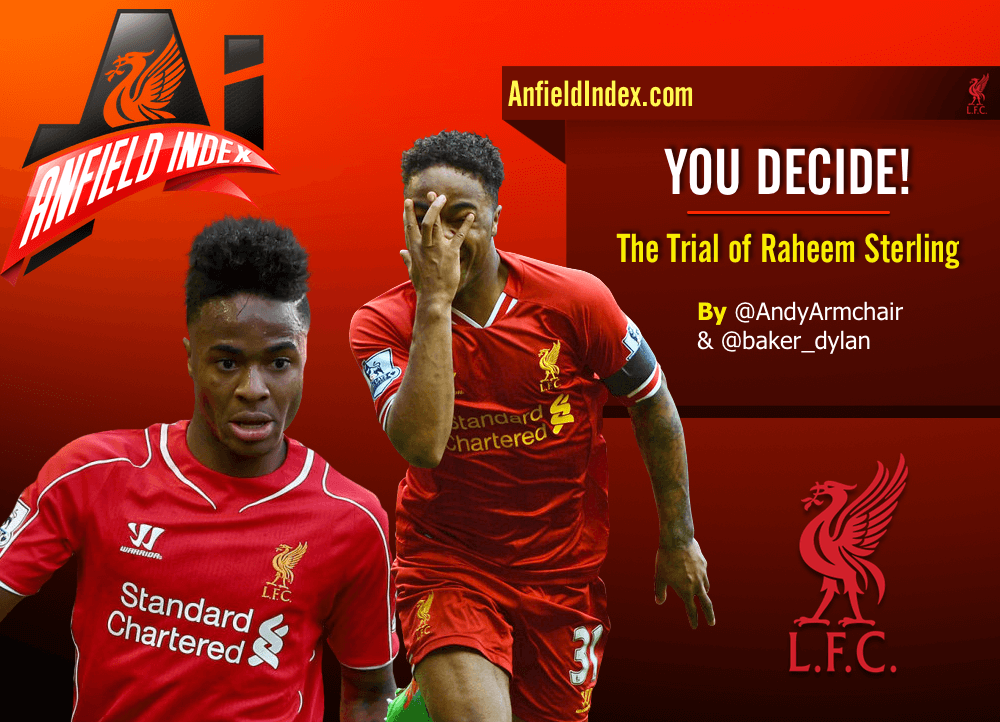 Andy Wales on the case for keeping him:
The first thing I would like to make abundantly clear, is this is not a defence of Raheem Sterling, his agent or their conduct, this is purely a case for keeping him at the club. Obviously, that won't be a popular viewpoint amongst many. Indeed, given what I've seen on Twitter, I'll be amongst a very small minority that can see the value in keeping him and value is the key thing in my reasoning for keeping him.

If you go by the reported figures, his current wage is around £35k a week, which equates to roughly £1.8m a year. The talk is that his agent wants £150k a week, which equates to £7.8m a year. So, if we hold him to the two remaining years of his contract on his current wage, there is a saving of £12m. At the time of going to press, Manchester City have offered a deal reportedly worth a potential £40m. With QPR understood to be due 20% of any sell on fee – that would leave us with £32m. If he was to see out his contract and leave, we'd be due a compensation fee, as he'd only be 22 years old. That's the same age as Danny Ings, who we're likely going to have to pay around £8m compensation to Burnley for. Bear in mind that Danny Ings has only had 1 year of Premier League experience, is not a full international and was only at Burnley for 3 years. By the time Sterling's current contract expires, he will have been at Liverpool for 7 years, with 5 years Premier League experience and a full England international for 3 years; not to mention him winning the 2014 Golden Boy award. This would point to Liverpool comfortably being able to command a compensation fee of £25m, perhaps more when you factor in the sizeable bids already received and the level of the clubs currently interested in him. Therefore, in theory, even taking off 20% due to QPR, that would still leave £20m and coupled with the £12m saved in wages, it balances out with what is effectively £32m on offer right now.
I can understand his conduct and attitude being questioned, but not his ability. His form may have been affected by the very public contract dispute he's had, but I think his talent and potential are without question, just look at the elite clubs tracking him. Whether he goes on to fulfill the huge potential he has is another matter, but the talent is there.
A viewpoint widely held is that we should "get rid" because of his conduct and perceived attitude and that you shouldn't keep an unhappy player; I've even heard the word toxic used in relation to the atmosphere around him, but think back to the summer of 2013 when Luis Suarez publicly wanted out. He was able to turn things around on the pitch, by giving his all and performing to an incredibly high standard that almost won us the league, but ultimately got him the dream move he always desired. So the blueprint is there for Sterling – give his all and perform to the best of his ability. It may get fans back on his side, but it'll also attract potential suitors. If he spends 2 years sulking and not performing, he won't get the money and the move he desires; it really is in his interests to go out and do the business on the pitch because both parties would benefit from a hugely talented player performing at a high level.
So, in terms of finance, the owners making a statement that the club will not be held to ransom by agents and most importantly, football, I think it makes sense to keep Raheem Sterling. Despite it being an unpopular opinion right now.
Dylan Baker on the case for selling him:
In the case of Raheem Sterling, there are a few things about selling him that should be taken into consideration.
First: the lad is worth the kind of money Liverpool need.  At the current time, the general consensus is that his market value is in the ballpark of £35 million.  The last public market valuation of him was done back in February at £30 million, and I can't imagine that it's stayed there.  Since practically no player is sold at market value, a sale this summer should range somewhere around £40-45 million.  Considering the squad needs at the club (which is for another article entirely), a sale makes sense here.  There are perks between clubs that can be added to any sale.  Things like sell-on fees, profit clauses, and usage and appearance stipulations can be included in a Sterling sale that brings Liverpool money even after the player is gone.
Second: he's young.  Youth comes at a premium these days, especially in regards to international players.  Another player in a similar situation is Fabian Delph—international play dictates a higher transfer fee, should he leave Aston Villa.  The difference here is that Sterling is actually talented, so the factor of youth figures even higher.  All these clubs that have been reportedly linked with Sterling—Bayern Munich, Real Madrid, Manchester City, Manchester United—aren't only interested in the boy's ability.  At 20, any club can make a legend out of him.  At 24, Sterling will still be worth loads of cash as a "younger" player.
Finally: he's English.  With the home-grown allocations set upon every club, selling Sterling will add an English player to any Premier League side.  Manchester City have lost one in Milner (you're welcome, Citizens), and United and Chelsea are looking to move on some of their younger English players.  As we've added Milner and Danny Ings this offseason (Lambert and Lallana last season), Liverpool have some wiggle room on the home-grown side of things.  Of the little top-level talent in the England national team, Raheem Sterling is the cream of the crop.  Much like Wayne Rooney, Steven Gerrard, and Frank Lampard during their international heydays, having the top national team player on your side is a bonus for any team.  For Liverpool, it means the ability to command a higher transfer fee.
Put all these things into a basket, and you've got a solid set of reasons to sell Raheem Sterling.  But wait, there's more!
The development of Sterling's attitude in the media and towards the club is a poison that needs to be siphoned away quickly.  Liverpool have plenty of struggles at the current time: transfer finances, the loss of Steven Gerrard, the lack of identity in the squad, etc.  There's no need to add to that list the spat between Liverpool public relations and Sterling.  There's no need to add to that list the seemingly unrepairable relationship between Brendan Rodgers and Sterling.  Operating under the assumption that Rodgers is staying (as it seems, currently), it would be best to let him go and reap the rewards rather than, say, waiting on a Klopp, Favre, or de Boer to come in and save the situation.  The premium for youth, the premium for talent, and the premium for his national team importance should be strong enough factors to consider selling the lad.
Take the money, take the chance to improve the squad, and take next season by the balls without Raheem Sterling.
In summary
So, there rests the case for the defence and prosecution, if you will. Although ultimate judgement will be made by Liverpool Football Club; from a fans perpective, given the arguments presented, should we keep or sell Raheem Sterling? You decide.