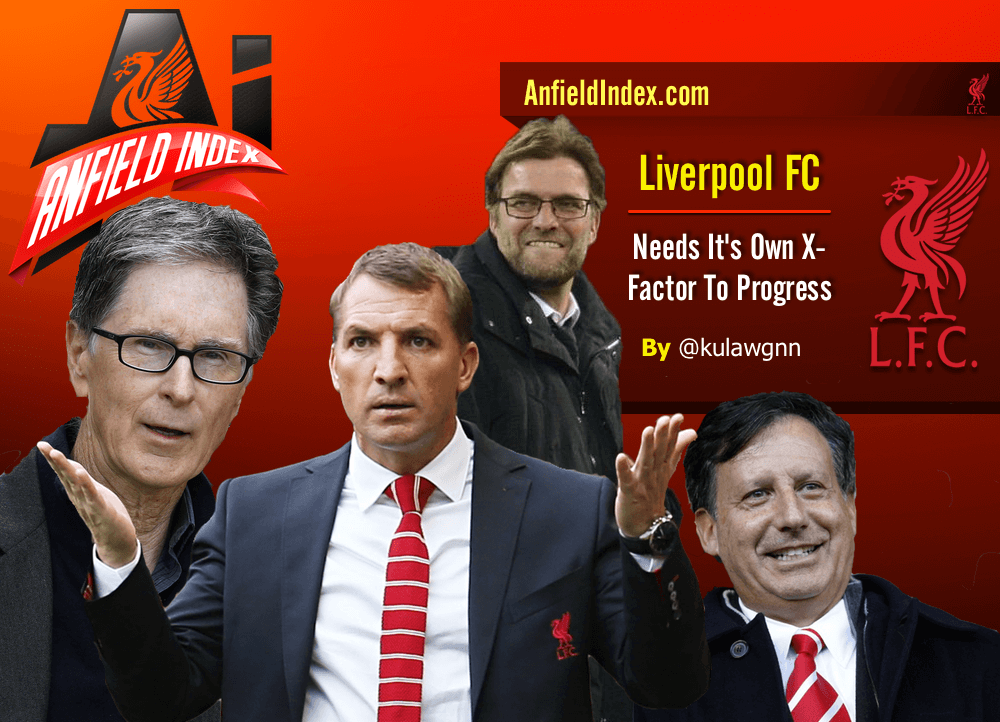 Liverpool Needs Its Own X-Factor To Progress

The Oxford Dictionary defines x-factor as "a variable in a given situation that could have the most significant impact on the outcome". X-factors tend to be the difference between teams that win trophies, those who fail to make top 4 and those that end up being relegated. An x-factor of some sort is therefore a prerequisite for success for any football team. When Chelsea won the league last season they did so with a world class manager (Mourinho), world class players-Courtois, Fabregas, Cech, Terry, and an ambitious owner (Abramovic) driving and funding success. Manchester City has Aguero, Yaya Toure and the "bottomless wallet" of their owners. Arsenal has an experienced and accomplished manager (Wenger), Alexis Sanchez and a huge stadium. Manchester United has Louis Van Gaal- an experienced and accomplished manager, a huge stadium and the reputation as one of the world's richest club.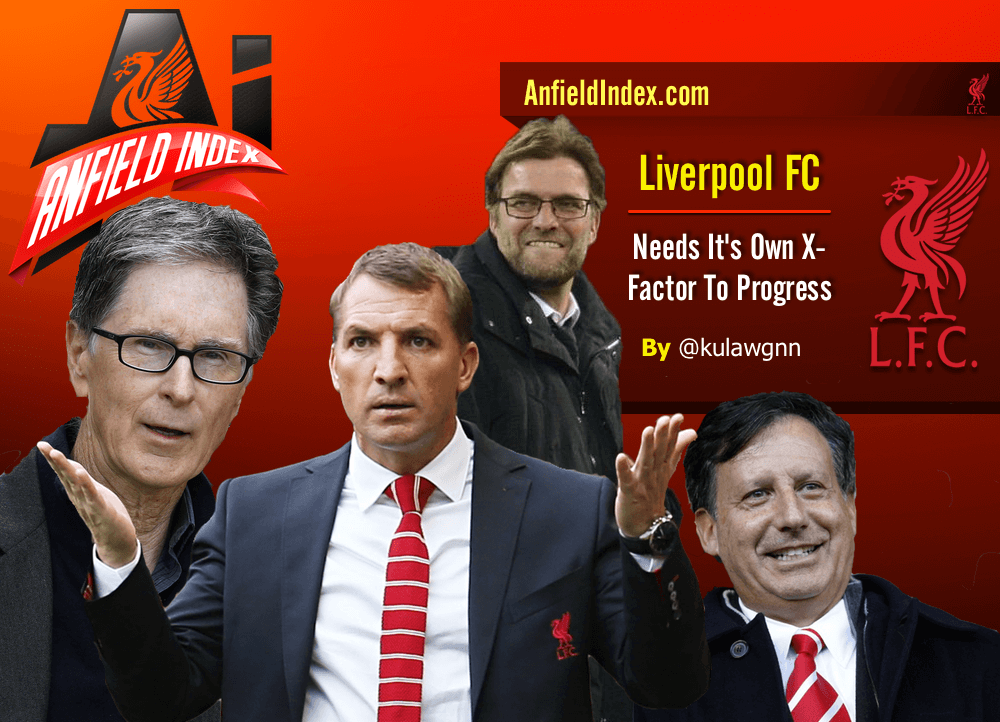 X-factors therefore can come from world class players, top managers, huge stadiums that enhance earnings or billions of owners to fund success. Sadly as it stands now LFC is deprived in all these areas. Liverpool FC's decade has been mired in mediocrity and disappointment but over the same period it has had x-factors to draw on to pull it through. Gerrard, Suarez, Alonso and Benitez have all provided that x-factor for the club. The club seems stripped to the bare as far as a unique factor to drive success is concerned.
Liverpool FC has to find something to be excellent in as a platform for building success. The squad whiles endowed with great potential is lacking in world class quality. The manager at best is a promising young manager; the transfer committee and their dealings in the eyes of LFC fans are personifications of cluelessness. There seems a general lack of coherence about a lot of things the club does. For instance the club has let some players like Willian and Salah slip away because of some few extra millions they refused to pay but hastily overpaid for players Lallana and Lovren. Time is not the best ally of Liverpool. The club is already some distance behind the clubs it aims to compete with. It cannot afford another season of a widening wedge between it and the top 4. That is why turning down the chance to replace Rodgers with Klopp is a big missed opportunity. Of the list of x-factors, the manager and owner's wealth probably act as the quickest catalyst. An accomplished manager is a pull for top stars and that combination can set off of a period of success for a club. It has widely been documented the role Benitez played in getting Torres to Liverpool. That is what a manager with clout and pedigree gets you. The wallet of rich owners can in a flick of the eye stuff a club previously strewn with deadwood with quality.
As Liverpool's owners have shown no inclination to splashing the cash a la City and Chelsea, they will have to do it some other way. So far Liverpool FC have proved so bad at finding an alternative to the City model. They are not paying for the top stars but over paying for some really ordinary players. Clubs like Juventus, Sevilla and Porto execute perfectly models alternative to the cash splashing approach. Juventus by a combination of acting swiftly and picking up bargains in the transfer market has been successful in their league, reached a Champions' league final and could potentially boast an impressive attack of Mandzukic, Dybala and Morata to add to their other stars like Buffon, Pogba, Chiellini, Vidal, Khedeira and Pirlo. Impressive when you consider that the club came out from relegation only seven years ago and that squad had been assembled at reasonable sums. Liverpool FC is a richer club than the Italian club yet but the difference in squad quality is lopsided in Juventus' favour. Whiles money is a huge success factor, clubs like Juventus, Porto and Sevilla have shown that stash of cash is not the only way. Liverpool has to find its own x-factor to progress.