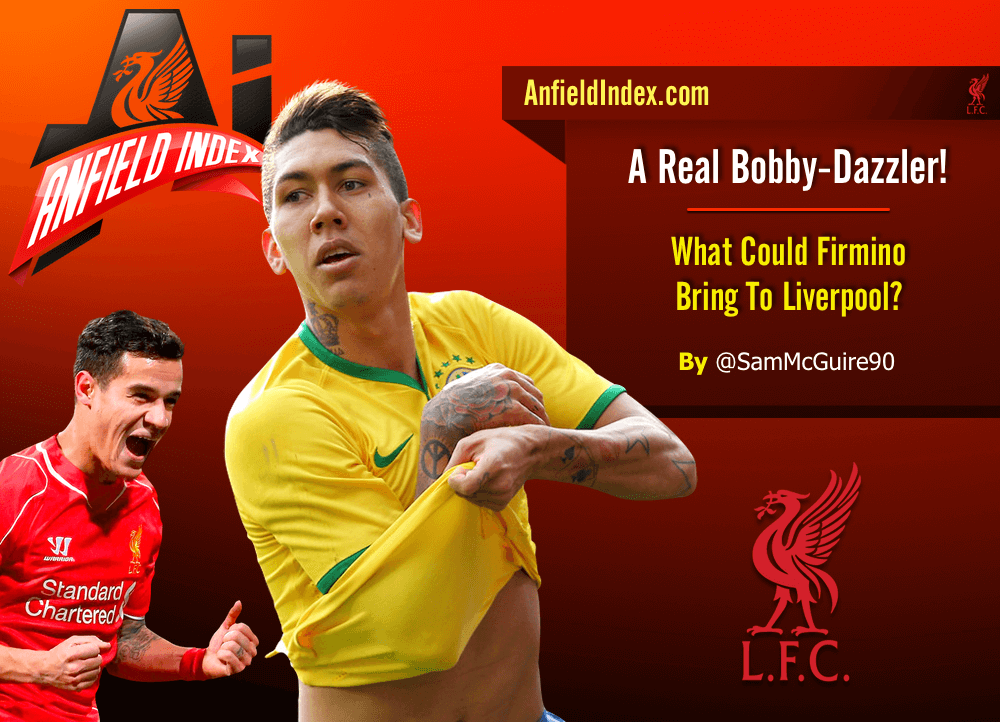 A real Bobby-Dazzler! What WILL Firmino bring to Liverpool?
For those who don't know what bobby-dazzler means I'll give you the definition:
A person or thing considered remarkable or excellent.
It's a very befitting description of the Brazilian international who has been recently linked with a move to Liverpool, Roberto Firmino.

The 23 year old would be considered an excellent signing, remarkable if you consider the clubs he's been linked with in the last few seasons. It's understandable too, the Hoffenheim playmaker has been in fine form the previous two campaigns scoring 23 goals and grabbing 21 assists whilst he was at it. An impressive achievement when you consider he's playing for one of the Bundesliga's average sides. On top of this he's grabbed 4 goals in 9 goals for the Brazilian national side and even bagged the winner against Venezuela to see them progress out of their Copa America group without the symbolic Neymar leading the line.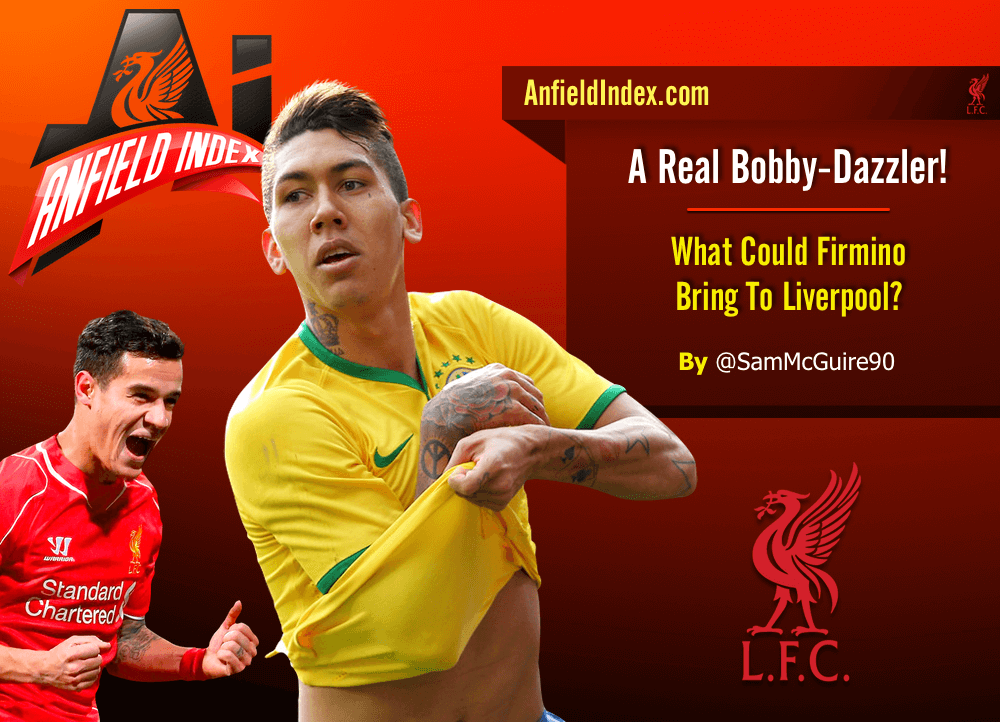 Firmino's agent stoked the fire this summer by announcing his client would be moving to the Premier League summer but made no mention of where his destination would be. A trick by his agent no doubt to alert clubs to the possibility of a move. I've seen some say he pulled a Sharon Stone in reference to the famous scene from Basic Instinct when she gives a cheeky flash of what's on offer *gulp*.
The rumoured fee for the Hoffenheim number 10 is said to be £20million which would make the German club a healthy profit on the £3.5 million they paid for him in 2011. Let's be honest, £20million for Firmino could turn out to be a bargain when Manchester are rumoured to be paying £50million for our very own Raheem Sterling. That's the player he'd likely be replacing at Liverpool too. I don't want us to lose Sterling but if we were to 'replace' him with Firmino it'd be easier to accept and for once Liverpool would be using the money wisely.
What does he bring?
The versatile forward can play in many positions as he's shown for club and country over the past few seasons. He's played centre midfield, attacking midfield, left 'wing' (cutting in) and even as a striker on a few occasions. When he plays as a striker he doesn't isolate himself, he drops but still manages to keep a presence in and around the area, arguably similar to when Coutinho had a game as a false 9.
Now I found this surprising considering he's only 5ft11 but he wins a fair few headers considering he's playing in a physical league. He's robust in the same was as Coutinho and much like our very own Brazilian he bounces off players when they're charging into tackles and doesn't mind getting stuck in. Lately when looking at potential attacking signings I've been looking at the number of tackles they make. Weird I know but It helps me gauge how often they contribute to the defensive side to the game and if they press or not. The more tackles they win the more likely it is they press/harass the opponent, right? Whoscored.com shows he averages 2.7 tackles per game (some context – Coutinho only averages 1.3 tackles per game) which to me shows he has the work rate to match the talent. He then combines the work rate and still maintains to be a creative force, averaging  2.1 key passes per game (to Adam Lallanas's 1.2 per game).
The reason I mention Lallana is because many wanted Firmino last summer and view Lallana as the player we got instead and at a higher price. You'd wonder what would happen to Lallana if Liverpool were to sign Firmino. Both versatile players in the final third but Firmino has the urgency and pace Liverpool so often lacked last season about him whereas Lallana doesn't. That's not a knock on Lallana, it's just an observation. Could the two play together or would three be a crowd? What with Coutinho and Firmino pulling the strings and dictating the pace of a game?
How Could Liverpool line up?
Perhaps the favoured system when it comes down to Brendan Rodgers. 4231 would probably see the above formation (If Clyne signs). The three behind Sturridge are all interchangeable however I'd start with Firmino on the left with Coutinho central and have them swapping, which would effectively give them free roles which would give the opponents a severe headache. This would no doubt drag the oppositions right back infield and you'd be looking at Moreno or whoever may be at left back to offer the width by overlapping. You'd be concentrating the majority of attacks down the left but with enough talent in that area you'd be confident in them creating something.
Similar to last seasons 3421 formation and could no doubt merge into that if the fullbacks pushed on and Emre Can dropped into the middle of the centre back pairing. However, the key aspect to this is the fact it's both Firmino and Coutinho behind Sturridge. If you were lucky enough to watch the Brazilian game vs Venezuela you'd have seen firsthand the movement Firmino has created a lot of space for Coutinho to work in. If Liverpool are to dictate play they'll need to win the midfield battele and be tenacious in the press. This line up would mean they'd at times have a compact 5 man midfield and it's built of players who'd all press. It'd hopefully mean that Sturridge would be isolated like he was at times last season. We know Sturridge likes to drift wide at times and with Firmino playing as a striker he has the instincts to take up that position if that were to happen. It *could* almost be as fluid as Suarez, Sturridge and Sterling..
There have been rumours that Liverpool could be looking to go back to the much successful 4 diamond 2 formation. I've used Balotelli in the example here but obviously that could be any striker. Again this would be reminiscent of 2013/2014 with Liverpool having a midfield that is explosive, creative and all of whom would press and hurry the opposition. A lack of defensive midfielder would be troublesome but if the midfield is on song you'd imagine not many could live with the tempo we'd set and the game would be won in the first half.
Firmino would be a shrewd signing. He'd fit many of the formations Liverpool have used under Rodgers and more importantly he'd take some of the pressure away from Coutinho to turn it on every game. Phil needs help. He's the key player in our side and we should build the team around getting the best out of him. In a recent article I wrote about Kovacic being the Coutinho's magicians assistant from a deeper position. Signing Firmino would offer the same sort of assitance but from a more advanced position. If he's available and keen on the move I just pray we're doing all* we can to sign him. Let's give Liverpool its very own 'Kopacabana'… (not even sorry)
*I hope Ian Ayre isn't in Chile right now with an Hawaiian shirt on telling him all about Jose Enrique's ping pong tournaments!