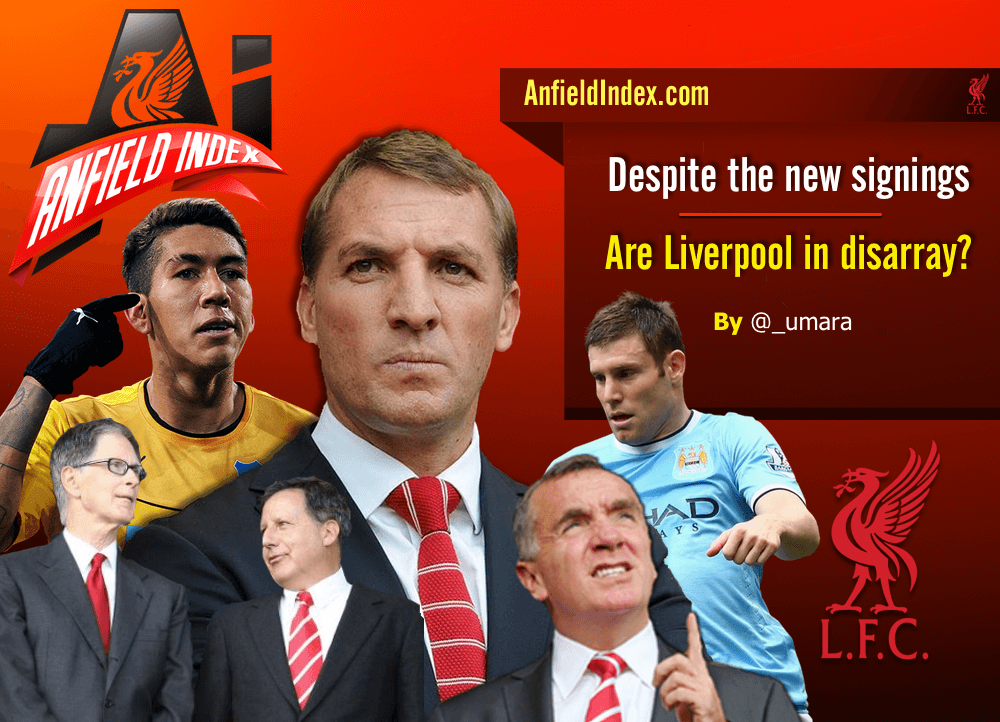 Despite the signings | Are Liverpool in disarray?
Disarray: a state of disorganisation or untidiness.
An apt word to describe the current state of affairs at Liverpool Football Club at this moment. A disastrous season has thrown the club into a state of limbo and no one can quite predict what the owners next move will be. Obviously, we are not privy to inside information but as an outsider looking in, the uncertainty and the silence raise a myriad of questions where we desperately crave answers.
Despite agreeing deals for five new players this summer are Liverpool in disarray? I'll be taking a look at all the factors surrounding Liverpool FC.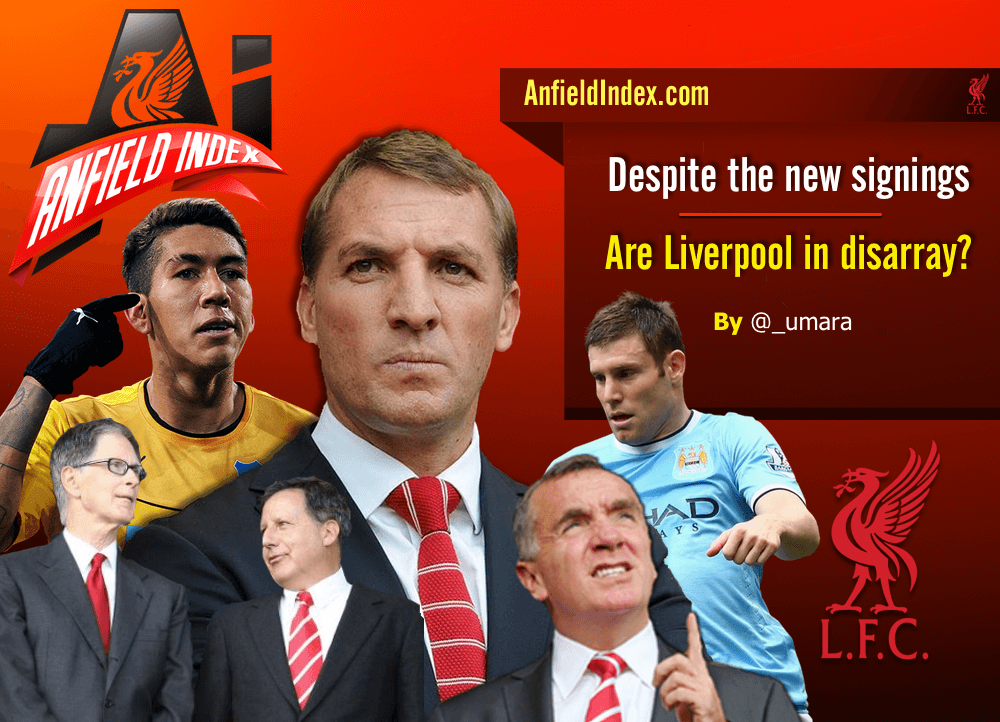 Last Season
I can hear the collective groans reverberate, but yes, we simply must recap.
In the grand scheme of things, a sixth place finish may not seem the end of the world for Liverpool. Bar the 2013/14 season, it's about par, right? However, had you actually watched the Reds play you would know that the season could have (and should have) ended so much better. Even after the diabolical first three months of the campaign, we were, by some miracle, still on course for a Champions League spot with five games remaining. Utter capitulation saw that dream fade quickly. The last half a dozen league fixtures brought out the worst in Brendan Rodgers' and his band of merry men. Throw in, for good measure, a quite shambolic performance in the FA Cup semi final and you have all the ingredients for a footballing debacle. Words like embarrassing, disgraceful and shameful were banded about by Reds fans everywhere to describe the teams climax to the season. Add to that our main strikers 135,000 year absence from the team through injury, £100m worth of signings that decided to become abysmal overnight, a manager who didn't know his best eleven from his backside and a catastrophe was inevitable. These events became the precursor for the current disarray.
Staff Sackings
Following the end of season 6-1 mauling by Stoke (yes, Stoke!), many believed Brendan Rodgers would be the first casualty. Much to many fans dismay, Rodgers was given a vote of confidence by FSG at the end of season review although there have been no direct quotes from either John Henry or Tom Werner over the "backing" of the Reds boss. In a rather unprecedented twist of events, FSG instead opted to sack assistant, Colin Pascoe and first team coach, Mike Marsh. The news was received with mixed reaction from fans. Some suggested it was a way of pushing Rodgers into a corner, others saying that the owners were finally realising that the back room staff were not up to European standards. But some have been perplexed by how the main man survives while everyone around him falls. Whether this is a ploy by FSG to cut of Rodgers' arms or a positive step to give him what he needs to succeed at the club remains to be seen.
Mute Rodgers
If you look back twelve months in time, Brendan Rodgers was a very active member in the media. Off the back of an amazing season, interviews and quotes could be found in abundance in the official LFC website regarding signings and general rhetoric on the future. Fast forward to now and the silence is profoundly deafening. Not a peep has been heard from Rodgers since his last post match press conference where he already looked a defeated man. In that time, Liverpool have announced agreements for four new signings, yet the man in charge hasn't given a single quote and remains on an extended holiday away from any media obligations. This quietude has again thrown up many conspiracy theories. Has Rodgers been given the elbow by FSG? Have FSG lined up a replacement, biding their time till his availability? Is Rodgers being suppressed to the point where he will leave of his own accord? And my personal light-hearted favourite (courtesy of AI's very own resident Brazilian, Dave Caren) that FSG are waiting for Rodgers' divorce to be finalised before giving him the push so that his ex wife can't claim from the pay off! Unfortunately, the longer the silence goes on the wilder the conjecture will be.
No Leadership
In such difficult times such as these, it's important to have a familiar figure head at the club to allay any fears that fans may have. Previously, this job would have naturally fallen to one Steven Gerrard. But with his recent and high profile departure from Liverpool, the lack of leadership has been telling. No new captain has been appointed as yet and more worryingly, the search for a natural successor that will fit comfortably into the demanding role, is proving difficult; at least from the fans perspective. The current options have the fan base divided. A lack of experienced players in the team happens to be a stumbling block and the few that are have played too poorly to be able to take on the mantle of captain; where leading by example pre-requisites the role. Jordan Henderson appears to be the only realistic option, mostly because he is liked by Brendan Rodgers. Although he demonstrates the right role model qualities, many question his ability to challenge the manager if and when needed. Mamadou Sakho is another fans favourite to lead the team but his relationship with Rodgers seems somewhat strained. Martin Skrtel remains the only experienced first team member left in the squad, but a string of inadequate performances puts him further down the list of possible successors to Steven Gerrard. Whoever ultimately gets the job is debatable, but the clubs delay in announcing their decision will inevitably get tongues wagging.
Signings
The summer transfer window has not officially opened yet Liverpool have agreed deals for five very interesting players already. A few modest signings left fans considerably unenthusiastic at best. James Milner divided opinion with some believing him to be a shrewd bit of business on a free transfer. Whilst others were left bemoaning his excessive wages and his age. Nevertheless, he could yet prove to be a pleasantly surprising addition to the squad. Add Danny Ings, Adam Bogdan and Joe Gomez to the incomings and Reds were quietly murmuring rather than busily chattering. What we all craved was a marquee signing to lift our subdued spirits. Rumours of Mateo Kovacic, Carlos Bacca and Roberto Firmino were rife, but with Liverpool's poor track record in wrapping up big name signings, not many were hopeful of a positive outcome. Much of the flirting was being played out in full view of the media, which we have come to know, has never been a sensible idea when Liverpool FC are involved. I, myself, was monumentally sceptical, but was quickly proved wrong after Ian Ayre managed to pull off the unthinkable; the signing of Brazilian attacking midfielder, Firmino. Instantly, social media erupted and a buzz resonated.
Despite the euphoria over the acquisition of the Hoffenhiem player, the question arises; who has the real leverage over these summers signings? Rodgers is understood to be on holiday until July 6th, so has he had any input in these transfers? Have his powers of influence really been revoked? Firmino was a name of interest last season yet Rodgers' love for Adam Lallana superceded all else. Contrasting to last season, no comments have been made by the Reds boss in regards to the additions to the squad which seems a little strange. Transfer business has been done quickly and efficiently, with neither characteristic being something that has been associated with Ian Ayre in recent years. Compare that to last seasons targets who were publicly courted and resulted with Liverpool being equally publicly dumped for bigger, better suitors. Does all of this suggest a change is afoot? If not, does Rodgers remain a credible leader to his team having been stripped of his transfer authority?
The story behind recent signings remains unclear, but the evidence suggests that the transfer committee have firmly taken over the clubs incomings.
What Next for Liverpool FC?
With Liverpool's future plans massively unclear at the moment, fans feel they have the right to be asking questions of the owners and after the huge disappointment of last season answers are expected. But the lack of response from anyone at Liverpool in regards to anything has left Reds confused and a little irate. Any decisions that have been made have been met with little dialogue and have raised more questions than they have answered. If there is a plot bubbling under the surface, FSG are certainly adding fuel to the media fire with their current display. My personal feeling is that Rodgers' time is up and the changes being made around him support that idea. His yesmen, Pascoe and Marsh have gone, effectively signalling a vote of no confidence in his own ability to manage his staff. Nor have the owners publicly backed Rodgers. If Henry and Werner were intent on keeping him as manager, then surely some kind of statement of support would have been made by now. The absence of decision over the club captain's role makes me wonder what they are waiting for. More changes? A new manager to choose his own captain? And if Rodgers has been been backed in private, why then has he been so absent?
Nothing quite adds up at the moment at Liverpool FC and until then, this state of disarray will continue to fuel speculation surrounding Brendan Rodgers and the club that we so dearly love.