This article is the second instalment of a three part series titled "Class of 08/09 – Midfield Comparison". If you haven't read the first article please follow this link: Class of 2008/09 Season – Midfield comparison part 1
So Xabi Alonso was, predictably, declared the pass master out of the three midfielders compared. Despite this Lucas Leiva's passing stats were impressive and similar to Xabi's but on a smaller scale. This was the somewhat surprising for many since the perception for some Liverpool supporters is that "Lucas can't pass".
In this instalment we're going to discuss tackling, possession duels, interceptions, blocks and fouls conceded or won. As you know this is going to fit right into Javier Mascherano's. You'd not expect this one to be close at all and expect Mascherano to be far and away the better tackler out of the three.

Looking at their tackling statistics first, Javier Mascherano has the better looking statistics with a 77% win percentage but it's not by much as Lucas Leiva had completed 75% of all of his tackles. We were somewhat surprised with this statistic as Lucas wasn't really renowned for his tackling just like Xabi Alonso. Speaking of Xabi Alonso, he finds himself in third place in the tackling stakes with a win percentage of 69%.
The Duel percentage stats about to be discussed are a combination of aerial and ground duels. Judging from the table below Mascherano led the way with the most Duels. The stats showed Lucas Leiva's combative strengths as he had the highest Duel win percentage out of the three players although all three were very similar in this regard with just three percent separating them.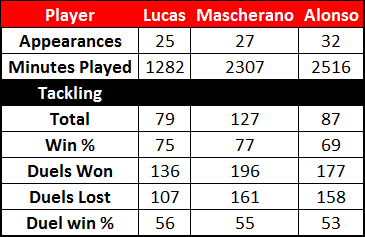 This isn't telling us the real story though. These stats need to be broken down and analysed so that we know how many tackles or duels were made per game.
As shown in the table below; the one interesting stat we've found is that despite having a higher tackle win %, Mascerherano's average tackles per game and average tackles won per game are lower than that of Lucas Leiva. As mentioned earlier, Lucas is not really known for his tackling but this will prove that he's also got this skill in his repertoire. You'd think that Mascherano's tackle stats would fair favourably in this comparison however Lucas continues to prove us wrong with his statistics. Since Anfield Index first started providing stats, Lucas must be the only player that has shocked with his stats.

This trend continues when looking at the breakdown of his duels statistics. He out shone Mascherano in this area too when these stats were broken down to the amount of duels per game and the amount of duels won per game. Looking back at that season Lucas was just an afterthought but the fact that he played 1282 minutes that season (over 14 games) shows that he played his bit part that season and did well whenever he was required. I think we're starting realise why Rafa liked him so much.
The fans started to turn on Rafa when he continually played Lucas Leiva. We wish we were around at that point in time to display detailed statistics like these and maybe sway a few opinions the other way.
After reading all of these stats we've started to notice all of these aspects in Lucas's game. It's like there was a shadow over him that's been removed (previous players maybe?). It just shows that when there's a negativity around a player it actually takes over on your mind and you tend to concentrate on the poorer elements of the players performance. Now that we've had our head turned by these stats we've started to see the positive in the way Lucas plays. I'm sure there will still be a massive split on Lucas, regardless of what is written in this article.
Xabi's averages are as expected for us. We know he's more the passer of the three rather than the enforcer.
We've taken a look at their best tackling performances of the season (judged by a 100% tackle when winning over 5 tackles in the game). Mascherano's best passing performance was against West Bromwich Albion in which he won all 8 of his tackles. The Guardian Chalkboard below shows that all of Mascher's tackles were, as expected, in his own half.
Lucas and Xabi's tackles were mixed between each half of the pitch with Lucas winning more in the opposing half than in his own in his best game.
Mascherano's best tackling performance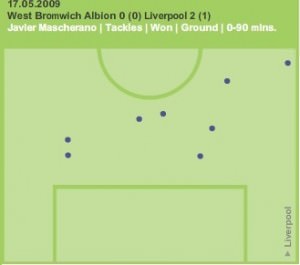 Lucas Leiva's best tackling performance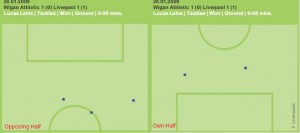 Xabi Alonso's best tackling performance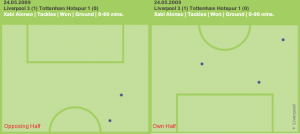 Moving onto Interceptions; this seemed to be Mascherano's forte. He'd averaged 3.4 interceptions per game, ahead of Lucas Leiva's 2.5 and surprisingly Xabi's 1.6 interceptions per game. It's becoming clearer with these stats that Xabi's role in the team was not of a Defensive midfielder. He was more the American Football style "Quarterback" who'd pick the ball up and spray it around the pitch. He did help out defensively but as indicated by the tables above, it wasn't his specialised subject.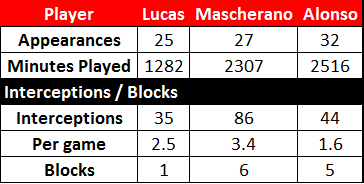 Lucas, again, sprang a surprise with his reading of the game doing very well in comparison to his colleagues. An area that he was left behind in was the blocking of shots which Mascherano again led as the main defensive midfielder.
Lucas Leiva's poorest area, which was very evident when watching the game as well as the stats, was the amount of free kicks he was conceding. Looking at the table below it is clear that he was giving away the most free kicks out of three players but did get fouled, on average, as much as Xabi did.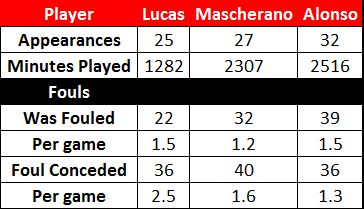 Defensive Discipline Summary
Javier Mascherano is undoubtedly the better "defensive" midfielder out of the three players. The interceptions per game was an impressive stat as well as the stat that he'd made 86 interception in the season. There seemed to be defined roles for each player with Xabi doing the passing and Mascherano covering, tackling and reading the game.
The one stand out point so far is that it's turning out that Lucas seems to be "good" at most aspects of the game whilst Mascherano and Xabi Alonso are outstanding in their specialised areas. Both articles are showing Lucas in a very positive light even though he's not been the best at either of the disciplines. It shows that the player we have at the moment should be supported by the fans as he has a lot of potential to improve.
The final part of this three part series will look at how the midfielders fair in the creative aspects of Liverpool's 08/09 season.