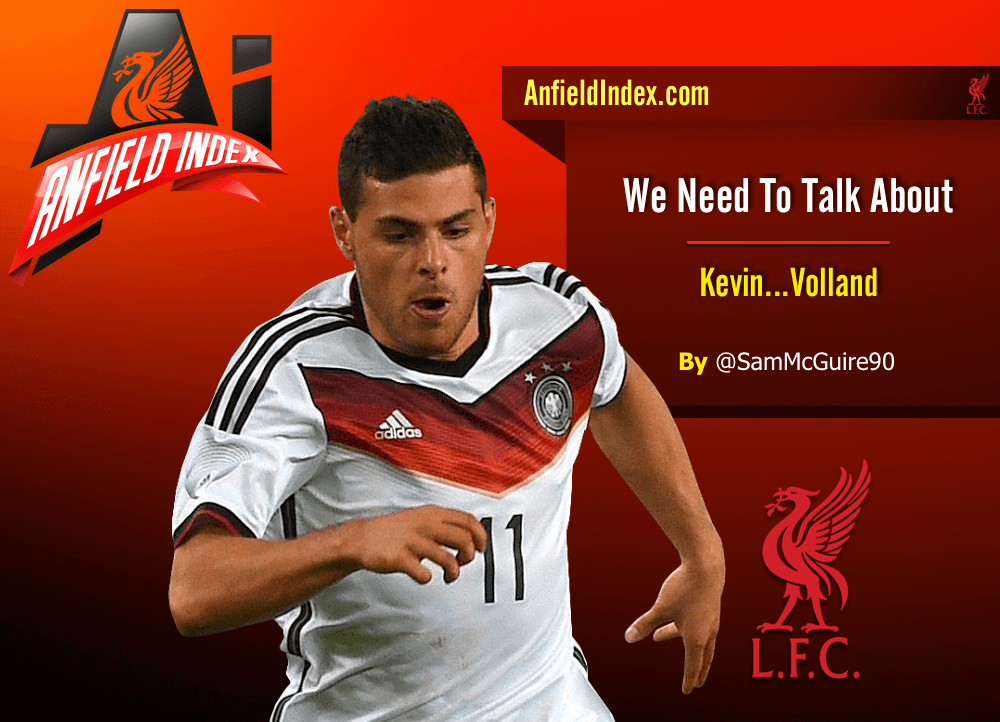 We Need to Talk About Kevin...Volland

With the current occupant of the Liverpool number 31 number looking to be on their way out of the club it looks as though the club have already identified a player to take it over: Kevin Volland.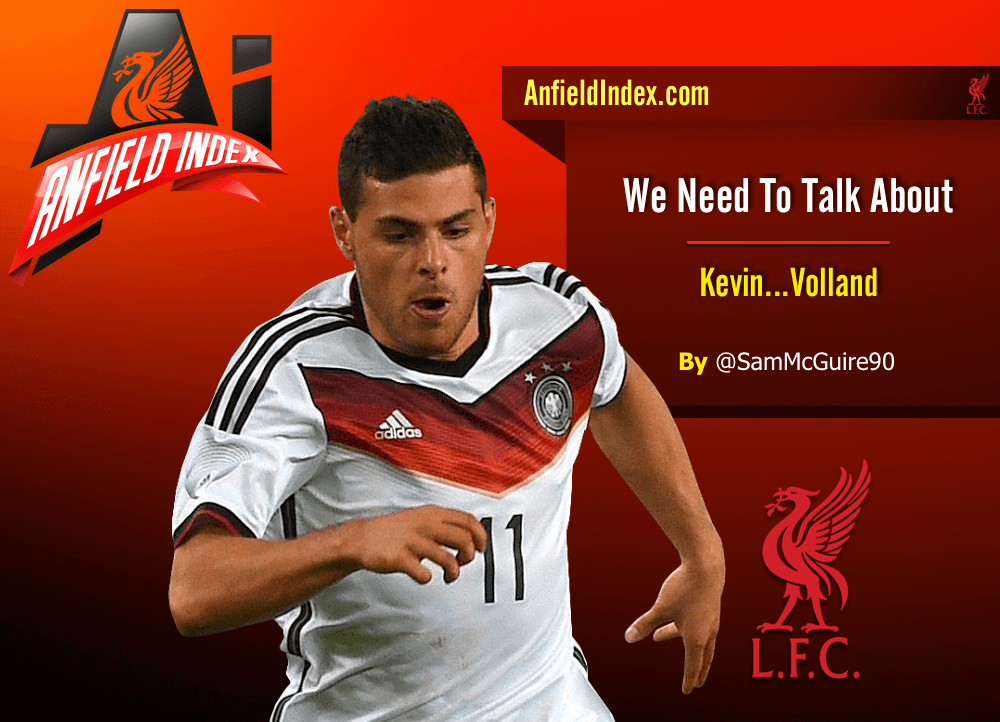 Someone at Liverpool has been playing Football Manager. Not long after the announcement of a certain Roberto Firmino the club was then linked to his ex-teammate Kevin Volland. The German forward is currently playing for the U-21's in the Czech Republic and with assistance from our very own Emre Can, is terrorising defences.  He doesn't turn 23 until the end of July yet he has already amassed over 150 league appearances and scored over 40 goals. Not a bad return for a player whom naturally plays as an inside forward. Situated on the right hand side he loves to cut in and get it onto his favoured left foot.
An absolute tank of a player who'd no doubt adapt to the physicality of the Premier league, he combines his power and pace to make him a real handful for defenders. It was often mentioned during the 2014/2015 season that Liverpool lacked a presence in the final third and it's hard to disagree. Yes Raheem Sterling put himself about and used his massive arse to great affect but Adam Lallana was often pushed off the ball, as was Markovic. Philippe Coutinho, for all his determination, sometimes lacked that bit of strength needed in a physical Premier League. Signing someone like Volland would certainly bulk us up in that department.
What do the stats say?
I'm not a stickler for stats but I do like to get a brief outlook on how a certain player looks. You then yourself need to add context to them. I have selected Domenico Berardi, a favourite of mine, and Karim Bellarabi as players to compare Volland alongside as all three primarily play as a right sided wide player.
Hoffenheim as a team only managed to complete 71% of their passes so Volland falls a little under average in this department but it's nothing to worry about. Hoffenheim often tried to play a counter attacking style and with Volland being one of the forwards part of his game was often releasing the ball quickly. Quicker passing comes with a higher risk of losing the ball so this could be why the pass success isn't on the same level as for example Sturridge, who had 79% (Liverpool played a slower paced game)
Chances created, the German manages 1.55 per 90 and according to Whoscored.com he averages 1.4 key passes per game. Alongside better players you'd imagine these numbers would spike and you've also got to take into account when he matures he'll influence the game more in that respect.
I looked at the shot accuracy stat just to see how wasteful he is when shooting. He averages 2.6 shots per game so he's getting at least 1 shot on target per game. Again in a better side his frequency of chances would increase and if he keeps it near a 50% hit rate then he's likely to increase his goal tally.
Successful take ons, I know people like to look at that when looking at wide player so I have included it but for me it's not as relevant as he's the type to cut infield so he's not as prone to go past his man on the outside. You're not buying him to replicate what Jordon Ibe did on that right hand side.
Tackles won is a stat I've started to look at more when looking at attacking players as an indicator as to how much they press. In theory if a player tackles more it's down to them pressing more and you're defending from the front. If Liverpool are to revert back to 2013/2014 tactics then pressing is a key aspect and the signings so far kind of suggest this may be the case. Firmino, Ings and Milner all press the ball. It's worth noting here that Kevin Volland averages more tackles per game then Marco Reus who is famed for his tenacious pressing and winning of the ball.
As you can see when compared to these players he isn't shown up. He doesn't embarrass himself and this is when he's compared to one of the brightest talents in Italy (a player that's scored more than any of the Italian greats at his age).
Would he fit in?
There really are endless possibilities with this squad, however I've picked what I'd consider the most likely Brendan Rodgers formation/team. It's a 433 with inside forwards and you're hoping your full-backs push on to provide the width. With this in mind you'd have a fluid front three all of which are capable of filling in for the other if play dictates. The versatility of these players on show also allows the transition to a 4222 with relative ease which is something Liverpool kind of used last season. You can't ignore the flexibility that Volland would bring to a side. Last season he played right midfield in a flat 4, the right of a 4231, the right of a 433, striker and occasionally in the middle of a 3 behind the striker. He's very much a German army knife.
Only problem with this side is if they over commit and the lack of a defensive midfielder is costly. You've got to consider though that Rodgers may negate the need for a DM (in his mind anyway) by deploying a high press coupled with a team full of energy and runners, which on paper means the lack of a dm won't be exploited. You've then got to consider Liverpool now have decent bench players in Lallana, Markovic, Milner and, erm, Ings. All of whom can come on for the final 20 minutes and run about like nobodies business.
Could it happen?
After the Firmino deal I fully believe any deal can happen. It's given me that much hope. Volland has been linked with Dortmund in the past but with their turnover in manager and staff this summer he may rethink that. You've also got to factor in his already existing relationship with Emre Can and Bobby Firmino. This would make his move to England a little less of an issue with him already having friends here but not only that it'd mean there are already players here who know how he plays, so his bedding in period may not be as long or tedious as others? It's certainly a positive as if Liverpool don't want another season of transition you need the team to click from minute one.
He's a player I'd love at Liverpool. A left footed right sided player we certainly lacked last season and a goal threat from midfield. It's a positive the lack of goals in the team has been identified as a team issue rather than a position issue. Adding goals from wide areas will take the strain off the strikers to score the 70 goals needed to fire Liverpool into the top 4. You can't really turn your nose up at a player who already has International appearances for Germany when that squad is littered with talent.