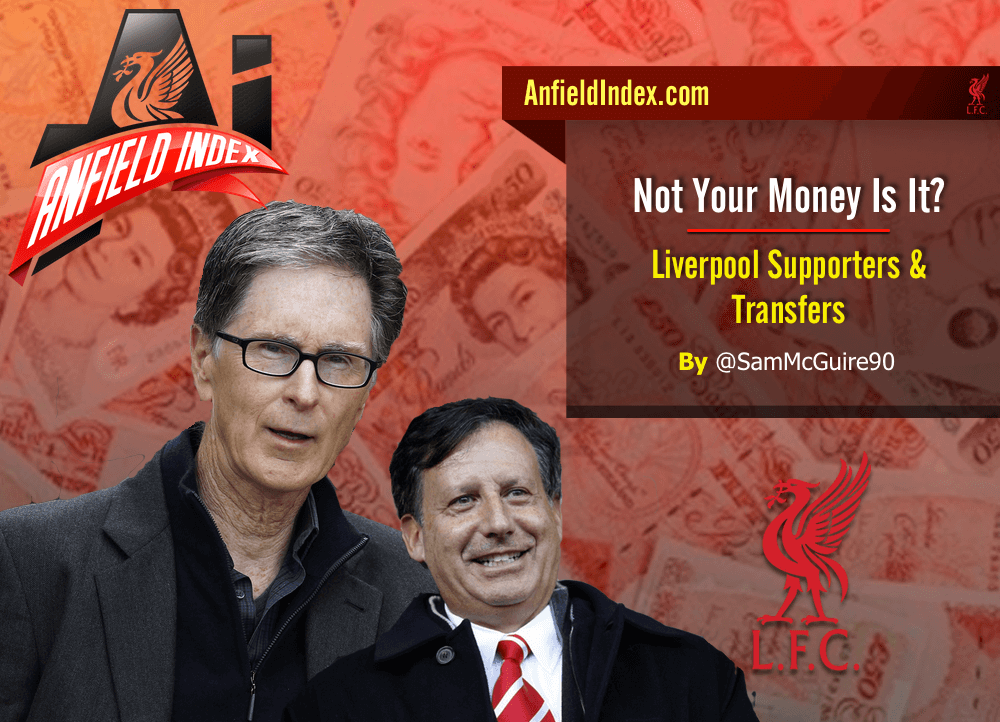 Not your money though is it? Liverpool Supporters & Transfers
Tony 'Bad news' Barrett shattered the tranquillity that the Roberto Firmino signing had brought to Liverpool FC twitter by announcing on Thursday that Liverpool were still very much in for Christian Benteke and they were hoping to get the transfer fee for the Belgian down to the £25million mark.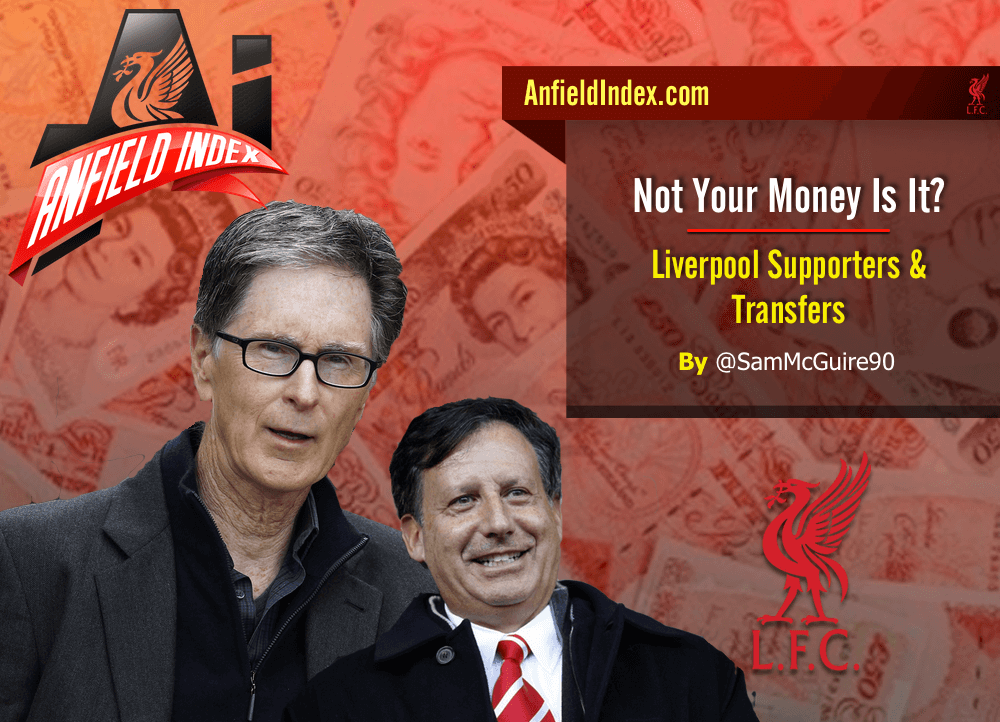 Cue the floods of Christian Benteke highlight montages appearing on twitter as many proclaimed he isn't just a big man but can use his feet well too. Don't mean to burst the bubble but it's called a 'highlights' video for a reason. It's not exactly going to be showing the many times he miscontrols the ball or the times he's static in the very talented Belgium team, is it? You aren't going to be watching him miss chance after chance in a *highlights video. You're going to be watching what he can do on a good day. You've all heard the age old cliche "It only a takes a second to score a goal" – so what happens in the other 5399 seconds of the game?

*For anyone interested in making a name for themselves in video editing there is definitely a gap in the market for videos of a player on a bad day.
I'd imagine doing Rugby highlights is harder than doing a video of a striker that averages 14 goals per season , so if Simon could do a video of these rugby players then I personally wouldn't be swayed by a video compilation of any player. It's kind of like buying a greatest hits album and ignoring the other garbage the artist had released on their prior albums, no?
Anyhow, after the endless Benteke videos surfaced and people got to grip with the idea of Benteke leading the Liverpool line we started to see this phrase appear – "It's not your money though" and "are you paying for him? No. Why you moaning then?"
Personally I've only seen these phrases being thrown around on about 4/5 other occasions. The first time was when we were about to sign Andy Carroll. I was out with a few friends who happen to be Liverpool fans and in a state of delirium about getting £50million for Fernando Torres didn't seem arsed about the fee we were paying for Andy Carroll. It was eerily like when you get your first student loan through – you spend now and regret later.
They made an argument of if we didn't have the money we wouldn't be spending it, he's young etc. This coming from two people who'd laughed when I'd suggested the summer previous we look at Carroll as a bench player and one to partner Torres to help stretch defences during the latter stages of the second half.
The next time I heard the "It's not coming from your bank" sort of statement was when we were linked with Charlie 'his corners are worth £10million alone' Adam. The rumoured fee was £12million at the time and again a few people had seen his highlights and seen him bully the Liverpool midfield and decided he's be a bargain and the new Xabi….We didn't pay that for him but even at £7million it looked like we'd overpaid.
Next up, Stewart Downing, a £20million signing from Aston Villa off the back of scoring 8 times for Villa the previous season. Again, the "It's not your money" argument popped up and he was apparently signed to provide ammunition for Andy Carroll. We'd spent £55million of a gun and ammo that fired blanks. Surely logic comes into play at some stage when you look at a player who was used sparingly for England when the nation as a whole produces next to no left footed players. If he's not good enough for England how the hell is he good enough for Liverpool at £20million?
Then the summer of 2014 when we decided to take a scene straight from the Dark Knight movie and make it reality.
"Where's the Italian? See I'm a guy of simple taste. I enjoy erm..dynamite and gunpowder and gasoline. You know the thing they all have in common? They're cheap. I'm only burning my half. All you care about is money. This town deserves a better class of criminal. It's not about money, it's about sending a message. Everything burns."
We burnt half of our budget pretty much and spent it on the Southampton trio. Not my money though so why should I be bothered ey? Lallana was in the team of the season so I shouldn't care that we were spending £23 million on him. Likewise, Dejan Lovren, whom I'd seen at Lyon be displaced by a very raw 18 year old due to not being good enough (yes I'm one of those people that watches foreign football leagues) arrive at Liverpool for a staggering £20million. I can't say anything negative though as I didn't hand over my PayPal details, right?
There seems to be a trend in these statements by people declaring you aren't directly paying so you shouldn't be arsed. Always tends to be for the players that are grossly overpriced.  I'm not for one moment saying Adam Lallana isn't good at what he does, Or Benteke isn't a monster of a striker when used correctly or that Stewart Downing isn't a pacey, direct winger who puts a good cross in. However, if a rival of ours had paid the fees we had for them, and potentially will for Benteke, can you honestly say you wouldn't be gobsmacked?
Big Fish Small Pond
You can't tell how players will cope with the pressure of joining Liverpool with a large fee attached to them. Just because you excel for a Villa or a Blackpool doesn't automatically mean it'll work at Liverpool.  All games at Liverpool are high pressure games whereas at these lesser clubs they aren't. The eyes are constantly on you. There is always a risk with transfers but you've got to look at the overall picture. Sometimes you overpay for a player with a great marketable ability, then they'll recoup some of the fee in merchandise. Look at the above players mentioned. Did we breakeven on any of them we've sold? No. Would we breakeven on Lallana and Lovren? No.
I might not directly pay for these signings but I spend enough at the club to warrant having an opinion. Even if you don't buy merchandise and kits you give up your time to watch the team and as many people say "time is money".